Here's how to get the most out of a day trip to Niagara Falls
Once my flight was booked to Toronto, I knew immediately a day trip to Niagara Falls would be a must. After all, seeing Niagara Falls was # 17 on my travel bucket list. Hearing many stories of how cheesy the town around the falls are now, I was worried I was going to be greatly disappointed. It's a little like seeing that famous picture of how you envision these famous places and then once you arrive, it is NOT what you expected. Regardless, we started looking at options for seeing Niagara Falls during our stay in Toronto.
Pin for later!
Getting there
We strategically planned to stay in downtown Toronto in order to take advantage of the public transportation. But, getting out to Niagara Falls would require a different transportation method. Originally, we were planning to rent a car for the day, but after realizing it was going to be a huge pain, we decided to investigate taking a bus to Niagara Falls with a tour group.
There are obvious cons to going with a tour group starting with not having enough time in certain places, have them push their own agenda on you, and contributing to the masses during visitation. But we found a tour where the groups were small (less than 25), left early in the morning to arrive before all the other tour groups AND it stopped for wine tasting on the way back. Something we couldn't do driving our own car.
After doing some research, we landed on Queen Tours. We chose this one for many reasons including they left early and subsequently, returned to Toronto early enough to have a nice dinner, they stopped for wine tasting, it wasn't a huge group and they would purchase your boat ride tickets for you so you can skip the line. All pluses in our minds.
Of course, there are other tour groups, but this was our thought process when choosing Queen Tours. It was also competitively priced.
Related Article: If you are staying in Toronto, here are some can't miss sites for first time visitors.
Experiencing the falls
We did experience some traffic getting out of Toronto, but after picking up everyone at their respective hotels, the drive to Niagara Falls took us about an hour. Our tour guide provided us with enough information, we knew what to expect once we arrived at the falls.
Overlook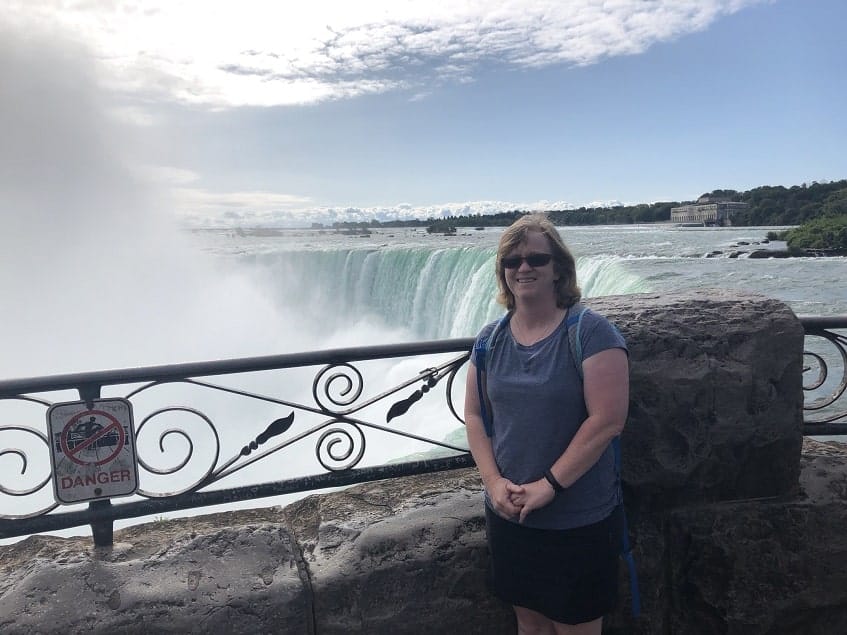 Our first stop was the top of the Canadian Falls where it was a great view looking down at the falls. Even better was there wasn't much of a crowd. After hearing for so many years, the Canadian side is so much prettier, I finally understood. For those of you who haven't ever been to Niagara Falls, you can view the Canadian falls and the American falls from the Canadian side. However, if you are on the American side, you would be standing at the top of the American Falls with a limited view of the Canadian side. It all made sense to me now!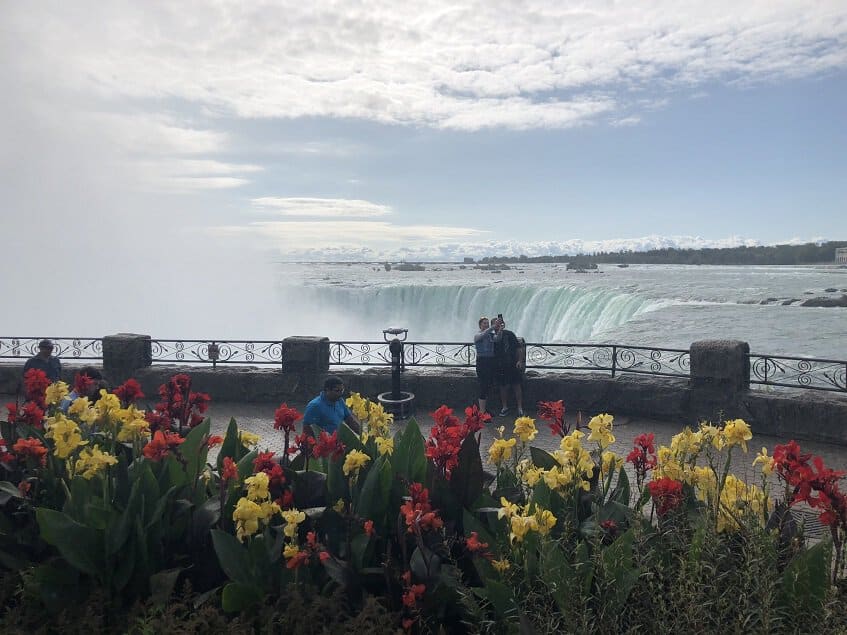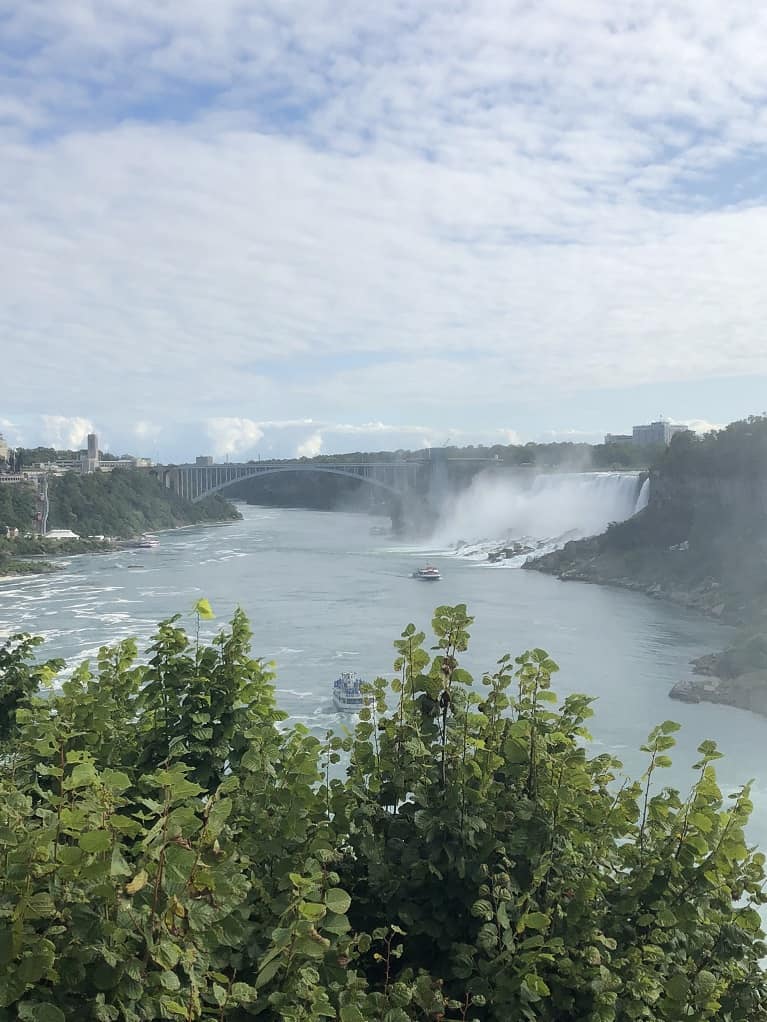 We watched the boats cruise up to the falls while thinking, they don't really get very close to the falls (more on this story later). But we were excited to take the cruise regardless.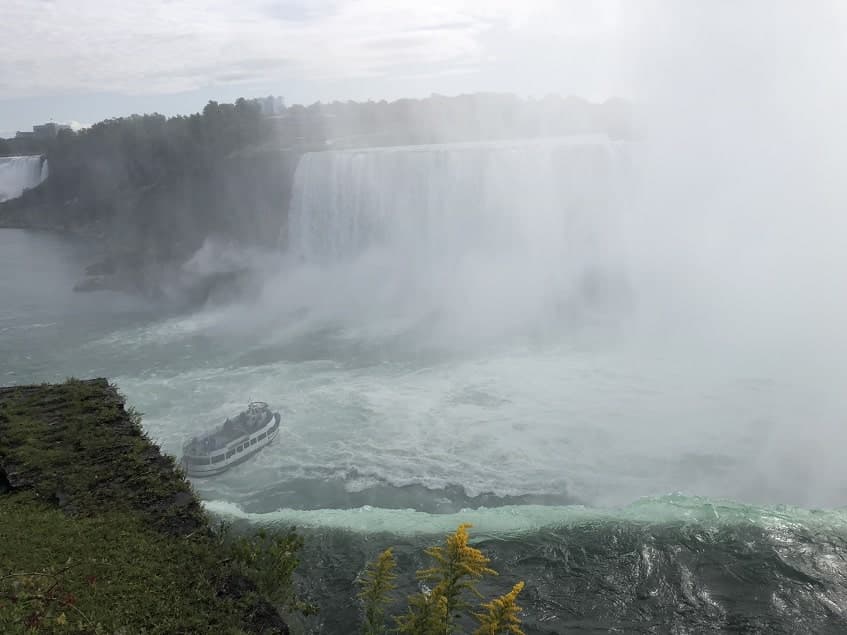 After taking some pictures of the falls, we decided on a quick bathroom break and grabbed a coffee and snack from Tim Horton's.
Pro on the tour group – we stayed at the Overlook just long enough. When we were leaving, all the big tour buses started pulling into the overlook parking area.
Niagara Falls boat tour
While there are many ways to experience the falls with various Niagara Falls attractions for all ages and interests, the boat tour is a must-do.
After visiting the overlook area, we drove a short way down to Hornblower loading and ticket area. Since we had purchased our tickets directly from our bus driver & tour guide, we were able to skip the ticket line and head straight for the boat.
We were very lucky to be second in line for the next boat's loading. There are 2 Hornblower's which are continuously running. We only had to wait about 10 minutes before they loaded the next boat. Boarding, they provided everyone with ponchos to shield you from the waterfall mist.
Since were second in line, we headed to the top and grabbed a spot at the front of the boat. Situating our camera and hoodies, we were ready to experience the falls.
First the Hornblower skirted the American and Bridalveil Falls before heading to Horseshoe Falls.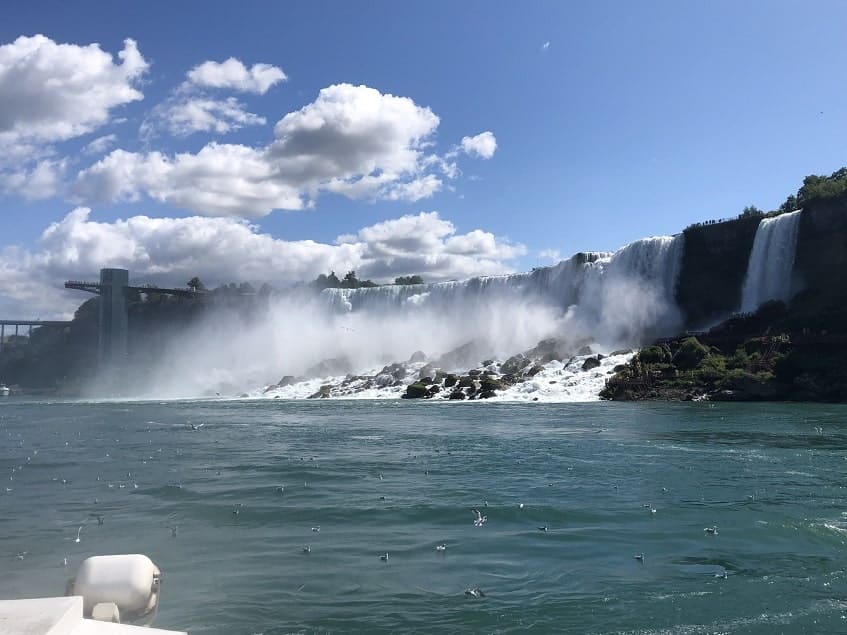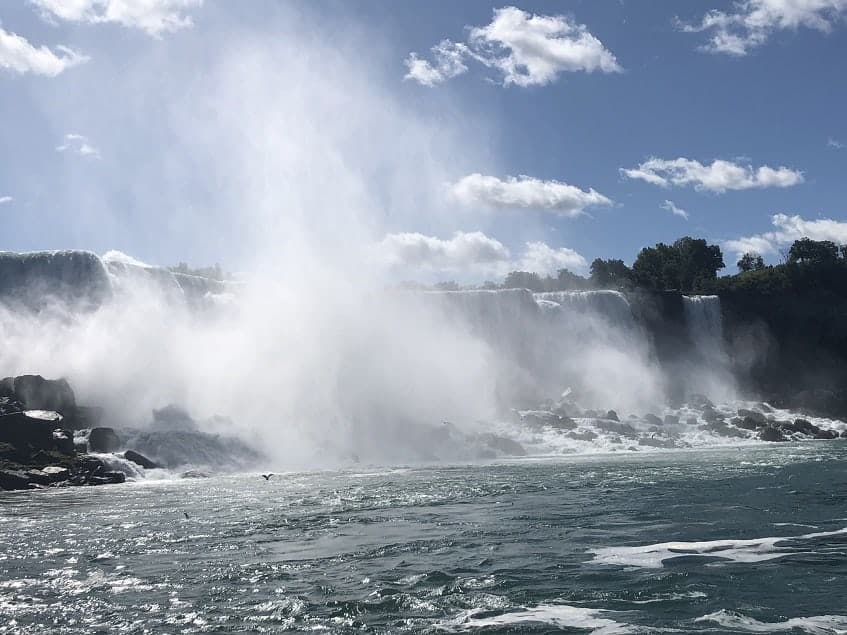 We were able to get some good pictures, but as we got closer, the picture taking came to an end. The perception of not getting close was totally wrong! We felt like we were in a small hurricane – it was windy, water in our face, and we couldn't keep our poncho hoodies on. We were laughing and enjoying ourselves the entire time! While watching the boats from the overlook, it felt like it was very short. Once we got into the falls, we certainly stayed longer than we had expected.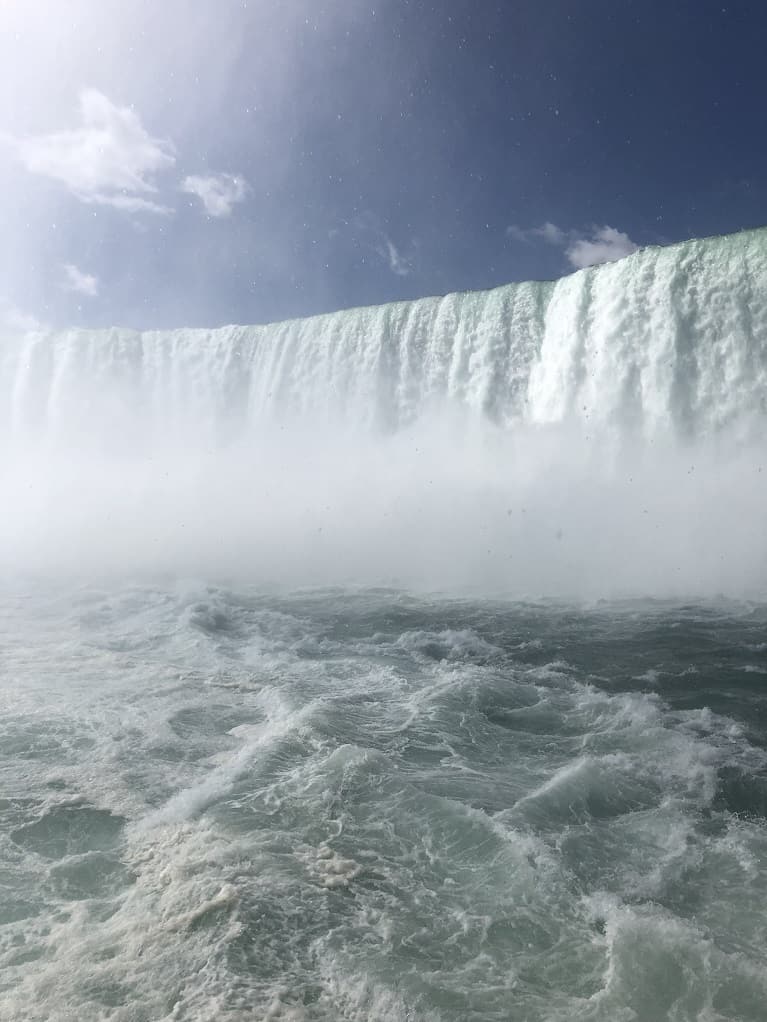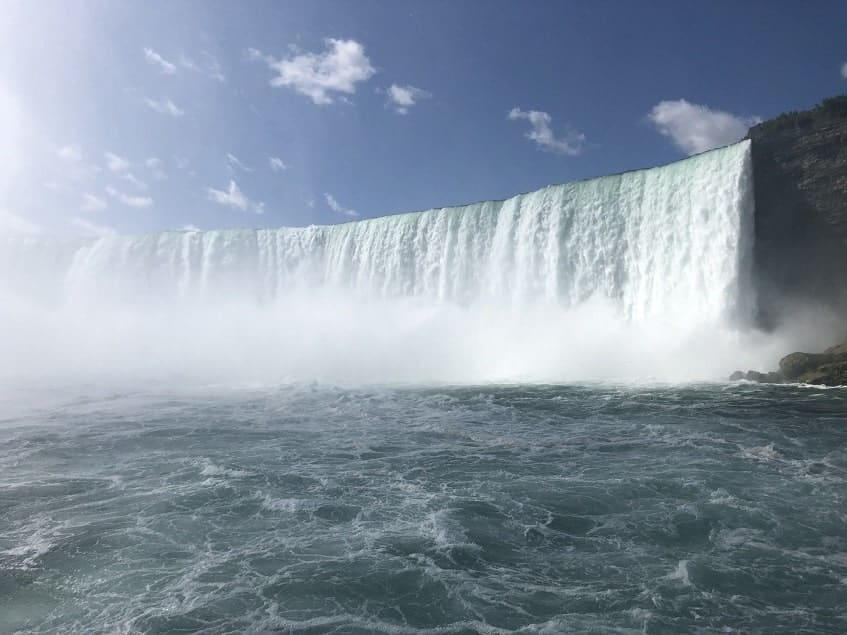 As we made the turn to head back, we were able to see a great view of Bridalveil Falls.
We agreed as we stepped off the boat, it was not what we had expected. I believe hearing about the tour had our expectations low. But we loved every minute of it and very happy we did the Niagara Falls boat tour! This is a must for a day trip to Niagara Falls!
Check the Hornblower website for hours of operations and ticket prices.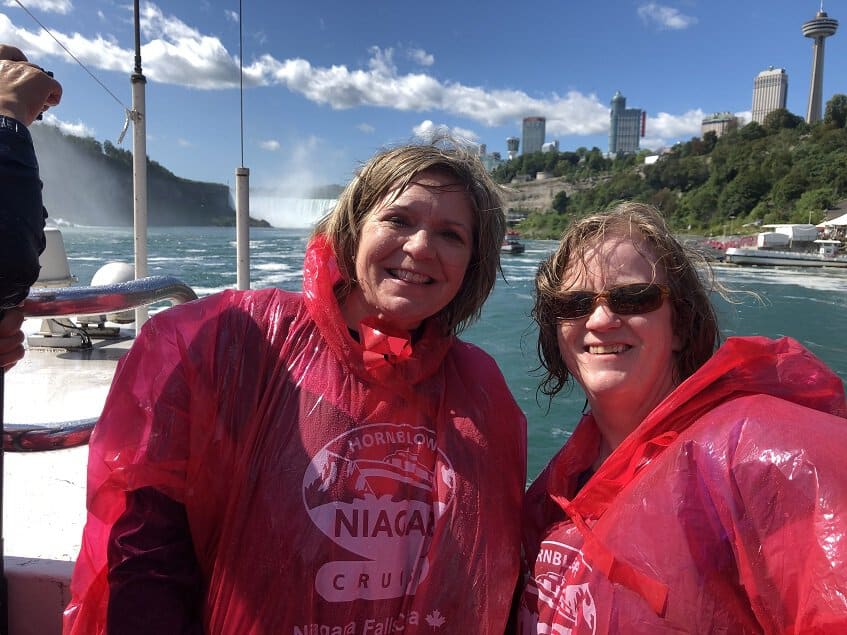 Behind the Falls tour
Another Niagara Falls attraction is the Behind the Falls tour. We also had an option to take this tour as well with our schedule. By the time we finished our Hornblower experience, we chose to walk around the gardens instead. Since our trip to Niagara Falls, I've heard people say they recommend doing the behind the falls tour. I'm a little sad we missed this part of the falls, but it is something to add to my list for the next trip.
This tour takes you down an elevator approximately 150 feet where you can experience being behind the falls from an observation deck.
Check the Niagara Falls Tourism website for prices and hours as it can change by the season.
Helicopter ride
The last option for seeing the falls from a different perspective is taking a helicopter ride over the falls. While this would have been a great experience, it was too pricey for us. The cost was $116 (US) for a 12-minute ride. In the end, I'm happy with our choice to do the Hornblower boat ride.
However, if this ride is for you, check out the Niagara Falls Helicopter website for reservations.
The gardens
After riding the Funicular back to the top, we took a stroll down the gardens. They are located about a quarter mile toward the falls across the street. They have a beautiful rose area and a variety of colorful flowers.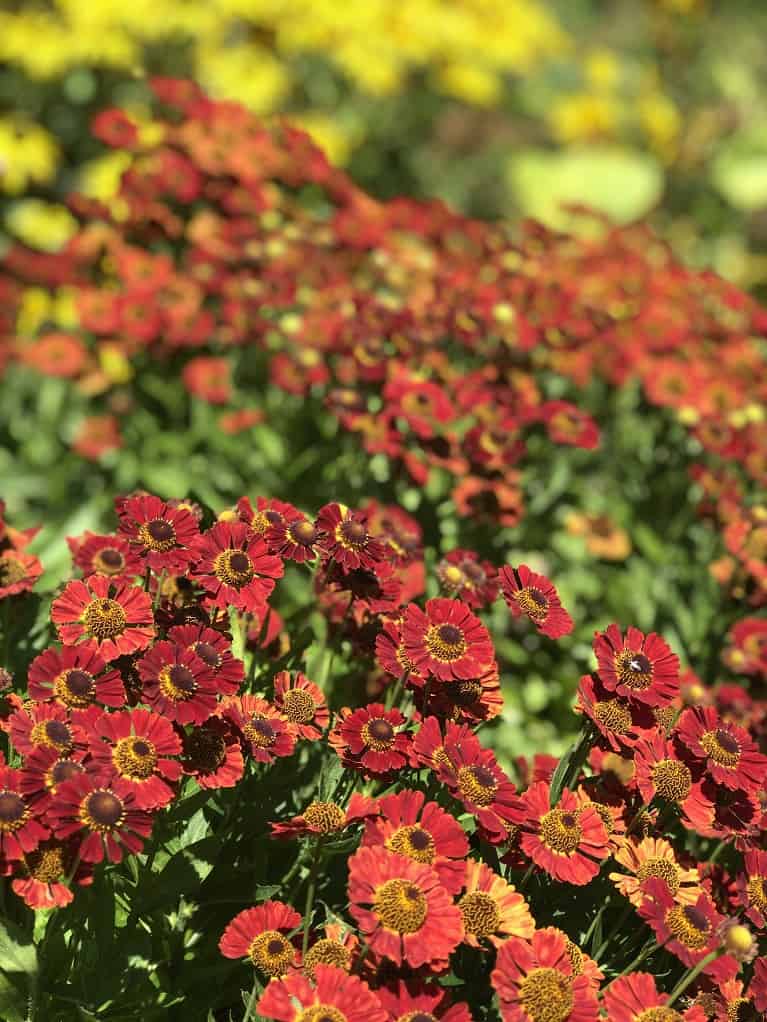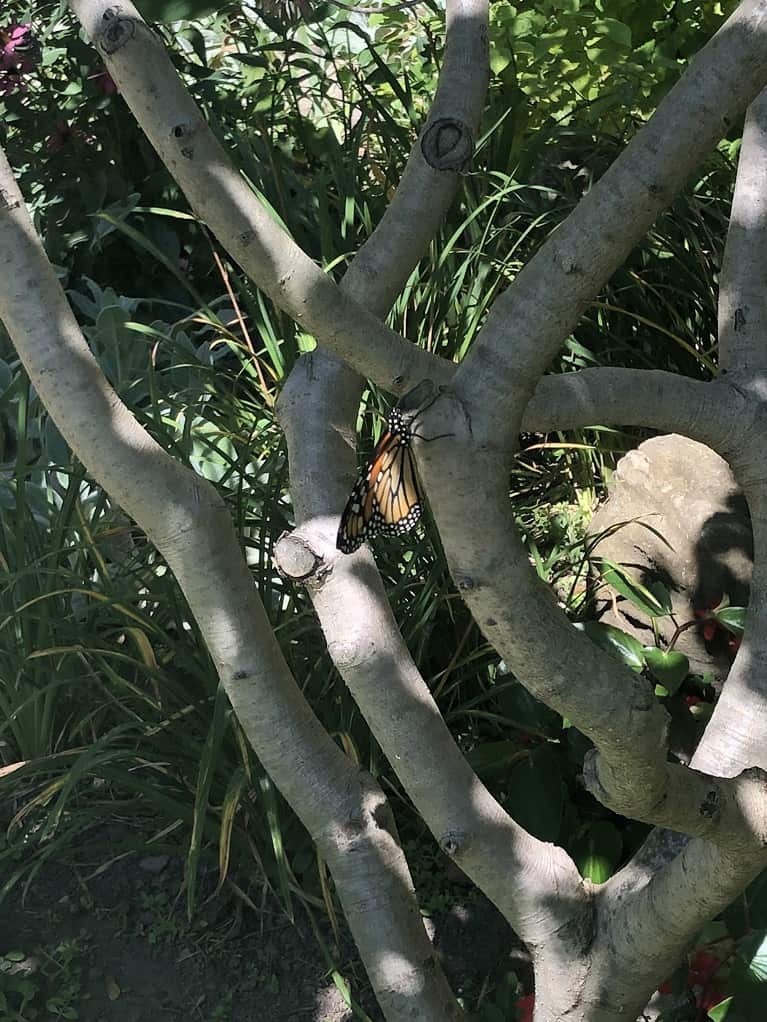 They also have some flowers which are very attractive to the Monarch butterflies! If you love these creatures as I do, get your cameras ready because they are fast!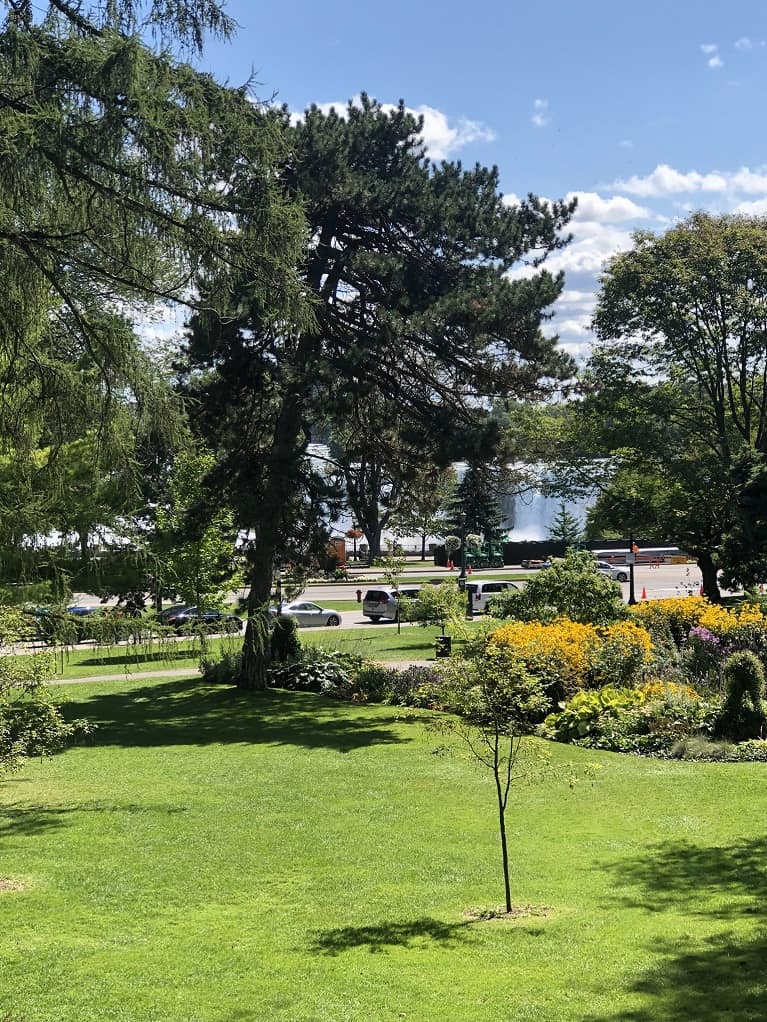 The city
Leading up to our visit, we heard many stories about the city around the falls being very touristy. Another advantage of taking the bus tour is we missed the city part. You can see the edge of it, but overall, we missed this experience.
If this is your thing or you have small children, walk up the hill from the Hornblower cruise and you hit the main part of town. You can also take the walkway at the top of the gardens into town.
Arriving in town, there is a variety of casinos, restaurants, and other attractions especially fun for the kids.
Niagara on the lake
After departing Niagara Falls, our next stop was Niagara on the Lake. Our driver was kind enough to order us sandwiches ahead of time in order to avoid the wait time once we arrived.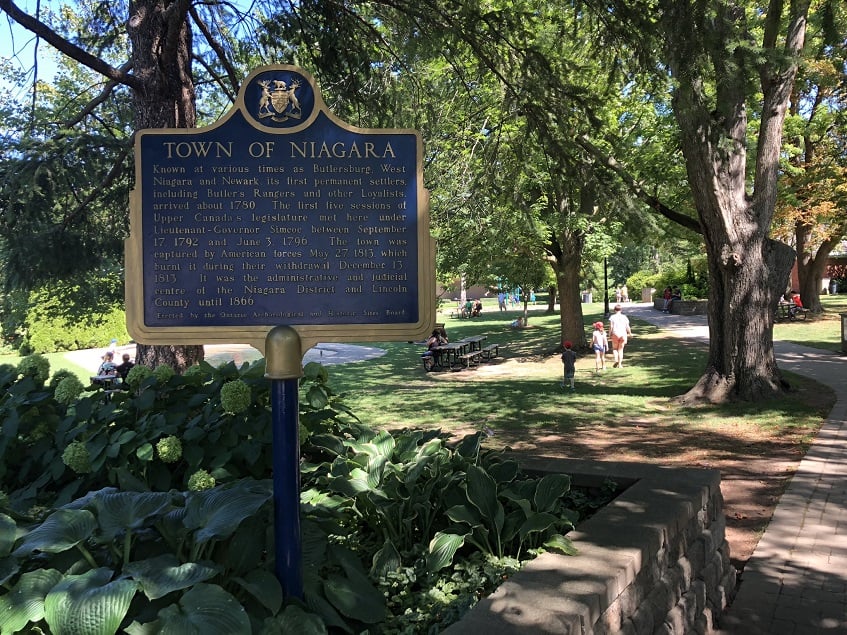 We took our sandwiches and had a nice lunch at a picnic table at Simcoe Park. The con of taking the tour bus is we didn't quite have enough time to explore the town.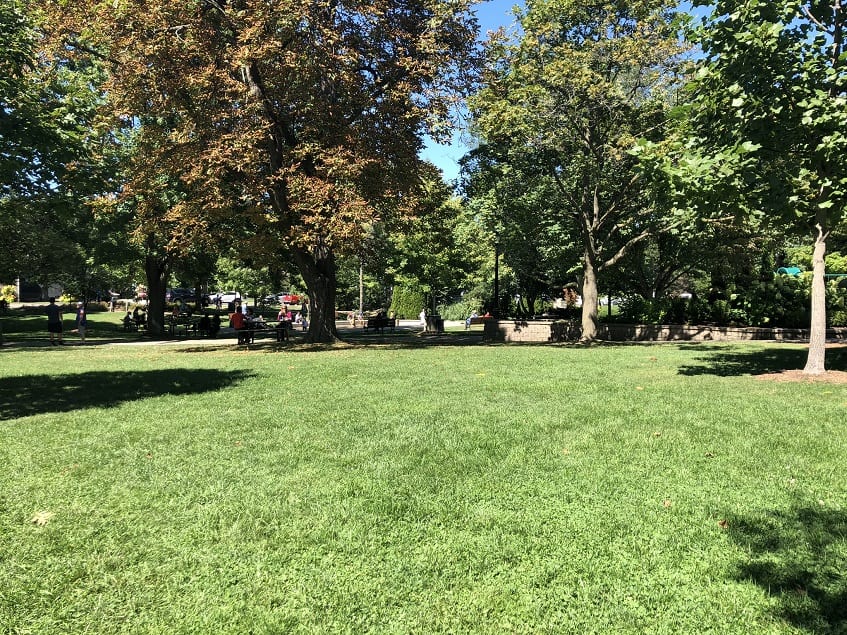 Our first stop was the Prince of Wales Hotel to see this historic site. Afterwards, we walked through the residential part of town as it was a beautiful afternoon.
Last stop before getting back on the bus was gelato!
Ice wine tasting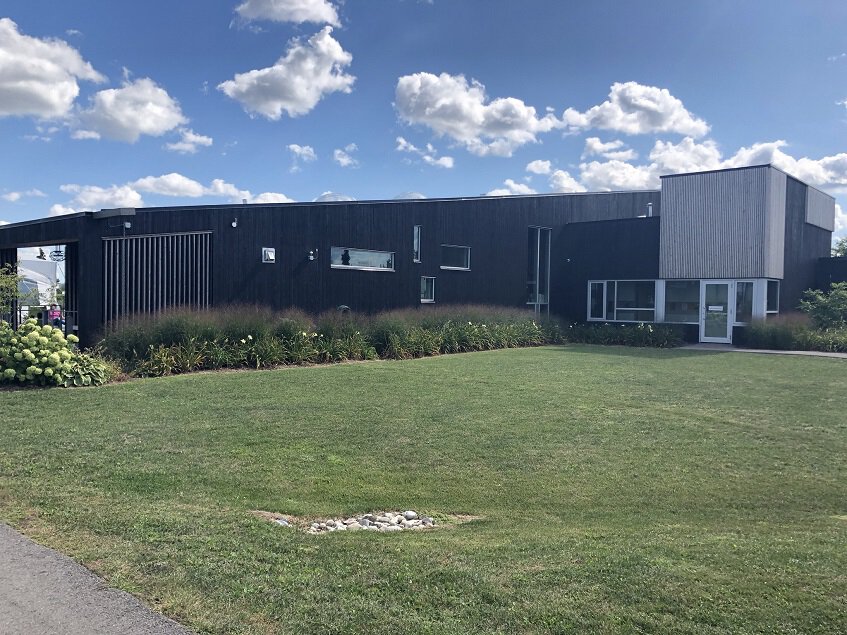 Our last stop was Diamond Estates winery for Ice Wine tasting. The country side was a beautiful setting for a late afternoon drink outside in the refreshing 70-degree weather.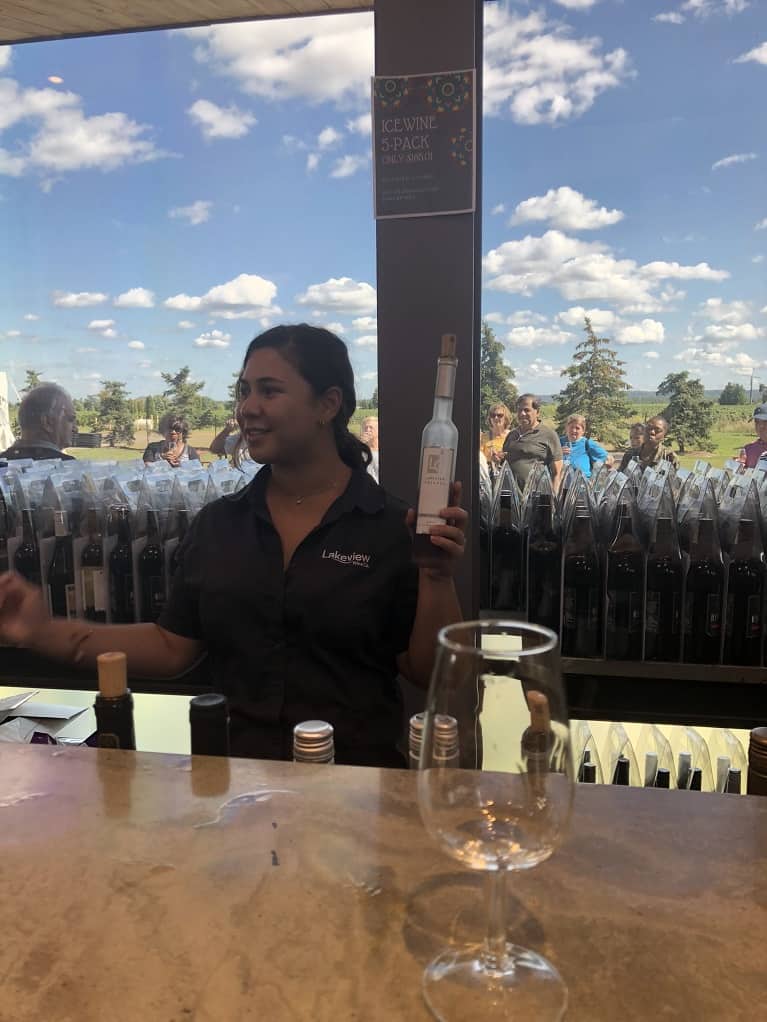 We heard a little about ice wine and how the grapes are harvested. There are many grapes which go into a 375ml size bottle of ice wine. This is due to the fact the grapes are harvested during the winter when they are frozen. Quite different from other types of wines.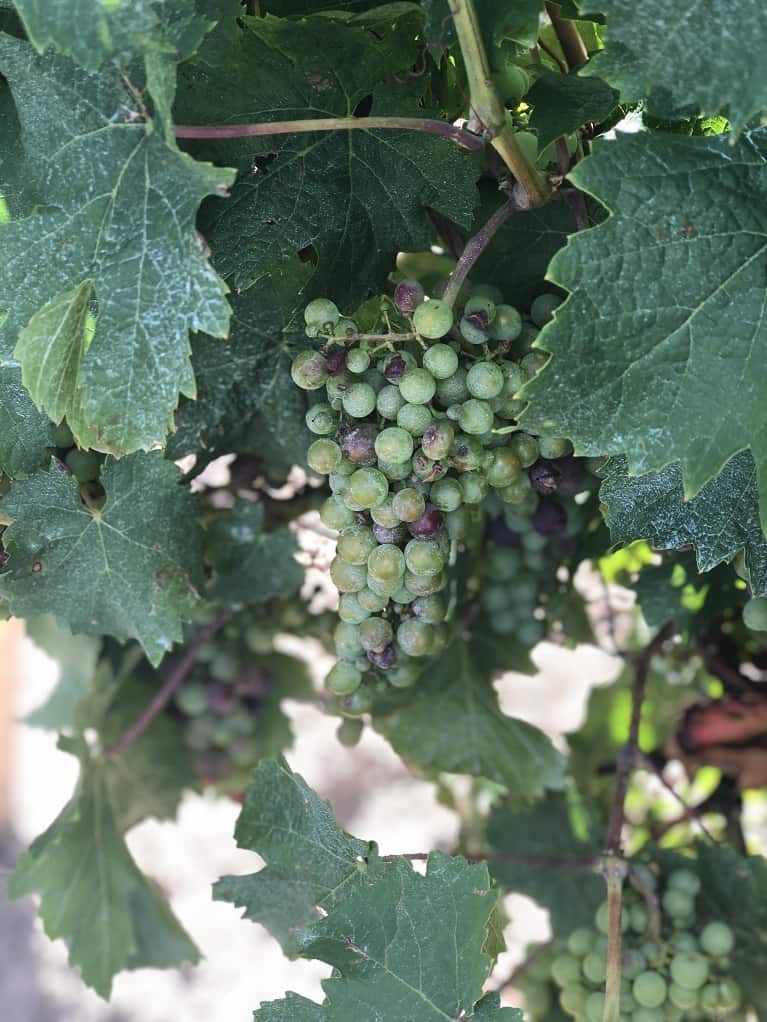 If you aren't a dessert wine person, prepare yourself for the wine being sweet. This isn't your average dessert wine.
The ride back from Niagara Falls to Toronto took longer than our morning commute. Afternoon traffic was congested, so many of us closed our eye and took naps to refresh ourselves for the evening. If you take the bus tour, be prepared for being worn out on the ride back. Regardless, if you haven't ever visited Niagara Falls, this is a great & easy day trip from Toronto. You won't be disappointed!