Are you thinking about hiking the Inca Trail to Machu Picchu? If you are like me and think of this as a bucket list item, here are some thoughts around what to expect when hiking the Inca Trail to Machu Picchu.
Hiking the Inca Trail to Machu Picchu will be a rewarding experience if you decide to make this trek. I know it was for me along with my six (6) hiking buddies. If you are unsure about this hike, planning to make the hike, or somewhere in between, here are my thoughts and experiences from hiking the Inca Trail to Machu Picchu.
What is the Inca Trail
The Inca Trail is a ~27-mile hiking trail starting approximately 50 miles from Cusco, Peru with the destination being Machu Picchu. This trail was originally a religious and ceremonial pilgrimage by the Incas during the 15th century, which included rituals to honor the terrain.
Hiking the Classic Inca route is the most popular of all the routes to Machu Picchu. The classic trek starts at the Urubamba River at ~8500 feet in elevation. Most hikers will spend 4-days/3-nights on the trail hiking to elevations as high as 13,800 feet and through varying environments including high desert puna, Andean cloud forests and subtropical jungles.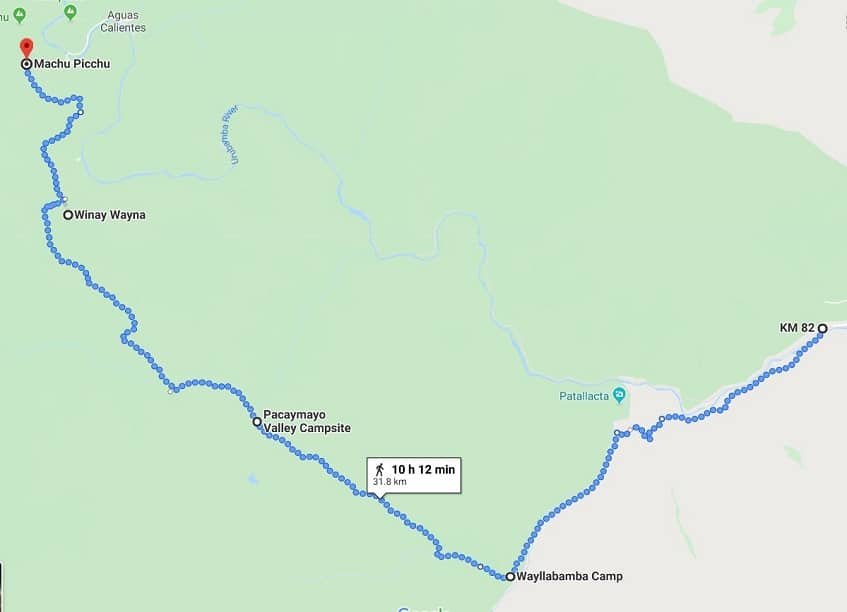 Day 1
Day 1 is one of the easiest days of the Inca Trail hike to Machu Picchu, so enjoy it!
Our outfitter picked us up at our hotel in Cusco and drove us to the starting point of the hike. They fed us lunch, completed final packing and we started on our journey.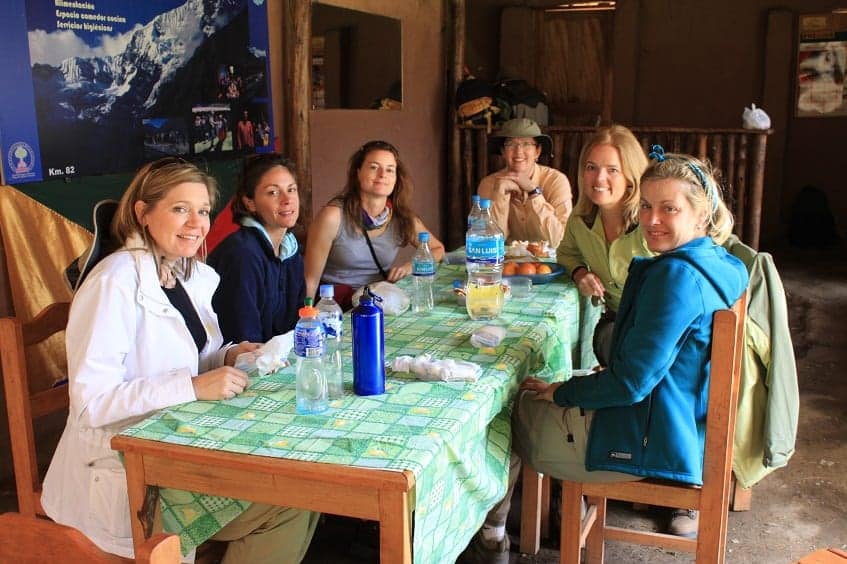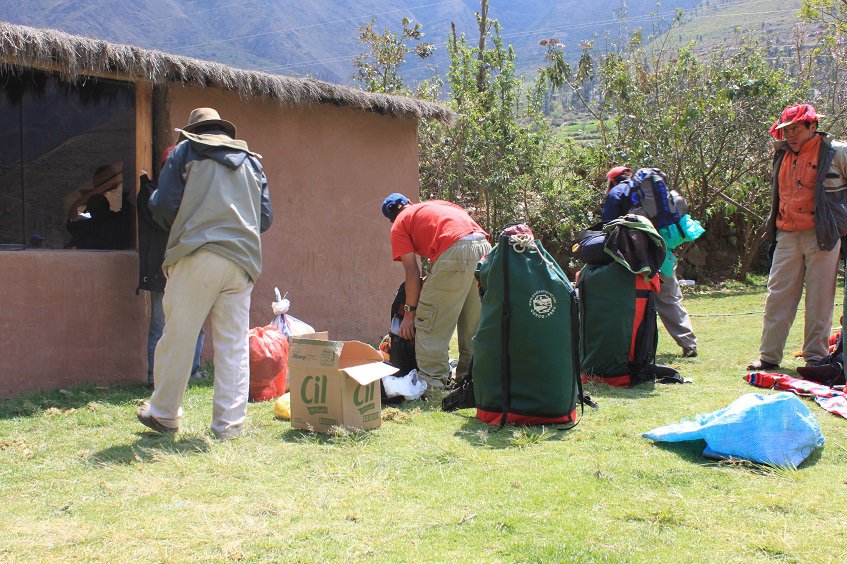 The first stop is the check-in point for the trail where they check your passports along with your trail pass.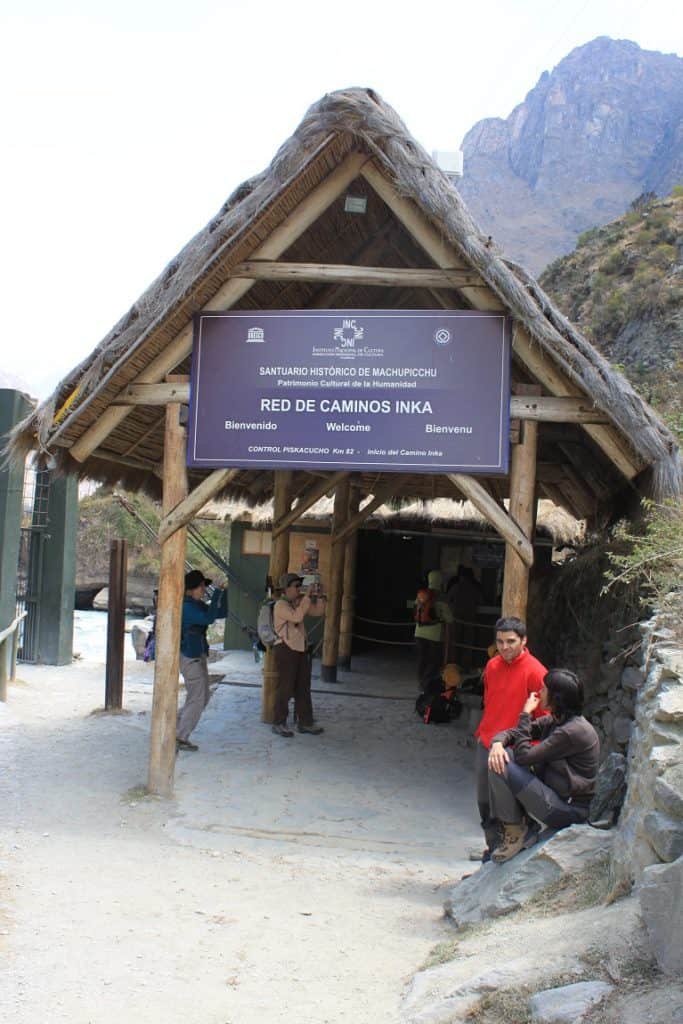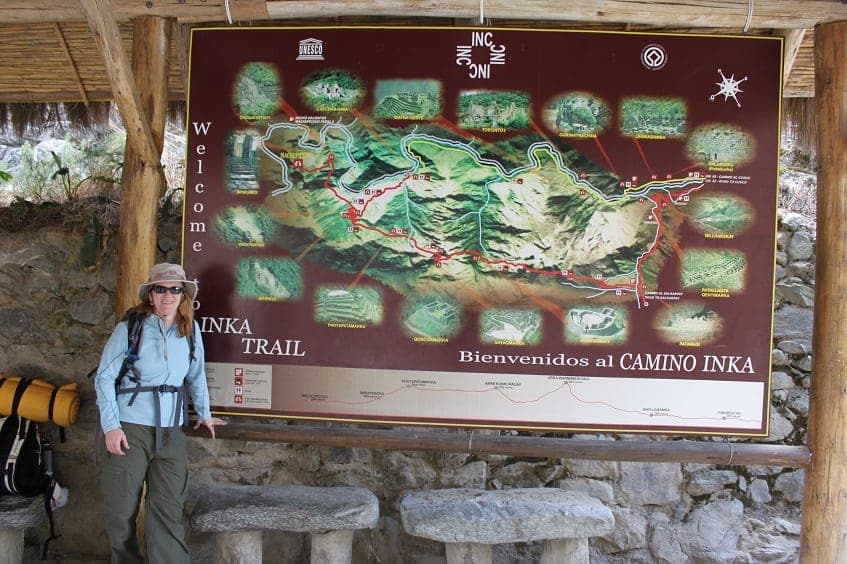 After checking in and going through the gates, you'll cross the Urubamba River and trek beside it for a way while also seeing views of the snow-capped Mount Veronica.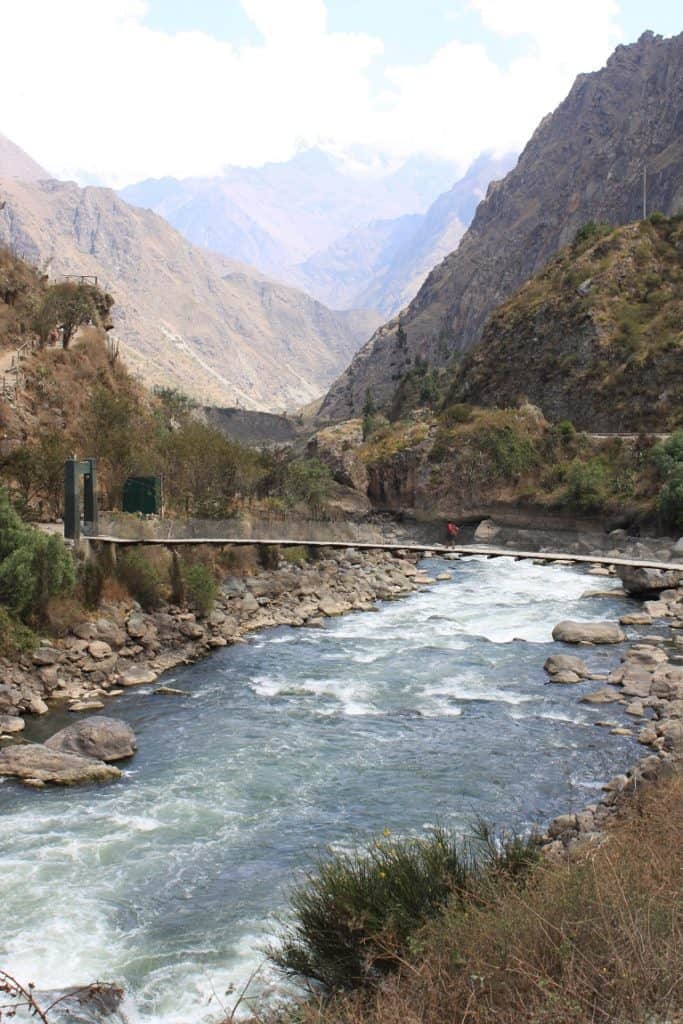 Eventually you will cross into farmlands as you make your way to Camp Wayllabamba. Along the trail we passed many small farms where locals would sell snacks, water and Gatorade. You could also find "bars", noted by a stick with a red flag on the end.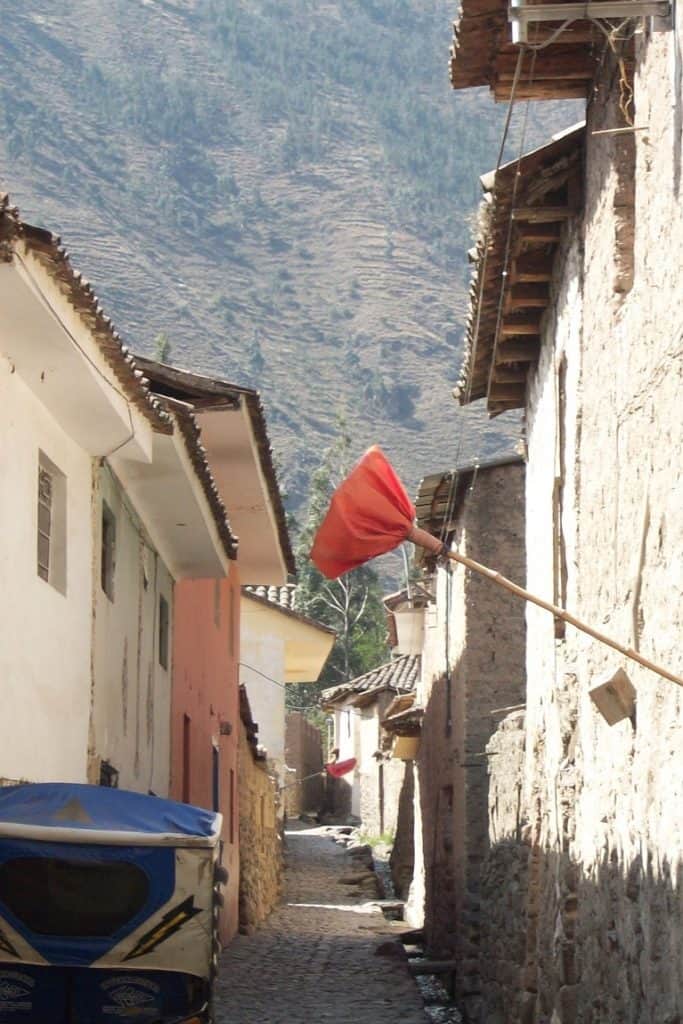 Total hiking distance: ~7.8 miles
Total hiking time: ~4-5 hours
Elevation gain: ~1300 – 1400 feet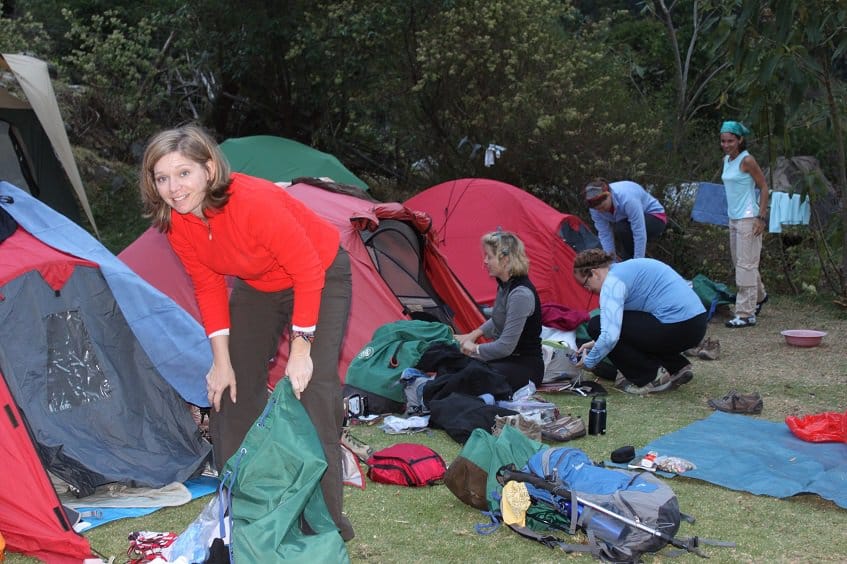 Day 2
Day 2 would be one of the hardest days of the Machu Picchu trek as we climbed to elevations just short of 14K feet!
The day started early knowing we had a long day of hiking ahead of us. We started in the dark using our headlamps to light the path.
We climbed toward the top of Dead Woman's Pass, the landscape went from lush to arid and the hot air to cold.
The air was so thin, we could only take a few steps before stopping and inhaling as much air as possible.
When we finally reached the top of Dead Woman's Pass it began to sleet! However, it did not deter our enthusiasm and excitement of making it to the top of the highest point along the trail.
What goes up must come down as we made our final push to our campsite at 12,500 feet!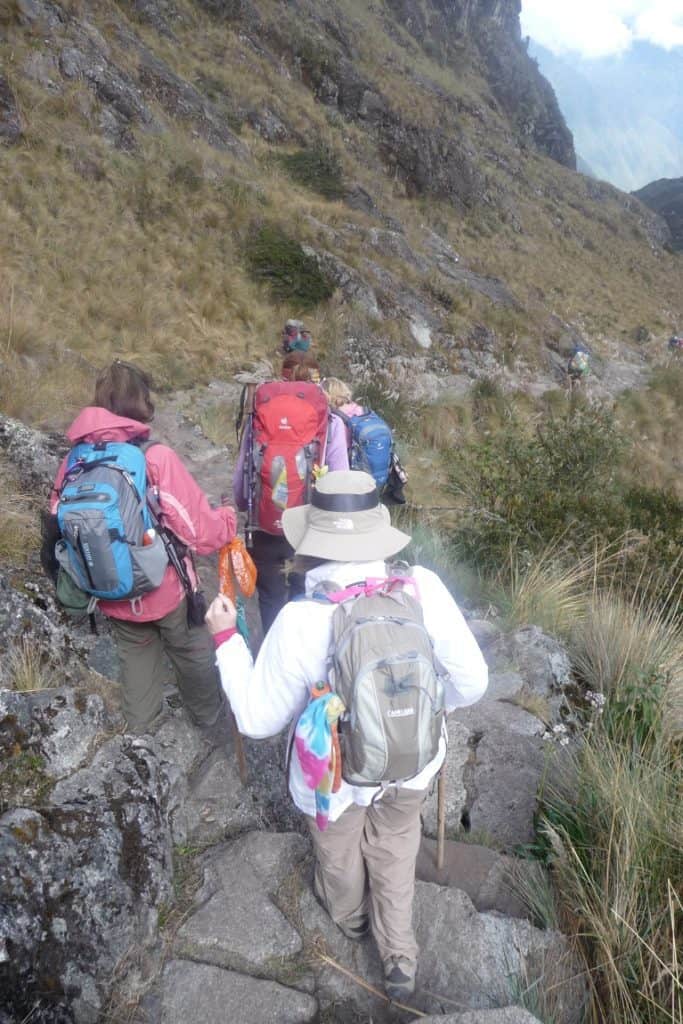 Pin this for later!
Total hiking distance: ~6.8 miles
Total hiking time: ~6-9 hours
Elevation gain: ~4000 feet to Dead Woman's Pass
Day 3
Day 3 would end up being on the longest hiking days of the trip as we covered 10 miles and climbing over 2 passes on the trail to Machu Picchu.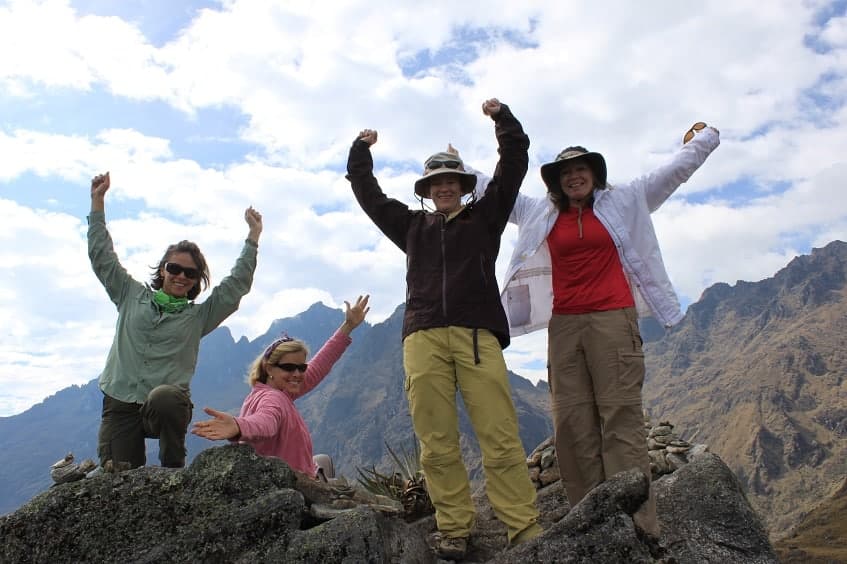 The began the day with a steep climb to Runkuraqay at 12,800 feet, and then on to Sayaqmarka, which was most likely a fortress since it commands the road.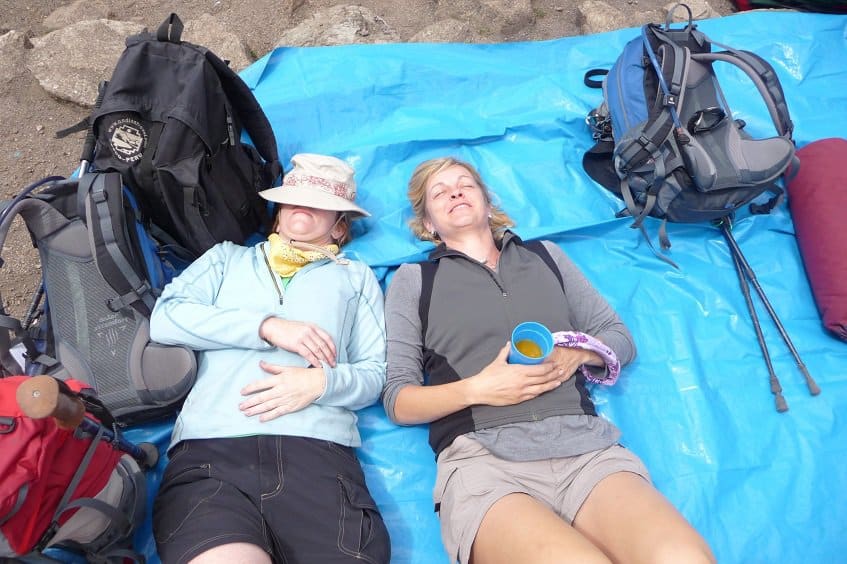 Impressive Incan engineering was witnessed in the tunnels and aqueducts that dotted the trail. The trail would eventually become flat and sandy between two mountain peaks, offering a beautiful spot for lunch and a quick nap.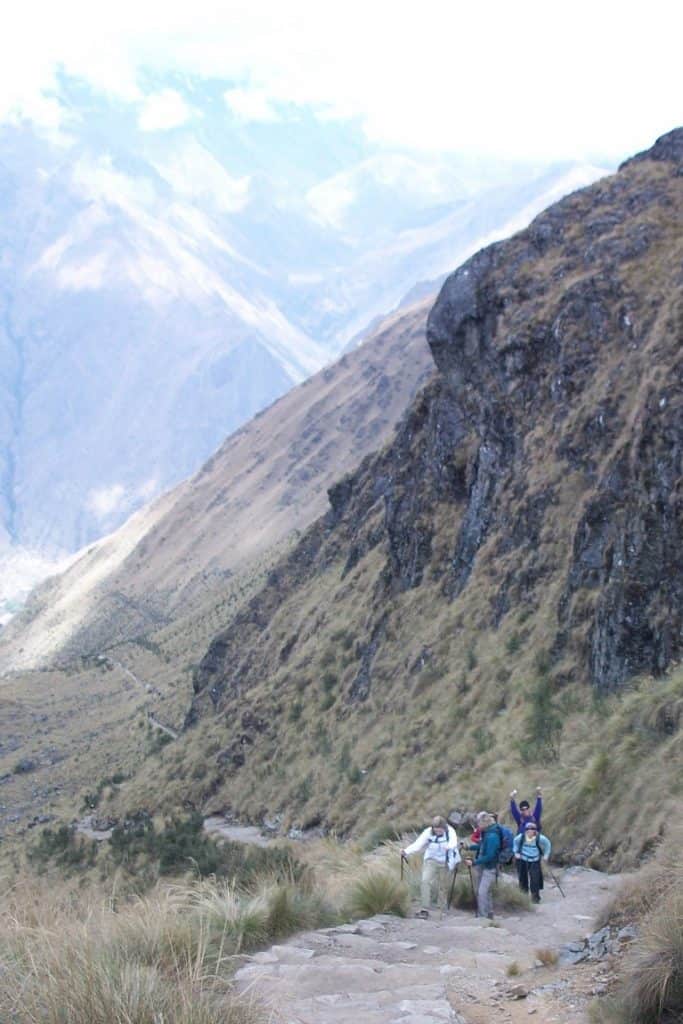 Many orchids were spotted along the trail, especially as we descended into our campground area.
Total hiking distance: ~10 miles
Total hiking time: ~8-10 hours
Elevation gain: ~1000 feet to campsite
Day 4
Day 4 is our last day while hiking a short distance to Sun Gate and then to our final destination – Machu Picchu.
While this is the shortest of the hiking days, this section of the trail has areas where it is narrow and steep.
The last segment would be covered in ferns, native hydrangeas, becoming more tropical.
We climbed steep, stone steps to reach Sun Gate and have our first view of the Machu Picchu ruins below us.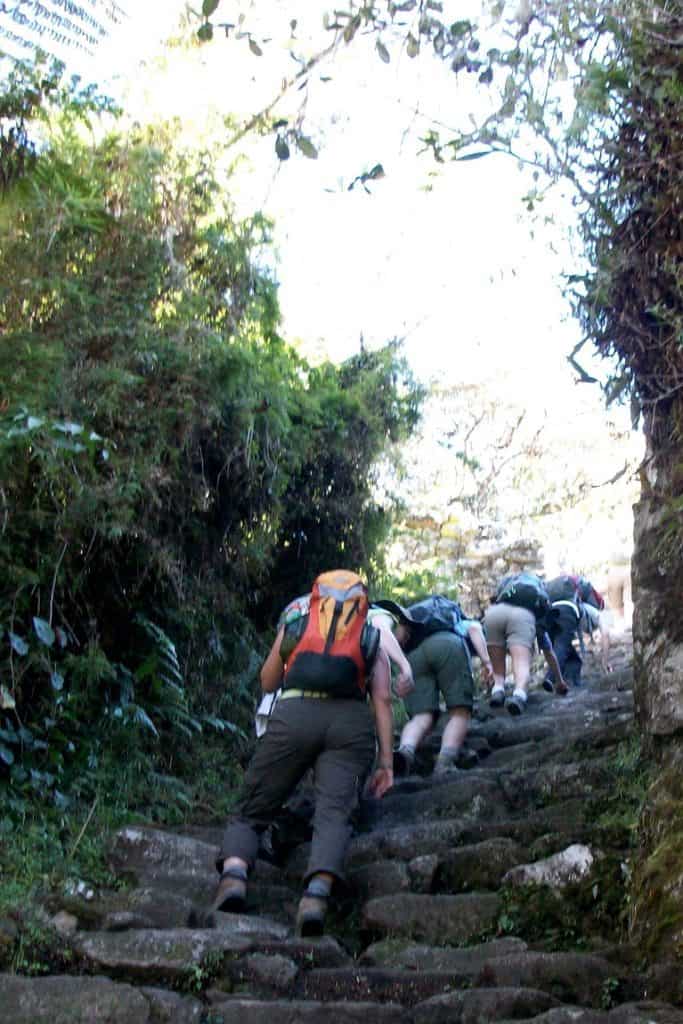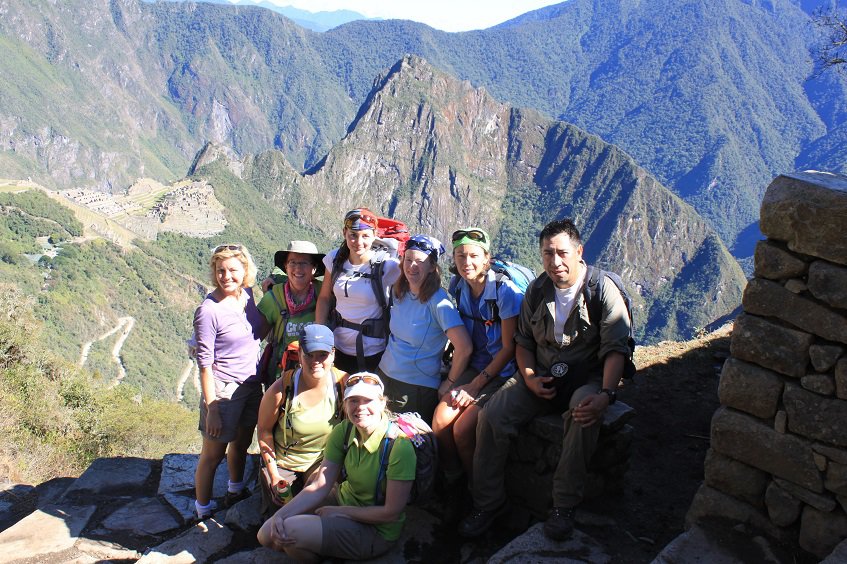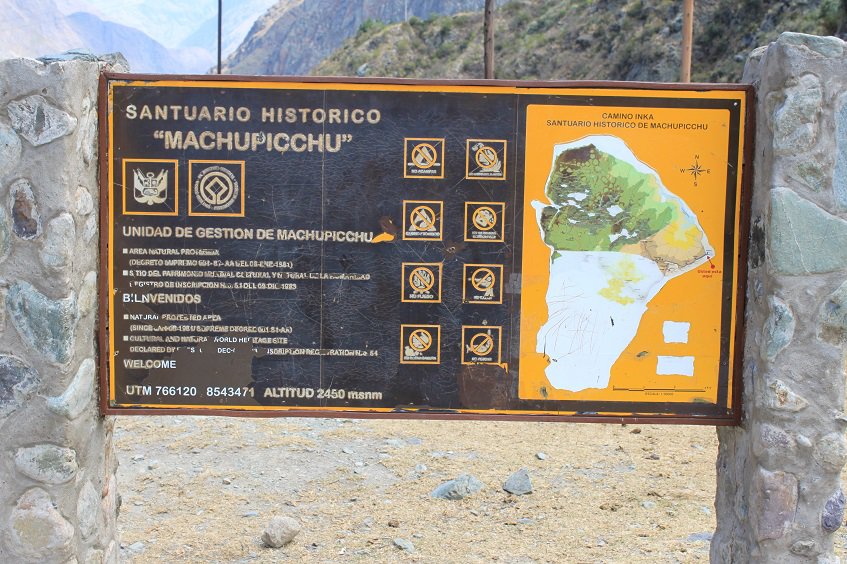 Total hiking distance: ~2.5 miles
Total hiking time: ~2-3 hours
Seeing Machu Picchu through the eyes of Sun Gate
As you get close to Sun Gate, you start climbing ancient stones as you make the final push to see your first sight and the most famous one of Machu Picchu.
For me, I didn't realize climbing those stone steps was the last segment before seeing Machu Picchu. It is at this point, you realize the experience was not the destination, but the journey.
The feeling of being able to see this view was priceless. I know that word is over-used, but the feeling our group had knowing the difficulty of trek and the bonds we made over the past 4 days, this was the reason we were here.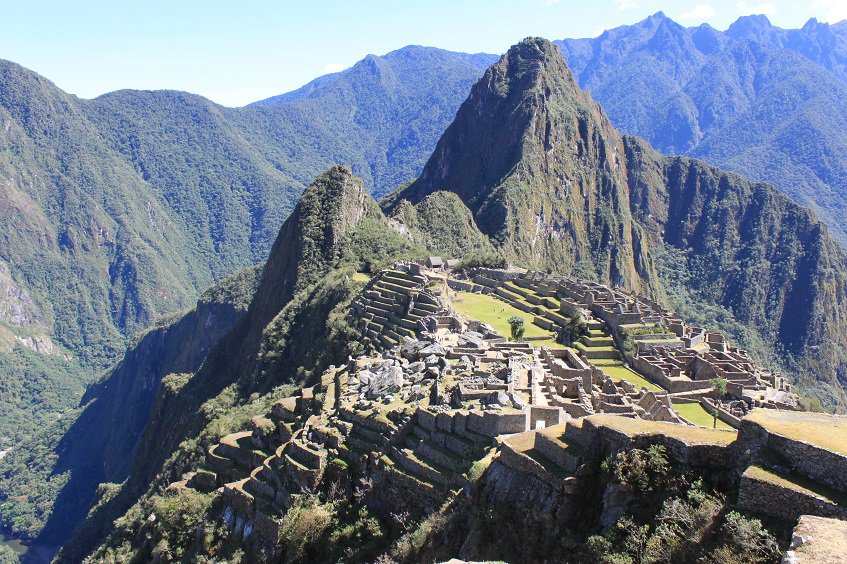 Pushing myself to limits I didn't know existed
Let's be real – this trek is hard! Unless you are a trekker who makes these climbs and are used to it, this trek is hard. Living in the Southeastern part of the United States, we didn't have an opportunity on a regular basis to hike high terrains. We hiked – long hikes – but, I can honestly say we were probably not prepared.
You climb steps, high elevations and come down uneven steps. All of which make this trip hard.
However, pushing myself to limits I didn't think was possible, made me realize most of us can do anything we set our mind on. At all times, we relied on each other to take that next step forward.
One other thing – not all parts of the trek are hard. Different parts are difficult for everyone. Personally, I had trouble with the high-altitude climbing sections. Others had trouble with going down the uneven, stone steps. It is all individual, but we all had struggles at some point.
Expect to be pushed to your limits!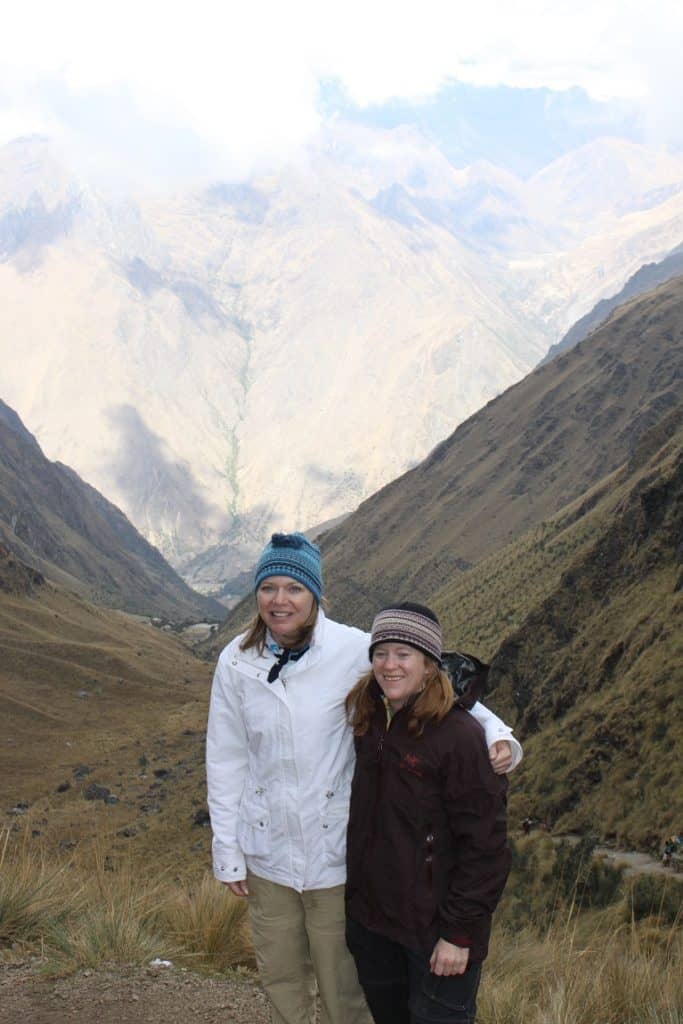 Read here about hiking on Mendenhall Glacier – another epic, bucket list hike!
Deepening friendships
Our group of seven (7) was big enough to have a private tour. I can only speak for this trek having experienced it with people I considered friends.
We helped each other through the hard parts of trek with encouragement, breathing technique suggestions or loaning equipment when needed. Each meal the group would tell stories of the day as sometimes we broke-up into smaller groups. We laughed at ourselves and experiences. In the end, we celebrated together knowing we had completed this monument feat together. While some of us see each other often, others have lost touch, or we just don't see each other often. But, when we do see each other, it is a bond which still exists ten (10) years after our trek. It is something we all experienced together, and that bond will always exist.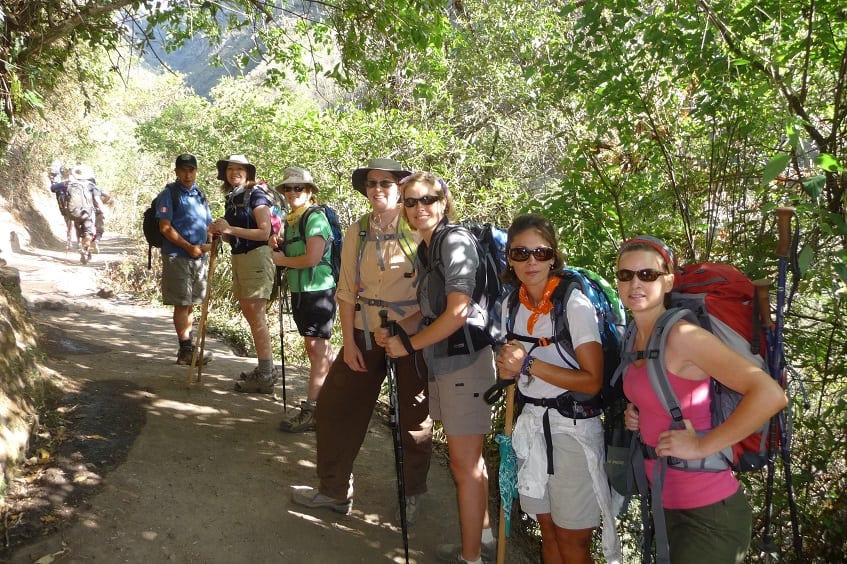 You will never forget or regret it
It has been ten (10) years since our group hiked the Inca Trail to Machu Picchu. For many of us, it remains to be one of our favorite trips (most of us travel often). Ten years later, we still talk about this trip and reminisce about some of our favorite moments.
I hear people talking about visiting Peru or the idea of hiking the Inca Trail. My advice to them is always – go! While I don't think the experience would be the same visiting Machu Picchu by train, I do believe it is a special place and can be appreciated regardless of your route there.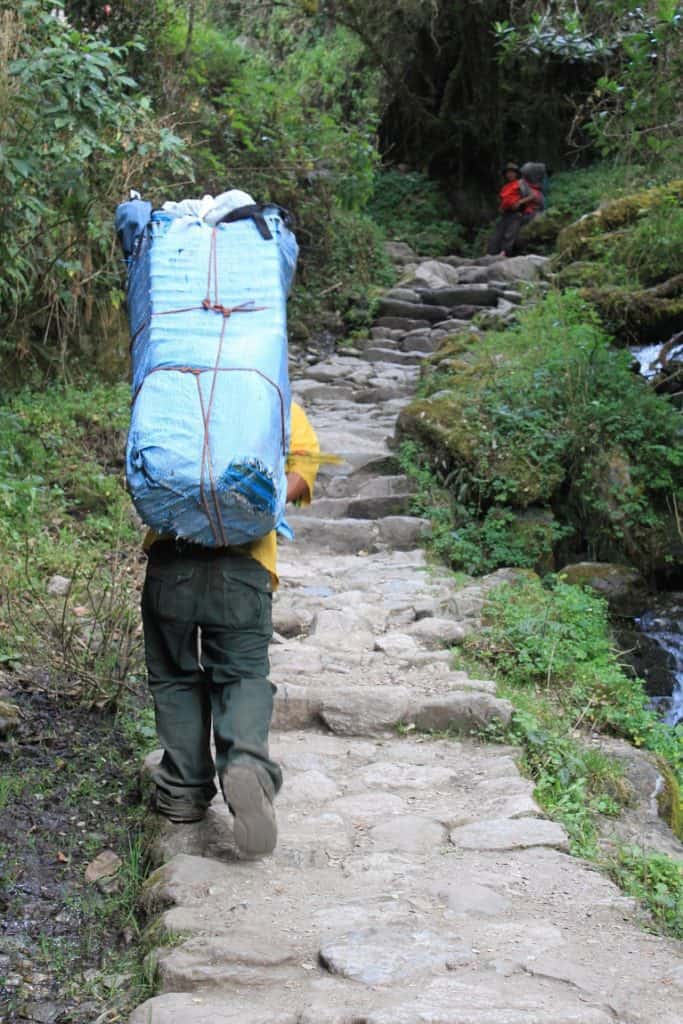 Very few bathrooms
Honestly, I didn't expect any bathrooms along this trail. While there were more than I imagined, your options are still very few and far between.
My advice is to take advantage of them when you have them. Also, do not expect them to be clean. These aren't areas where cleaning crews are sent out on a regular basis to clean them.
Go with the flow and be prepared to not always have an accessible bathroom when the need arises.
Amazing views which are never-ending
I knew the views were going to be amazing, but I never dreamed just how amazing they would be over the course of the trip.
Continuous mountain range views, orchids, ruins! I never even thought about there being Incan ruins along the route, but there are multiple "cities" to see – just none quite as big as Machu Picchu.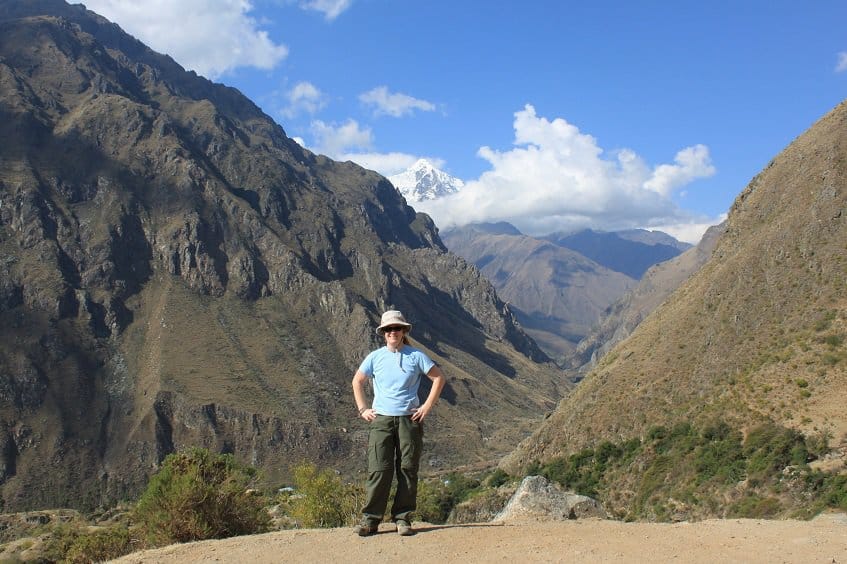 Weather varies
Our trip was the very beginning of September, which is considered the "dry" season which doesn't mean it never rains. It just means it may not rain as much.
While we didn't encounter rain during our trek, we did experience different weather patterns over the course of four (4) days. This is mainly due to the different environments and levels of altitude.
In the higher elevations, it was cold especially at night. We had wonderful porters who would bring us warm bottles of water to place into the bottom of sleeping bags to help keep our feet warm.
As we crossed Dead Woman's Pass on the second day, it started snowing on us. Remember, we were almost at 14,000 feet elevation, which means it could probably snow anytime, any month. We also experience warm days mainly as we passed through some of the subtropical jungles. The key is to have layers and be prepared for almost anything.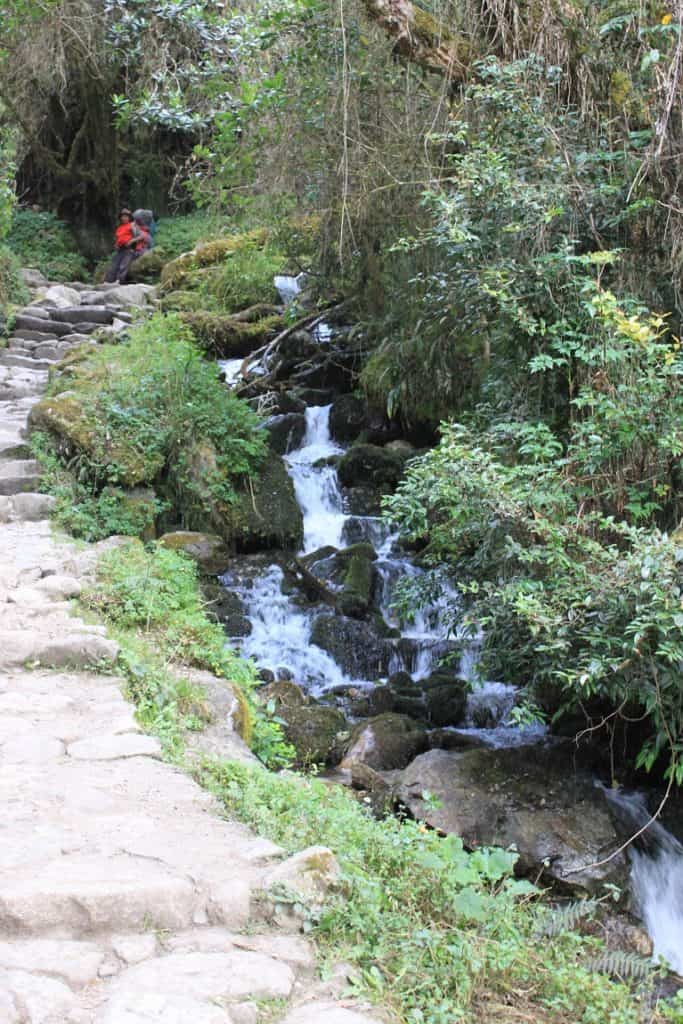 The altitude
You've heard it before and I'll say it again, it is high! High altitude can play many tricks on your body. The most common is shortness of breath especially when trying to climb steps or a mountain. But it can also decrease your appetite (I didn't have this problem), restless sleep or sick to your stomach.
If you have an opportunity to experience high elevation prior to your trip, take advantage of it. Again, not everyone has the same symptoms, and most can be handled with a little care, but it is nice to know how your body will react.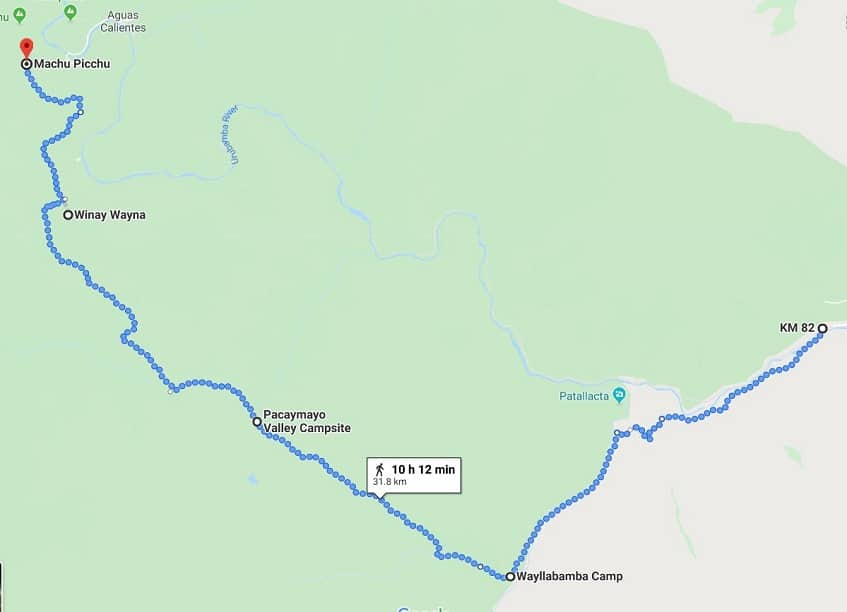 See ruins along the way
When I thought about hiking the Inca Trail to Machu Picchu, I didn't think about there being Incan ruins along the route. However, considering the Incans made this pilgrimage TO Machu Picchu, it makes perfect sense there were ruins along the way.
Should you decide to hike the Inca Trail, be sure to take time along the route to explore these ancient towns and what remains today.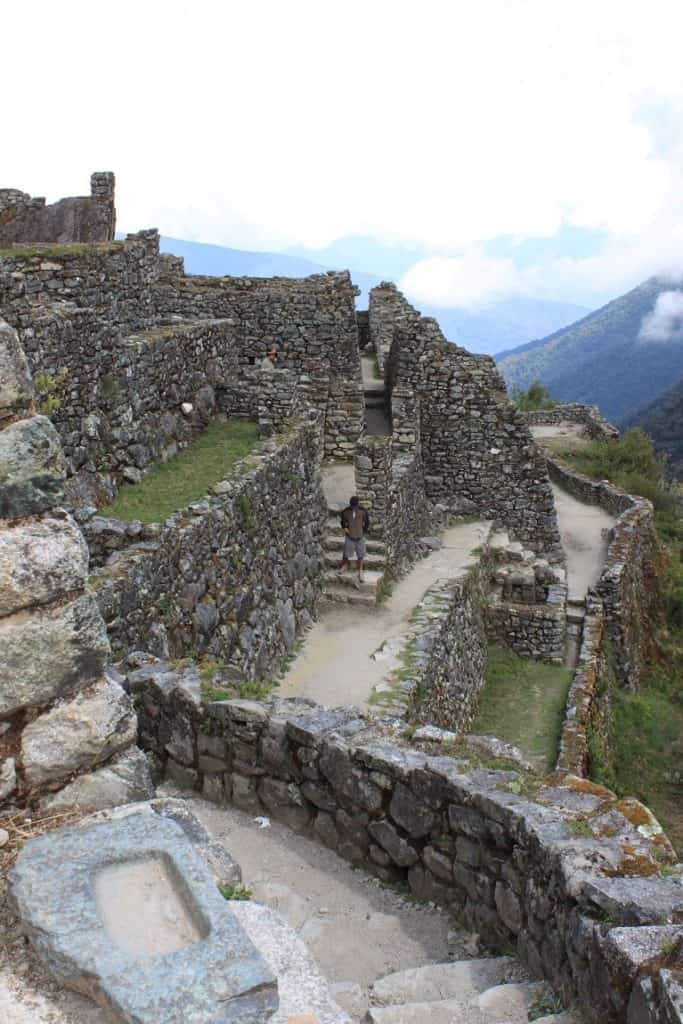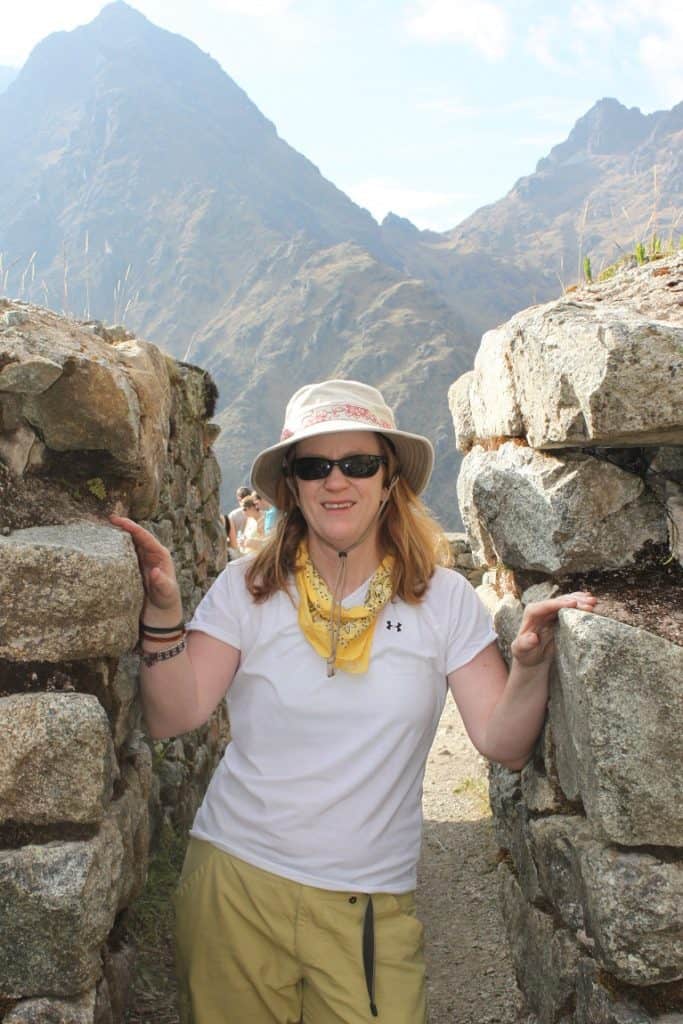 Machu Picchu will be crowded
Have you seen the pictures of the World's Wonders and how we vision it and reality? Well, I can't say it is that bad at Machu Picchu, but be prepared for there to be a crowd. It would be nice if it were only the people hiking the trail were the ones to see it, but it just isn't the case.
Our outfitter did a nice job of getting us there before the train arrives. If you have an option, get up early and finish the final leg before the train arrives. It will give you a nice chance to visit the ruins without the large crowds.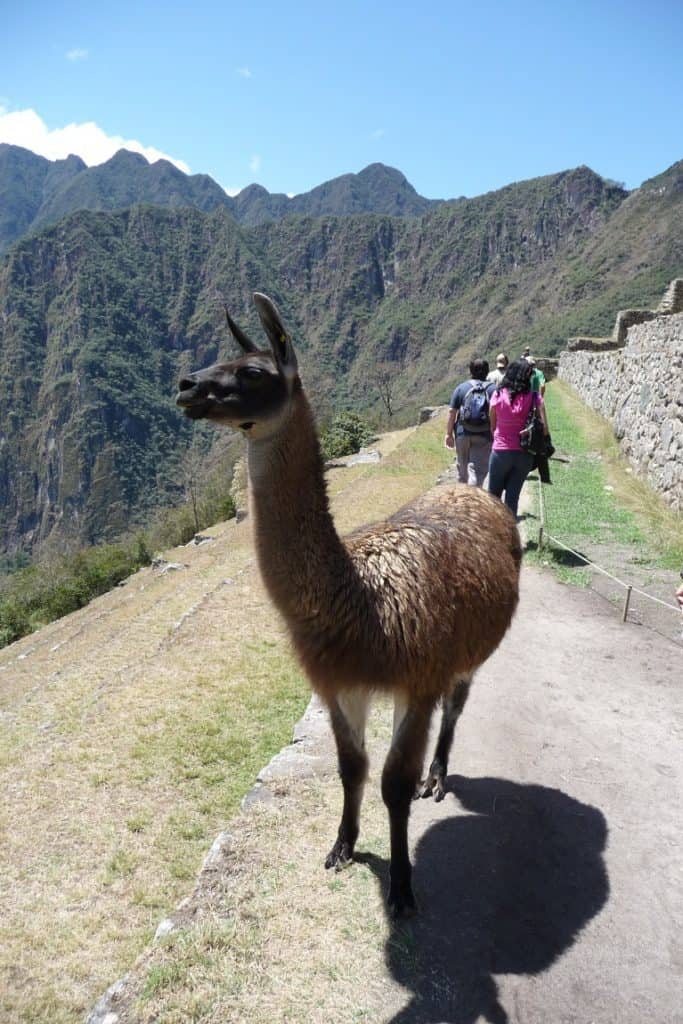 Realizing it really is about the journey and not the destination
I've said this earlier and I'll say it again, this trip for me (& the others in our group) all agreed the journey was the experience. While we enjoyed visiting Machu Picchu, what we experienced on the trail was the best part.
We developed friendships, memories and bonds which will last a lifetime.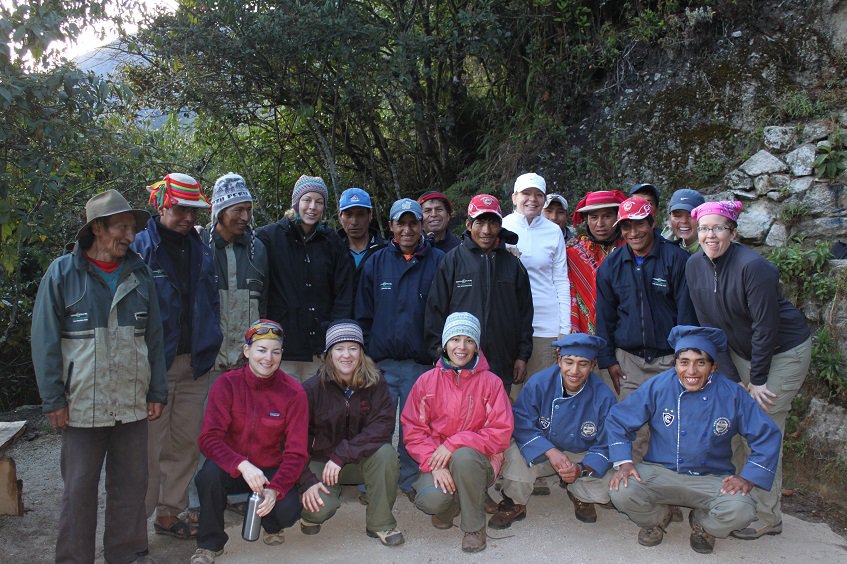 Other Information
Outside of the amazing adventure you are about to embark upon by hiking the Inca Trail, here's some other pertinent information you should know as you plan and before you go.
When to go
Your planning will start with deciding when to go. The driest months in Peru are June through September which is also the busiest time for tourists. While your schedule may dictate when to go, these are also the best time for being in the mountains. The nights will be cold, but you have a great chance of the days being warm and sunny.
Choosing a trekking group
You should know everyone is required to use a licensed outfitter when hiking the Inca Trail. It is very important to choose a group which feels comfortable and conducts ethical tourism. When planning our trip, I was lucky enough to have a recommendation for Andina Travel from a friend. They not only handled the reservations for our hike, but they also handled all our in-country reservations including booking our flights from Lima to Cusco.
While we had a great experience with Andina, the key is to find an operator who is respectable with good reviews. We chose to have a private tour along with porters who setup our camp sites, carried our bags and cooked all our meals. For us, the extra money spent on these services was worth every dime.
Arriving to camp after a long, tiring day of hiking, the last thing you want to do is set up a tent or cook a meal. Take my advice – spend the extra money and enjoy the journey!
What to pack
When packing for the Inca Trail, your first consideration should be if you must carry everything. If you follow my advice from above, you leave the bulk of your items for the porters.
The other major factor when deciding what to carry is knowing there is a weight limit of 6kg per person. Your maximum weight does include your sleeping bag and all personal items.
Recommended pack items include:
Passport (You are required to check-in on the Inca Trail which requires your passport)
Day pack – Since we hired the porters to carry our things, they provided the larger bags for our items. We only had to carry daily items in our day pack.
Warm layered clothing
Good hiking shoes and socks
Rain jacket
Sunscreen
Hat
Flashlight/head lamp
Sleeping bag – we rented sleeping bags from Andina in order to avoid carrying our own
Insect repellent
Water bottle
hiking poles
How to prepare
Get used to hiking 10-15 miles per day. While the longest day for us was 10 miles, it gets you used to hiking long ranges.
I would also suggest working on doing multiple long hikes on back to back days with a pack filled with your desired day items. If possible, hike in higher altitudes!
Lastly, be in shape. Being overweight or lack of exercising is not the way to enter this trip. It is physically demanding and the better physical shape you are in – the better!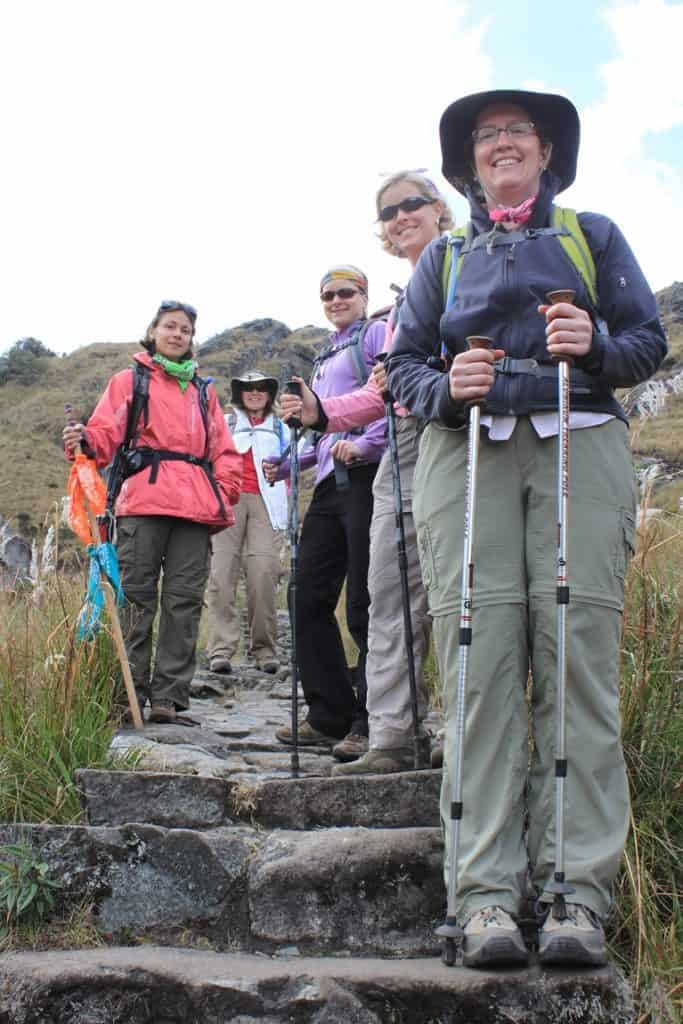 When to make reservations
If you go during the peak season, you should book your trip a minimum of 8 months in advance. To ensure you get your first date choice, I would suggest one year as the number of passes for the Inca Trail are limited and it is a first come, first serve.
The outfitter you use will handle obtaining your passes for you. This isn't something you must do on your own.
Hiking the Inca Trail to Machu Picchu is one of my life's best experiences. I hope after reading this, you are ready to make the trek too!