A hike in Alaska to Mendenhall Glacier with a glacier walk will be something to remember for a lifetime.
When I was planning our two-week adventure, a trek to an Alaska glacier with a glacier walk was high on the list. It is one thing to go hiking in Alaska, but we wanted something a little more adventurous and something none of us had ever done anywhere, much less in Alaska. After sifting through all the options for our stops, we landed on hiking Mendenhall Glacier as our best option.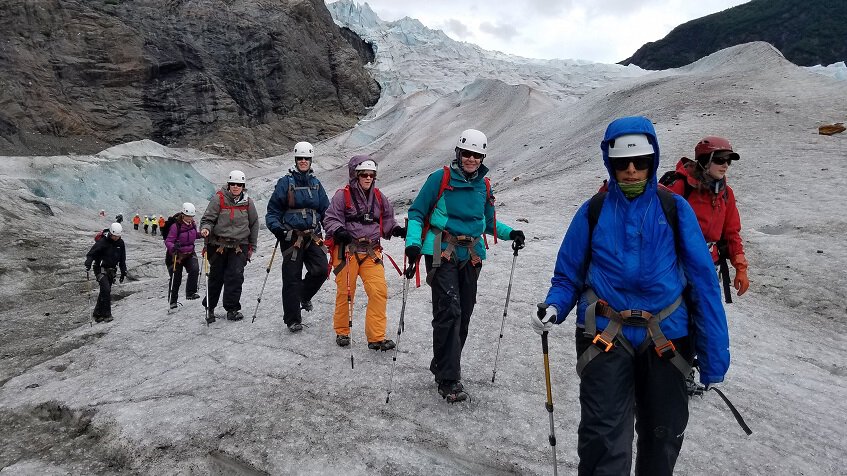 About Mendenhall Glacier
Mendenhall Glacier is located about 12 miles from downtown Juneau and is one of 38 large glaciers part of the Juneau Icefield and is just over 13 miles long. Mendenhall is one of eight Alaska glaciers which can be accessed for glacier walks.
After reading reviews on several outfitters for this hike, we decided to use Above and Beyond Alaska as our glacier guides. The biggest selling point was we didn't have to join another group and could have our own private tour. It was more expensive, but since a few of us were not avid hikers, we wanted the option to take our time.
Additionally, we really liked the idea they basically provided all the equipment and provided some amazing, energy providing snacks.
Tip: If you know you want a private tour, book in advance to get your most desired date. We booked ours five months in advance.
Preparing in advance of our trip
Most of us who signed up for the glacier walk, were either hikers or active people. Our plan was to get in some nice long hikes with elevation to prepare ourselves for the hike. We knew it was going to take us 7-9 hours and most of us were not used to hiking for that many hours.
While we didn't hike as much as we had planned, we were ready for some hiking in Alaska and especially on an Alaska glacier!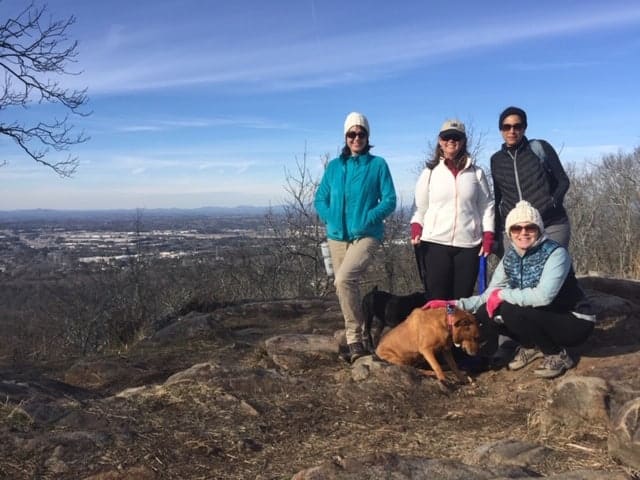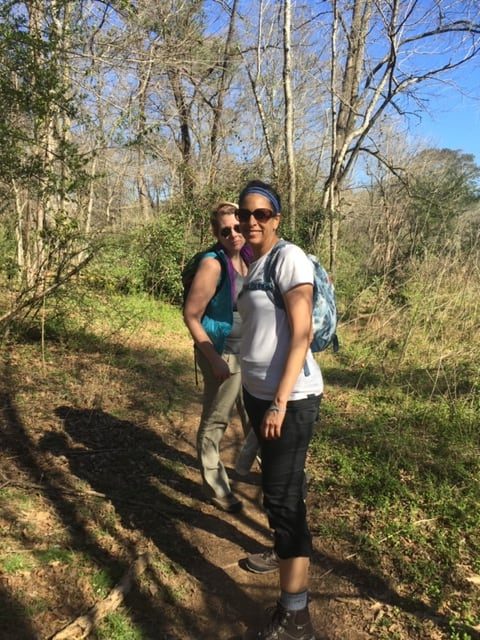 Hike Day
We had a little drama with our hotel the night before, but we were able to recover, and all had a good night sleep before the big day.
Meeting early for a nice breakfast, we knew it would be important for daily energy. We were all excited and some still waking up, but all geared up for an adventurous day. For most of us, it was our last big adventure during our two weeks in Alaska and felt it was a perfect way to end a perfect vacation. After finishing up breakfast, we walked down to meeting point at the Mount Roberts Tramway in downtown Juneau.
Meeting our glacier guides
We met our glacier guides, Katie and May, at 8AM at the Mount Roberts Tramway. It was overcast and raining a little that morning, but they convinced us the glacier would look nicer with a few clouds. I'm sure if this is exactly true, but it did make us all feel better. We had been very lucky with weather to this point and why should things go wrong now!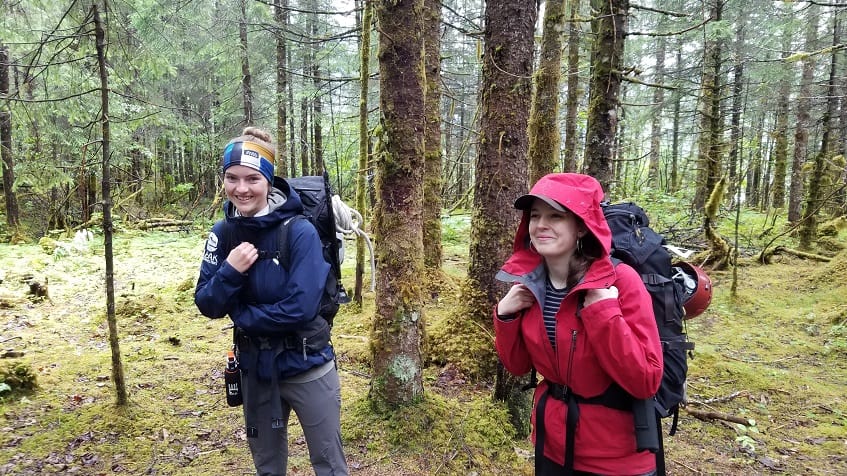 After arriving in the parking lot of the Mendenhall trailhead, we were fitted with our backpacks, rain jackets, harness, crampons, and helmets. We were all impressed with the huge bag of snacks loaded into our backpacks!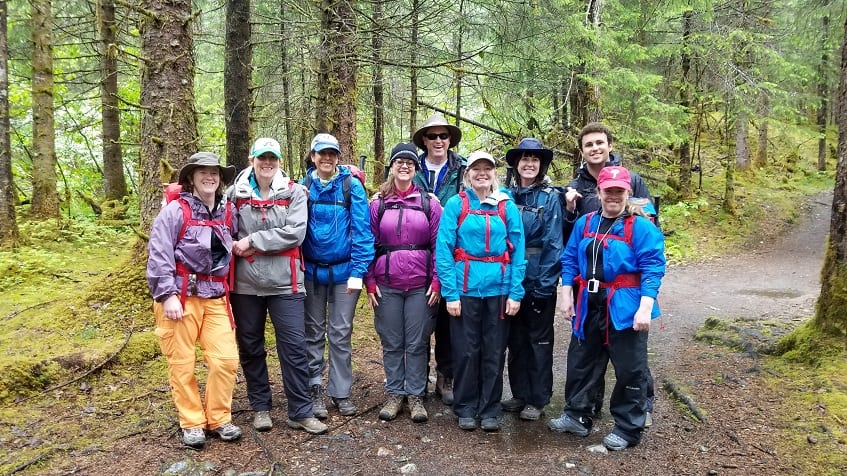 RELATED: Read my Alaska Summer Bucket List for more ideas when visiting Alaska.
Glacier Trek
Hike to the glacier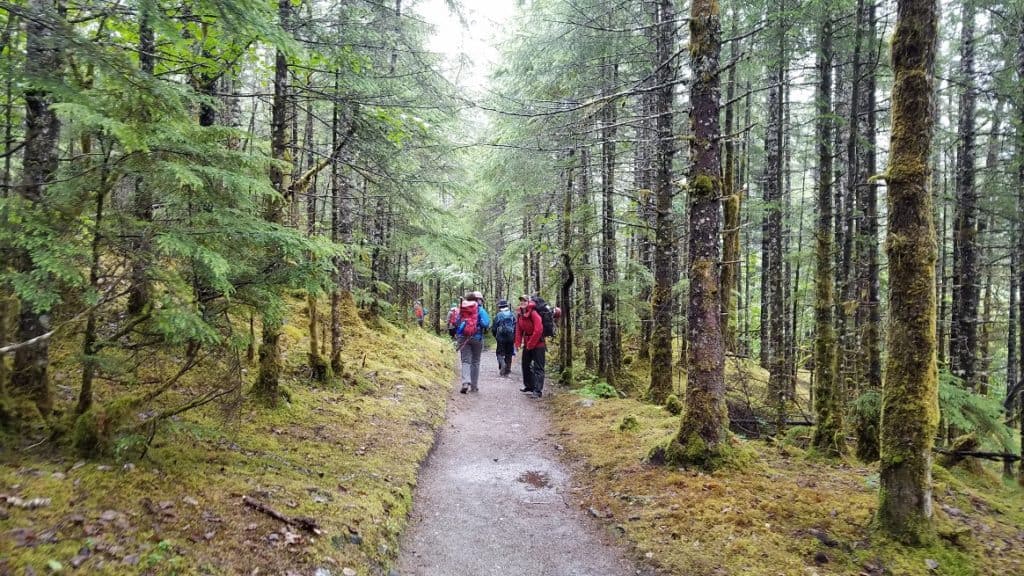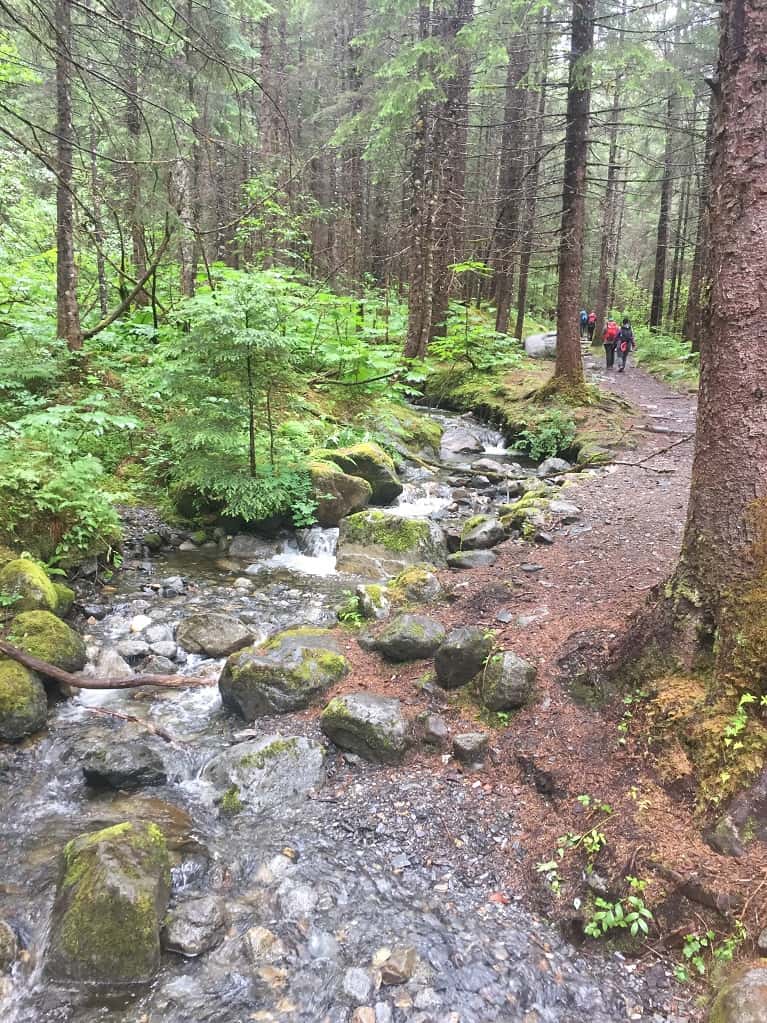 The first four miles were an easy hike through the Tongass National Forest, where the trails were lined with towering Sitka Spruce and Hemlock trees. The trees began thinning out as we gained altitude.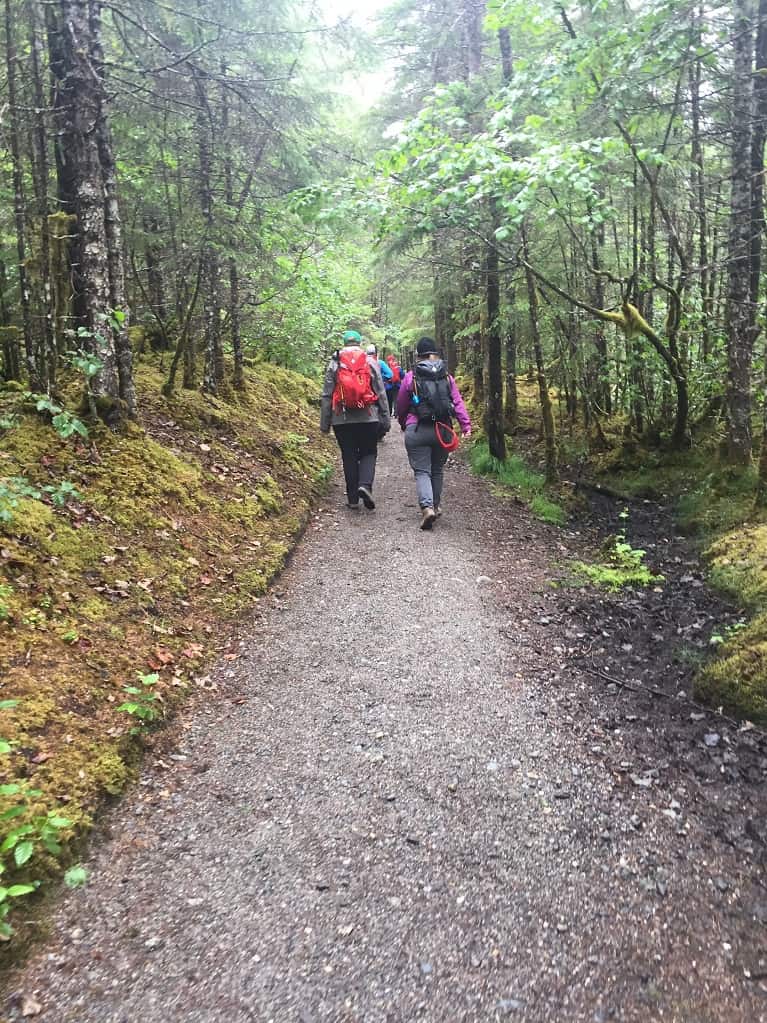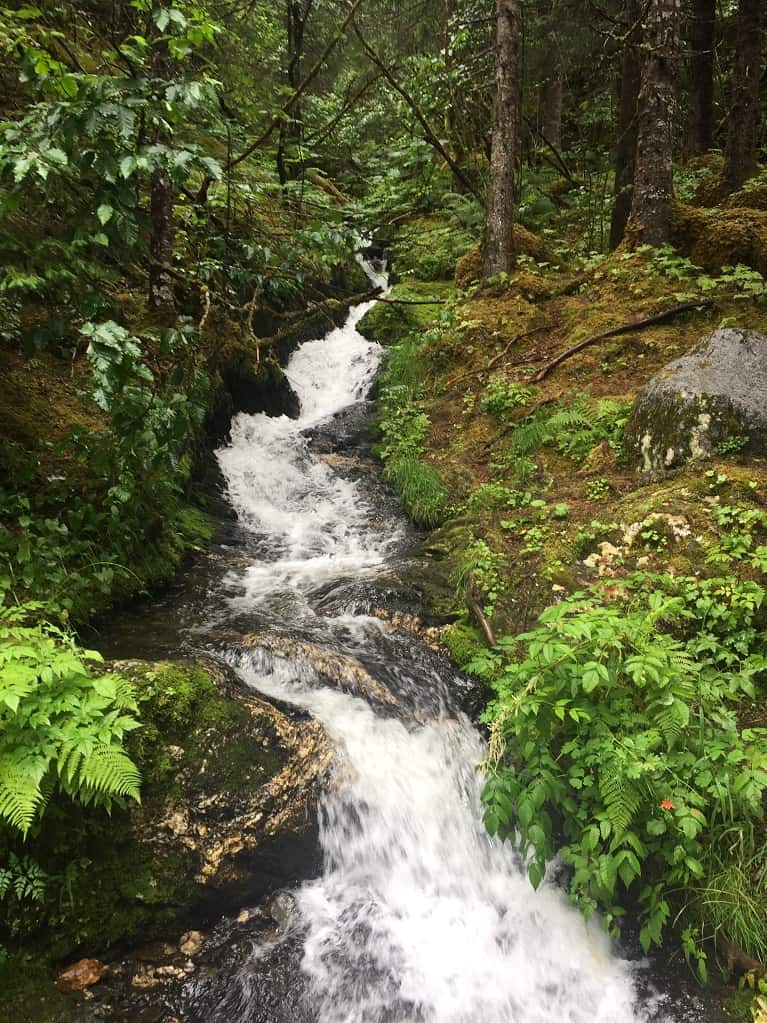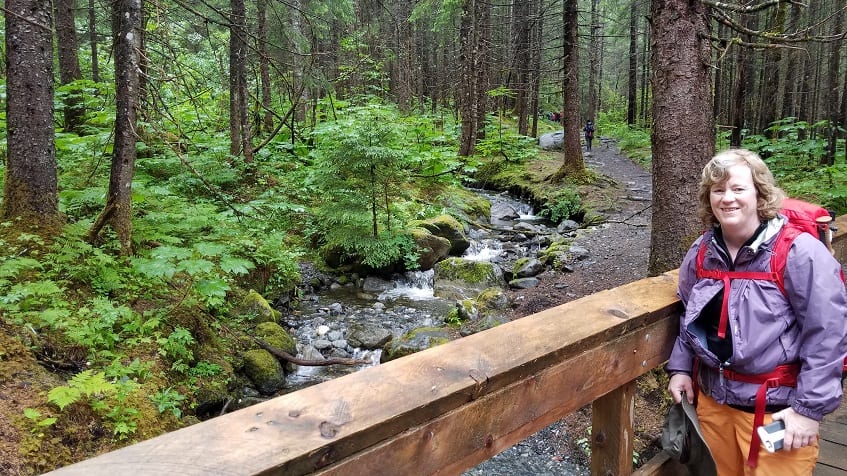 There were a few areas of steep rocks which were slippery. But, having a private group allowed us to take our time and walk down with care to prevent any slips.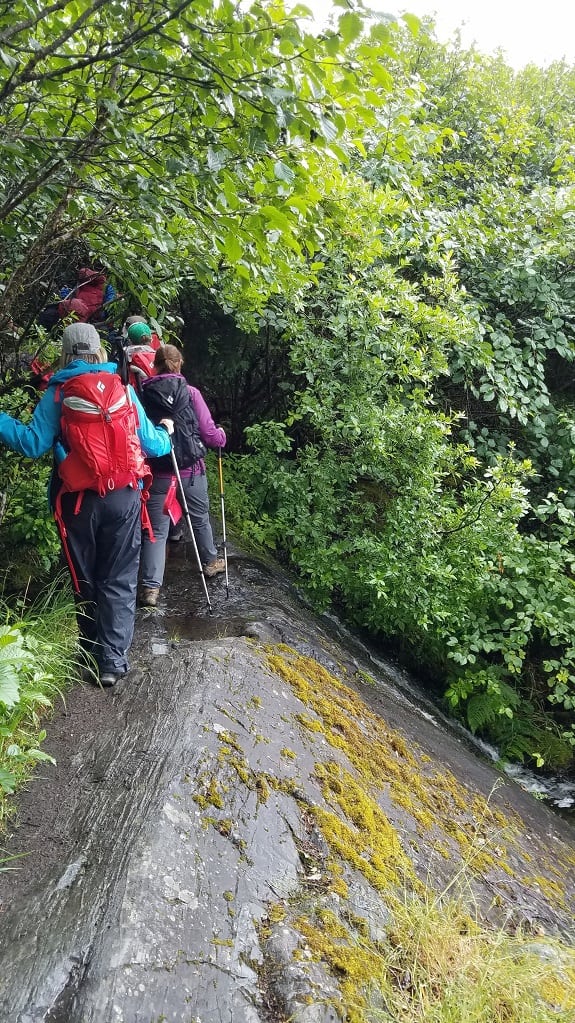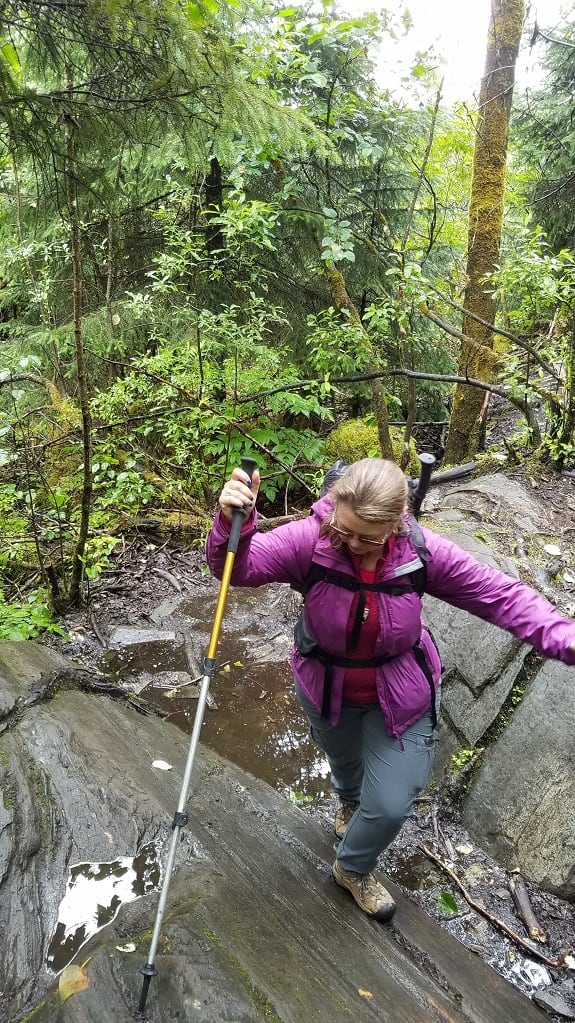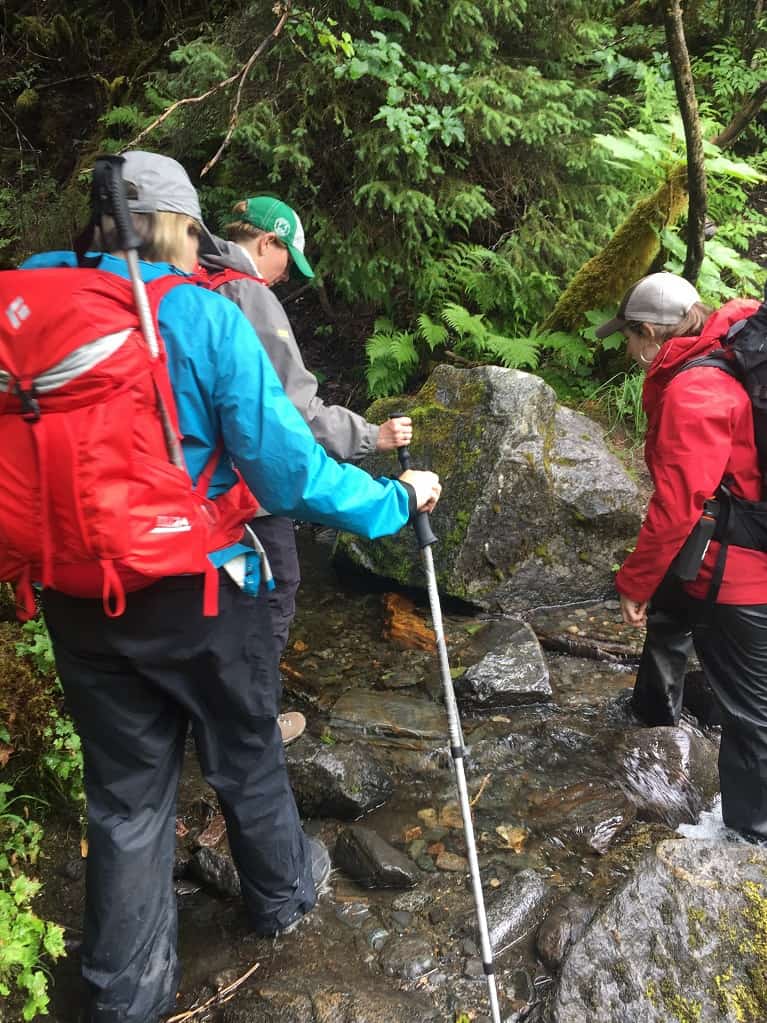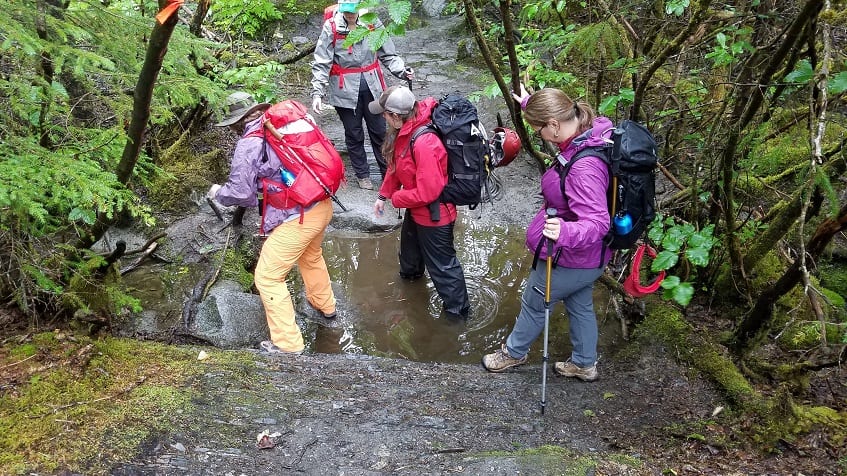 We approached what Katie and May, our glacier guides, called a "rock scramble", but this was more like a rock climb without the harnesses. It sounds dangerous and maybe it was a little, but they guided each person individually up the scramble with very specific instructions on where to place your hands and feet. We all made it to the top in no time at all.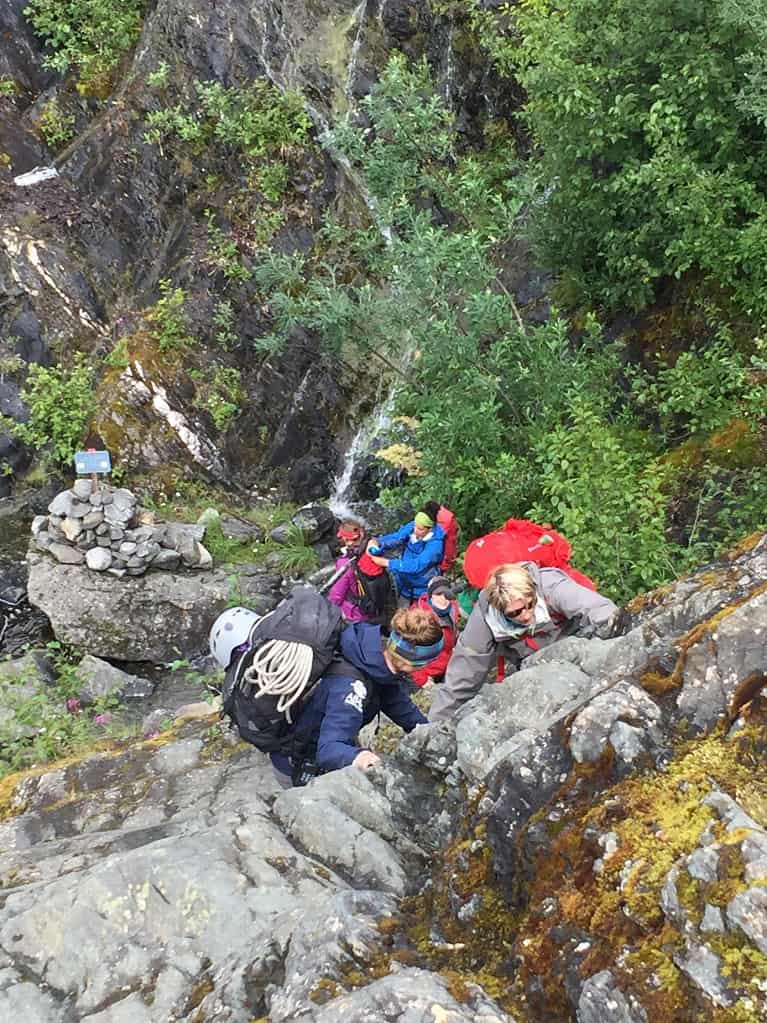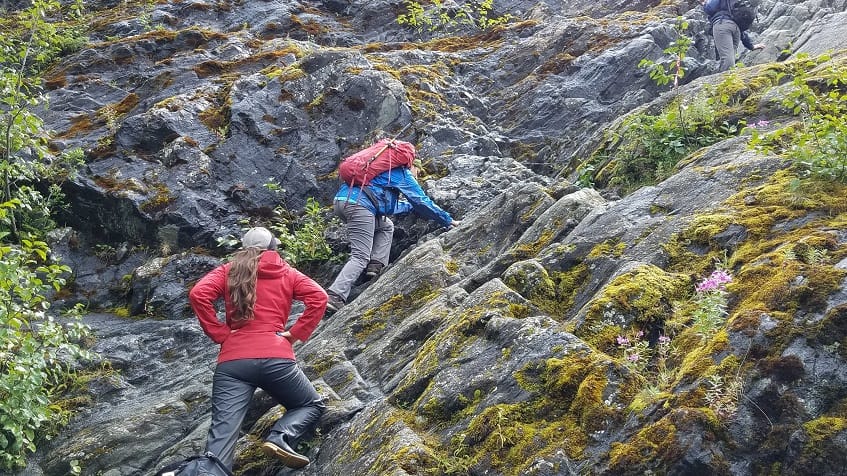 As we all made our way to the top of the rock scramble, we gained our first view of Mendenhall Glacier. It appeared to be so close, yet it was still so far away.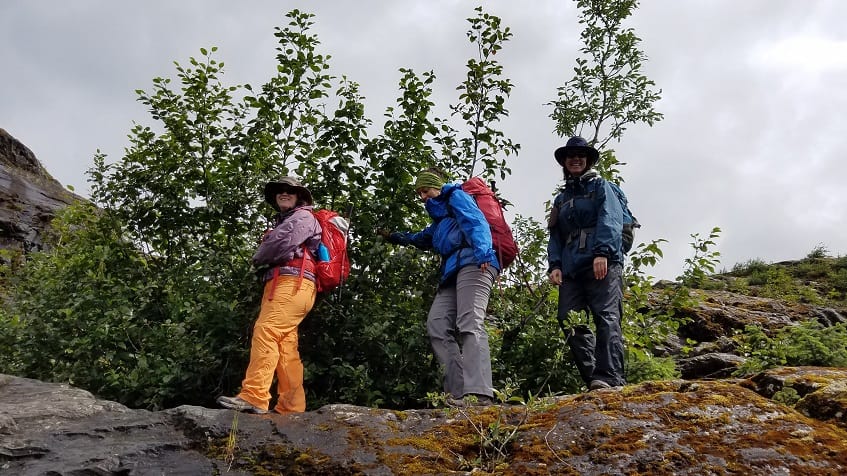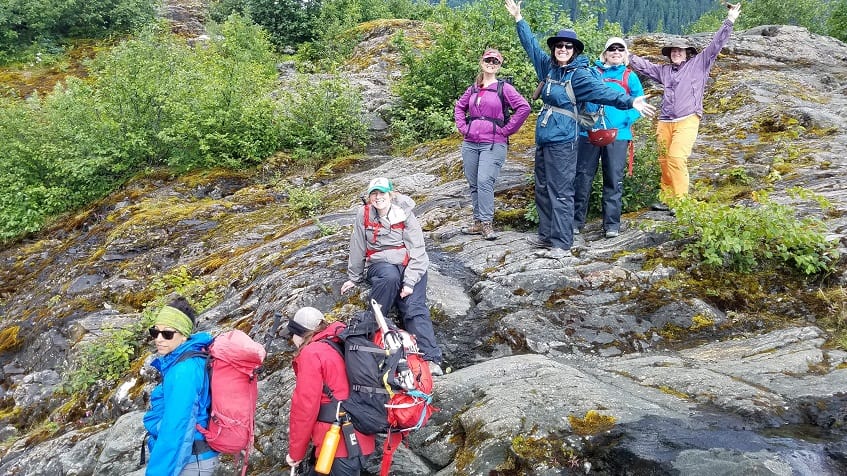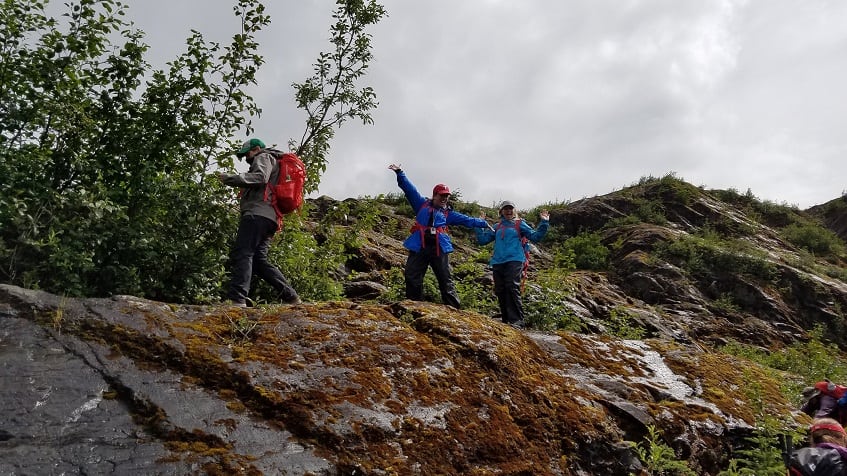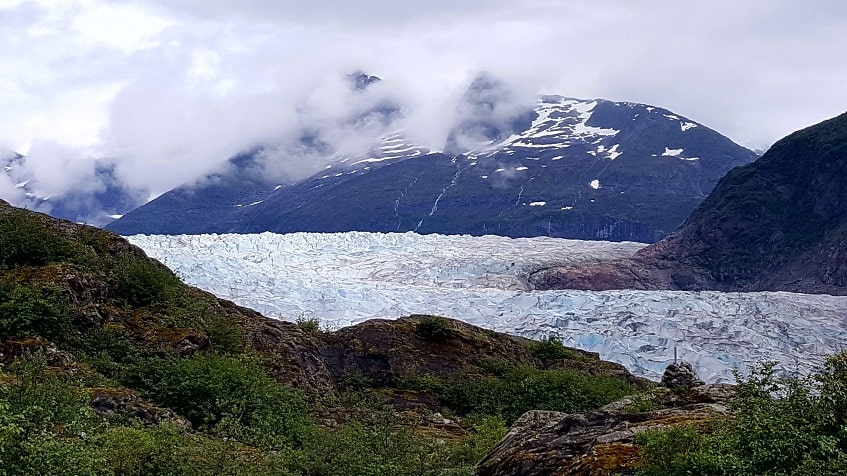 Starting at the beginning of the trail, we would see signs along the route of the glacier's location in different years. It was shocking to witness first hand how much this glacier has receded over the years.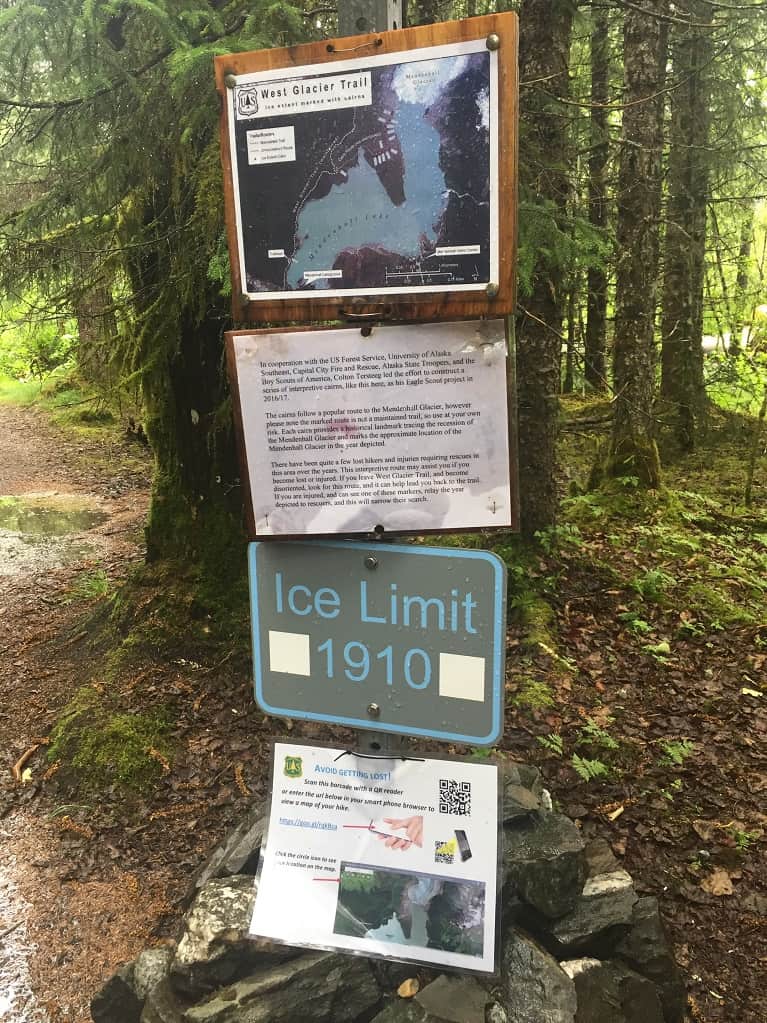 The last section of the trek was along rocks as we made our way to the glacier entrance. Getting closer, we stopped for our second snack break, added layers including our crampons.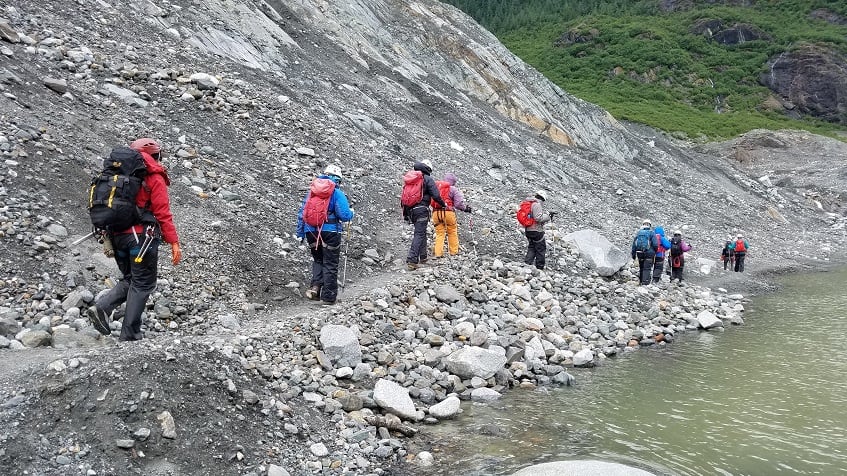 Katie and May also provided us some instructions on how to step with the crampons once we were on the glacier. We were ready for our official glacier walk!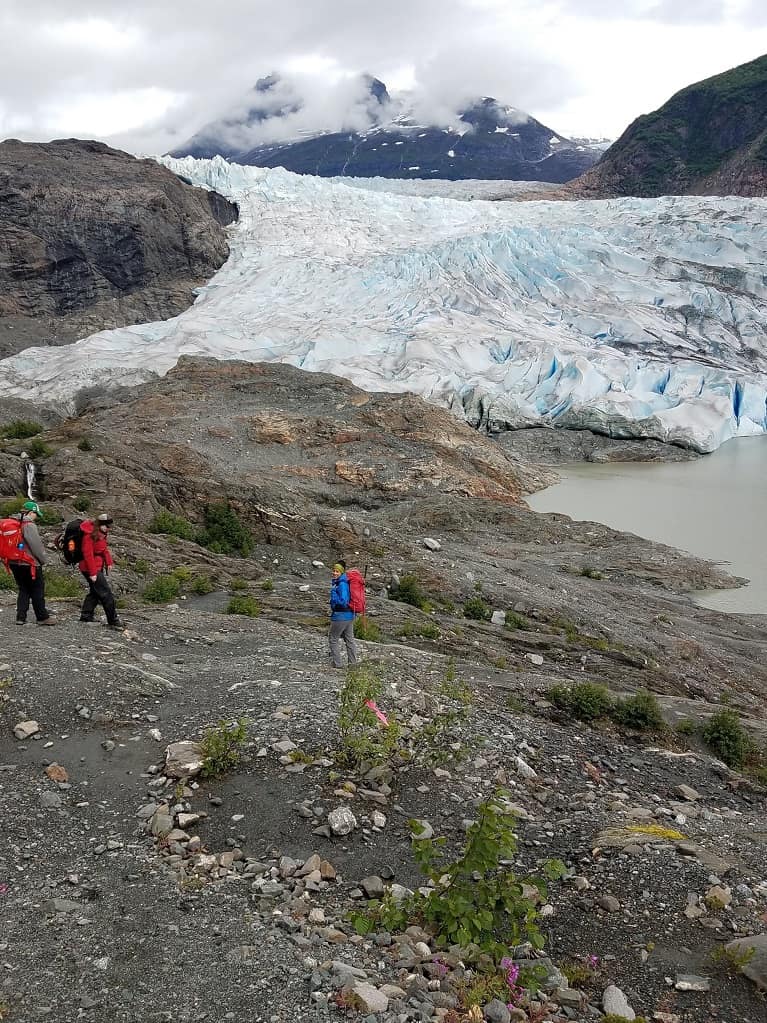 Glacier walk
We walked on the glacier as one group, but we soon split into two smaller groups. It was interesting to hear how glaciers are always changing. Features come and go over the course of a season, including the ice caves.
We were very lucky because an ice cave was recently formed, and they had determined it was safe for us to enter. First, we would explore a moulin and then Mendenhall ice cave!
Mendenhall Ice Caves
Standing at the top of the moulin I had a thought, what if I fall in? Where do I go? Do I every come out (most likely not)? It gave thought to be extra careful, but what a thrill to stand at the top and investigate this blue and green ice above me. It was another one of those moments in this trip I will never forget.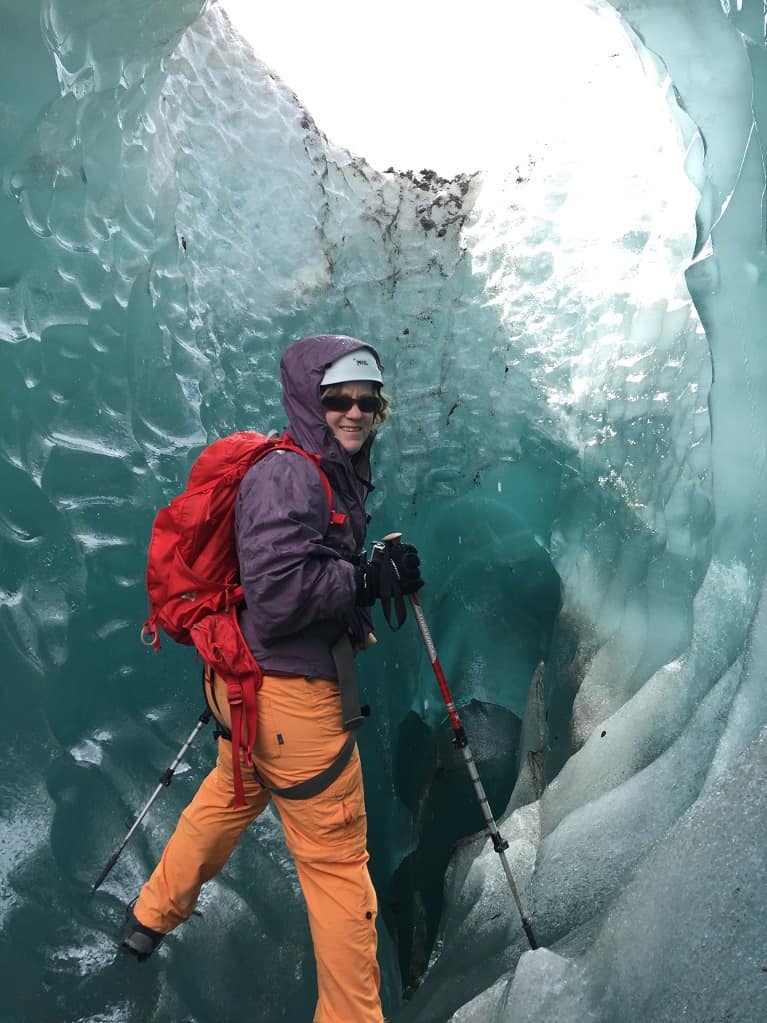 After the moulin, it was time for the Mendenhall Glacier ice caves. We walked in and were able to have fun with placing our hands inside the ice.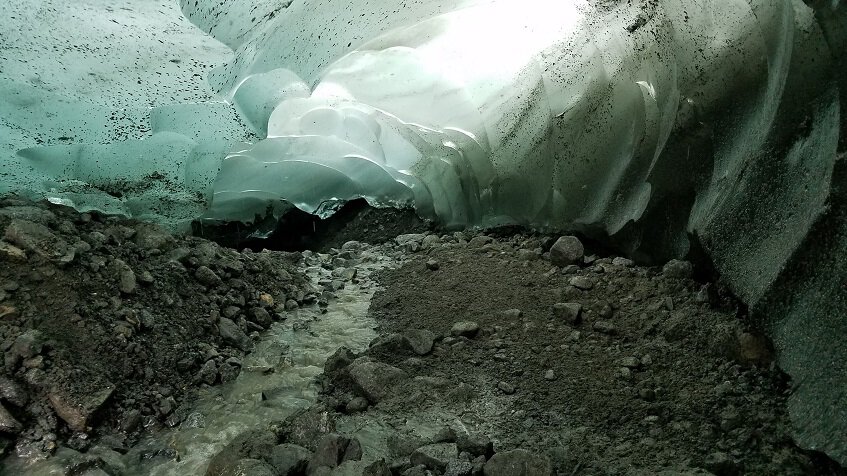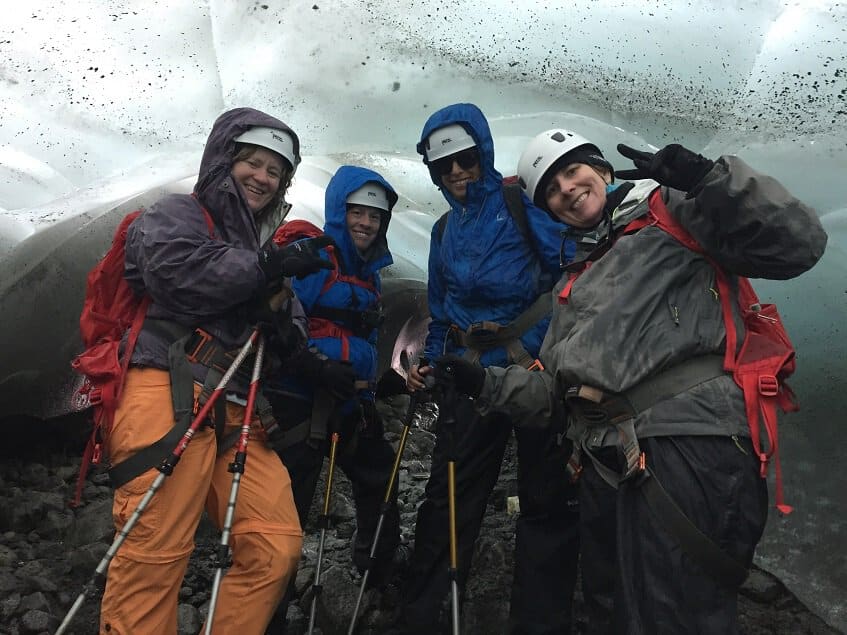 After our Mendenhall Glacier ice cave tour, the two small groups came back together as we trekked along the ice reminding us of toasted marshmallows. As we climbed to a peak, we stood about 50 feet above the bluest water in a deep crevasse. This would be the second time I had tears feeling the majestic beauty of this earth and God's power.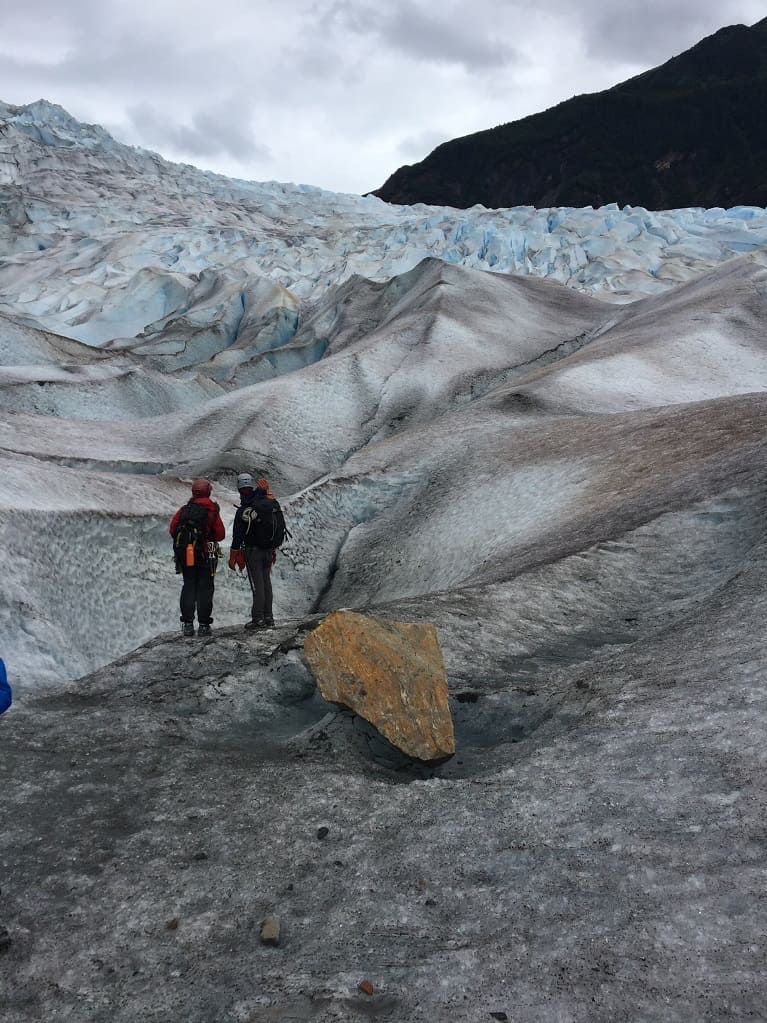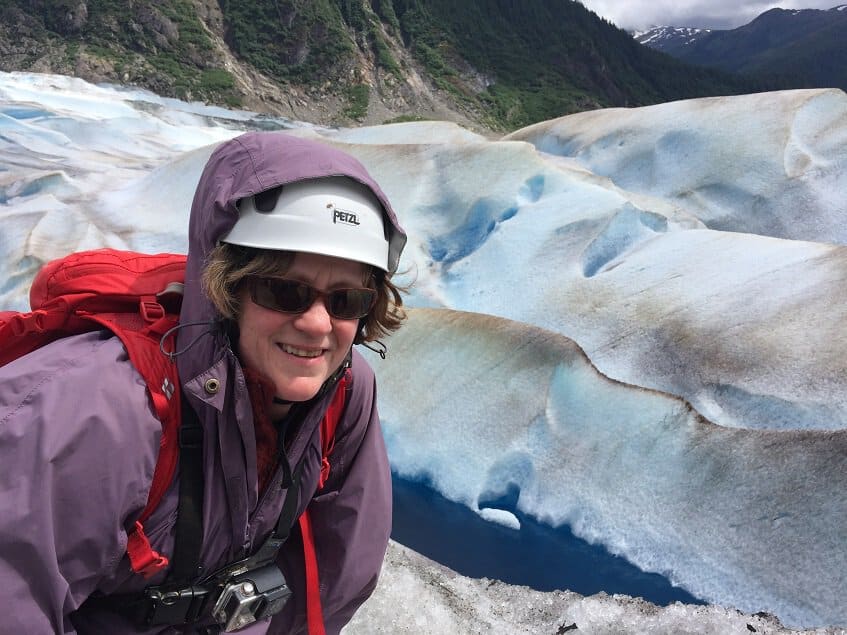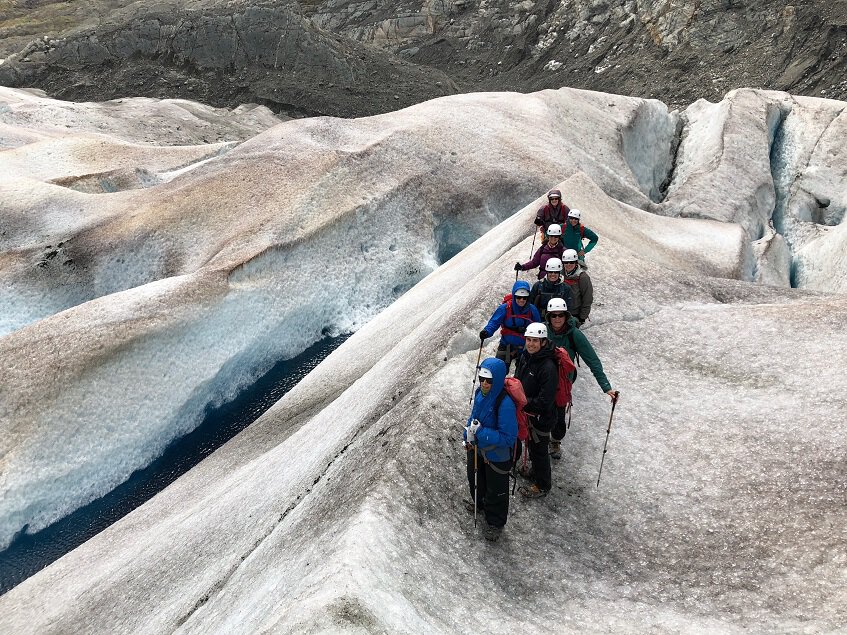 Trekking back
We still had a two hour plus hike back, so our glacier walk time came to an end. Climbing off the glacier and on the hike back, we all knew the Mendenhall Glacier hike was an experience we would never forget.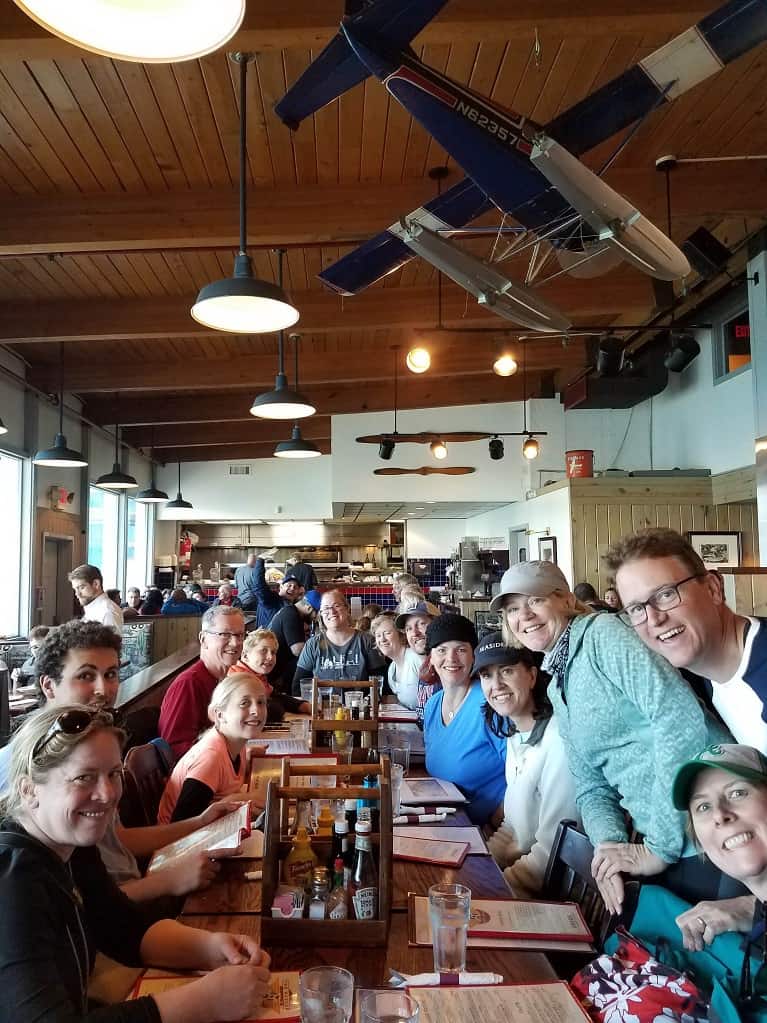 What to expect on your glacier walk
To get dirty – a good reason to use the equipment they provide even if you have your own
Be prepared to be hot and cold – bring layers!
You will be tired when you finish
But most of all, if you this is your first glacier walk, expect for your breath to be taken away
What to pack for your glacier walk
One of the advantages of using Above and Beyond Alaska for your glacier walk is they provide many of the needed items. Below is a list of the items they provide:
Crampons
Ice axe
Harness
Helmet
Backpack
Rain Gear
Hearty snacks
Bottled water
While I brought my own rain gear, I ended up using the ones provided by Above and Beyond Alaska as our glacier guides recommended it.
Below is a list of items we brought with us:
Insulating layers for dryness and warmth
Hiking pants
Sturdy high-top hiking boots
Hiking poles
Warm hat
Gloves
Sun hat
Sunscreen
Sunglasses
Bug repellent
Camera
Extra snacks (this was recommended by our glacier guides, but they provided a ton of snacks and didn't need any extra)
Cash for glacier guide gratuities (optional)
Extra pair of socks in case you get wet (very possible)
Other ways to see Mendenhall Glacier
While it may not be as adventurous as a glacier walk, you can drive to the Mendenhall Glacier Visitor Center.
The visitor center provides ranger talks and videos about the glacier. You can also take a short walk to the falls, where there is an excellent view of the glacier.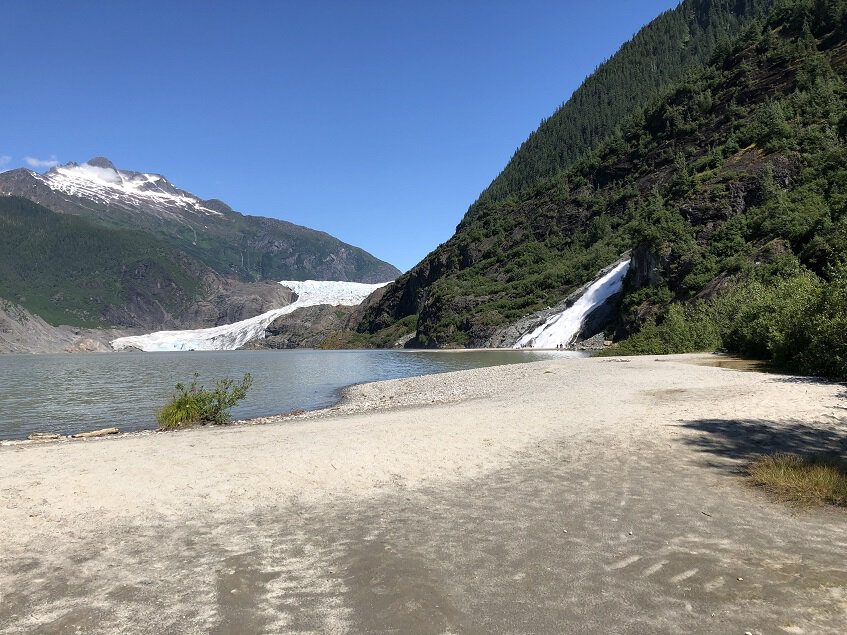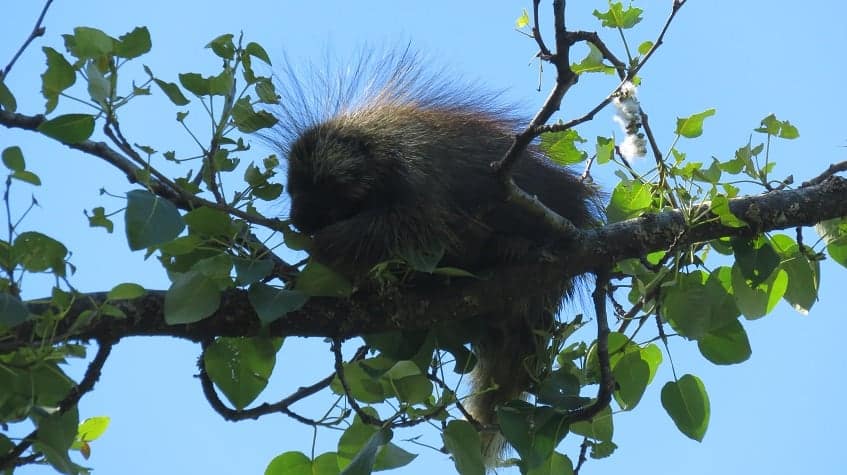 Mendenhall Kayaking
A few others in our group took a kayaking trip with Alaska Travel Adventures where they were able to get a great view of the glacier. It was a 3.5-hour trip along Mendenhall Lake, where there was an opportunity to get close to the glacier.
Regardless of how you see Mendenhall Glacier, it should be on your list for any trip to Alaska.
A glacier walk on Mendenhall or any glacier is Alaska is something anyone completing will remember for a lifetime.