Anchorage and Riding the Alaska Rails
Day 1 – Fly from Atlanta to Anchorage
Lodging: Home2 Suites by Hilton
After months of planning what I hoped would be a perfect two weeks in Alaska, it was finally time to lift off. I will be spending two weeks in Alaska with 19 of my closest friends to celebrate my 50th birthday! I'm not sure how I became so lucky, but I have high hopes for the 2 weeks ahead.
Small groups would be flying to Anchorage on different flights, but we would all be in Alaska by 9pm. I arrived via Delta (my favorite airline) with my friends Phyllis, Missy and Amy. We touched down around 2:30 in the afternoon and headed straight to our hotel. Our home tonight would be the Home2 Suites who were amazing to work with for such a large group. They made the reservation process easy and were able to provide reservation numbers for each room.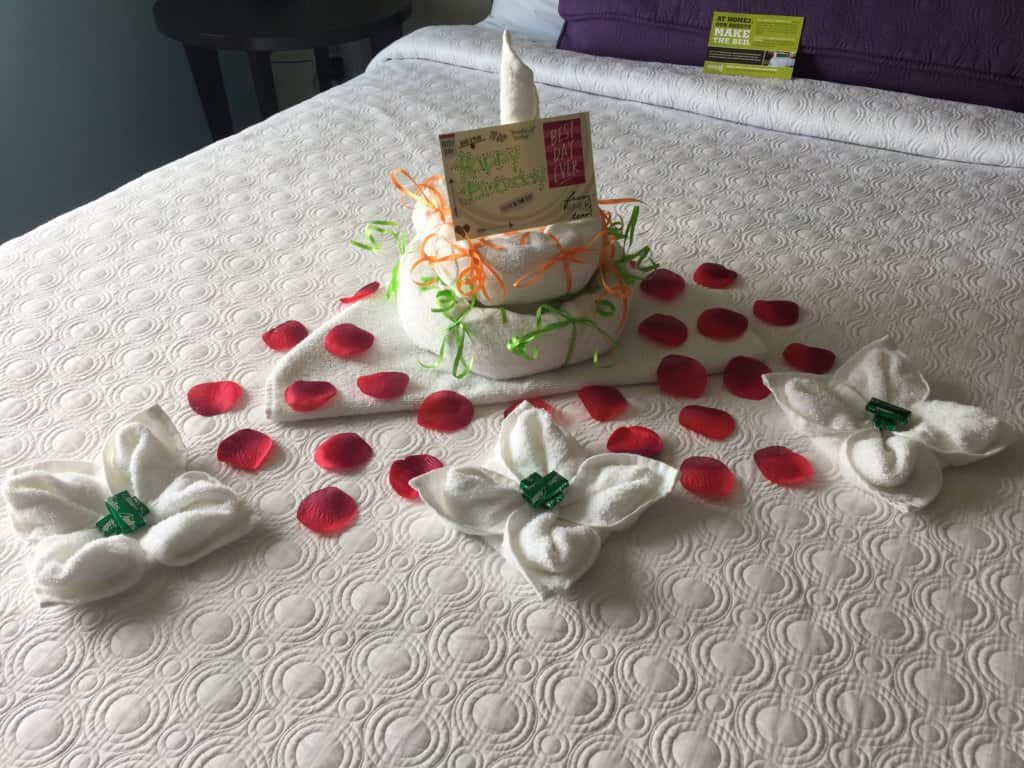 Lunch at the Moose's Tooth
It was 7pm Atlanta time so we were all famished. I'd heard positive things about the Moose's Tooth, so we grabbed an Uber and headed straight there. We had been warned there would be line, so we were prepared to wait. We ordered drinks and waited outside in the refreshing mid-60 degree weather. The hot and humid weather of Atlanta was a distant memory.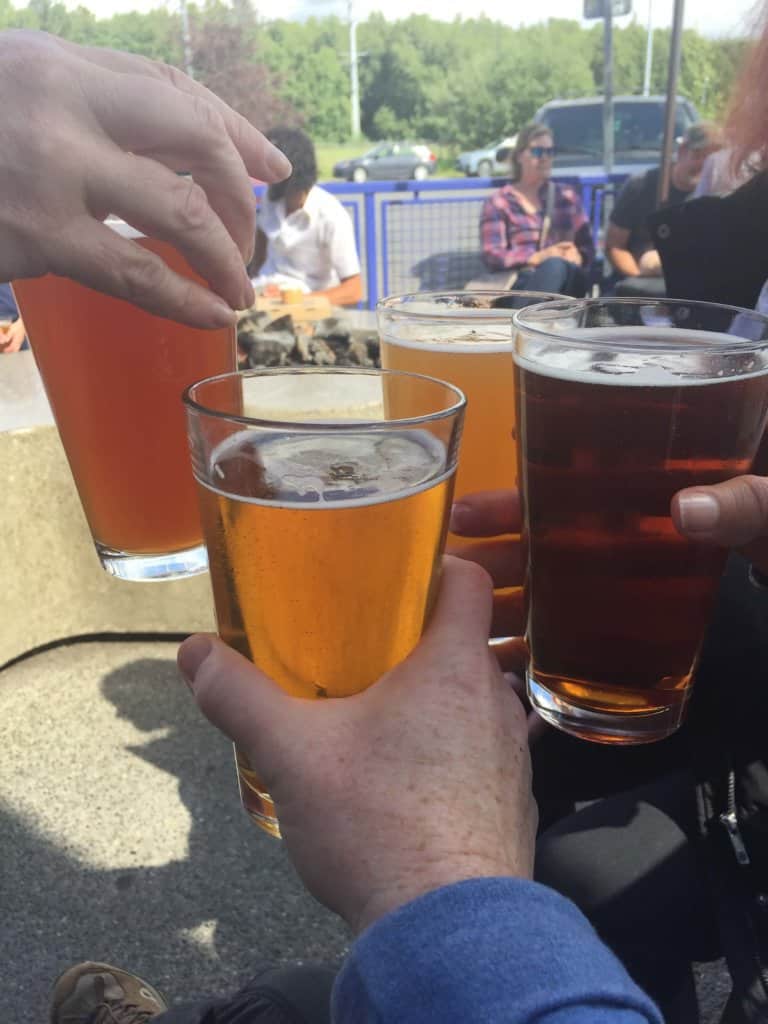 Salads and 2 pizzas for the 4 of us! Phyllis and I devoured our traditional pepperoni while Missy and Amy shared a veggie pizza.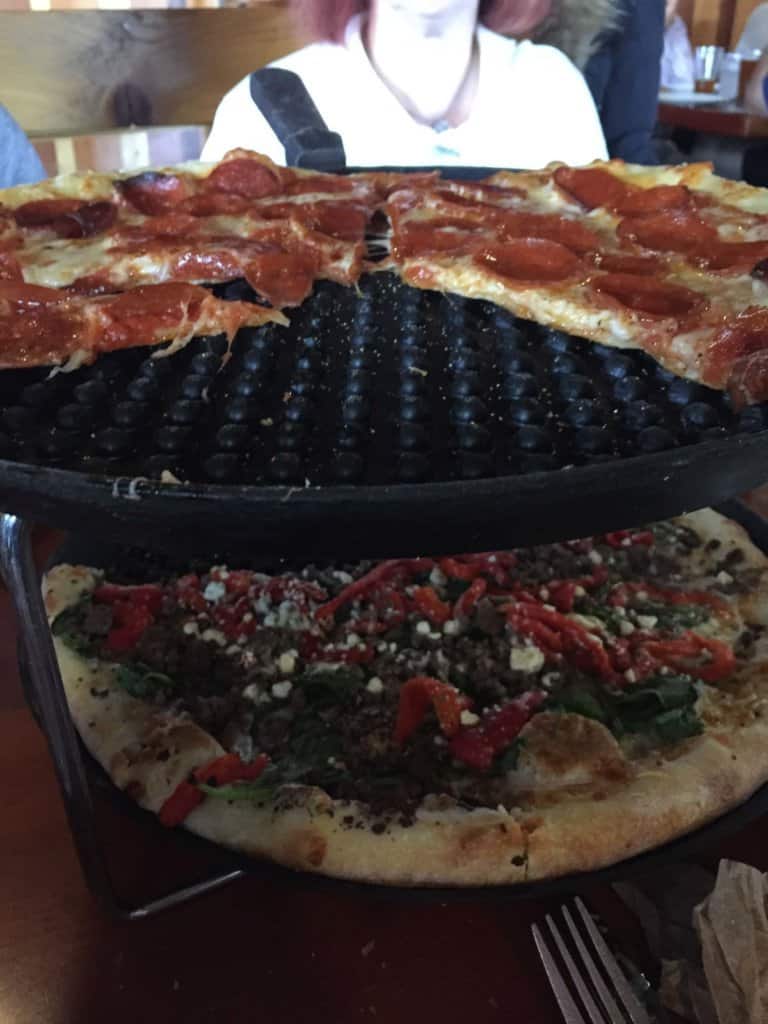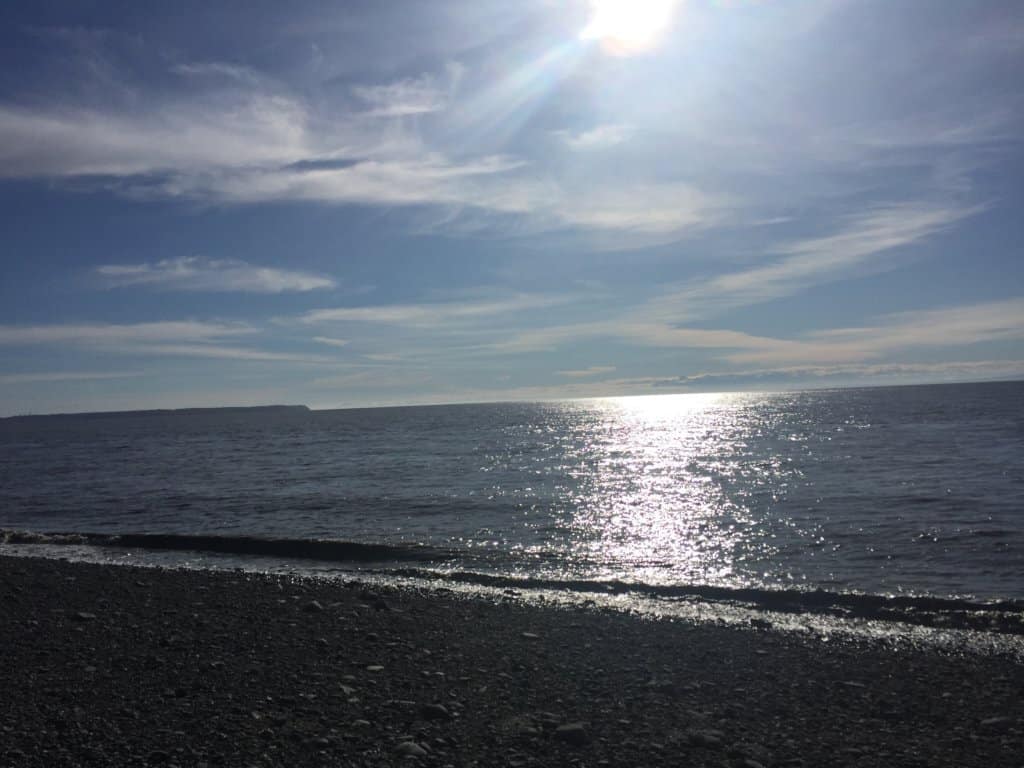 Exhaustion was starting to take over, but we wanted to see a little of the city before leaving the following morning. We asked our Uber driver for day trip recommendations from Anchorage and he suggested a local beach. We explored a few short hikes and walked along the beach collecting a few shells. After returning to the parking lot, we met a real Eskimo from Barrow, AK who was in Anchorage visiting her nephew. Guess what? Her name was Nancy – it was destiny we meet. She also pointed out our first view of Denali – it was a sunny clear day and we had a perfect view of The Great One.
Realization was setting in we had to be at the train station the following morning at 5am! We headed back to the hotel and prepared for our departure the following morning.
Others in our group visited & loved the Saturday Market for shopping and the street vendors. Second Run was a unique women's consignment shop. Dinner at Nordstrom's Café – 2 thumbs up! Kevin and Ellen had dinner at the Campobello Bistro and while it was better than expected for a strip mall restaurant, doesn't sound like it was their favorite meal of the trip.
Day 2 – Coastal Classic from Anchorage to Seward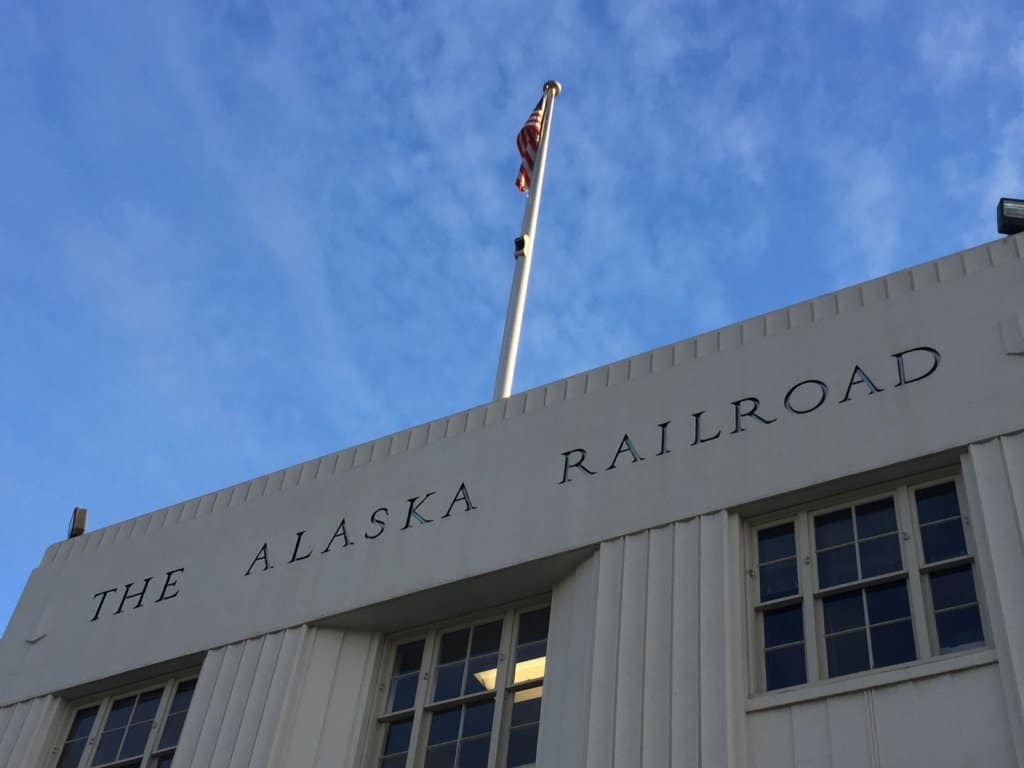 Our group of 18 arrived in the lobby on time at 5:30AM! I believe everyone was still on east coast time or else we couldn't have corralled a group of this size so early. For our group of 18, we had 6 Uber cars and they all lined up in front of the Hilton to carry us to the train station. After checking in and dropping off our luggage, we had plenty of time for pictures and snacks.
(Tips: There is a small coffee stand at the train station where you can pick up coffee, bagels, muffins, etc.)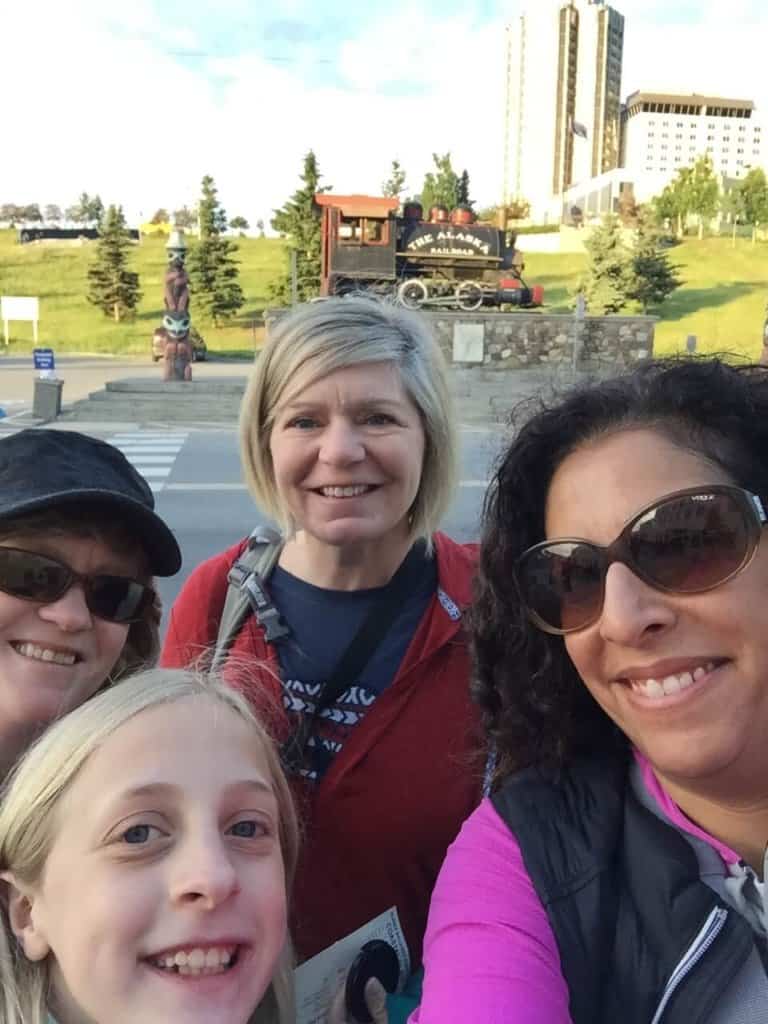 Toot toot! All Aboard! The Coastal Classic from Anchorage to Seward was off. The 18 of us ranged in ages from 8-70, but on the train that morning on July 1st, we were all 8 years old. We were excited, chatting with everyone, with all of us having a bout of ADD!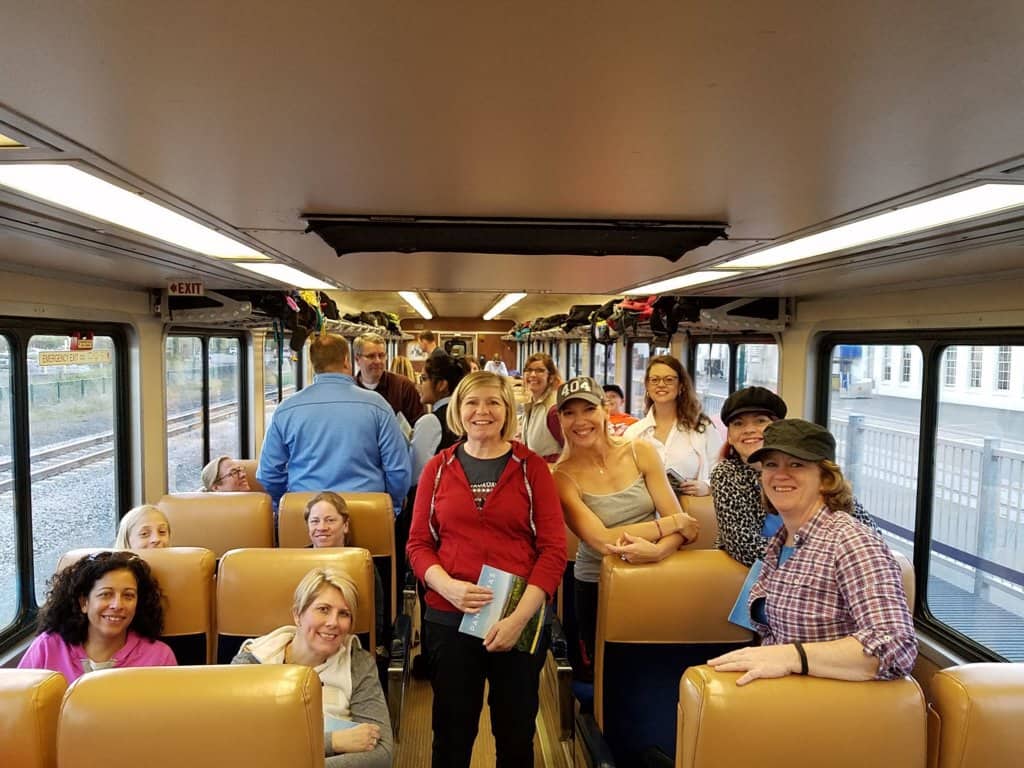 The train ride was simply amazing – water, mirror images, mountains, wildlife spottings, glaciers, and tunnels. The conductor kept the pace slow as to enjoy the journey and slowed even more when we approached special points of interest or wildlife. During breakfast, we relaxed enjoying a cozy breakfast admiring the views and the bald eagles flying over the water. Then, we spotted a handful of Dalls Sheep appearing to be hanging on the mountain by their toenails. We all sprang from our tables to get the best view possible. Later down the track, we spotted a bear alongside the track and shortly afterwards, a moose running down the track beside our car. Standing between cars feeling the wind and cool air in our faces was one of our favorite things about the ride especially when the train did a 180 degree turn with the front view of train. Kodak moment!
(Tips: We booked our tickets in Adventure class and enjoyed the flexibility of moving around especially going to the observation car. A few purchased the book detailing what to see at each mile marker – I think most would say "skip it" since we received details on-board over the PA. Finding a perfect viewing spot between cars is essential to enjoying the open air – makes for better picture taking too!)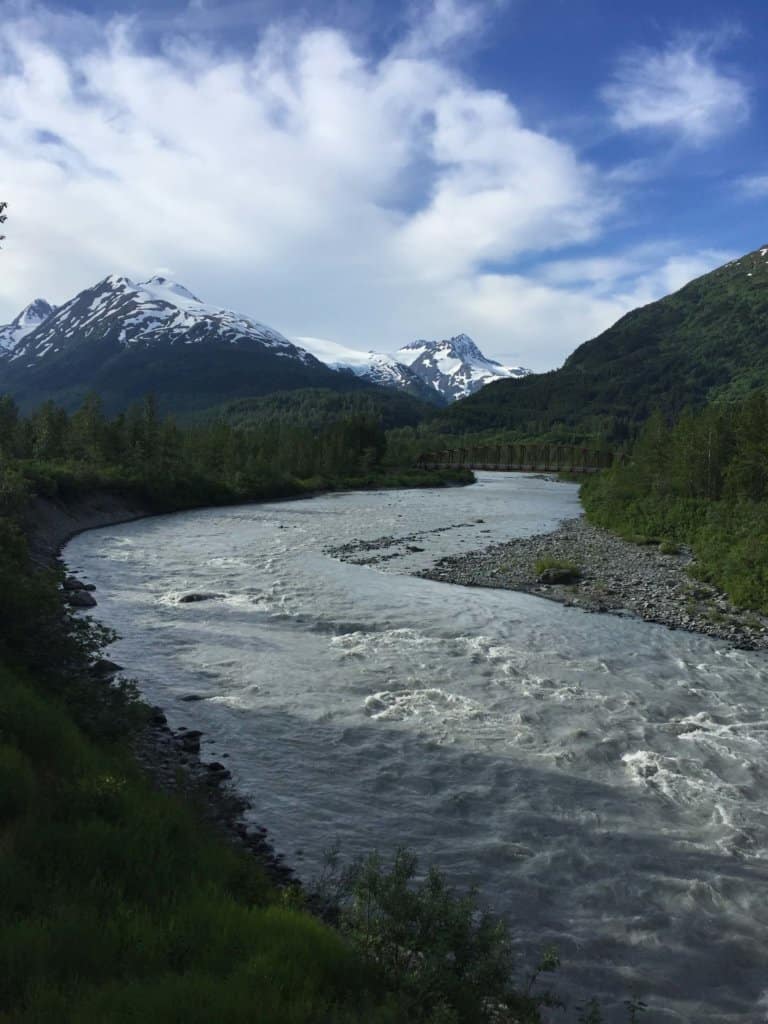 Educational was not how I thought I would describe the ride, but we learned quite a bit. The one thing, which really stuck was how to remember the 5 types of salmon with your hand – Pink (pinky), Silver (ring finger), King (middle finger), Sockeye (Pointer finger), and Chum (Thumb).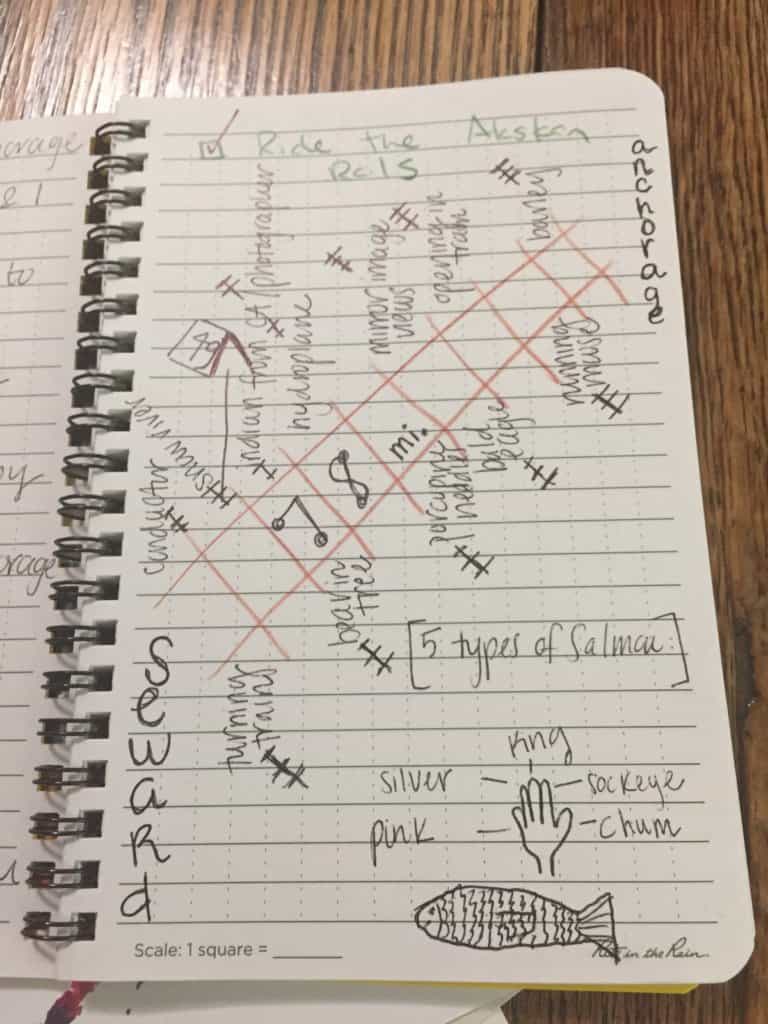 As we became closer to Seward, we started to settle down having drinks in the refreshments area. Then, 3 bear cubs in a tree! You would have thought the train would tip to one side we all jumped so quickly. Everyone agreed – The Coastal Classic should be on anyone's list for two weeks in Alaska or any amount of time!
We pulled into Seward right on time for the next leg of our adventure.
Seward, Alaska
Day 2 – Lunch and Dog Sledding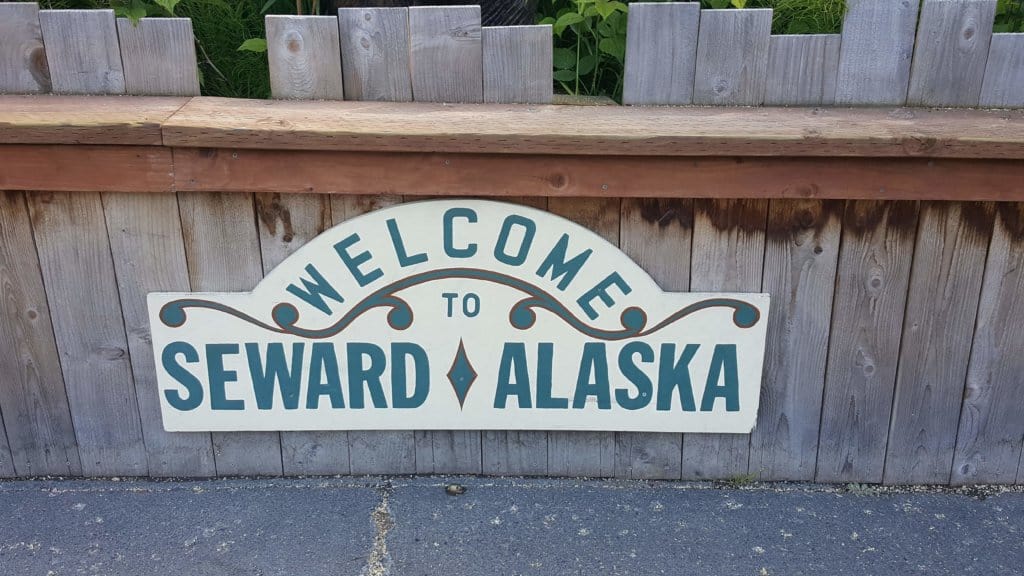 Because we were going directly to mushing from lunch, I made arrangements were made with The Alaskan Bag Lady for luggage pick up. They met us at the station, picked up bags for 19 people and dropped them at our Inn. It was nice not having to fuss over our bags while we ate lunch. They charged $4 for small bags and $6 for large and it was worth every penny!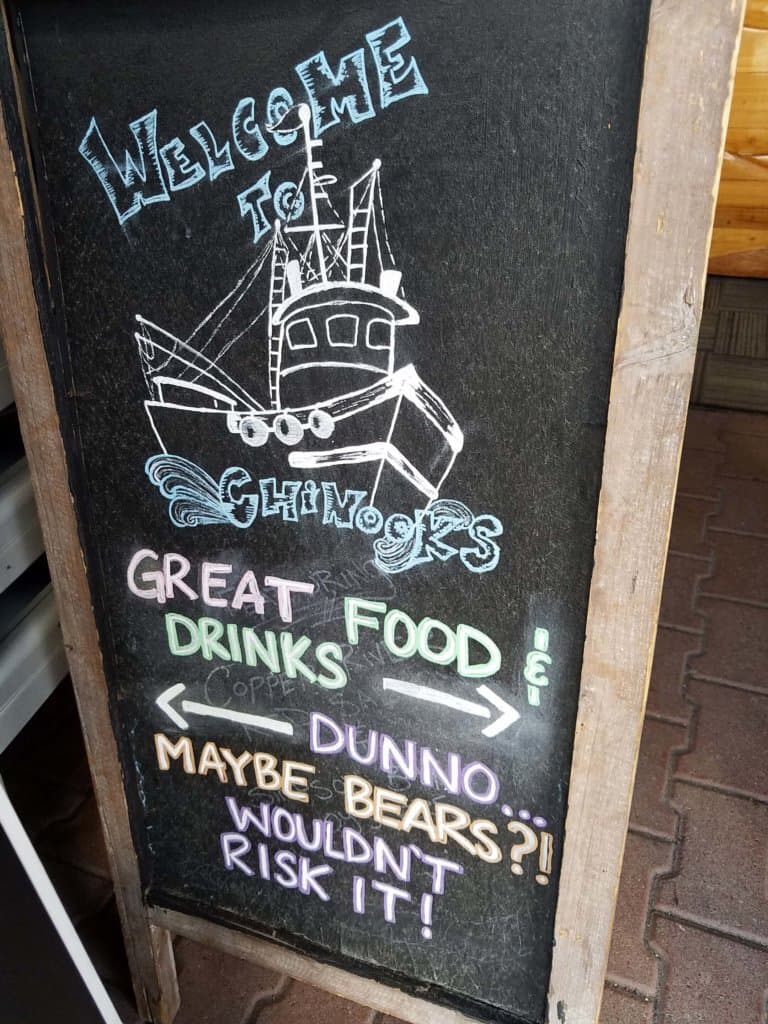 Because the van was picking up for dog sledding at 11:40, we only had a short time for lunch. Chinook's was a 5-minute walk from the train station and accommodating for a group our size. While we were rushed to eat, the food & services was excellent. The view was even better.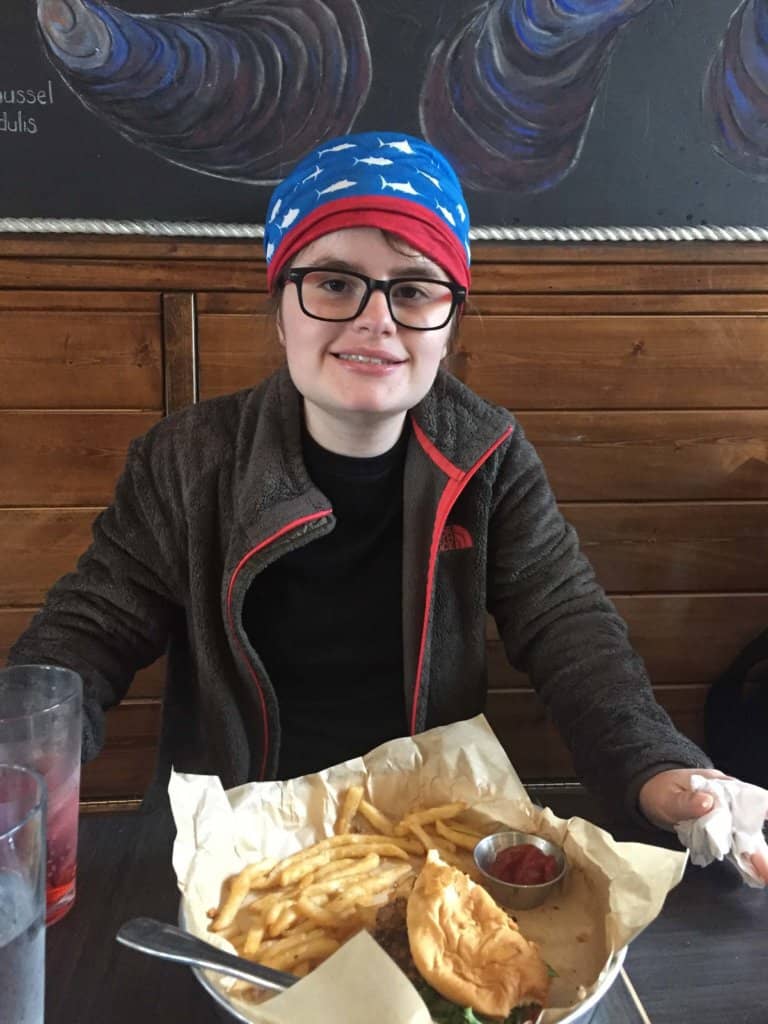 After lunch, it was off to our first adventure in Seward – dog sledding! Seward Helicopter Tours offered a less expensive tour through the woods. But, we opted for the helicopter ride to the top of Godwin Glacier where we would experience true dog sledding. For most of us, this was our first-time riding in a helicopter. Our pilots (Travis & Brad) were conversational, even helping the anxious one enjoy the ride!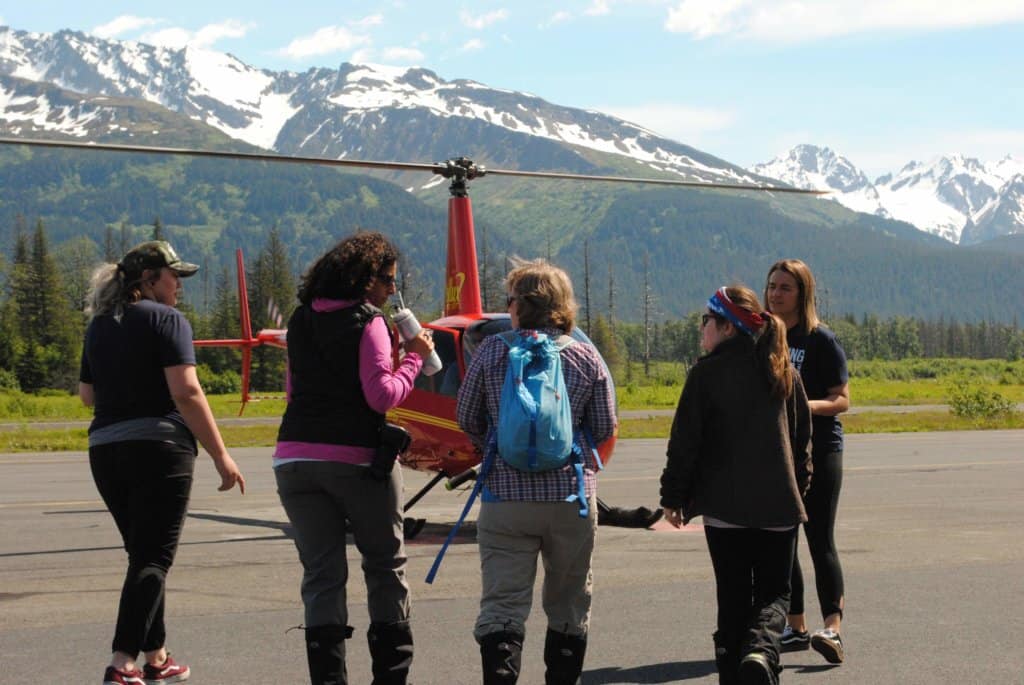 Touching down on the glacier, our first impression was it was much warmer than we expected. The temperature was around 50 degrees, but when you are surrounded by snow and ice, you think COLD! The first group was preparing to mush and all the commotion was simply the dogs' excitement. Once they are hooked up to the sled, the dogs went crazy with excitement. Our group's first stop, puppies!
Puppies!
While we waited for our turn to mush, we were able to play and love on the puppies. All were cute and playful, so we took turns holding our favorites. Do you think they will notice if I take one home with me?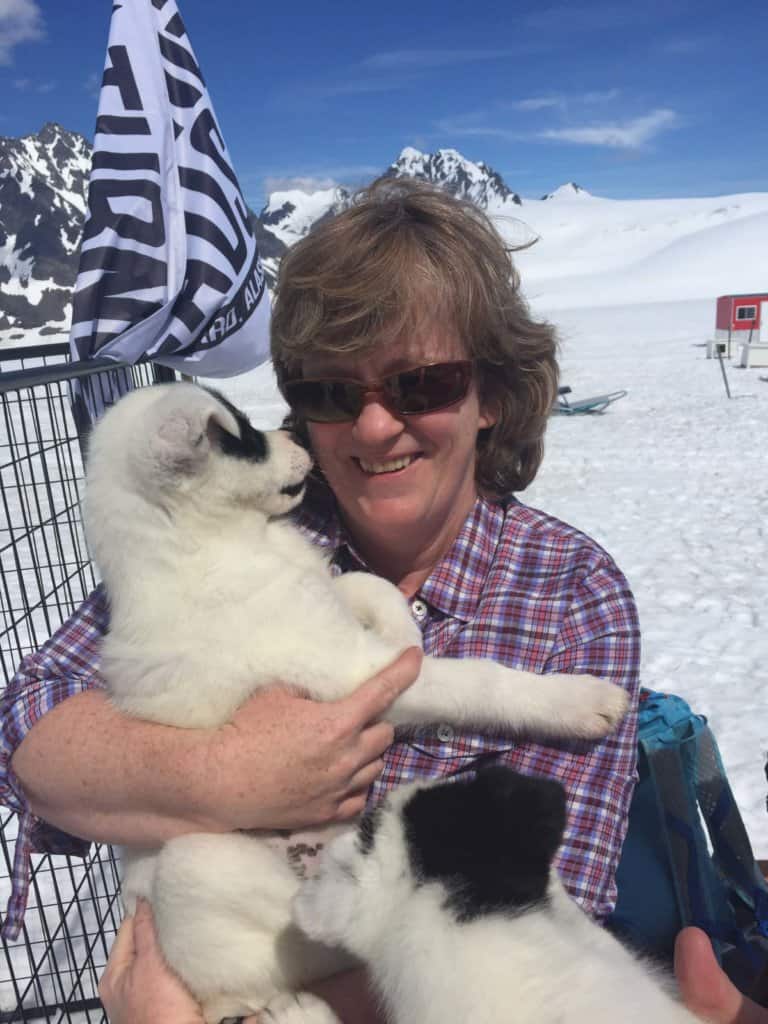 Mushing!
It was now our time to mush! Amy, Meredith G and I were the three musketeers with our musher, Dre. We took turns braking, but all of us enjoyed speeding around the glacier at speeds over thirty mph! The 3 musketeers fell in love with Zeus and Check!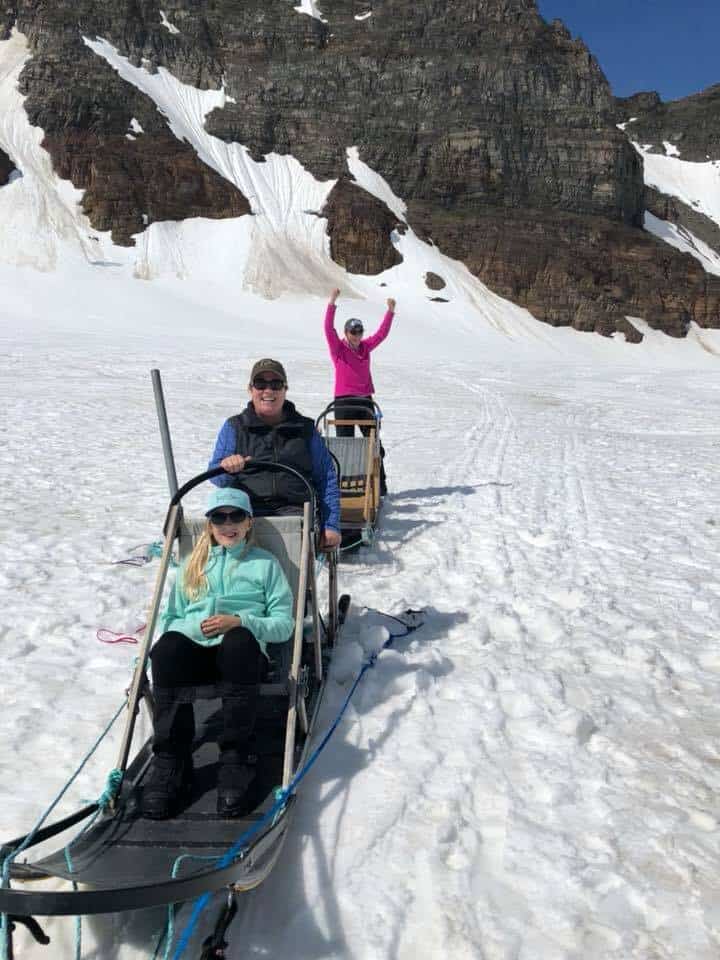 After playing in the snow and more pictures with Zeus & Check, it was time for our helicopter ride back down. After some bartering with Meredith, we loaded the helicopter for the flight back to base camp. As amazing as the views were up, they were even more breathtaking on the way back!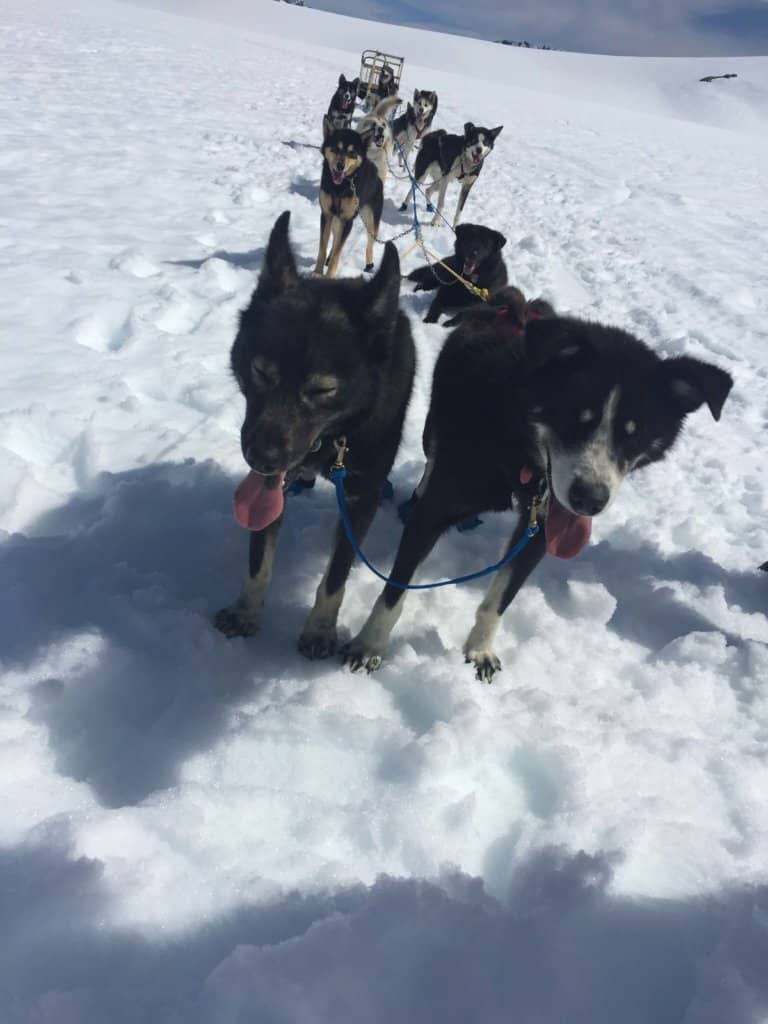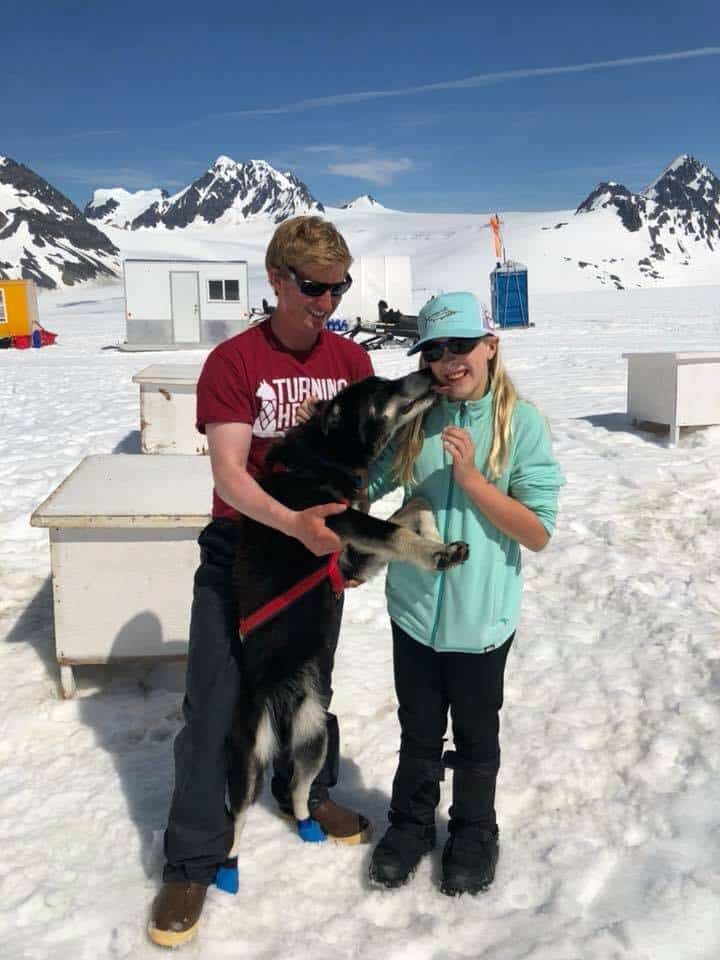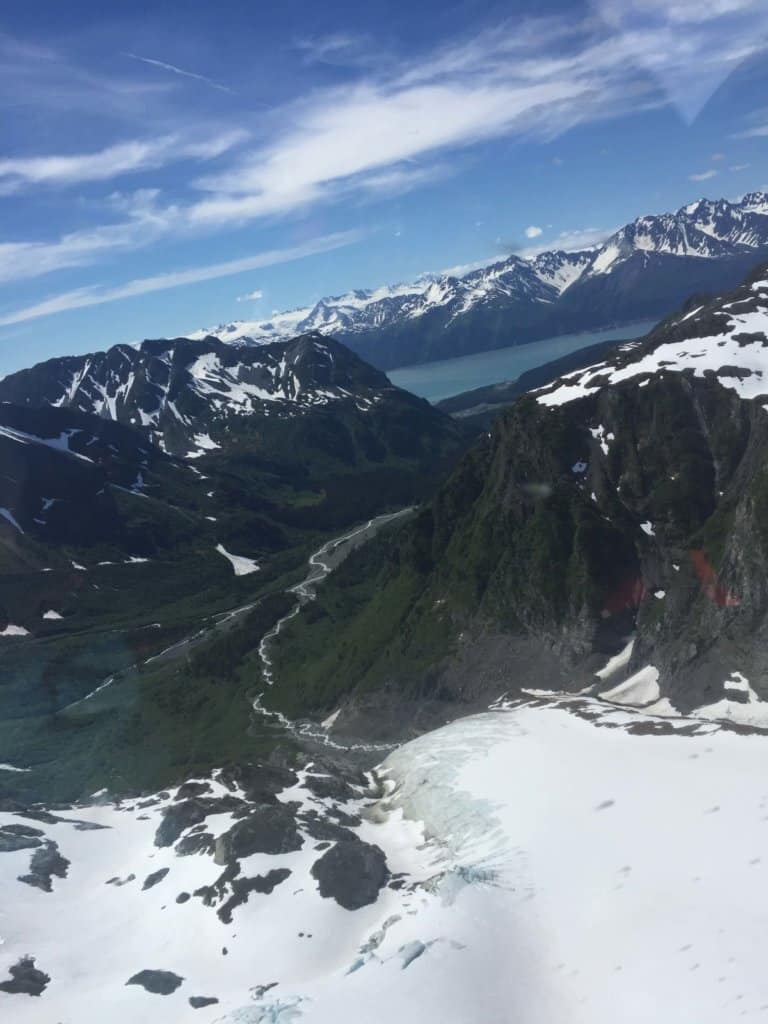 After returning to our home for the next couple nights, we shared our dog sledding experiences over some wine. The Sea Treasures Inn was a perfect choice for a group our size. The living room area was plenty big for us to hang out and rehash our day.
With a big group, it can be cumbersome figuring out dinner spots. But, I made reservations for us ahead of time. Tonight, we would be dining at The Cookery. It came highly recommended to me by some locals and it didn't disappoint us. The food was excellent along with the ambience as it was perfect for continued stories of the day. The best part, it was just a short walk from Sea Treasures Inn!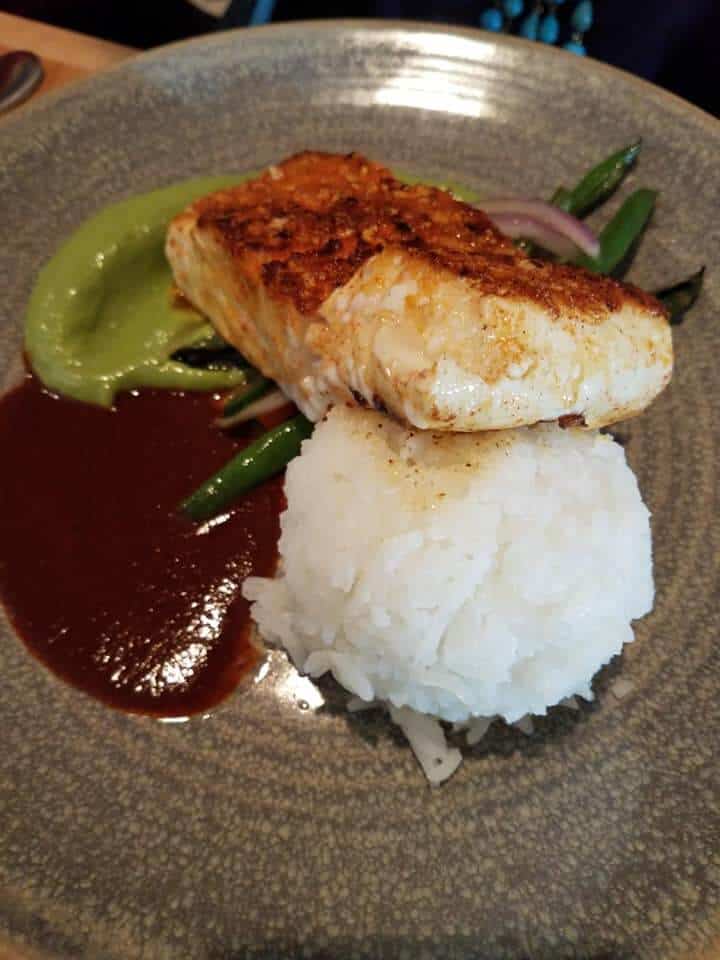 A few of us were not ready to turn in, so we took a walk to a local waterfall. While the waterfall was not impressive, we enjoyed the murals around town depicting the history of Seward.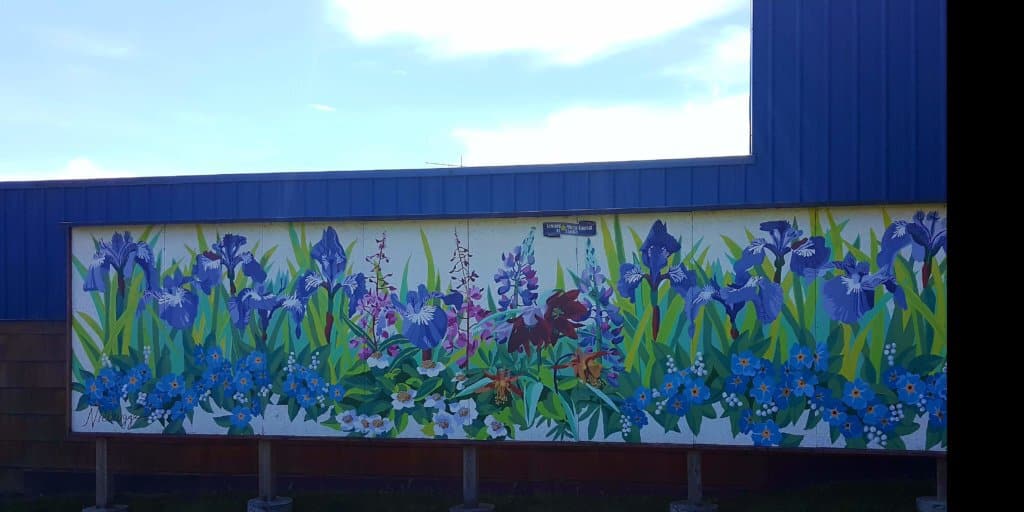 (Tips: It can be very bright on the glacier, don't forget your sunglasses! Our tour company provided snow boots, so don't stress over what shoes to wear. Everyone loved Chinook's and The Cookery – these are not miss restaurants).
Day 3 – Day cruise Kenai Fjords National Park with Major Marine Tours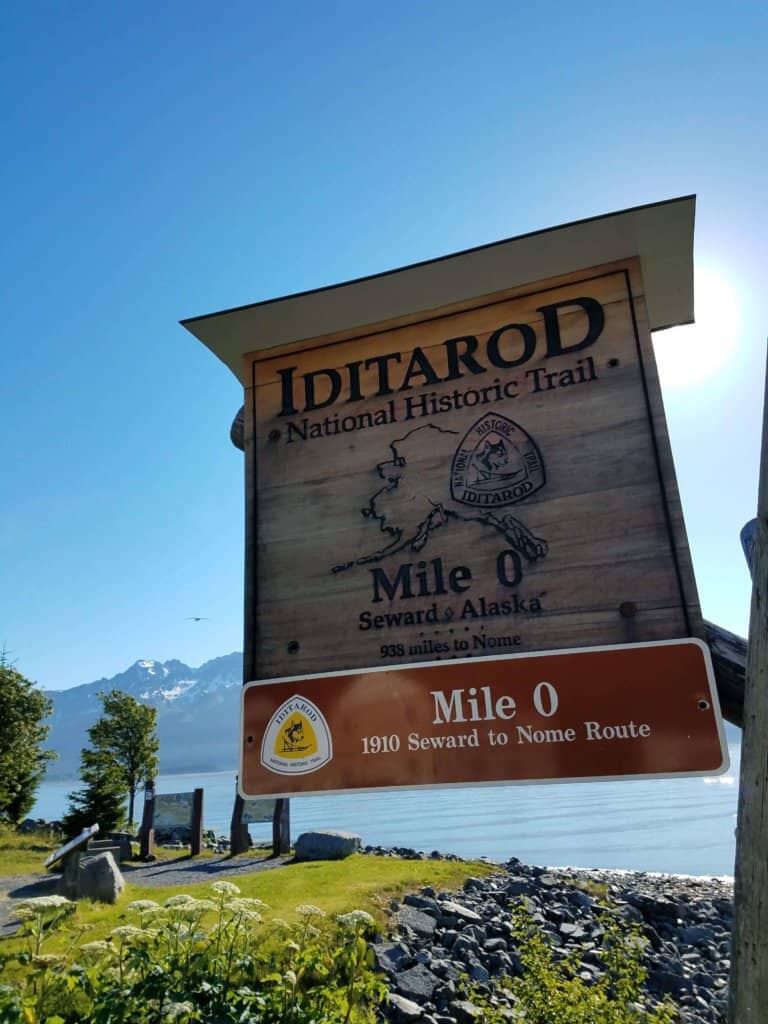 We had time for breakfast at Sea Bean Café and a walk by the water before the cruise. We saw some otters playing near the shore, the beginning of the Iditarod trail and just enjoyed the cool morning.
The shuttle from Major Marine Tours picked us up from Sea Treasures Inn for the day cruise to Kenai Fjords National Park. The sun was shining bright and the skies were a perfect blue for day on the water.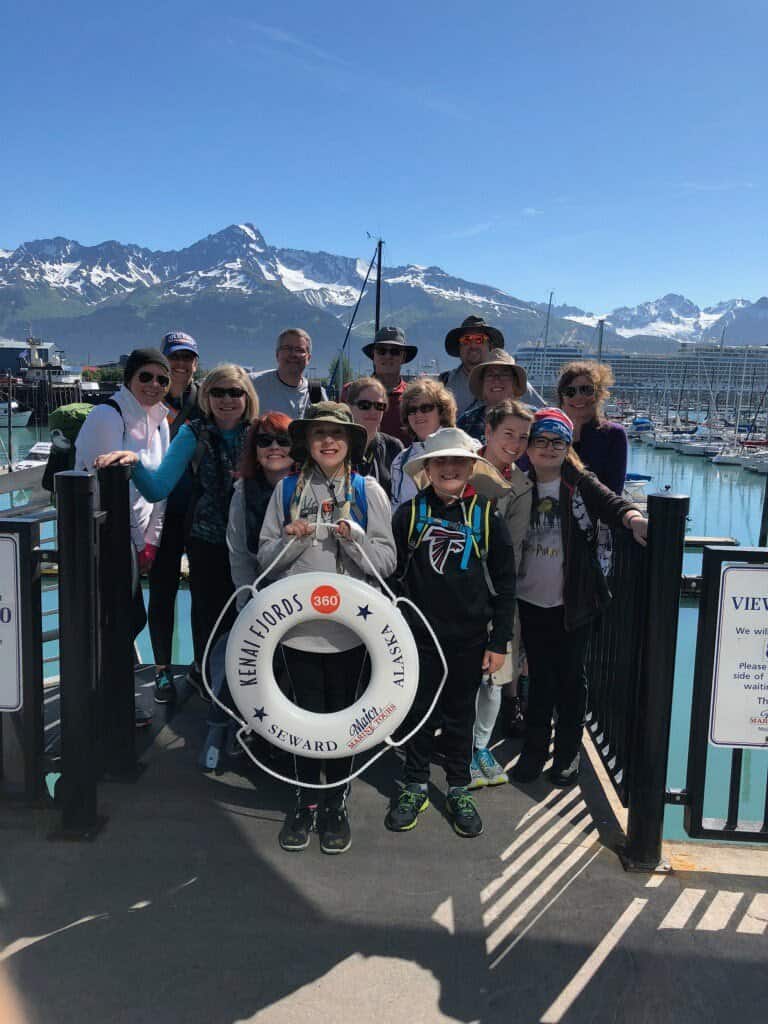 As the boat moved into the water, we began to realize why all reviews prepared us for windy, cold weather. It didn't take long before we had our first otter spotting. Very close to the shore were a couple otters napping in the sun.
The entire cruise was narrated by a National Park Ranger, Joseph. He was very informative and provided descriptions of everything we were seeing on the cruise. For the kids on board, they had a Junior Ranger program which helped involve them more into the cruise.
Wildlife!
Early in the cruise, we came upon an island where sea lions were sleeping and playing in the water. In the water, were many puffins and other birds. It was fun just to sit and watch. As we cruised around the park, we saw whales and Dall's porpoises. The porpoises were fast swimming alongside our boat.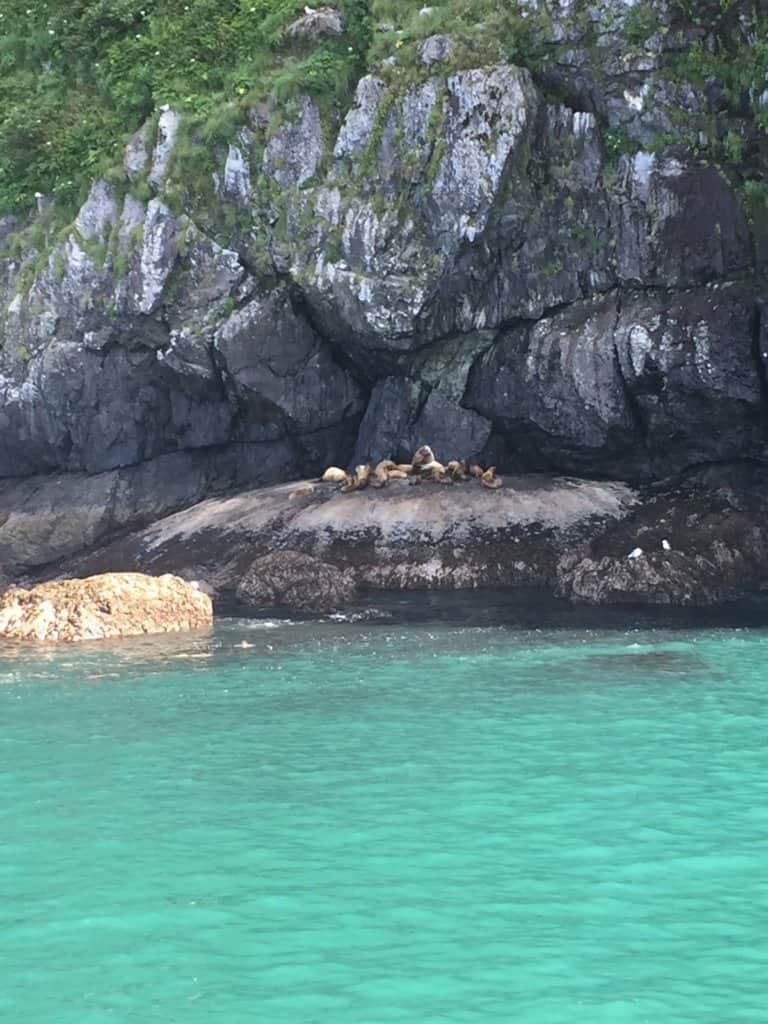 Lunch was served a couple hours into the trip. Choosing the buffet lunch was worth the extra money not having to pack a lunch. Prime rib, salmon, salad, and more! Additionally, the boat was also serving coffee, lemonade, and hot chocolate. The hot chocolate was perfect for a chilly day on the water.
Aialik Glacier
Finally, it was time to see Aialik Glacier. We pulled up as close as possible and immediately heard the roaring of calving glaciers. We must have sat there for 30 minutes listening and watching the glaciers calve into the ocean. At one time, there was such a big thunder and large piece crack off, tears came to my eyes. It was such a powerful emotion I could feel God's power on earth.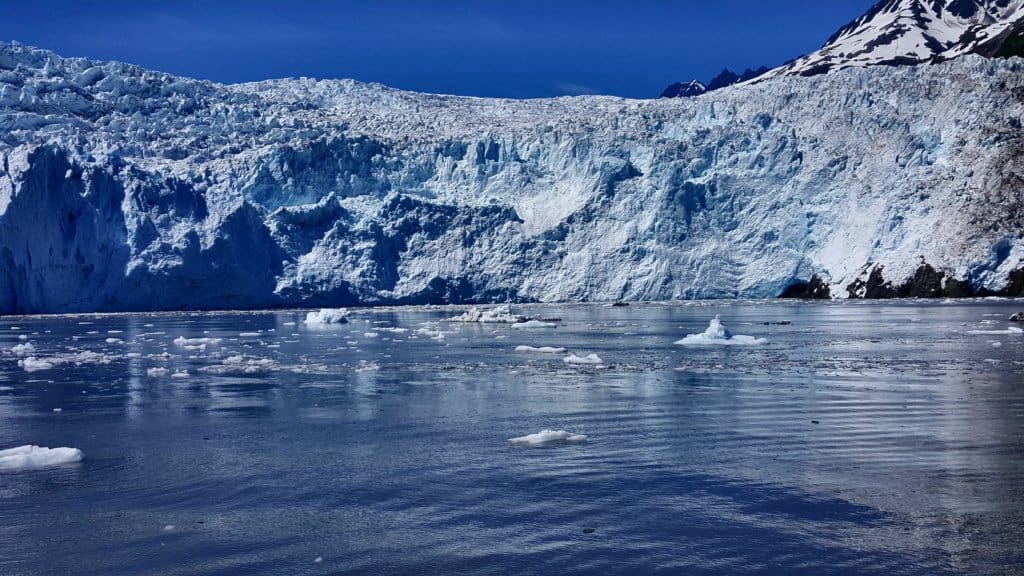 (Tips: Pay for the buffet lunch. The food was good and it was nice to sit down for a meal during the tour. Bring layers! Even on a warm day in Seward, it can be cold and windy on the water. Don't forget your sea-sickness preventatives!).
Our dinner spot for Monday night was Seward Brewing Company. Therefore, it was another dinner where we all talked about our day's adventures. We heard about Hallie's hike up to Exit Glacier. She had a great time, but it was difficult hike. Be in shape if you do this hike! Ellen and Kevin spent the day at the Kenai Fjords visitor center and saw Exit Glacier too.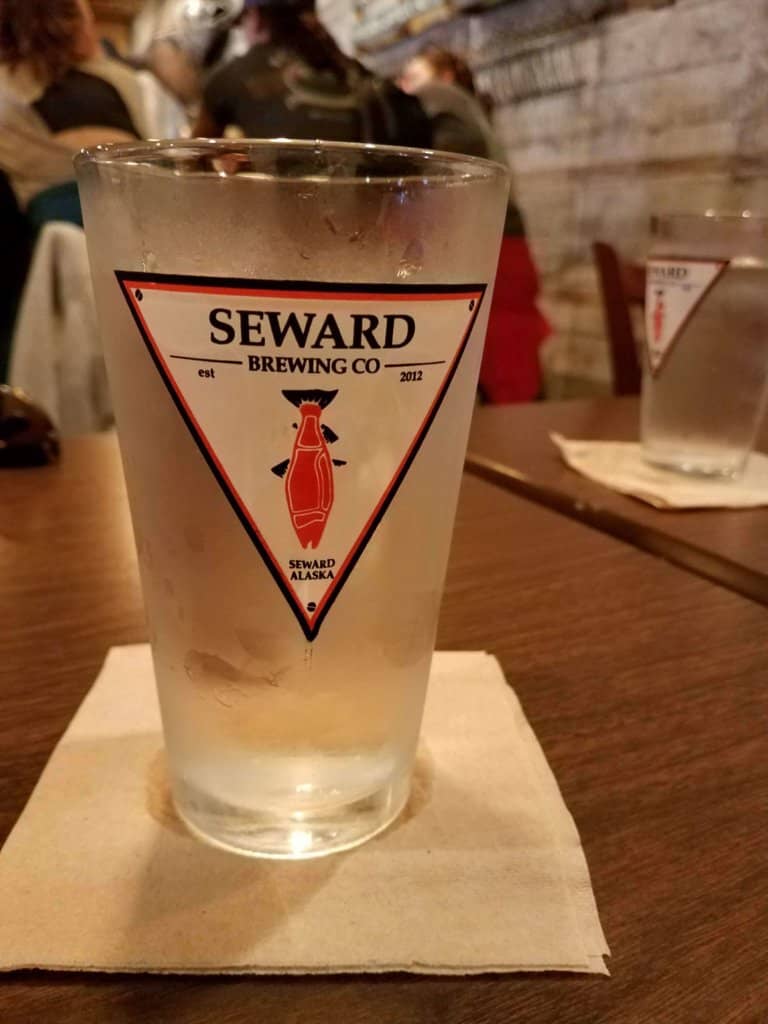 Day 4 – Explore town before departing for Homer
Sea Treasures Inn provided basic breakfast stuff for us, which made it handy to eat when you were ready. Our shuttle was picking up 1pm, which gave us the entire morning to explore town. We first made a run to the Sea Bean Café to buy all their Marathon bars. Additionally, they were kind enough to give us the ingredients, but not the recipe.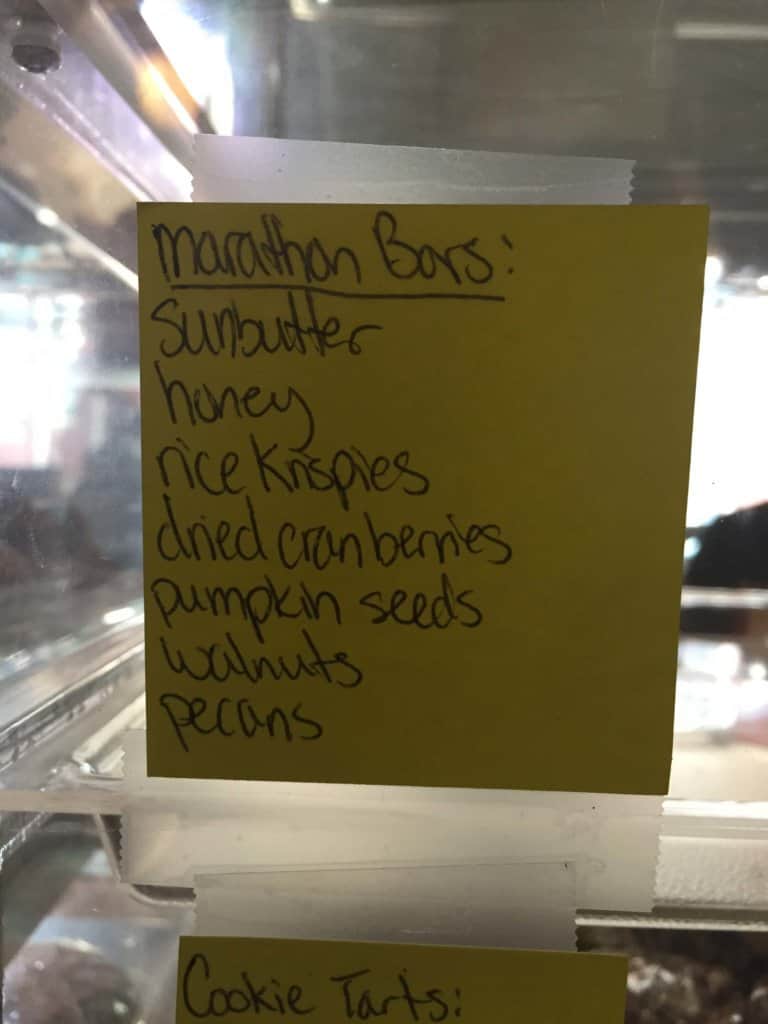 Because it was July 3rd, preparations were being made for the big Mt Marathon race the following day. Around town, we encountered many runners practicing their run up the mountain. Afterwards, we milled about shops and tents setup for the holiday, while still enjoying the cool air.
We heard the Library & Museum was showing a film on tsunami of 1964. The tsunami hit on Good Friday 1964 with Seward experiencing heavy damage. Other coastal towns impacted were Valdez, Whittier, and Kodiak.
Following the short film, we went to Zudy's for a quick lunch before leaving Seward.
Seward would be almost everyone's overall favorite stop in Alaska. Two weeks in Alaska wouldn't be complete without a stop in Seward. The views were amazing. The town was walkable. Food was phenomenal. We loved Sea Treasures Inn, Seward Helicopter Tours and Major Marine Tours.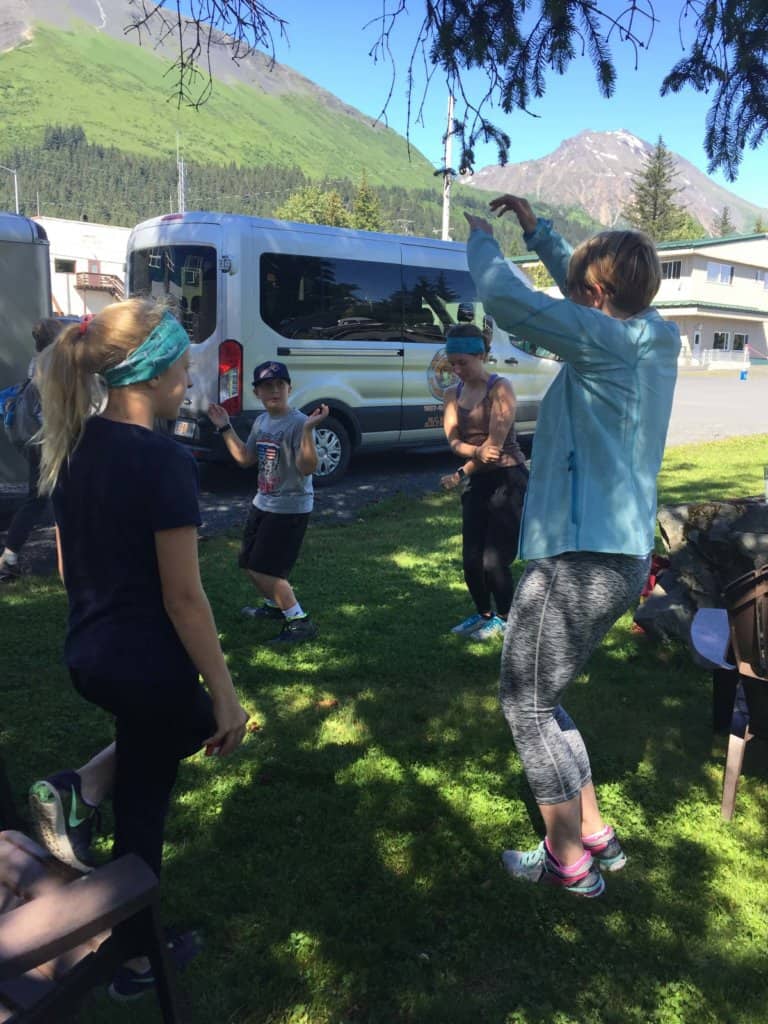 Homer, Alaska
Day 4 – Shuttle from Seward to Homer
Jennifer from Alaska Shuttle Service picked up our crazy group at Sea Treasures Inn for the trek to Homer. It was great having a local drive us as she knew of a few picturesque spots along the way. We were hunting the elusive moose, which supposedly exists in Alaska, but we have yet to see any.
Lodging: Lake Beluga Lodge
Primrose
Our first stop for moose hunting would be in Primrose, but to our dismay, no moose would be cooling off in the fresh water around us. However, it didn't stop a few people in our group from doing their best moose impersonation. If nothing else, it was a perfect spot for our next group photo.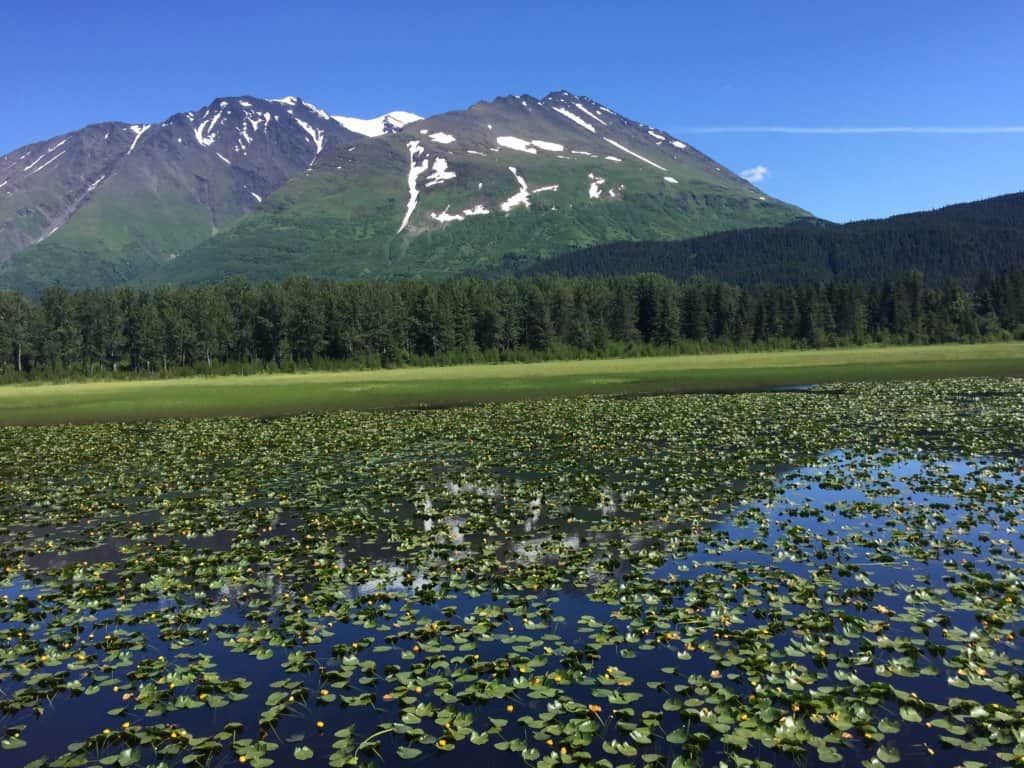 Moose Pass
I had a surprise stop arranged for everyone, but we had to stop at Moose Pass first! Could there be a moose here? The flowing stream mesmerized us with the mountains in the background. I just had to take off my shoes for a toe dip in the water. Yes, it was cold and no, we didn't see any moose.
The Moose is Loose!
About half way to Homer, we finally arrived for the surprise stop – The Moose is Loose Bakery in Soldotna. We filed out of the bus and while it was nice to stretch our legs, we were more excited for cookies.
The drive from Seward to Homer was about 4-5 hours. We probably could have made it in 4 had it not been for the stops. But, all of them were well worth it.
Tips: If you are in the area, definitely stop at Moose is on the Loose Bakery!
Homer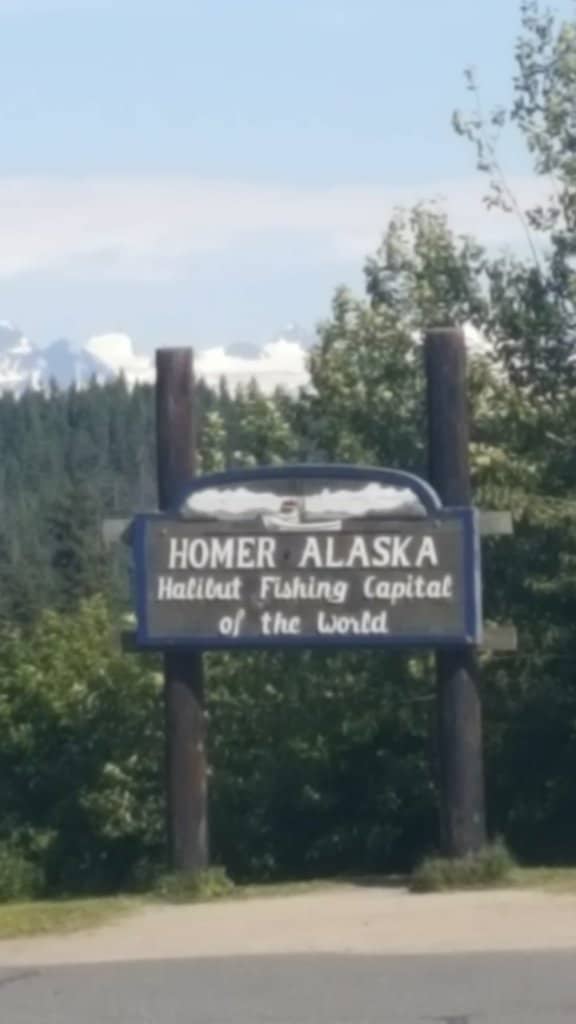 Dinner at Fat Olive's
We arrived in Homer shortly before dinner. Checking into our home for the next couple nights was fairly smooth at Lake Beluga Lodge. We have a great view of the lake where we will take off from tomorrow morning. Nick's Cab was called for a ride to Fat Olive's for dinner. The wait was short, but we had to split into two tables. Here's what I remember about dinner – the oysters were excellent!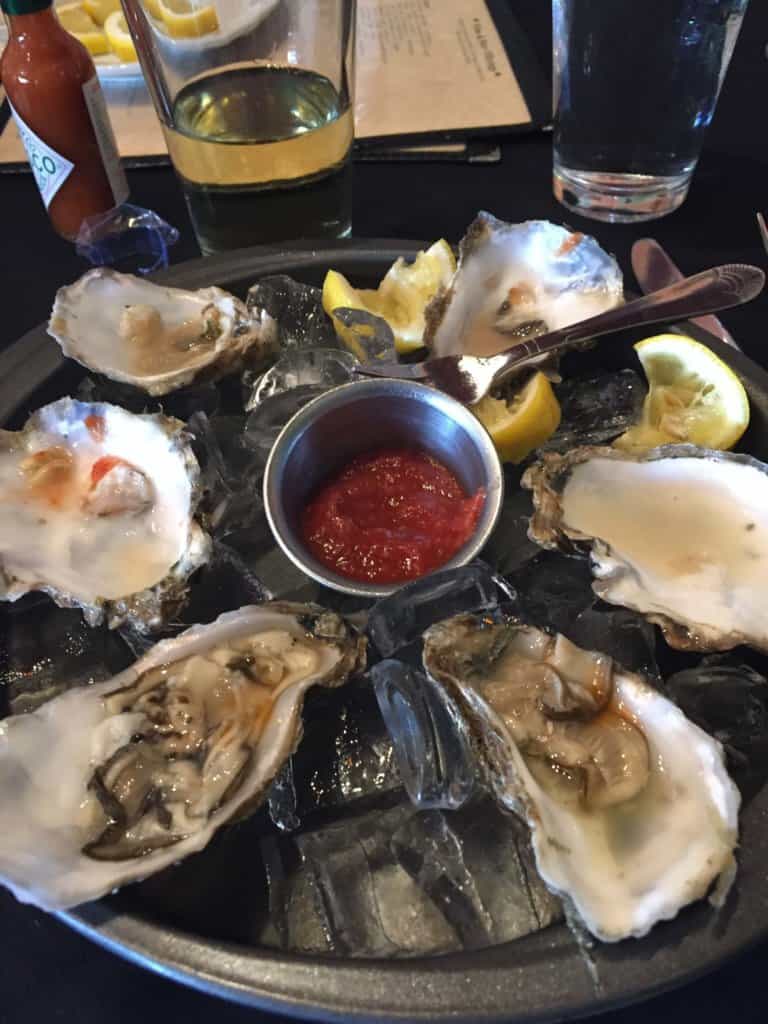 The night was still young following dinner. The lodge had a nice grassy area for lounging. We enjoyed the bright evening with wine and playing charades. I think this was one of the highlights for the kids! But, there is not a party without the Po Po showing up. A couple people in our group witnessed a hit and run (car hit only, not a person) and the cops showed up to get the details.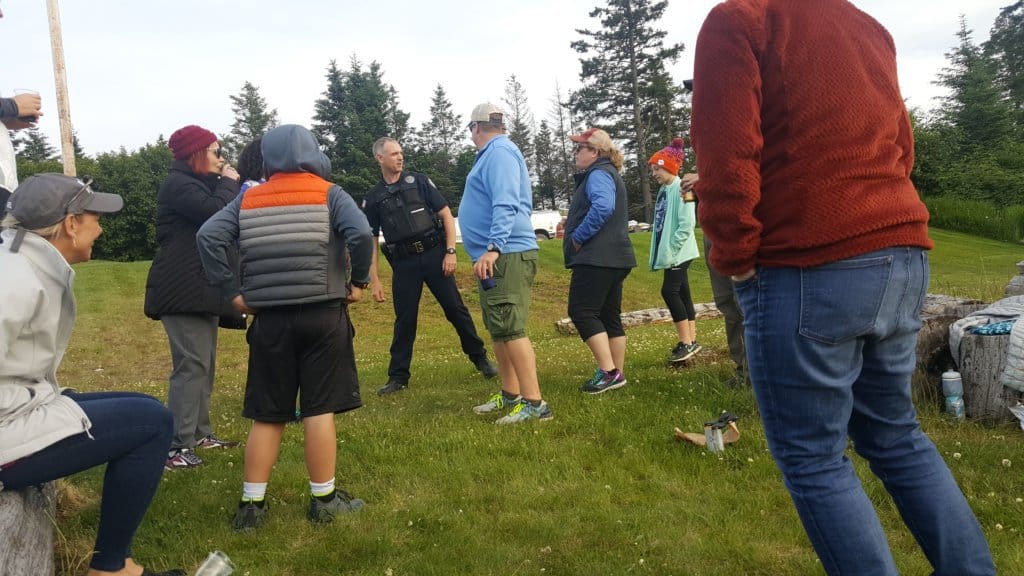 Day 5 – Stellar Air to Katmai National Park, Homer Trolley and the July 4th Parade
Half the group made reservations months in advance for a trip to Katmai National Park. We heard the salmon are running and it's going to be a good day!
I had arranged with Kevin at Sourdough Express to deliver our lunches for the day prior to departing the hotel. Everyone in Alaska is so accommodating! Kevin was on time and we proceeded to walk across the street to the Stellar Air water dock.
On the way, Hallie spots an Alabama fan! What are the odds in Alaska?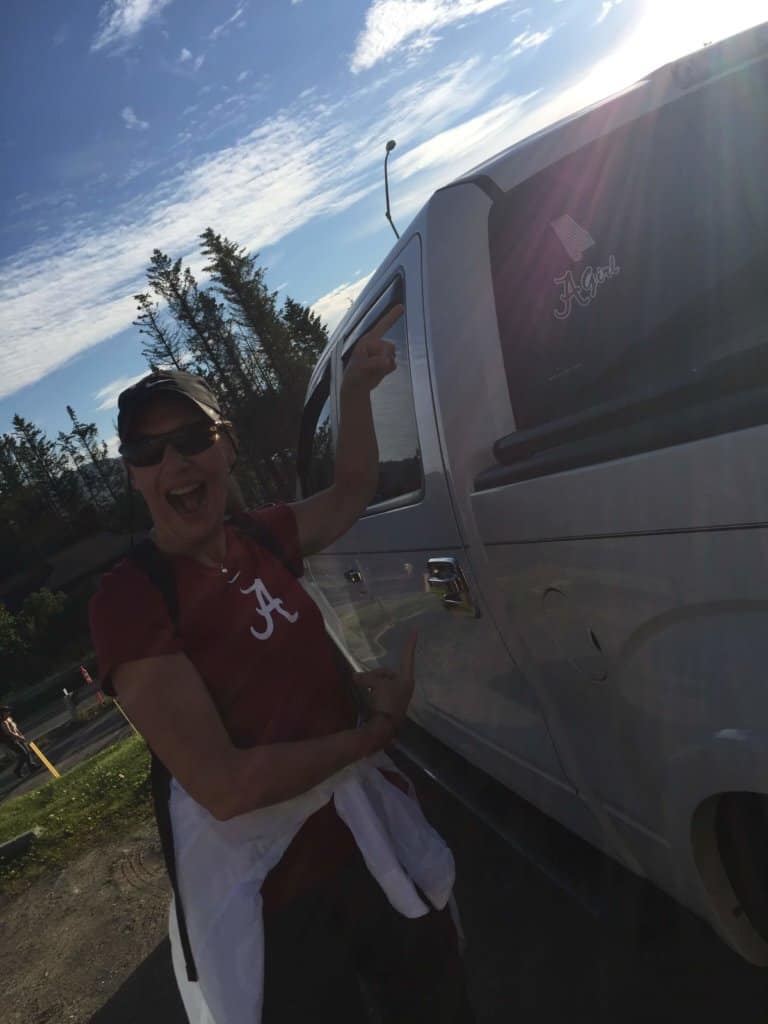 Hallie, Amy, Roger, Missy and myself flew in the plane with Andrei while Kevin, Ellen, Phyllis and Karin flew with Trent from Adventure Airways. Andrei could only take 5, so he handled arranging Trent to take our remaining group.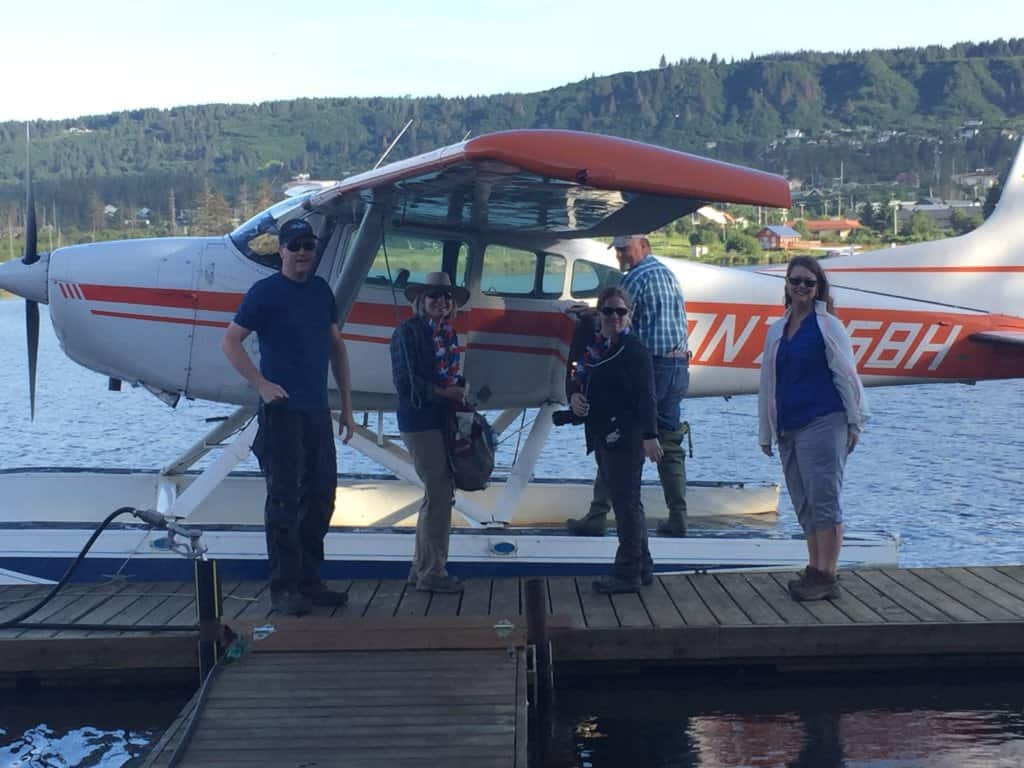 It was all of our first time in a plane taking off on water – what a thrill! It was a little bumpy, but not much more than a jet plane.
Not only was it really cool to see Alaska from the air, but, Andrei called out points of interest along the way – mountain ranges, islands, volcanoes, glaciers, and more!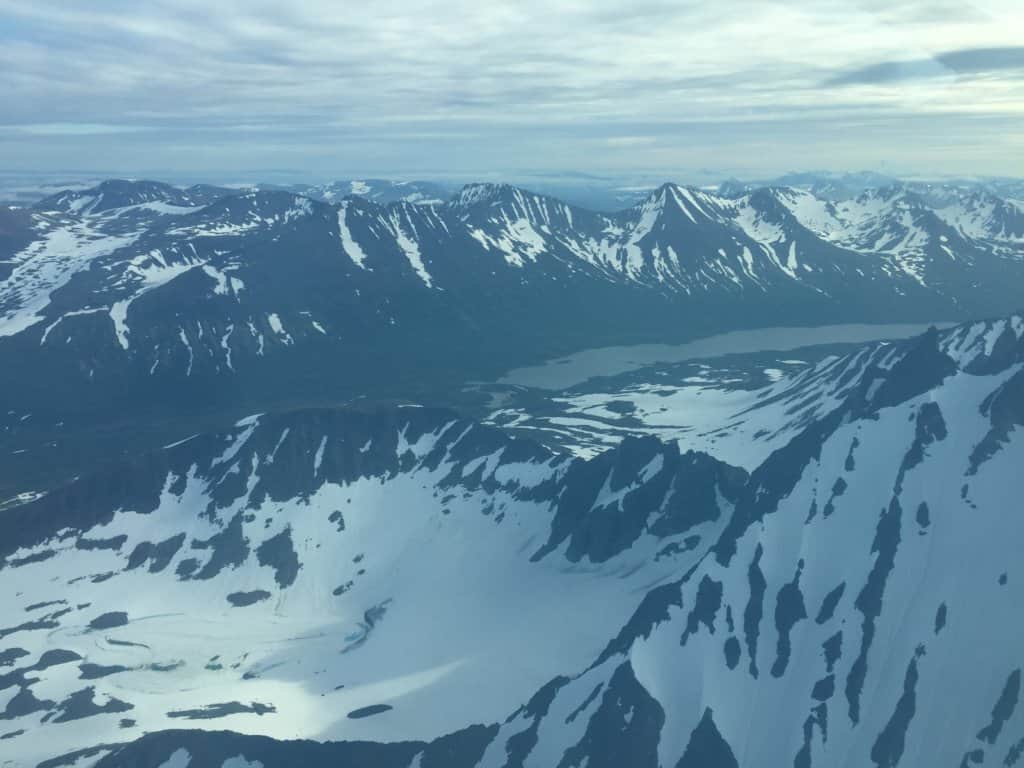 Katmai National Park
The flight out to Katmai took us about 90 minutes and it was finally time to land. Andrei parked on the beach in line with all the other float planes.

We began disembarking and Andrei stopped suddenly – WAIT! There is bear on the beach! Our first bear spotting didn't disappoint us. We had to wait a few minutes to unload as the bears have the right of way.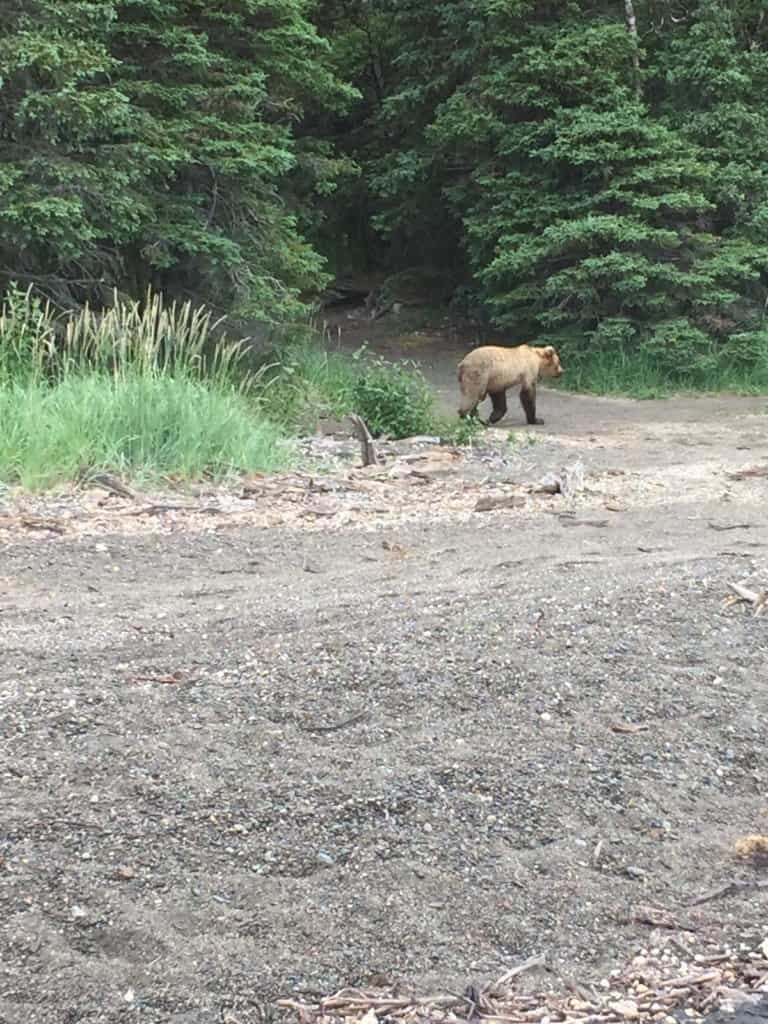 Our first stop would be the visitor center for bear etiquette training. Our time on the island would be very limited, so Andrei suggested we eat our lunch (at 9:30 in the morning) during the training. However, the Rangers were not very happy with us eating food. There would end up being a designated area for eating food as no food or flavored drinks are allowed outside the visitor area. They provide a storage area for items not allowed on the trail. We ate quickly and started out on the trail.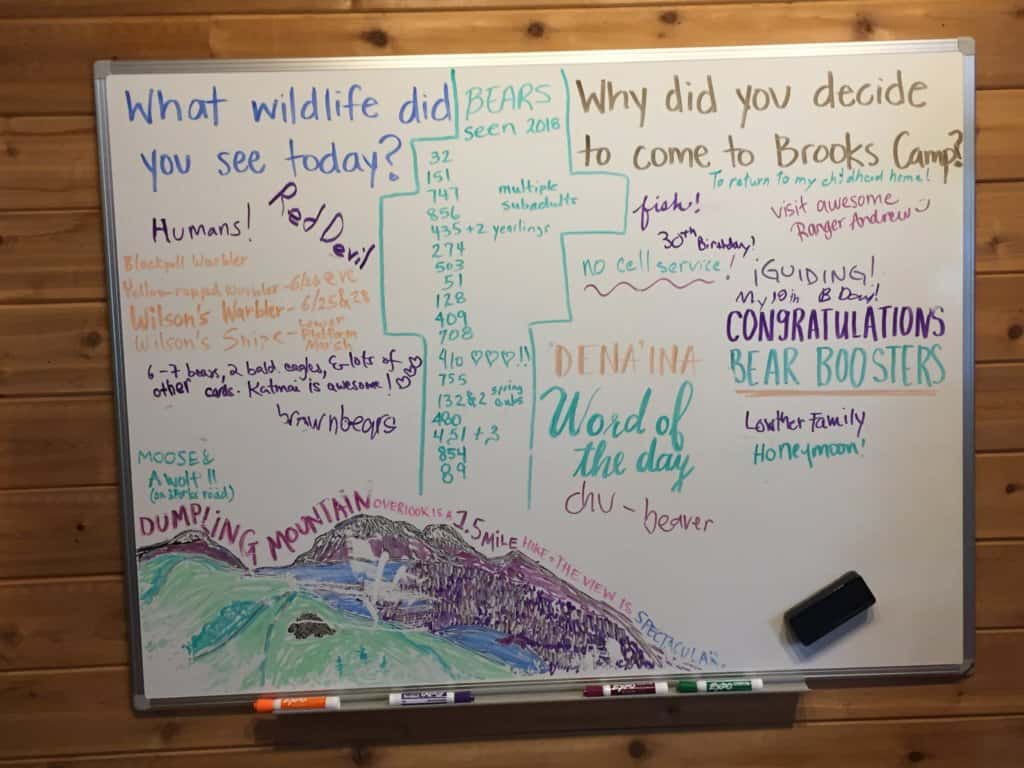 Hallie and I were together as we started down the trails inside Katmai. Our destination was Brooks Falls as there could be a wait to get on the platform. As we started down the trail, it didn't take long to spot our first bear. I attempted to keep track of how many bears we saw, but lost count around 19.
Good thing we were in pairs especially for the first trail bear encounter. Even with our training, we needed help keeping each other calm as we watched a grizzly bear approaching us on the trail. Fortunately, we were close enough to another platform, so we backed it up and waited behind the gate.
Brooks Falls
After our first bear encounter on the trail, we decide to continue our trek down to Brooks Falls. We thought it was smooth sailing until the last trail headed toward the platform – there was the biggest bear I've ever seen. He must have been the Poppa Bear out here! We waited "calmly" as we were taught, backed it up, and provided room for him to cross the trail.
We finally made it to Brooks Falls and yes, there was a wait. However, we got to spend some time on a platform a little further down and watch the bears salmon fish from a little further distance. We had to wait about 30-45 minutes before our buzzer buzzed. Time for the platform at Brooks Falls!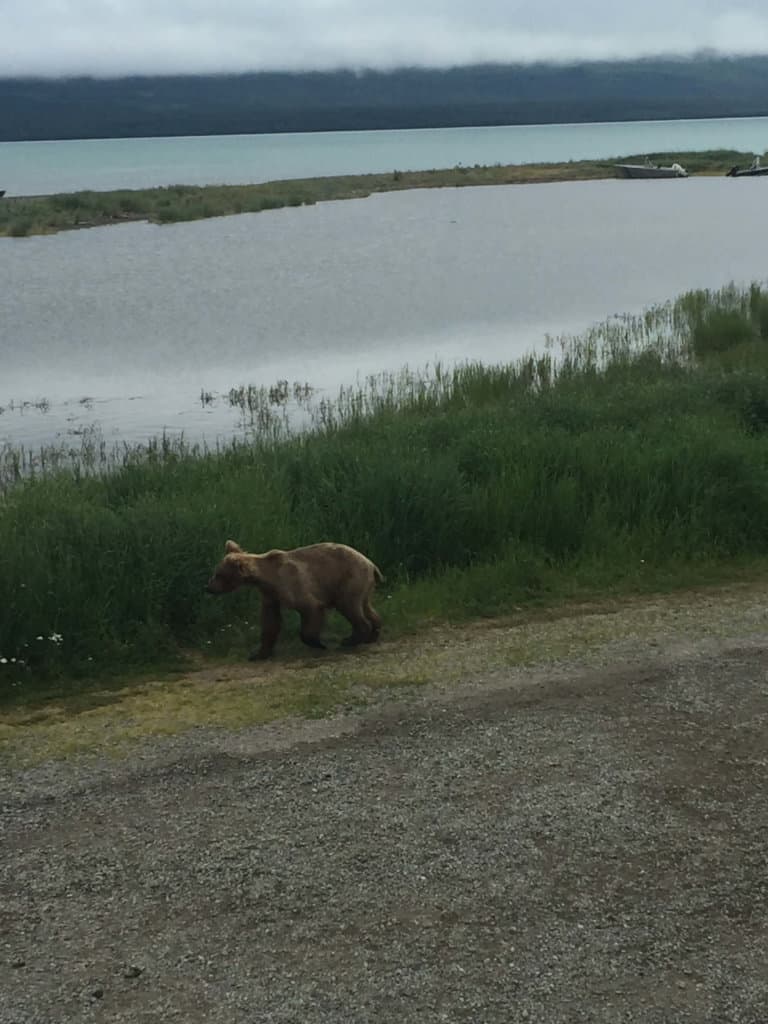 Tip: If going out to Brooks Falls @ Katmai, go there first as there is most likely a wait. Also, if I had to do it all over again, I would stay the night on Katmai. There is a ranger talk at 8pm which would have been really cool along with sleeping with bears! You can also consider the 3pm flight to Katmai which is a different experience with the smaller crowds.
A few of our friends were already there, but we found a great spot for watching the bears in the falls. It was a sight to see! The best part was watching the bears with salmon literally jumping all around them. They knew which ones they could catch, because they waited patiently until that right salmon jumped a little too close and SNATCH – they had one! Let's face it, they caught more than one. Too many to count!
I could have (probably all of us) could have stayed there forever watching the bears fish. But, our limited time was coming to an end and it was time for someone else's turn. If I recall correctly, we were able to spend about an hour on the platform. Just as we were about to walk off, a pair of baby cubs walked up. The ranger estimated them to be approximately 2 years old and weened from their momma. So cute! Can I take one home?
It was not only time to depart Brooks Falls, but it was almost time for our plane to go back to Homer. We packed up our stuff and headed for the plane.
Want to read more about our experience with the bears at Katmai National Park? Check out this article on The Wildlife Diaries!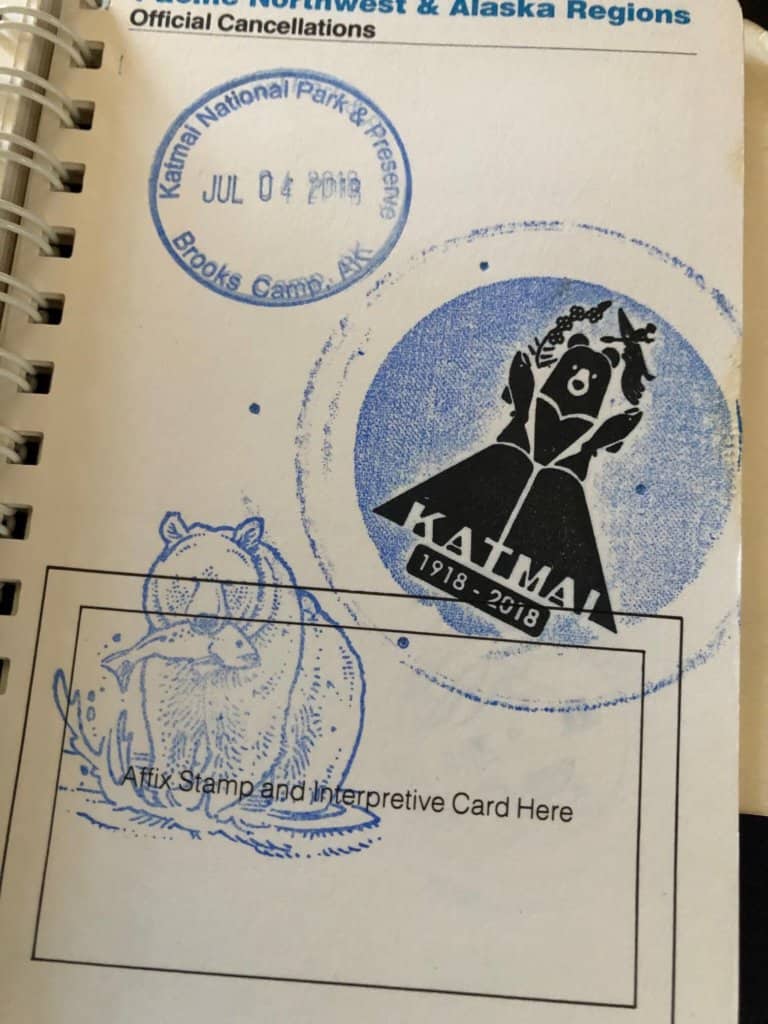 July 4th parade on the Homer Trolley
The day wore us out, but we still had lots of excitement left for the day. Who travels all the way to Homer, Alaska and ends up in their July 4th parade? We do!
While some of us were exploring Katmai, others in the group explored the Homer Spit. It was a good day to chill a little after some exciting days, but most would say "Skip the Spit".
As I was working with the Homer Trolley to take us to dinner that evening, they asked if we would be willing to ride the trolley in the annual parade? You didn't even have to ask – yes! This could quite be one of the trip highlights! Berkeley picked us up at 5:15pm sharp and we headed for the school parking lot for lineup!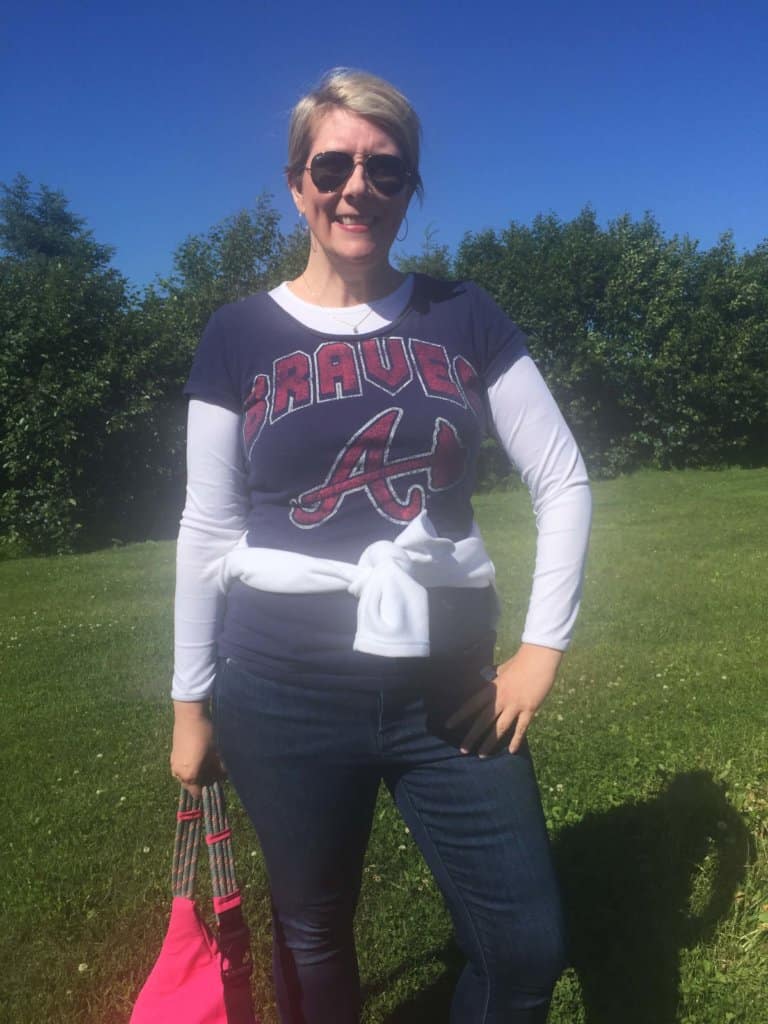 We were all dressed in our red, white and blue ready to throw candy at the kids. The parade is off and as we drive down the streets of Homer, Stephanie (the crazy one in our group) is yelling "We came all the way from Atlanta, Ga to be in the Homer parade", "Today is Roger's birthday!" – over and over and over again!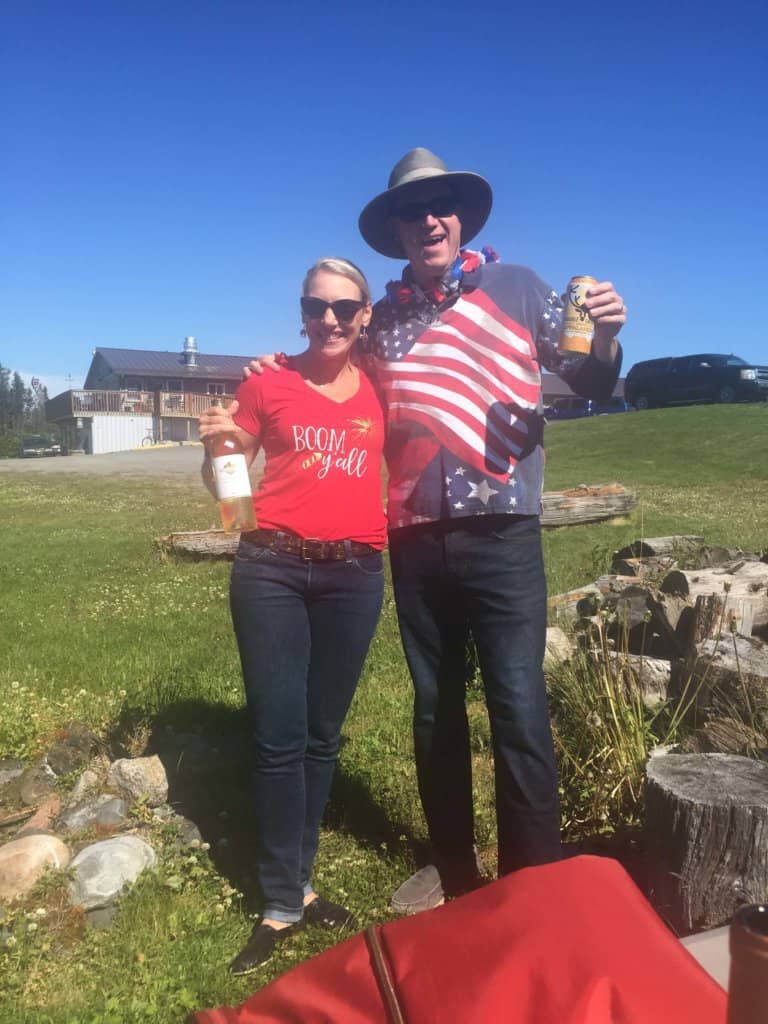 Berkeley would tell us the following day that a few of his friends would ask him "Who was that group in the trolley with you? – we didn't recognize any of them!". Homer would never be the same after the group from Atlanta rode in their July 4th parade.
Dinner at AJ's Steakhouse
After the parade, Berkeley dropped us off at AJ's Steakhouse for dinner. We were not in the room to hear Alaska's official balladeer, but we could catch a little of a few songs. As all the other meals we have enjoyed in Alaska, the food was excellent. Most of us had steaks, but a few enjoyed crab legs, salmon and other local favorites. Of course, we had to celebrate Roger's 71st birthday.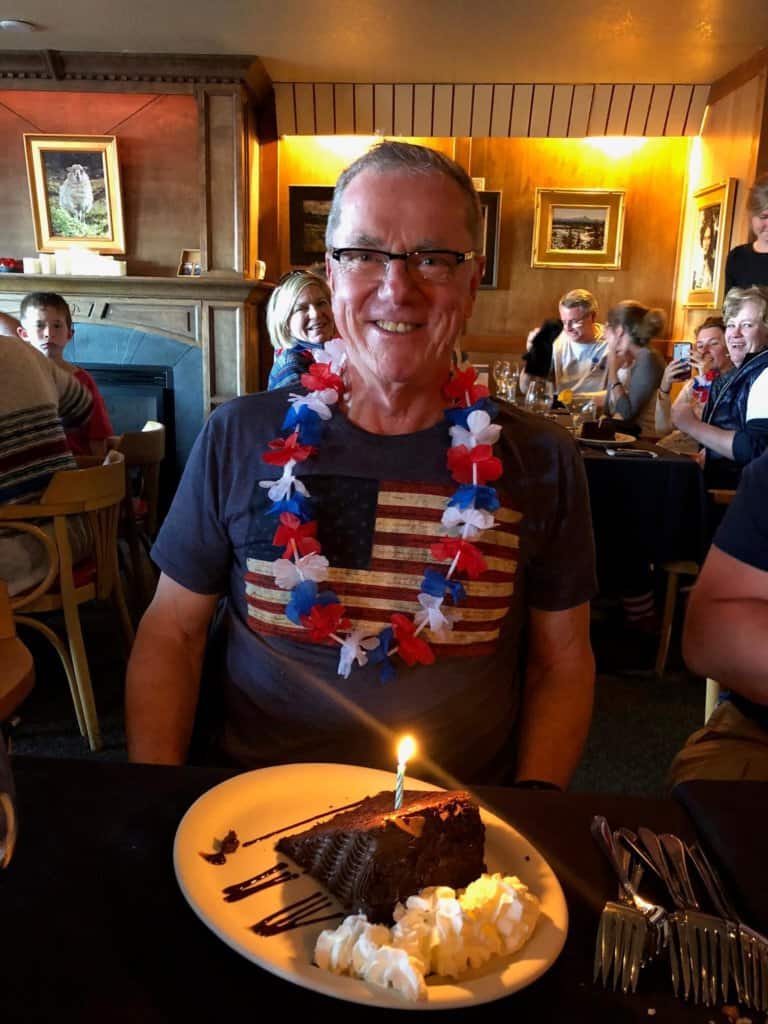 Tip: If you want to enjoy the music, sit in the room where Hobo Jim is playing and make sure you request to be in the room when making reservations.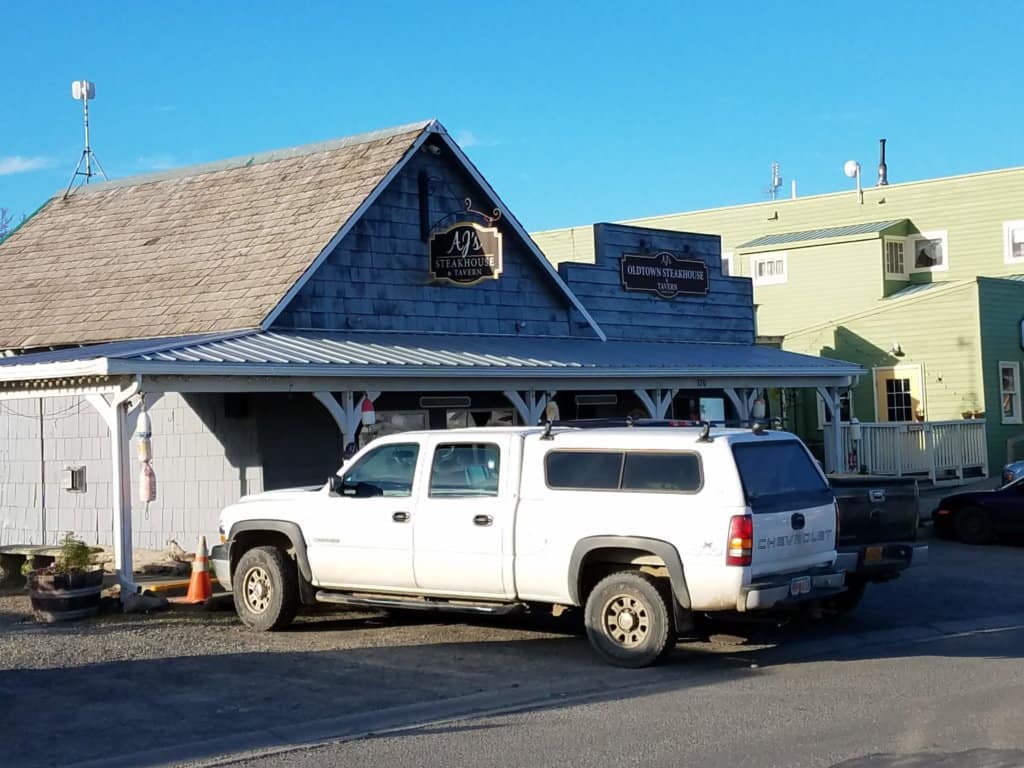 Day 6 – Explore town, Bear Creek Winery, Kayaking and Bishop's Beach
Explore town
After not having any down time the first 5 days, today was a relaxing, explore town kind of day. Phyllis, Amy, Missy and I decided to walk into town (not The Spit) starting off with breakfast at Two Sisters Bakery. After waiting in line and ordering our smorgasbord of pastries, quiche, coffee, chai tea, we found a nice spot on the back deck to have breakfast before walking around town.
Walking around town was mostly art, antiques, clothing stores, but we enjoyed the laziness of the day. After meandering in and out of shops, we ended up at Cosmic Kitchen for an appetizer and drinks. Cosmic Kitchen would be catering a dinner for us later in the evening, so it provided an opportunity to check in with them on the details.
It was approaching mid afternoon and we are headed to Bear Creek Winery for some wine tasting before dinner, so it was time to start heading back to Lake Beluga Lodge.
Kayaking with St. Augustine Tours
While some of us explored town, others explored on a kayak trip. On the boat ride out to the Kenai Peninsula, they were able to see bald eagles, sea otters, birds and homes which are only accessible by boat. During the tour, the group pulled off and went for a hike with the leaders educating the group on the greenery around them. They tried eating "Goose Tongue", "Yarrow", "Fucous", and "Watermelon Berry".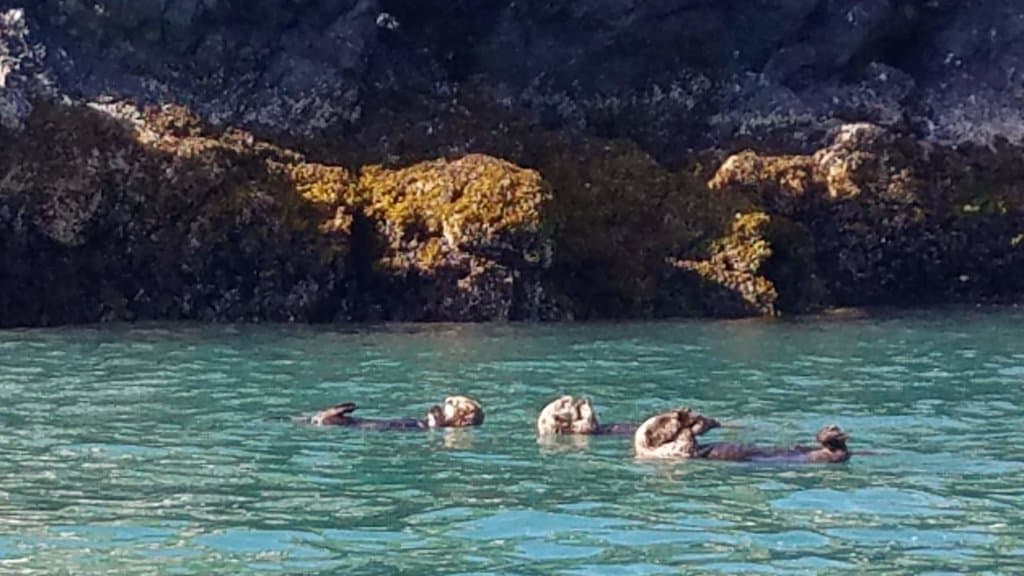 Bear Creek Winery
One group was rushing in from kayaking while the others were coming in from a day on the town. Next up – wine tasting! Nick's Cab back to Lake Beluga Lodge to drive us up the winery. When we arrived, the tasting bar was almost full, so they placed us in the back room which had more space for our group of 8. We tasted fruity wines including rhubarb, raspberry, pomegranate, blueberry, black currant and more.
Dinner at Bishop's Beach
This is a trip to celebrate my big 5-0, even though my birthday isn't technically until September. But, we wanted to visit Alaska during one of the summer months, so here we are celebrating in July. Berkeley picked us up again at 6:30 for the ride over the Bishop's Beach. We had a pavilion reserved for the Mexican feast Cosmic Kitchen would be delivering to us.
Berkeley was an old friend by now, so we invited him to join us for dinner. Cosmic Kitchen did a great job, but the best part was the scenery and the people. We enjoyed each other's company while Berkeley sang some old favorites.
It was now time for Mark to do the polar bear plunge in Alaska. Of course, Luke wanted to join in too!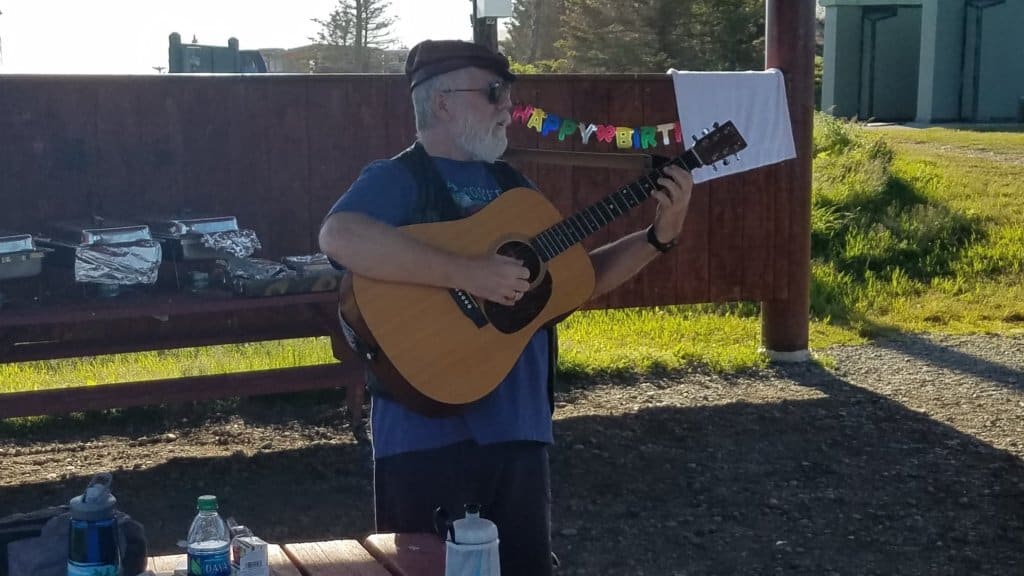 Alice's Champagne Bar
Before calling it a night, there was one more stop at Alice's Champagne Bar. According to Julie, no birthday is complete without champagne – even if it's just birthday celebration without the actual birthday. We sat outside enjoying the sun well after 10pm.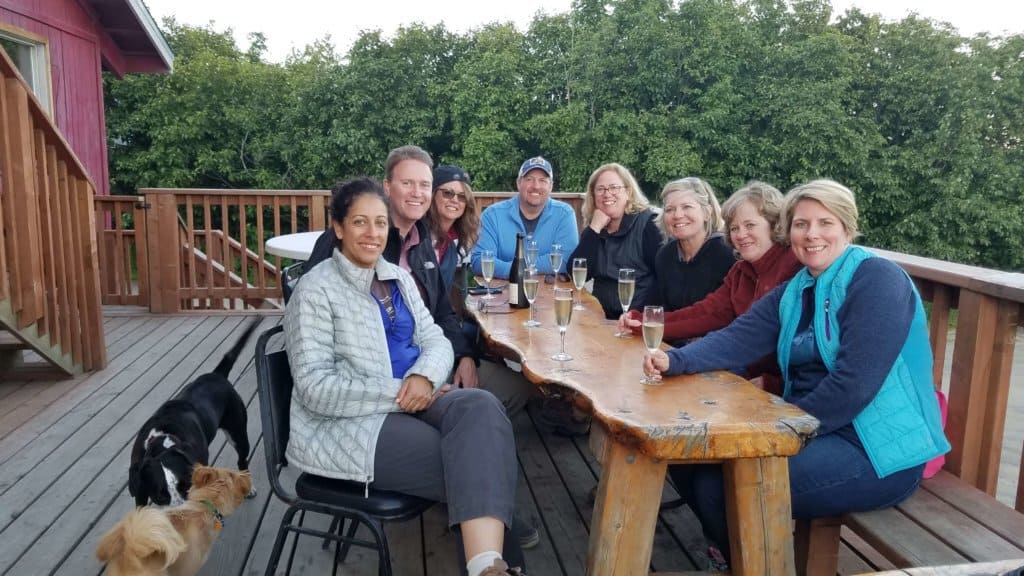 Private Shuttle to Talkeetna
It was time say Adios to Homer and head off to Talkeetna. This would end up being one of our longest travel days with a stop for lunch in Anchorage, drop off/pick up at the airport and road construction. But, Greg from Shuttle Services of Alaska was great along with his dad who served as a second driver.
Day 7 – Homer to Talkeetna
Shuttle Services of Alaska
Greg from Shuttle Services of Alaska and his dad picked us up from Lake Beluga Lodge for the ride up to Talkeetna. With our size group, we had 2 vans plus a small trailer for the luggage. It was going to be somewhat of a long day, but they narrated the ride and provided some additional insight into Alaska. One thing I've really enjoyed about our trip is the opportunity to talk with the locals.
Our first stop would be lunch at Glacier Brewhouse. We thought stopping in Anchorage would be the easiest since we had to make a drop off at the airport, but traffic in Anchorage was frustrating on a Friday afternoon. Finally, we made it to the brewhouse, where they were not prepared for group even though we had reservations. They placed us into a small room and the service was poor. It was fairly obvious this is a spot the cruise lines take passengers for lunch.
Tip: When choosing a lunch spot in Anchorage, you may want to ask if the cruise lines drop there. If so, avoid!
We hated to see Hallie leave us, but it was time to drop her off at the airport and pickup Stacy and Andrew. They would be joining us for the 2nd half of our adventure. Here we come Talkeetna!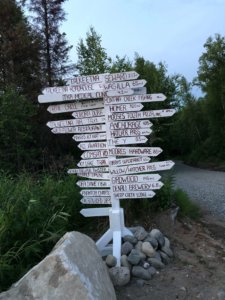 Talkeenta, Alaska
Lodging: Denali Overlook Inn
It only took us about 2 seconds after arriving at Denali Overlook to know we would enjoy our stay here. Tim greeted us and was ready for our arrival. They were very helpful with all of our luggage especially with some heavy bags going to the top floor. The views from Denali Overlook Inn were simply amazing!
Nine of us would be leaving shortly for an evening of fly fishing. We settled into our rooms quickly, gathered our things as Fred was waiting with some trucks to transport us to the river.
Fly Fishing with Alaska Edge Wilderness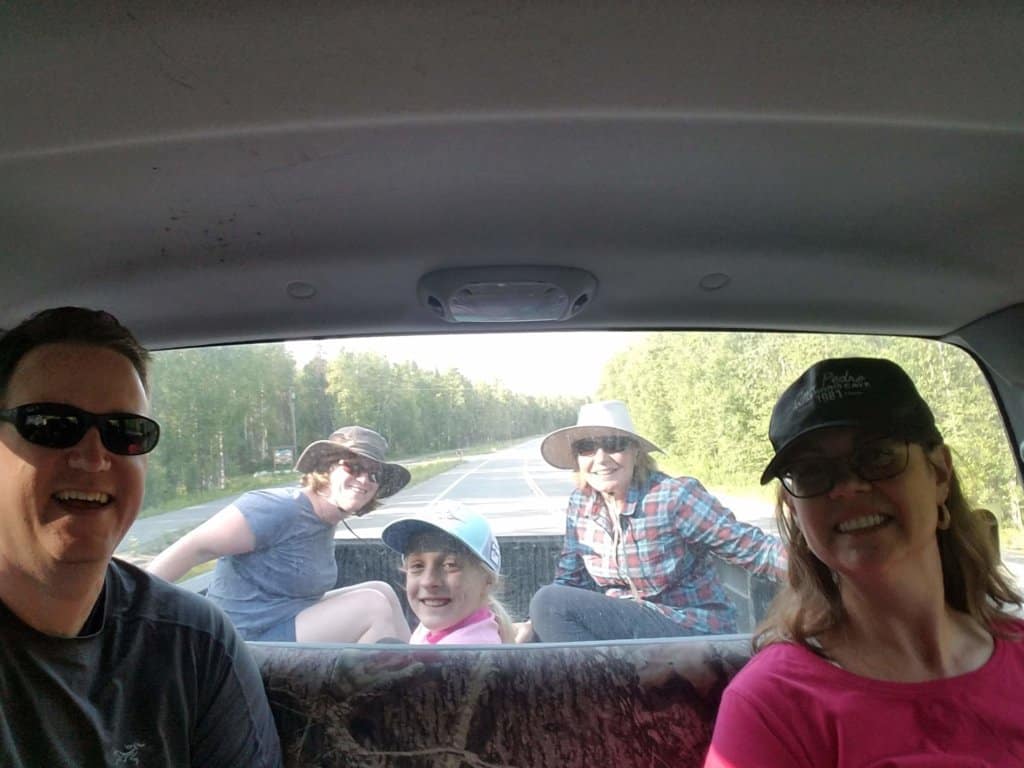 We arrived at the river with high expectations of catching some fish while in Alaska. When planning the excursion with Fred, he was very excited he had a group coming in from Atlanta. He had it all planned out – gear, waders, steaks, fish, all we could drink, etc. He had us fill out forms with all our likes, dislikes, sizes, etc.
The first disappointment came in there wasn't enough fishing rods for everyone. We had booked this excursion months in advance and it was baffling to me how we didn't have enough fishing rods. Rods are essential for fishing! They also didn't have the right size waders for everyone. But, we improvised and would not let it spoil our evening.
Fred and the guys gave us some lessons on how to cast the line with fly fishing rod. It didn't seem to difficult, so I know we all are going to catch some fish! A few of us decided to walk upstream a little to spread out from the others. After several hours of casting lines, only one small fish had been caught. But, it was time to eat!
While dinner was tasty, it was awkward in that not everyone was able to eat at the same time. Additionally, there wasn't an area for us to sit and eat. Since I'm not a big beer drinker, it was disappointing none of the drinks some of us requested were provided. We had a nice time, but in the end, I would say the experience was disappointing. They didn't seem prepared and we didn't go home with any fish.
Fly fishing photos courtesy of Kevin Creekmore and Jen Wieland
Tip: While everyone was extremely nice, the group consensus is the trip was oversold. If you want to go fly fishing in Talkeetna, skip Alaska Edge Wilderness.
We arrived back to the Inn after midnight and was able to see the most beautiful view of Denali. All we heard before going to Alaska was be prepared for rain. At this point, we hadn't seen one drop of rain.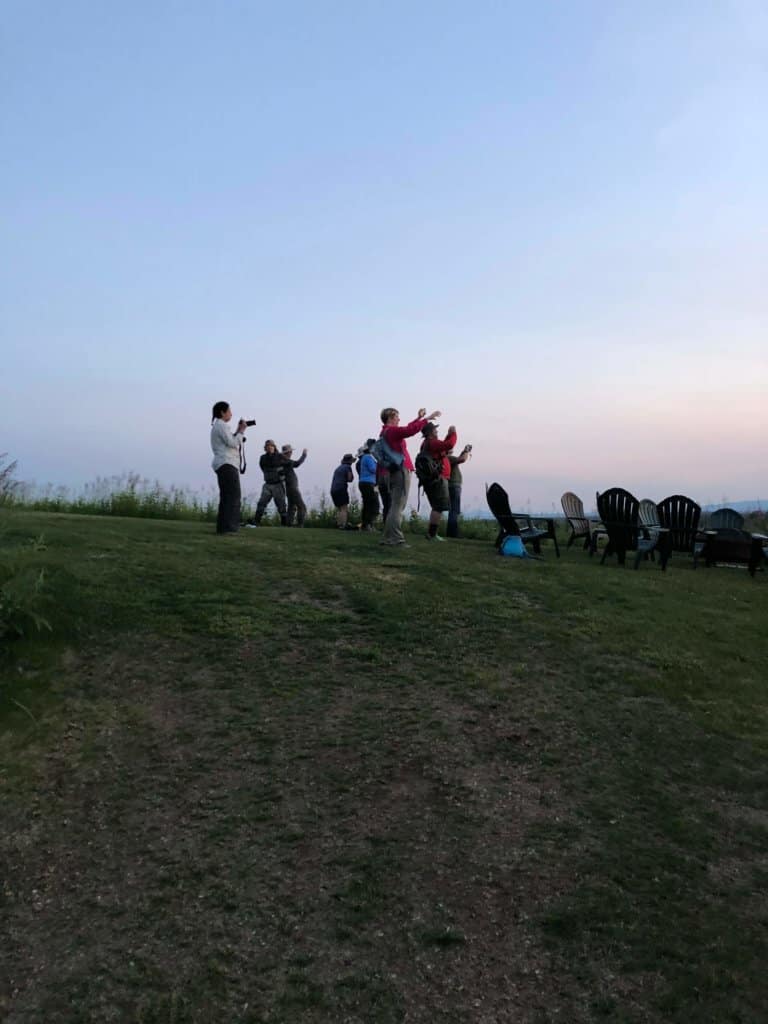 Climbing into bed that evening, my roomies and I decided to leave the shades open and continuing to admire our view of Denali.
Tip: All rooms at Denali Overlook Inn were amazing, but the best room was the View Suite. If you can justify the cost, book it!
Day 8 – Spending the day in Talkeetna
Today was the first day we labeled as a "free day". All it really meant is most of us didn't have anything scheduled. As usual, I was one of the first to wake and went downstairs for coffee. I could not get enough of the view! After having stayed in a couple different types of places, I figured out my favorite places were the ones where we could hang out as a group. We had the perfect number of people to have reserved the entire Inn.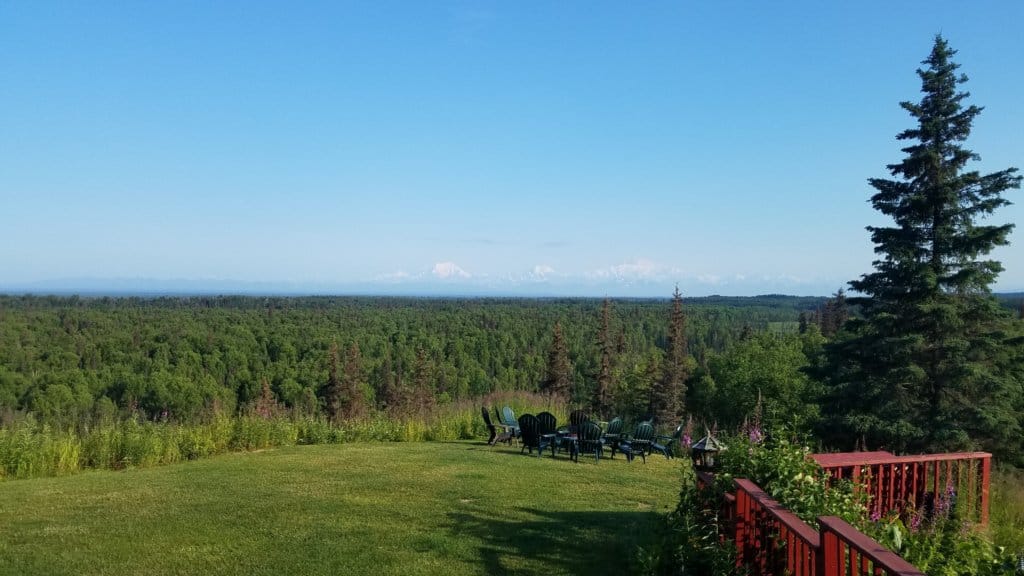 Hiking
Eight of us decided to hike around Talkeetna Lakes first. Others were hanging out at the house for a little bit, but we were ready to get the day started. The trail was a relatively flat 5-mile hike, but also very scenic around the lake.
There was no major wildlife spotting with the exception of a duck family enjoying their time in the water.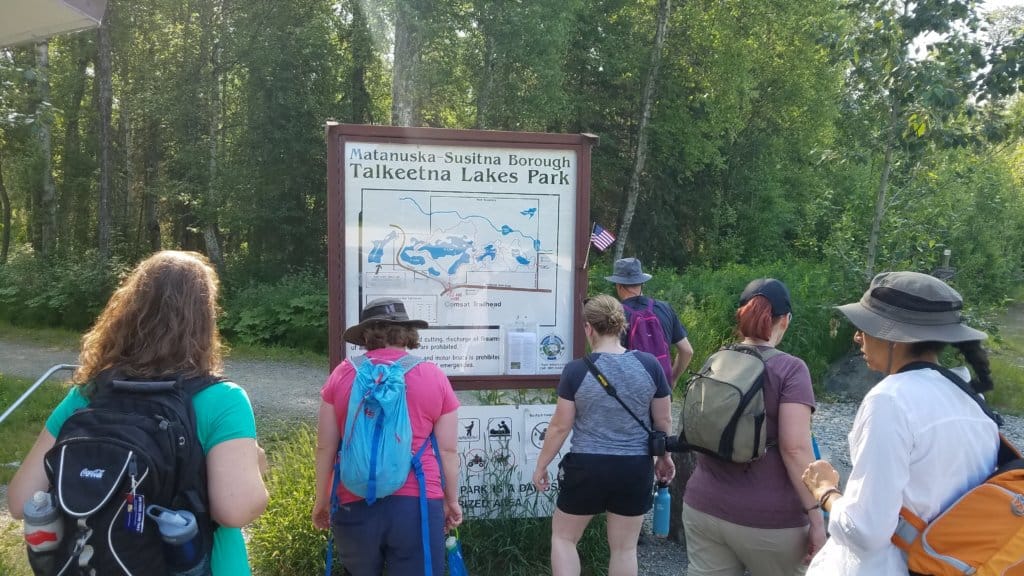 Tip: While I didn't go, some friends went on a flightseeing tour with FlyK2 and absolutely loved it. You get aerial views of Denali and they felt like they were in a movie.
Walking around town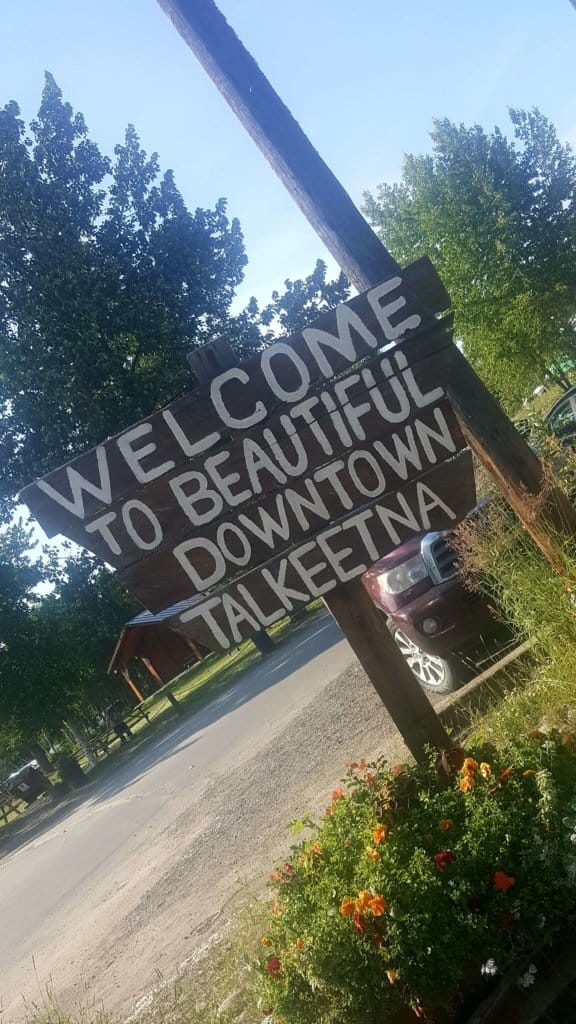 Hiking had worked up our appetite for lunch after the big breakfast at the Inn. Finding a spot to park in town was a little challenging as the little town of Talkeetna was hopping. While this is a very cute, quaint little town, the cruise lines bring people here which can have an impact on the crowds. Additionally, Talkeetna is the check in for hikers going up to Denali.
Our first stop was a short walk down to the Susitna River. Several rivers come together in the middle of Talkeetna creating a strong current. You definitely would not want to fall into this river. There were a few small pop up markets along the way and we could resist some of the local crafts. We each walked away with some pictures, baskets, and a few other homemade crafts.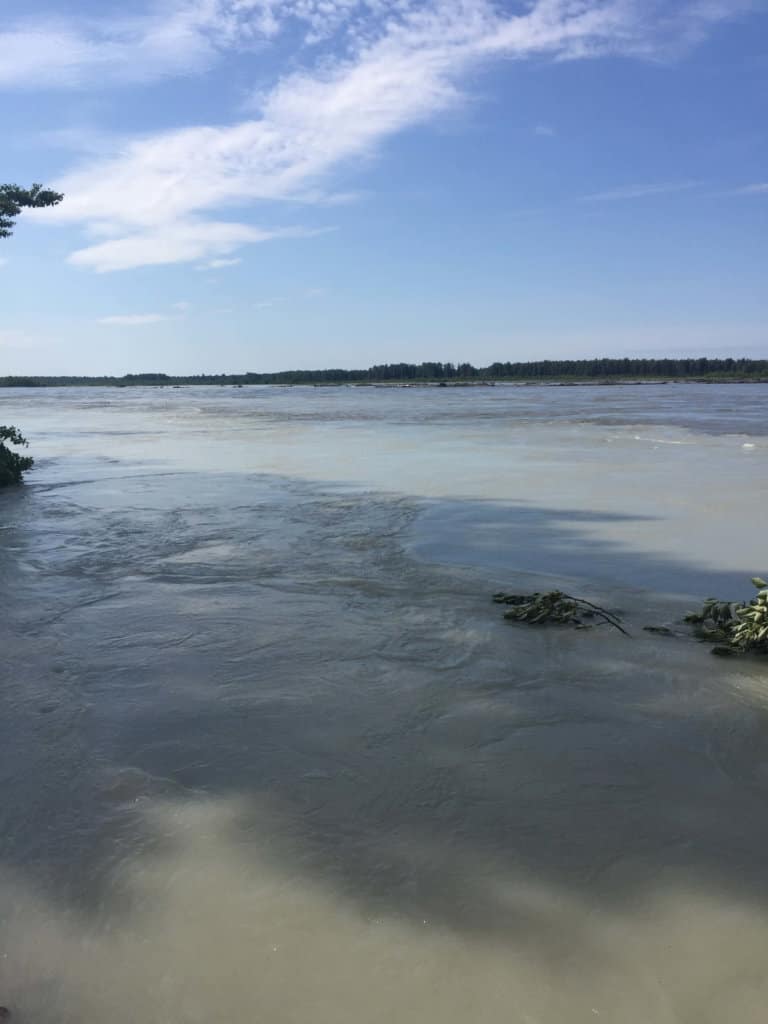 Before leaving Atlanta, I had heard about The Roadhouse restaurant. I had been waiting on having the hotcakes even though it was lunch time. It happened to work out nicely with most of the group gathering there for lunch at about the same time.
While The Roadhouse is a restaurant, it also provides services for backpackers or other just traveling through town. They provide services such as a small room for rent, showers, and clothes washing. A few people in our group took time to wash some clothes with this being the half way point in our trip.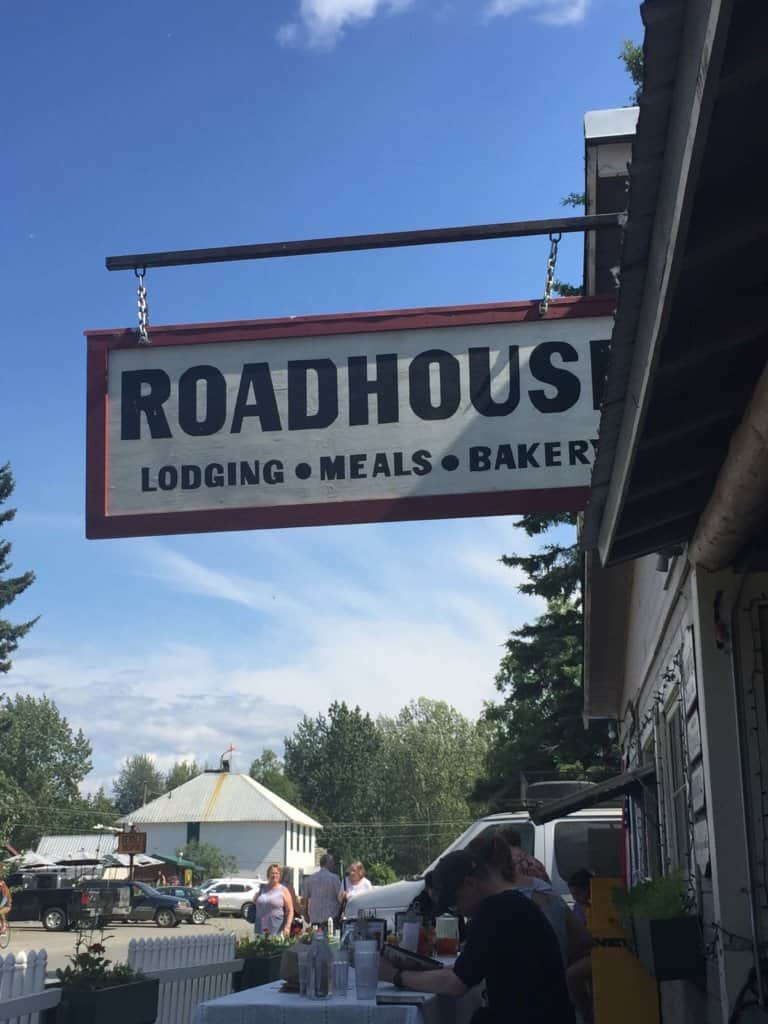 After lunch, we split into small groups browsing in and out of shops. A few who didn't go hiking earlier, left to do the same trail. The shops were interesting including a marijuana shop (where they do ID you to enter). We didn't buy any goods, but went inside out of curiosity since it is illegal in the state of Georgia. There was also a cool shop with photos of the Aurora Borealis, called Aurora Dora.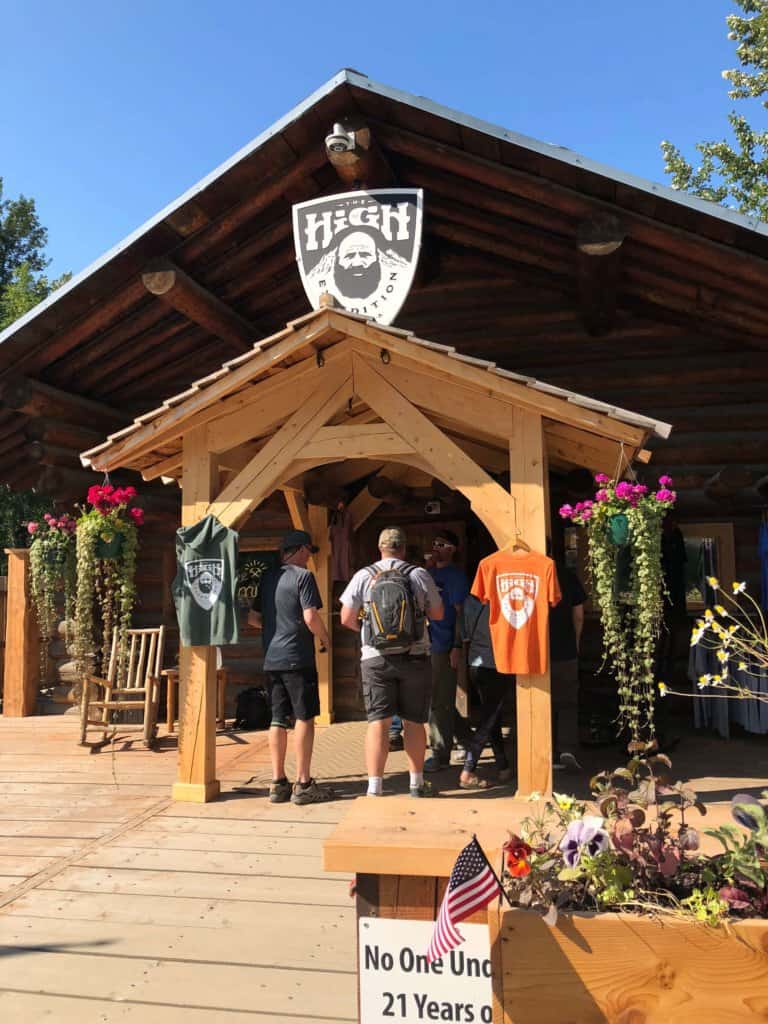 We also went into the National Park visitor center to see the movie about hiking Denali. It is rather short, so if time allows definitely drop in and don't forget your National Park stamp.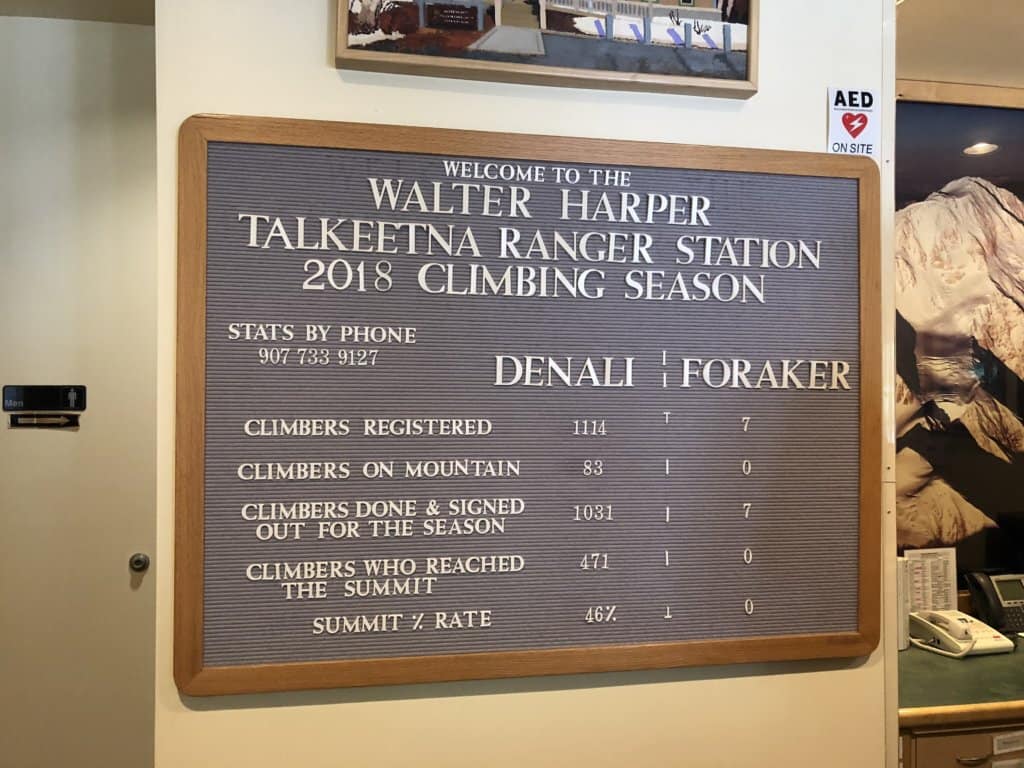 The weather was perfect for being outside and we were done shopping. So, we decided to sit on a patio for beer (or ice cream for the kids) and appetizers. Another perfect day in Alaska! And, still no rain.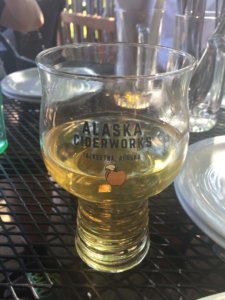 The Inn had an ATV they allowed us to drive to town and around the Inn. I think everyone took a turn at some point during our stay.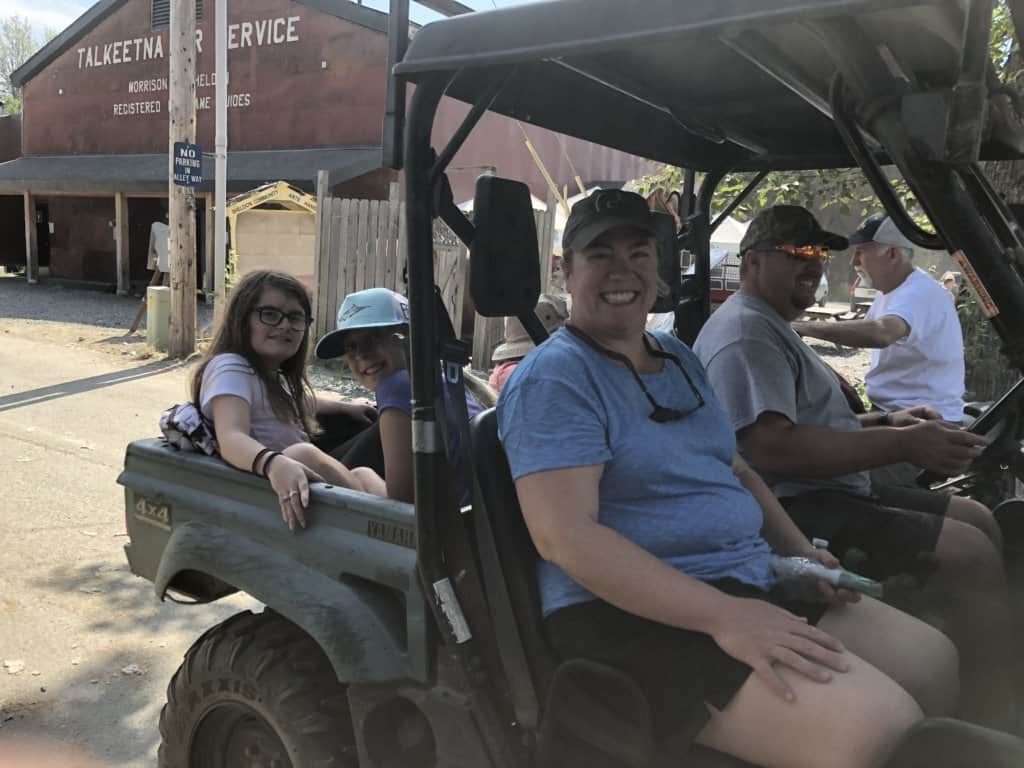 Dinner and hanging out at the Inn
While we were in town, pizzas were ordered for everyone. The Inn is too special of a place not to spend more time there. Instead of going out to eat, we ordered in, had pizza outside, building bonfires, making smores, hanging out telling stories of the day and just enjoying each the company and views.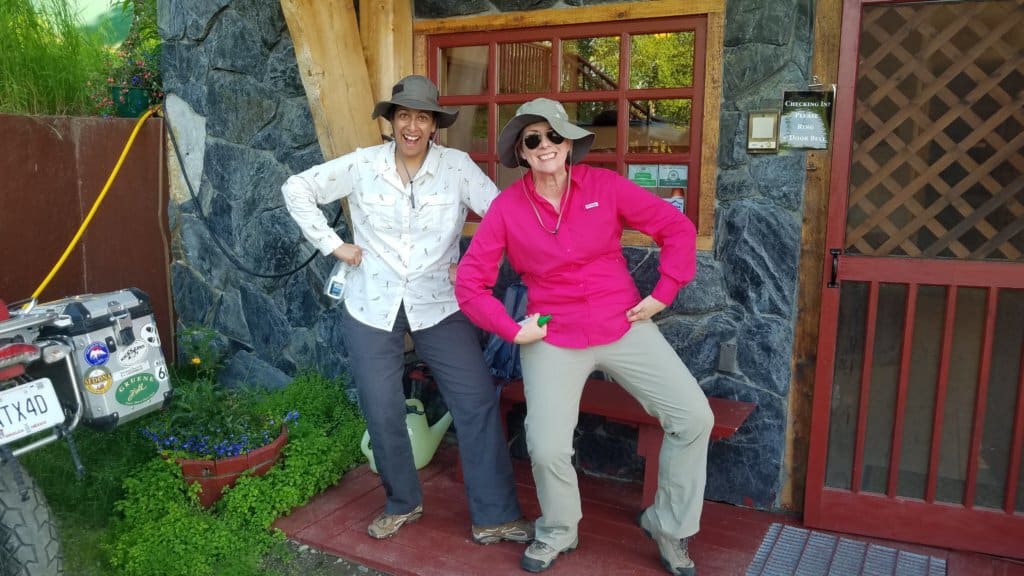 While Tim (our host) was off on vacation, his friends took over where he left off. They made our stay complete with birthday cakes celebrating the (upcoming) big 5-0!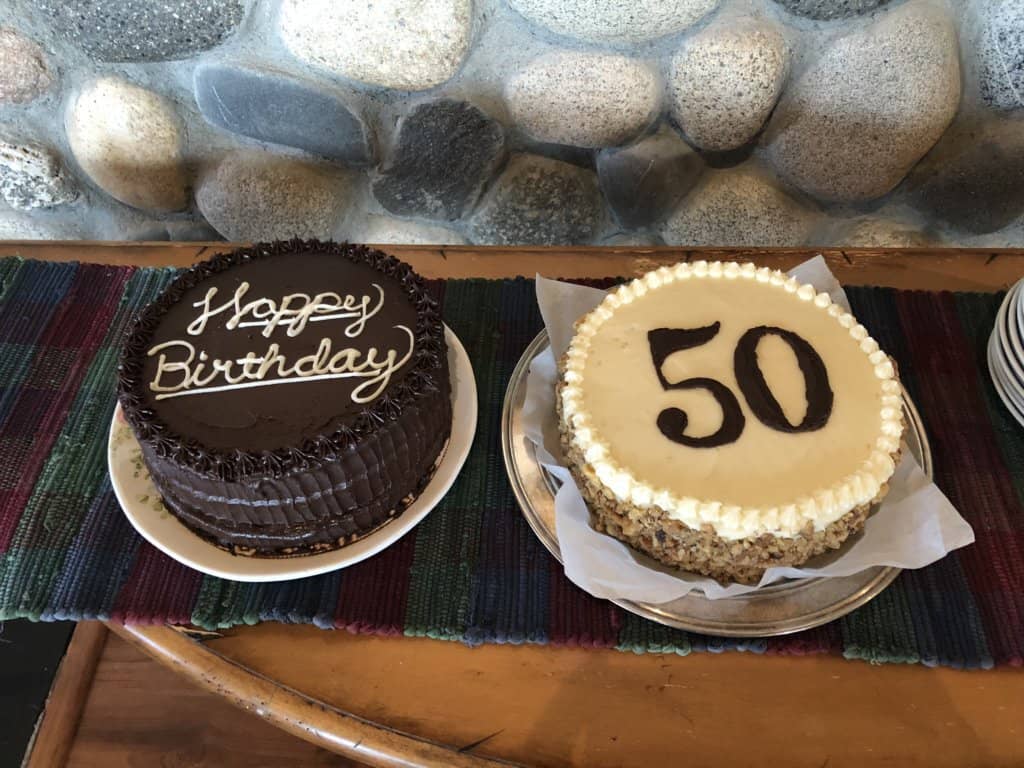 Tips: The entire group loved Talkeetna. If you are going to Denali, make this your stop either going in or leaving. It is small enough to do everything. While there are places a little bit closer to town, Denali Overlook Inn is simply spectacular.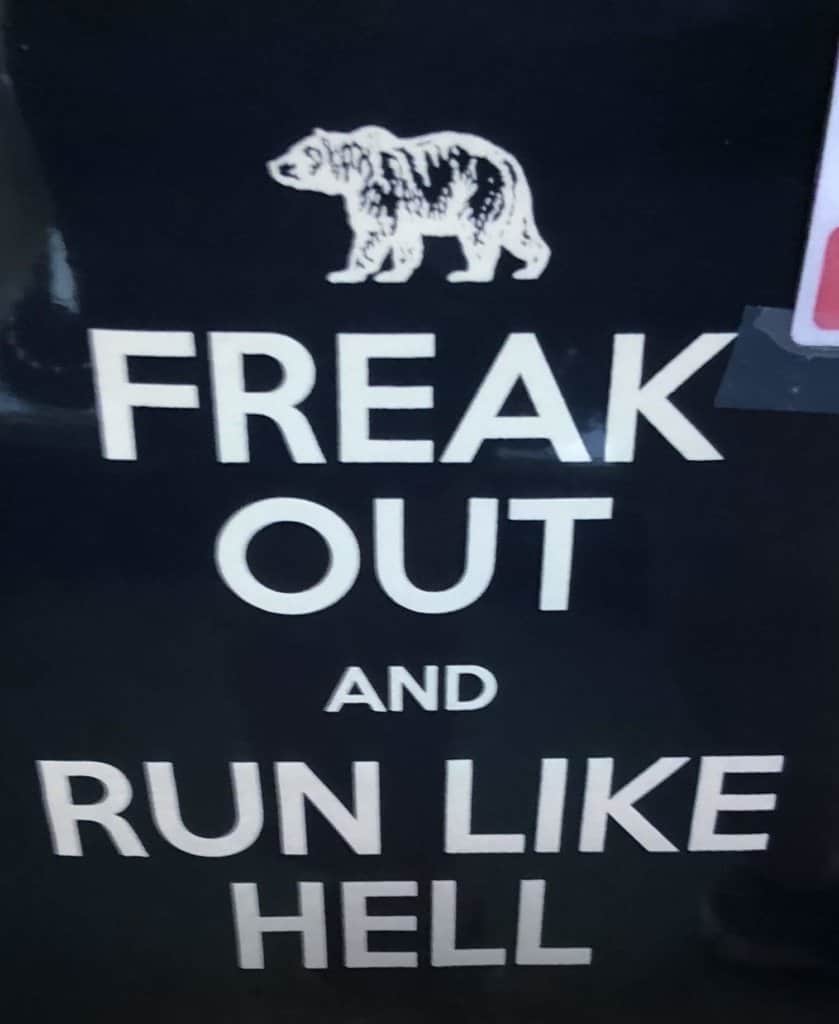 Day 9 – Talkeetna to Denali
Before we went to bed Saturday night, we heard rain was on the way. After all we read about rain in Alaska, our only surprise was we had not encountered it to this point. But, true to the forecast, we woke up to rain on Sunday morning. We enjoyed our breakfast with the innkeepers but had to rush off for the train station. The Denali Star was departing Talkeetna at 11:20 and with a group our size, we wanted to be there early.
We originally had planned to take Talkeetna shuttle from Denali Overlook Inn to the train station, but they didn't inform us until the morning they couldn't get up to the Inn with the trailer. It was very frustrating they didn't inform us if this issue earlier. Fortunately, the innkeepers had a Ford Explorer and were willing to shuttle all of us to the station in several loads. So, I went a little earlier as I had arranged all the tickets, to ensure we were checked in properly.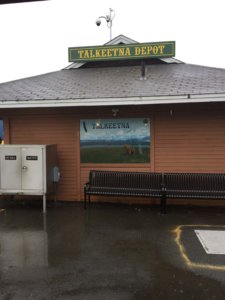 After checking in, there was nothing to do but wait. The station was too far from town, so we ended up huddling in the station avoiding the rain falling outside.
Finally, the train arrives and after boarding, it was time to head for Denali National Park.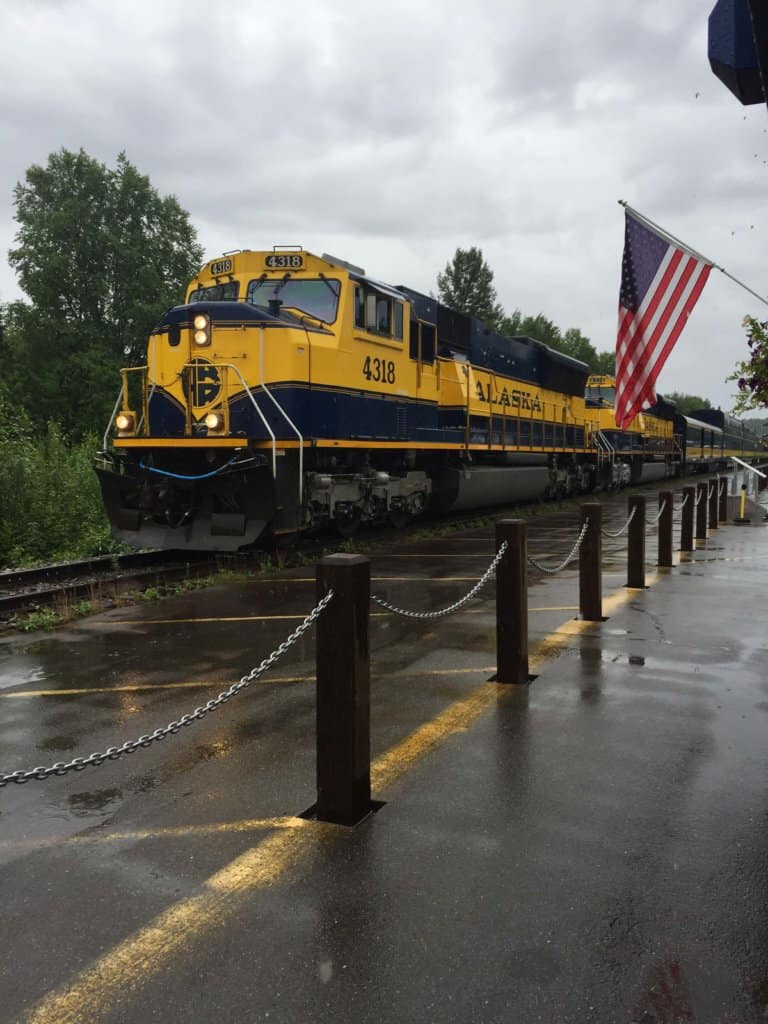 Tips: There is truly nothing close to the station. Arrive with ample time to check in but come prepared to keep yourself occupied. There are also no concessions, coffee bar, etc. as there is in Anchorage.
Denali Star
Shortly before we left Atlanta for Alaska, we heard there were extra seats in the Gold Star section (considered first class). Most of us elected to bump up to Gold Star for $124. The Gold Star provided the full glass ceilings which would have been even better on a sunny day. But, we didn't let the rain spoil our fun. We were grateful the rain occurred on a travel day versus one of our excursion days.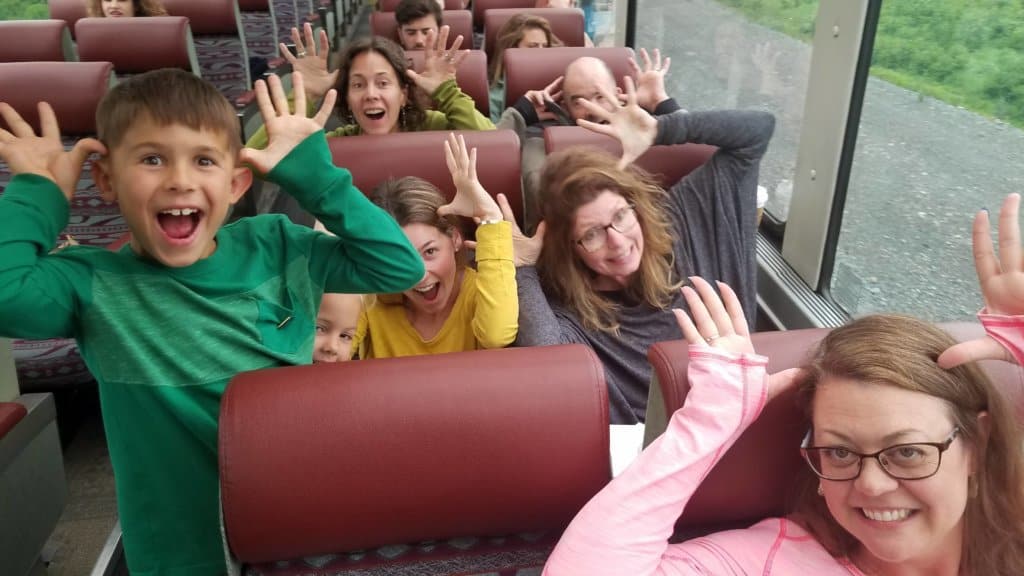 After the train was moving for an hour or so, the opened the full-service dining car for lunch. During lunch, the train approached what would be one of the best sites during the trip, Hurricane Gulch. The train travels across a bridge which is approximately 300 feet above ground for the view into the gulch. While it was raining, we still were able to enjoy the views.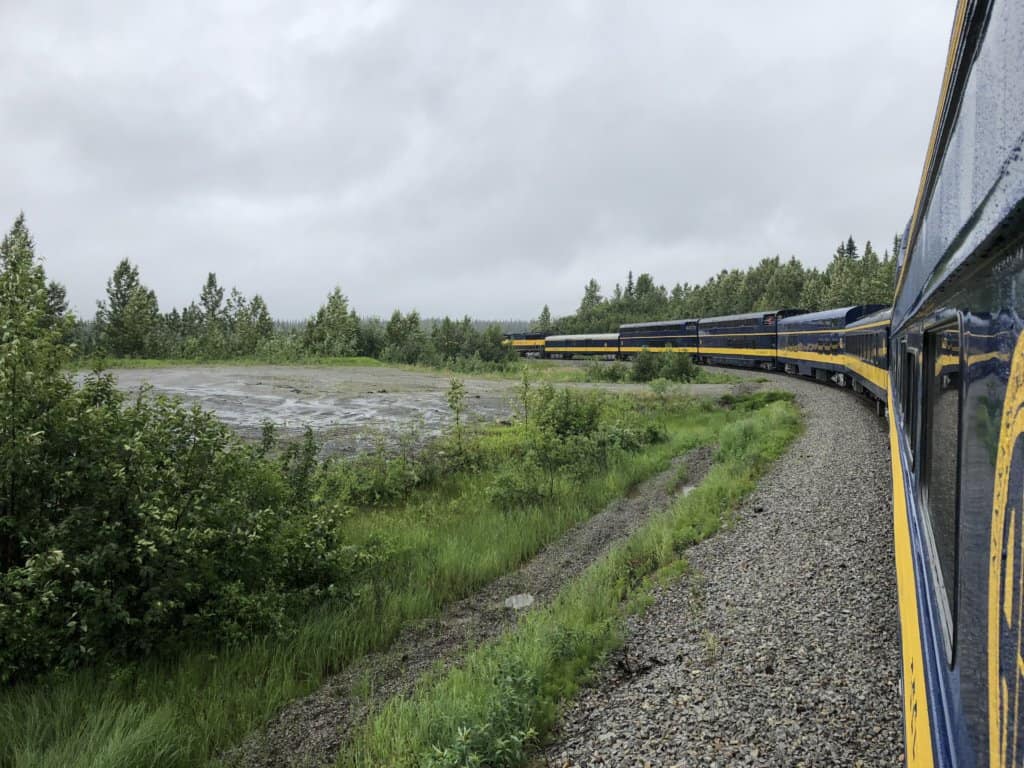 The ride up to Denali was a little longer than our trip on The Coastal Classic. Also, we were half way through a 2-week trip and the rain provided a reason to relax on the ride. Ellen, Kevin, Amy and I passed time playing Ticket to Ride on our phone.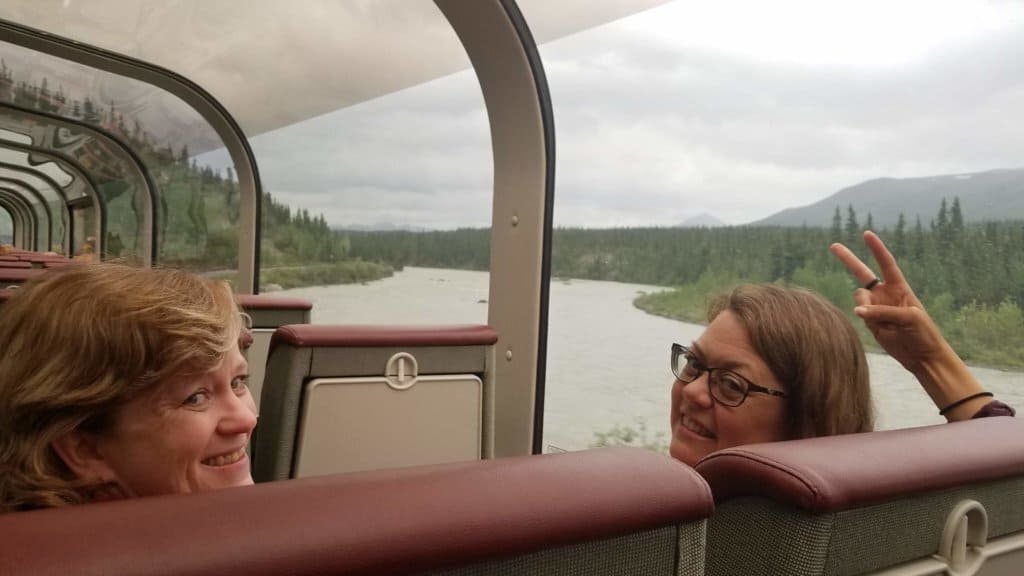 Around 3:30, we pulled into the station at Denali National Park. The rain had stopped, but it was still overcast and quite breezy.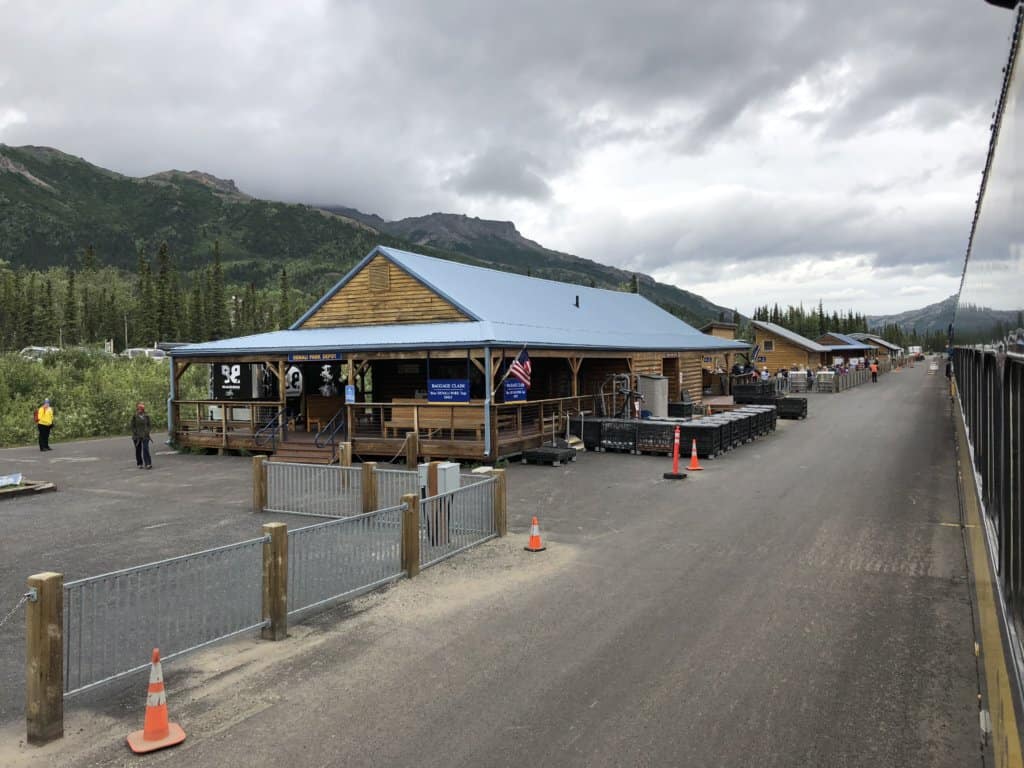 Denali National Park
Lodging: Denali Bluffs Hotel
Denali Bluffs sent a private shuttle for our group given the size. To this point, not one of us had seen a moose close-up. We are in moose country and how is it none of us have seen a moose close-up? Well, it was about to come to an end. Just a few minutes after the shuttle left the station, there was a moose on the side of road munching down on some leaves. Of course, we all went crazy with our first moose siting!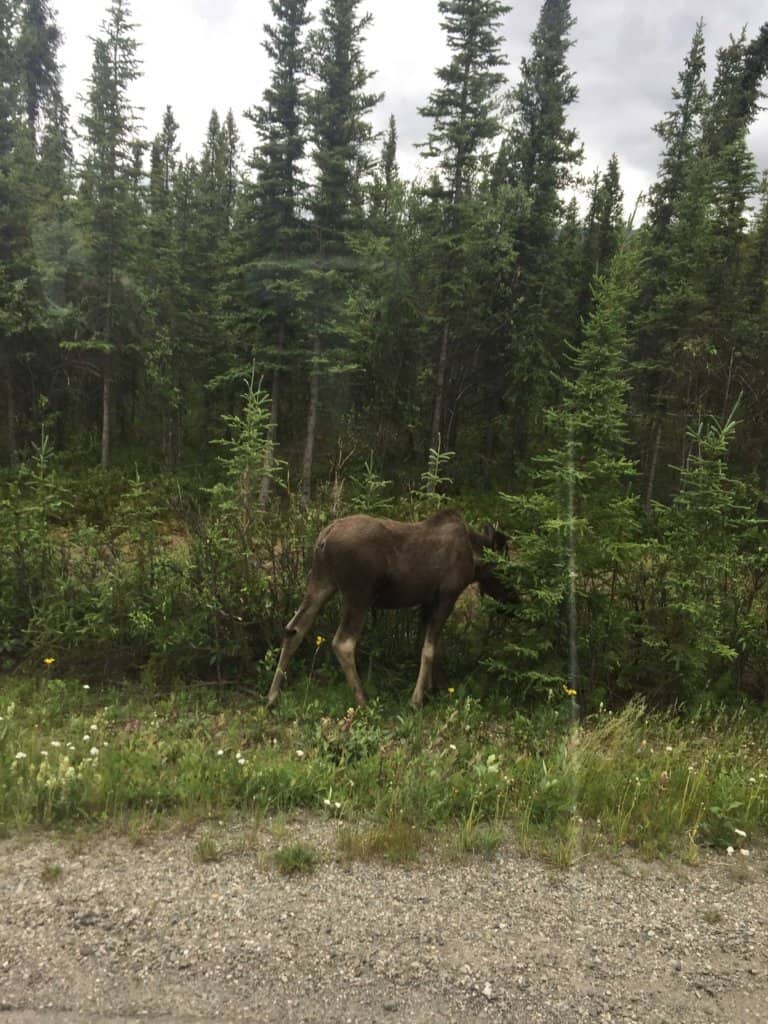 Our group split up as about half of us splurged on the newer River View side with the others staying in the older Hillside rooms. The River View rooms were quite rustic like a log cabin, while the Hillside rooms were more aligned with a regular hotel room.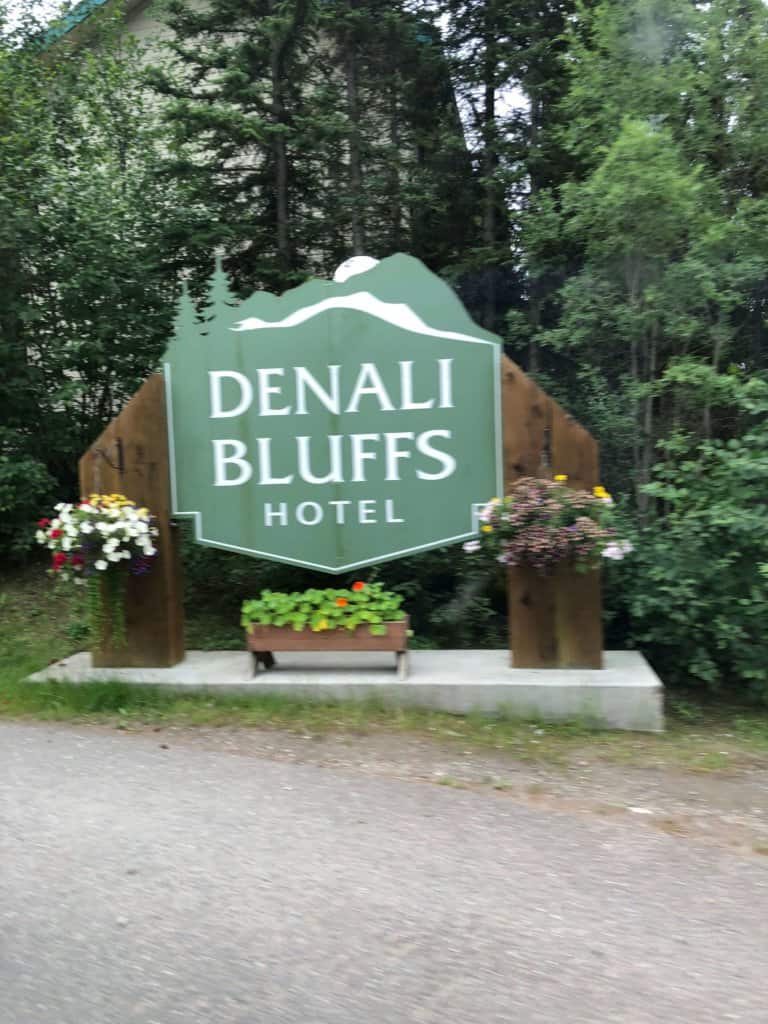 After settling into our room at the Denali Bluffs hotel, Phyllis and I decided to make a quick run to the visitor center. It wouldn't be open much longer and we had to get back for our mountain biking excursion.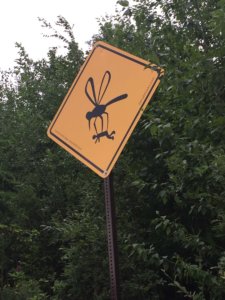 The bus system picked up in front of our hotel and delivered us directly to the Visitor Center. We went straight to the station to stamp our passport books and then look around.
Before we left the center, we couldn't resist taking our picture with the Visitor Center grizzly bear.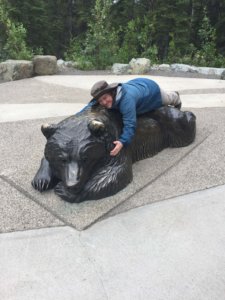 Tips: In my opinion, it was worth the $ splurging on the River View room. They are not only nicer, but the views are better, and the rooms are more spacious.
I didn't quite understand before going to Denali it is a wilderness National Park. This means there is no lodging, hiking trails or anything inside the park. The only way to truly see the park is to either backpack or take the bus inside the park.
Mountain Biking with Denali Outdoor Center
Phyllis, Lizzie, Stacy, Andrew and I were the only five brave enough to go mountain biking around Denali. Denali Outdoor Center picked us up at the hotel in their van shuttle for the ride out to the biking center. The weather was still cold and windy, but we are going regardless!
The team suited us up on the bikes and off we went. The ride was moderate majority of the way, but there were a few big up and down hill rides. While it was still cloudy, the views were still amazing.
Day 10 – Denali National Park
10 days into our trip and we are prepared for our busiest day. We not only have one excursion planned, we have two planned! Many of us met around the lobby grabbing breakfast before the shuttle from Denali Outdoor Center picks up at 9:20am!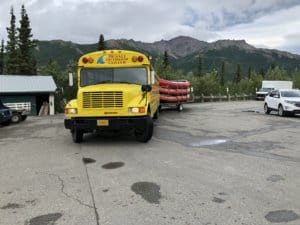 Whitewater Rafting with Denali Outdoor Center
The clouds were starting to break up and the sun starting to shine. But, the wind continued. For those of us who planned to do the true whitewater rafting, we were informed it was too windy in the canyon and would be doing the much calmer section with the others. It was a little disappointing, but we can't control mother nature.
We were outfitted with splash suits, helmets, and gloves before heading off for the river. The typical school bus aka raft boat took us down to the river, where we heard the customary "safety" talk and what to do if you fall out of the boat.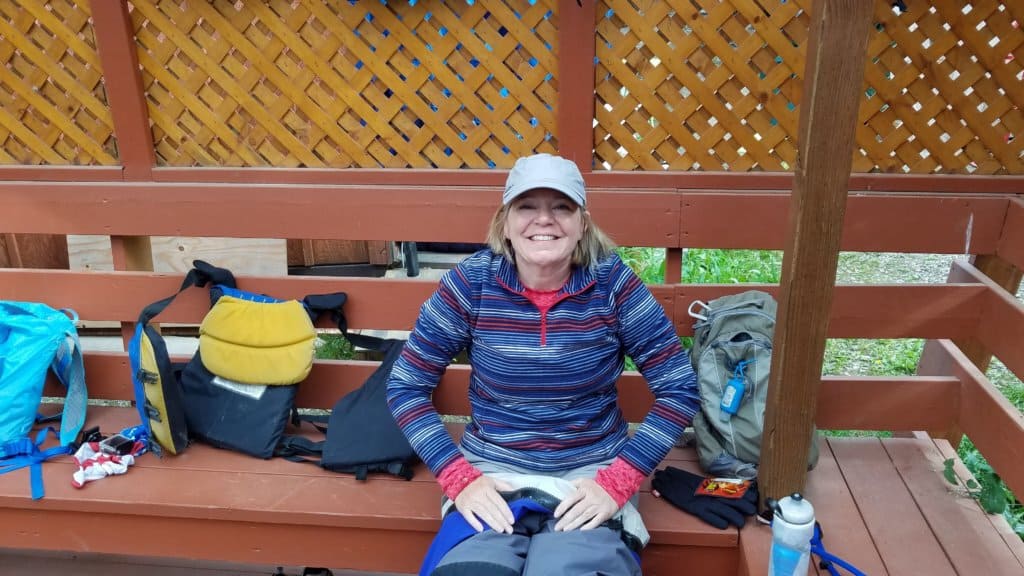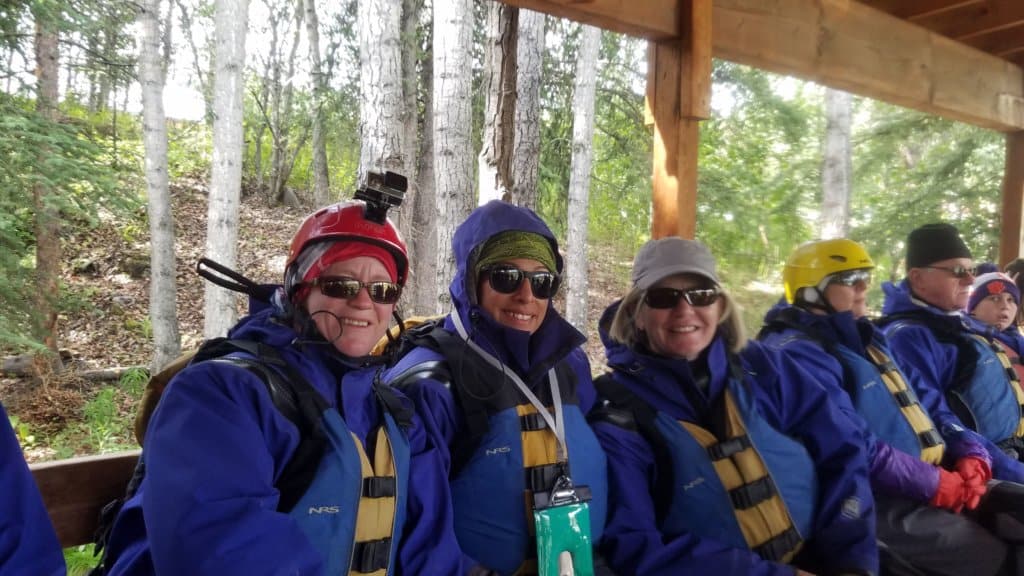 It was finally time to raft! We split up into rafts with me sharing a raft with Kevin, Ellen, Mark, Karin, Andrew and Stacy.
While the rafting wasn't quite as exciting for the rapids , we really enjoyed the views, paddling when necessary and feeling the chill of the water (on occasion). The guides gave us interesting stories about the park and surrounding areas, including the story of Chris McCandless who happened to be from Atlanta. You can read his story in the John Krakauer book Into the Wild.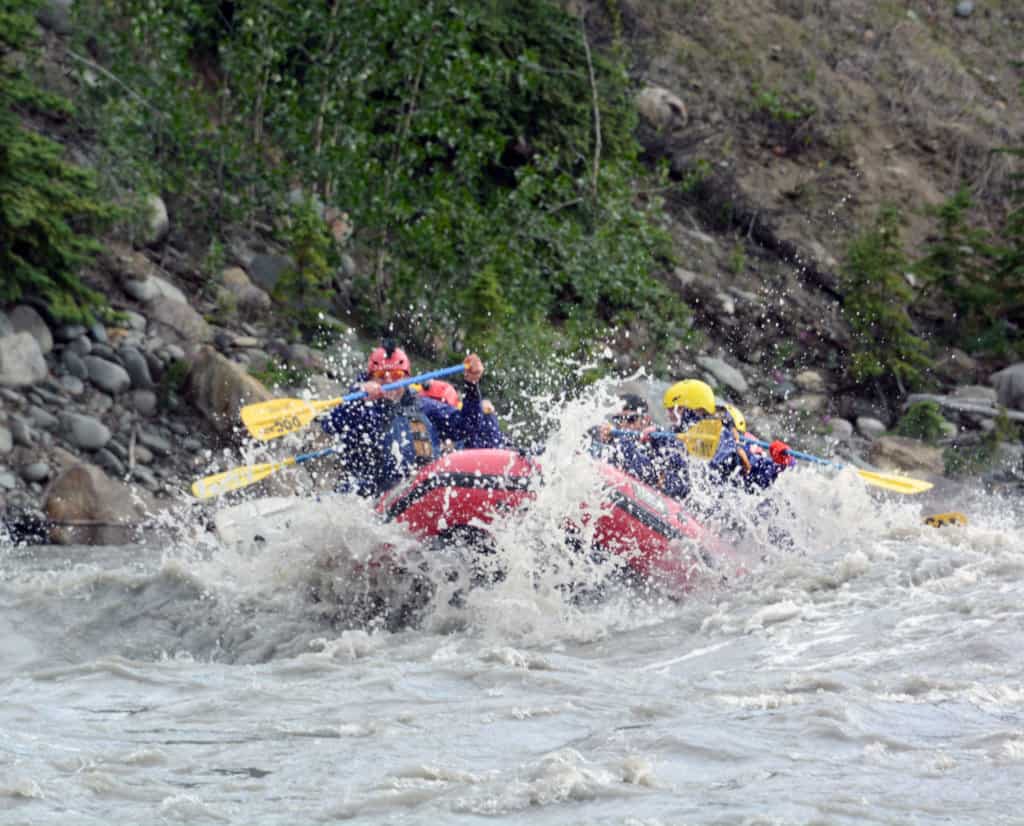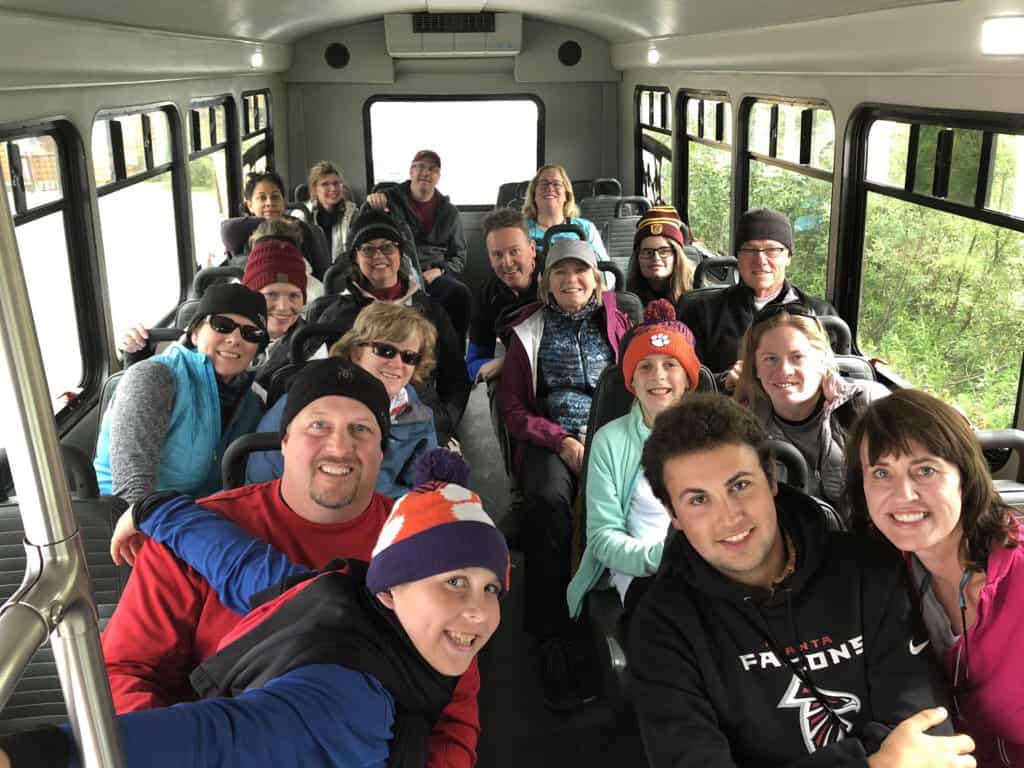 After rafting, we all headed over the small restaurant Denali Doghouse. We were all famished after a morning on the river and ready for lunch! You stand in line to order your food and wait until your number is called. The Doghouse was really crowded that afternoon, but we were all able to secure a seat for eating. We took turns sitting down for no one to eat while standing. I would recommend The Denali Doghouse as great lunch spot. My only issue with The Doghouse is they served Pepsi products and I'm a Coca-Cola girl being from Atlanta (home of Coca-Cola).
After eating lunch, several of us walked around the shops buying a few souvenirs here and there. I do believe there was some fudge purchase and consumption as well.
ATV Adventure with Denali ATV's
Our crazy, fun-filled day continued when Denali ATV Adventure picked us up at 3:50 for our 4pm ATV adventure. The excursion started out like most where we were fitted with our outfits including helmets and goggles.
We had our choice of being on a single, double, 3-person or 4-person. We had quite a few on singles, a couple doubles, one 3-person and one 4-person. They allowed those sharing to switch drivers during any stop.
The ride started out slow to give everyone an opportunity to get the hang of riding and driving an ATV. However, it didn't take long before we were flying through the trails. We climbed hills, went downhills, and splashed through streams of water. There was quite a bit of laughter and smiles through this trip.
Cruising down the trails, I noticed the MPH hit a max of 35MPH! 35 may not feel fast, but on an ATV, it is fast! We had overlooks of the Alaskan Range and the Healy Valley.
We loved our guides and they helped make it fun for everyone. We took silly pictures during breaks while the guides plotted tricks against each other. They were also very knowledgeable of the area providing insight into the mining and other activities of the area.
This was one of the highlights of our entire trip to Alaska. No trip to Denali is complete without an ATV adventure.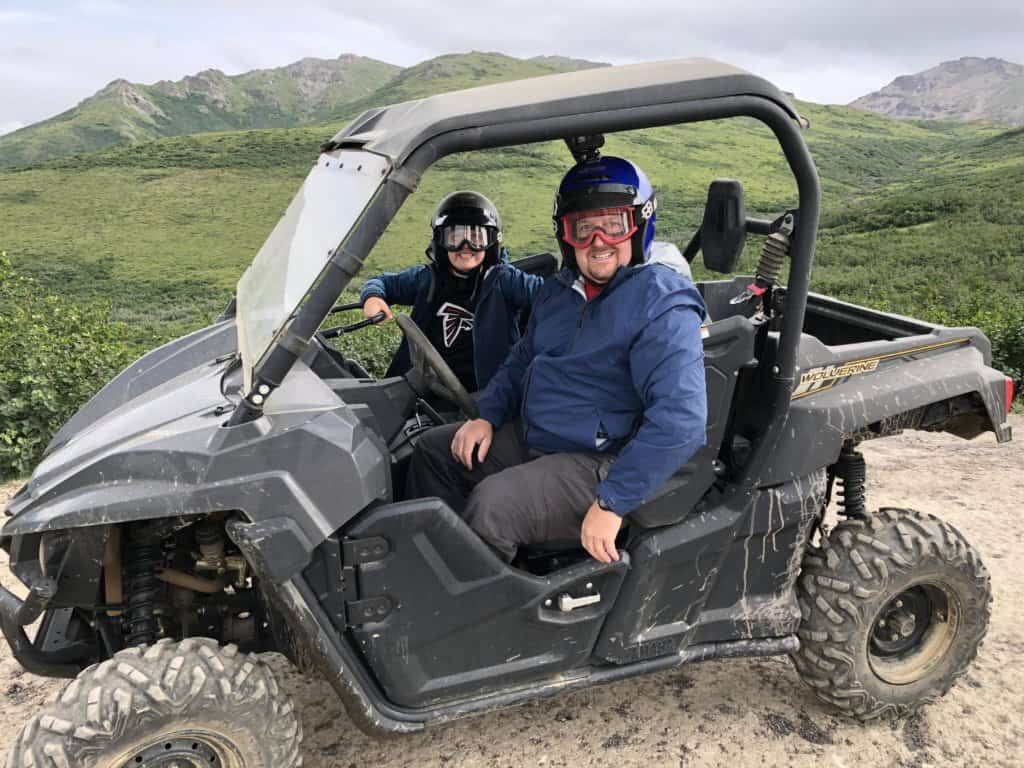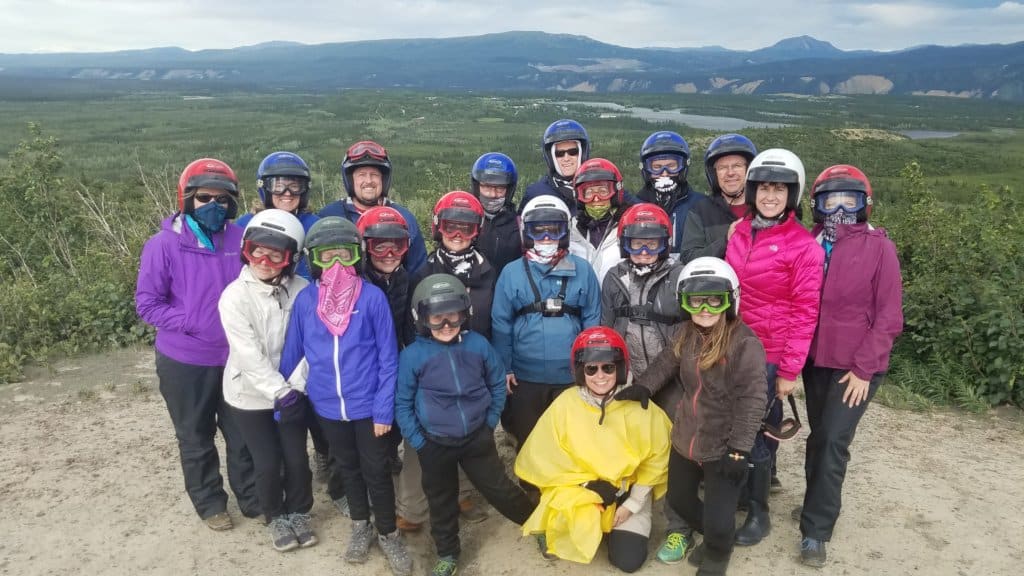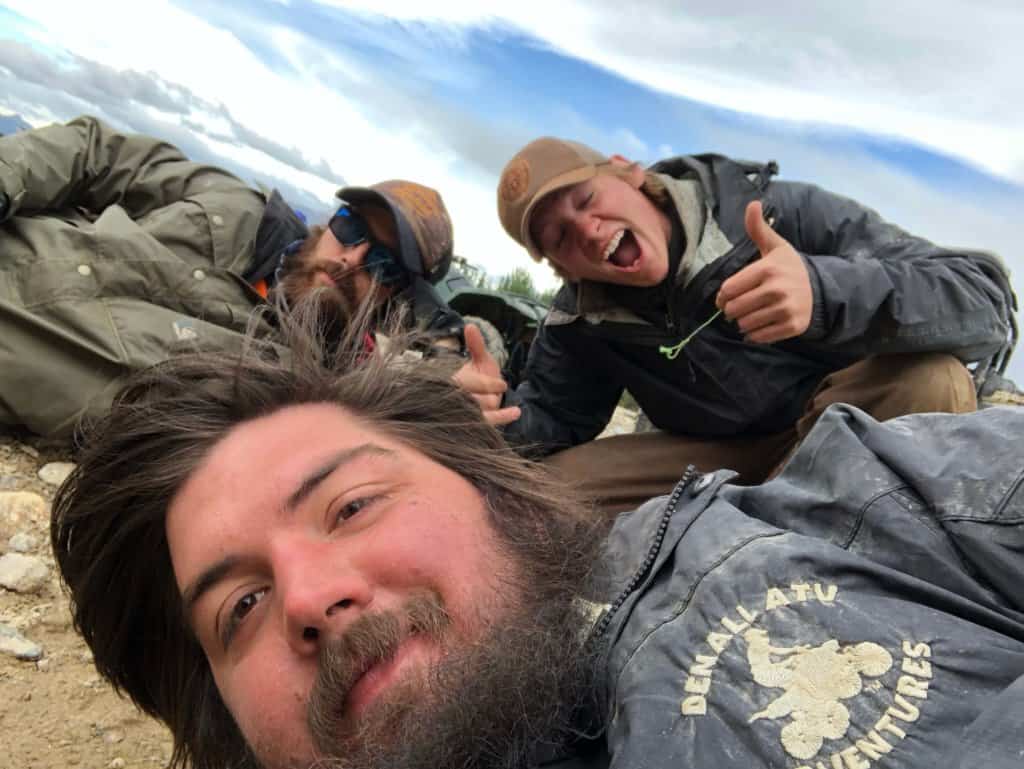 Tips: The one thing I'm glad I brought was a bandana. Going on the ATV Adventure can be very dusty. I probably would have been miserable without it. Again, this was one of the best excursions of the entire trip. If you visit Denali, you must go on an ATV Adventure. I also believe the 3 ½ hour trip was the ideal amount of time.
Dinner @ Overlook Bar & Grill
Our tour didn't end until 7:30, so I made late dinner reservations for 8pm at The Overlook Bar & Grill. Today every person went white rafting and ATVing. We were exhausted, dirty and hungry. The overall sentiment from the evening is the service wasn't great, but maybe it was really being tired after a long day.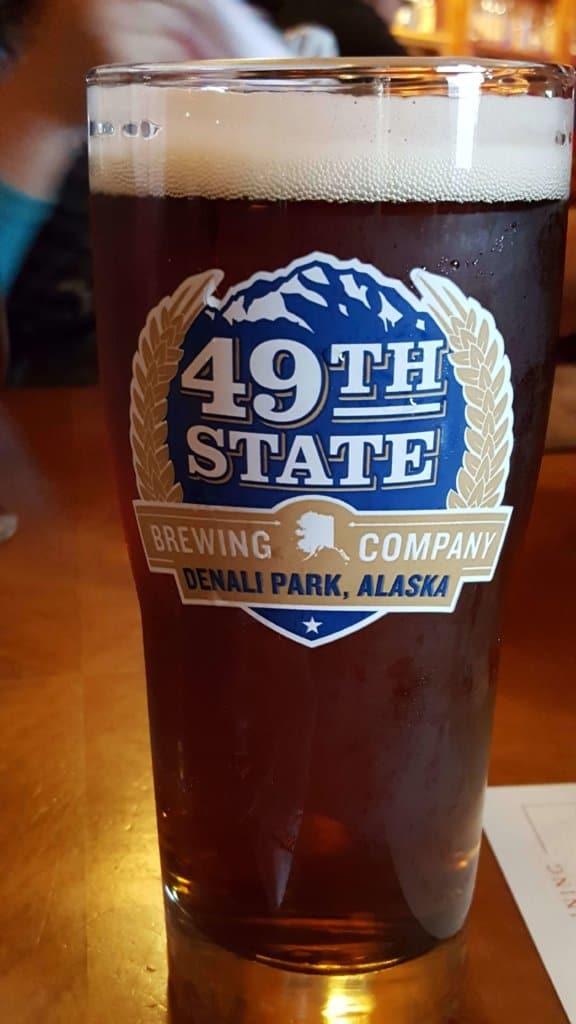 Day 11 – Denali National Park
We thought yesterday was early? Many of us signed up for the Denali Tundra Wilderness Bus Tour and it was picking us up at 6:30AM directly at the hotel. We were lucky it picks up at our hotel as many have to travel to the Wilderness Access Center for pickup. The tour was 8 hours, 32 miles, so we ordered boxed lunches from Denali Bluffs which we were able to pickup that morning. The lunch was plentiful coming in a nice cooler style lunch bag.
Denali Tundra Wilderness Bus Tour
Near the beginning of the trip, we stopped at an access gate into the park where a Ranger came on the bus to give us insight into what we could see during the ride. While there are no guarantees, we were hopeful of seeing some bears.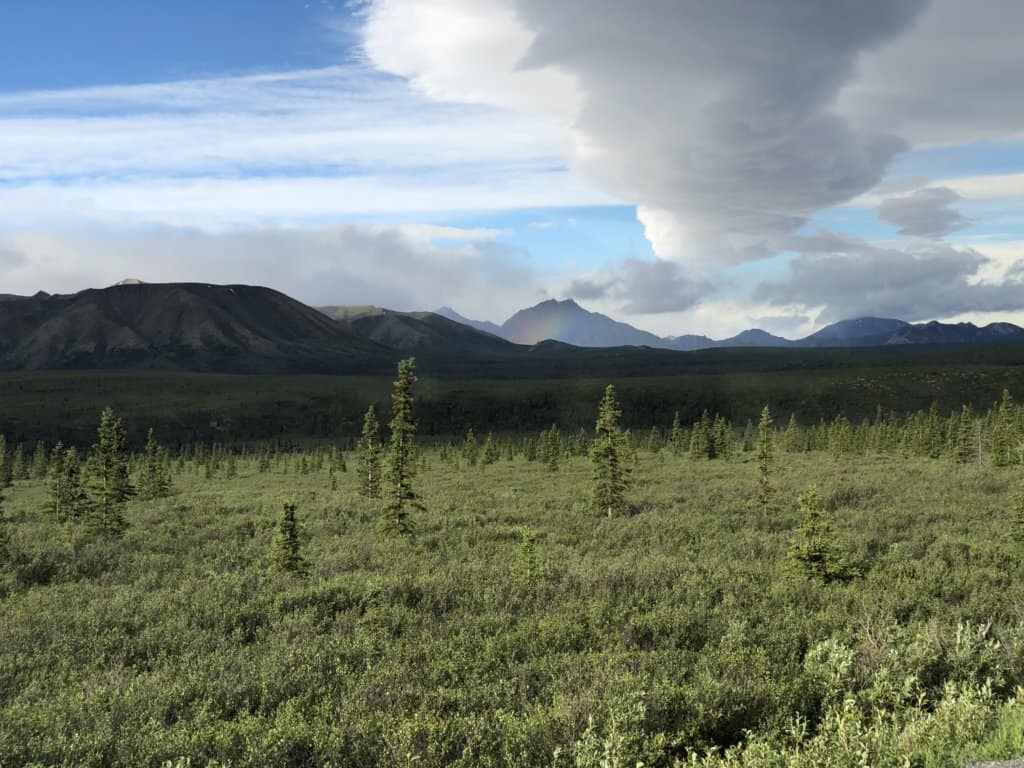 The hour was spend admiring the views – no bears, moose, or any other wildlife. However, just as I was starting to worry this trip would be a bust – we see a momma grizzly and her two cubs. They were up the hill but coming our way! The bus driver stopped and turned off the engine in an attempt for them to not be scared away. They continued on their trek and stopped right outside our bus door where they began wrestling with each other and chewing on a sign. We must have sat there for a minimum twenty (20) minutes, maybe thirty (30) just watching them. During the ride, there would be multiple times we saw a momma bear with her cubs. But, this was by far the most exciting.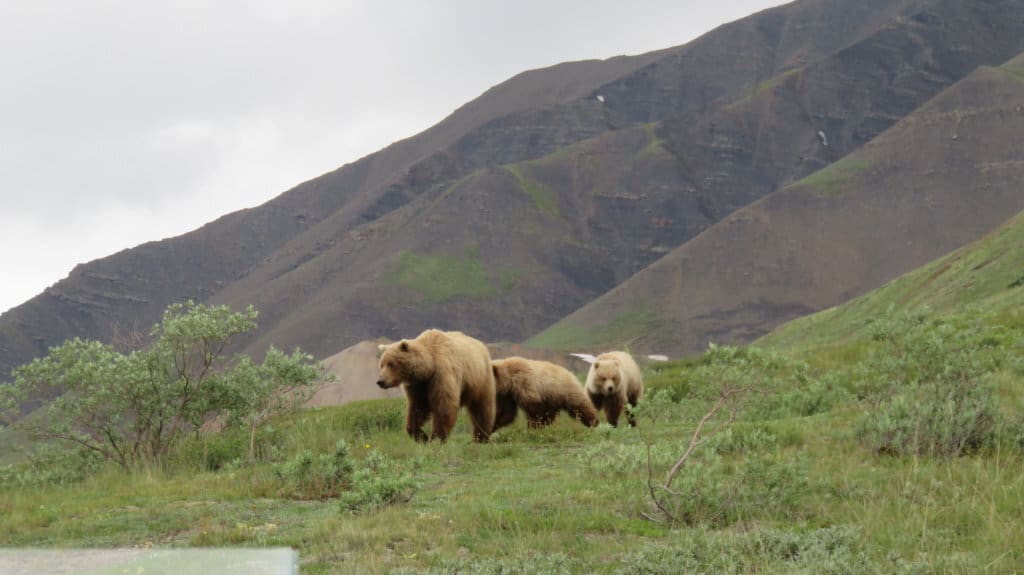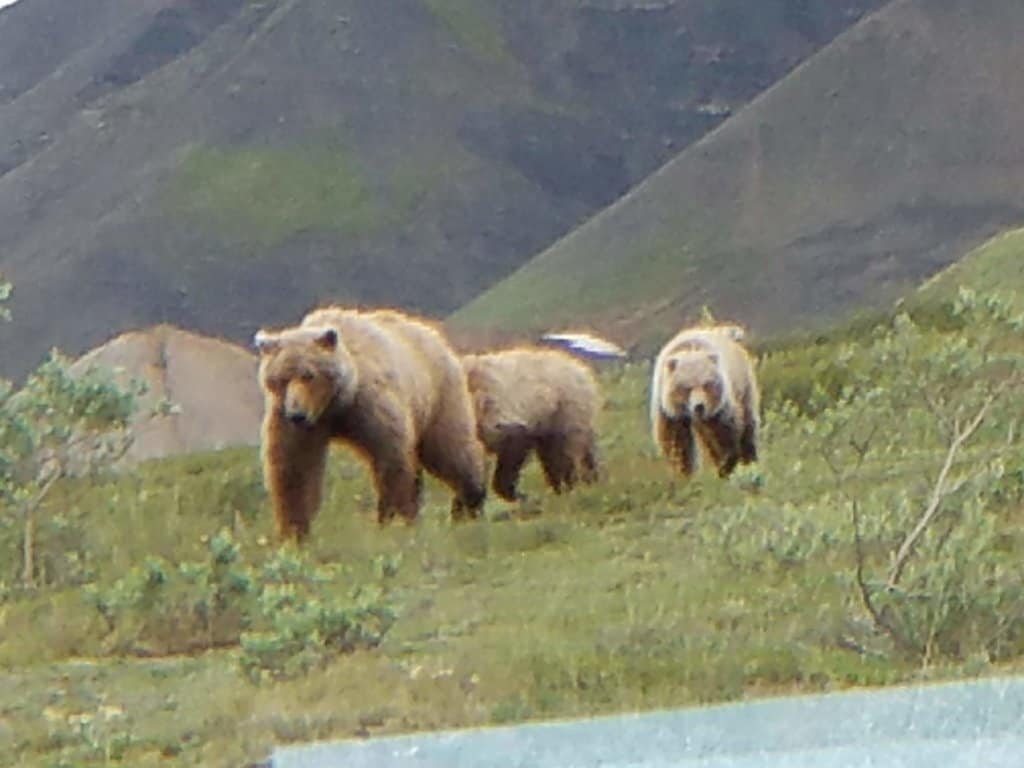 The trip was an out 31 miles and back 31 miles. During the trip out, we saw a wide variety of wildlife including Dall's sheep, Gyr Falcon, Caribou, Golden Eagle, Willow Ptarmigans, Arctic Ground Squirrels, Magpies, and Snowshoe hares.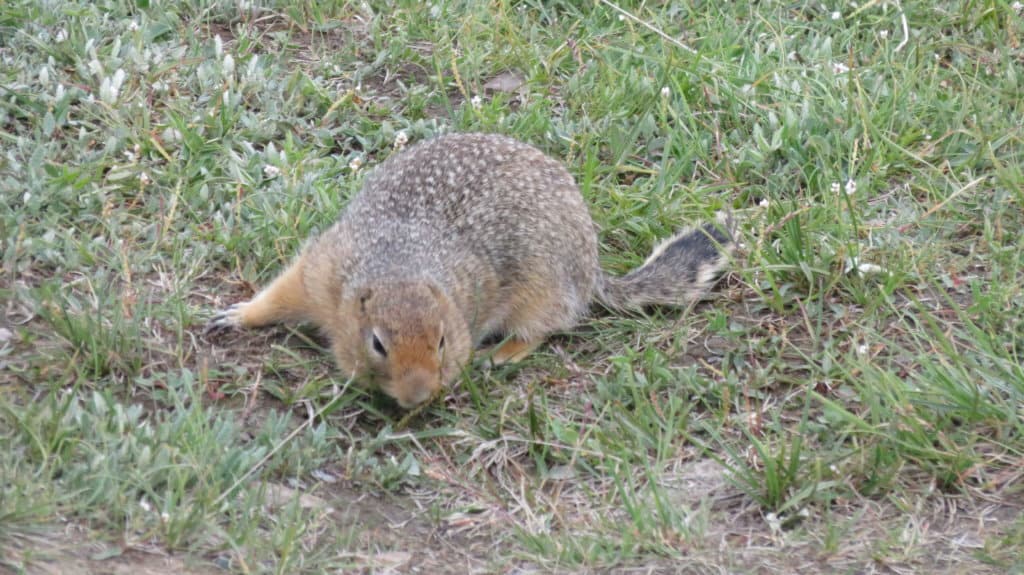 We were close to the end of the park when we saw a Red Fox walking toward us in the middle of the street with something in his mouth. Again, we stopped to watch his moves. He walked to the side of the street, dug a hole and dropped his prey into it. He proceeded to walk off without paying us any attention. I'm very curious to know how long it will be before he comes back for his prey.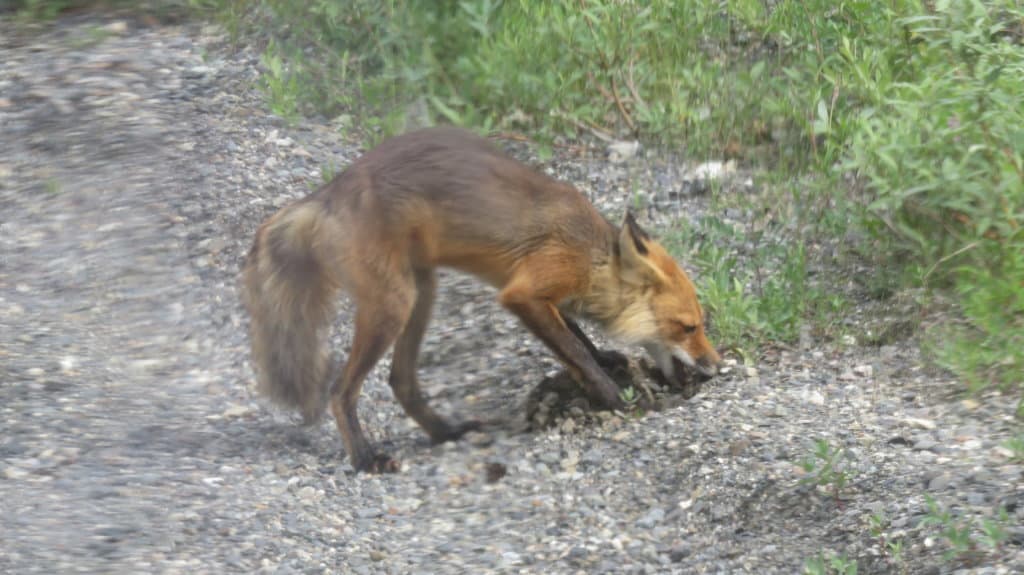 Moose! Just after seeing the Red Fox, we saw a moose crossing the street. This moose was enormous, and we couldn't get enough of watching him eat leaves from the tree. After some excitement toward the end, we were headed for the drop off spot. But wait – more moose! Walking in the water, were a bull and cow moose.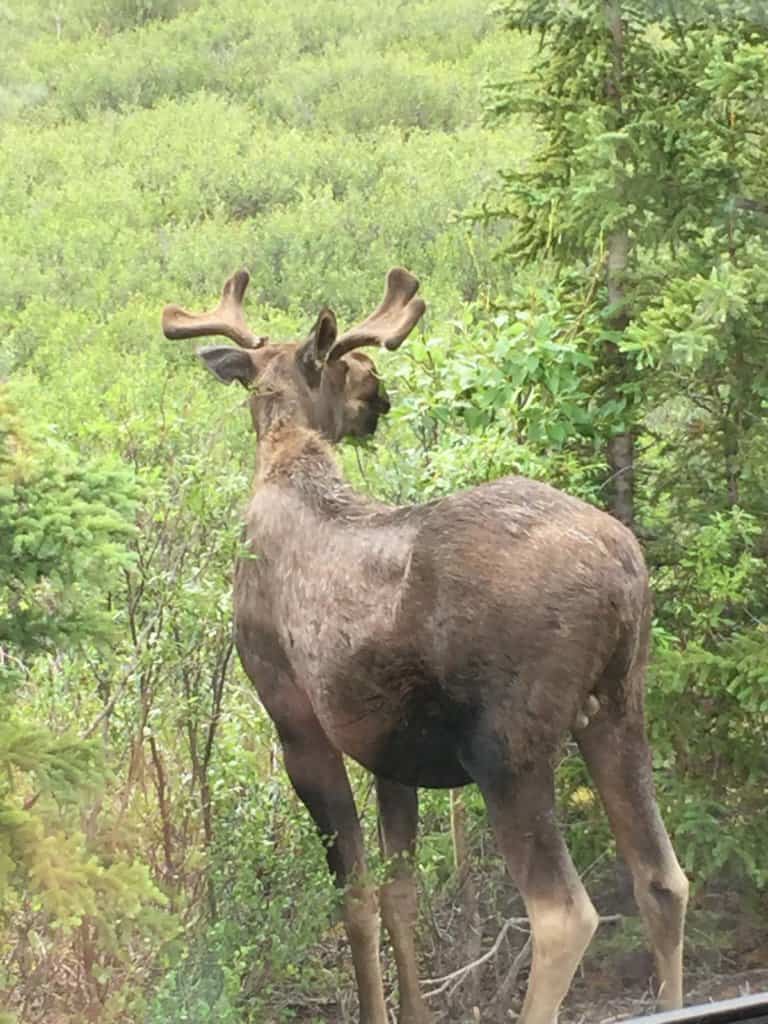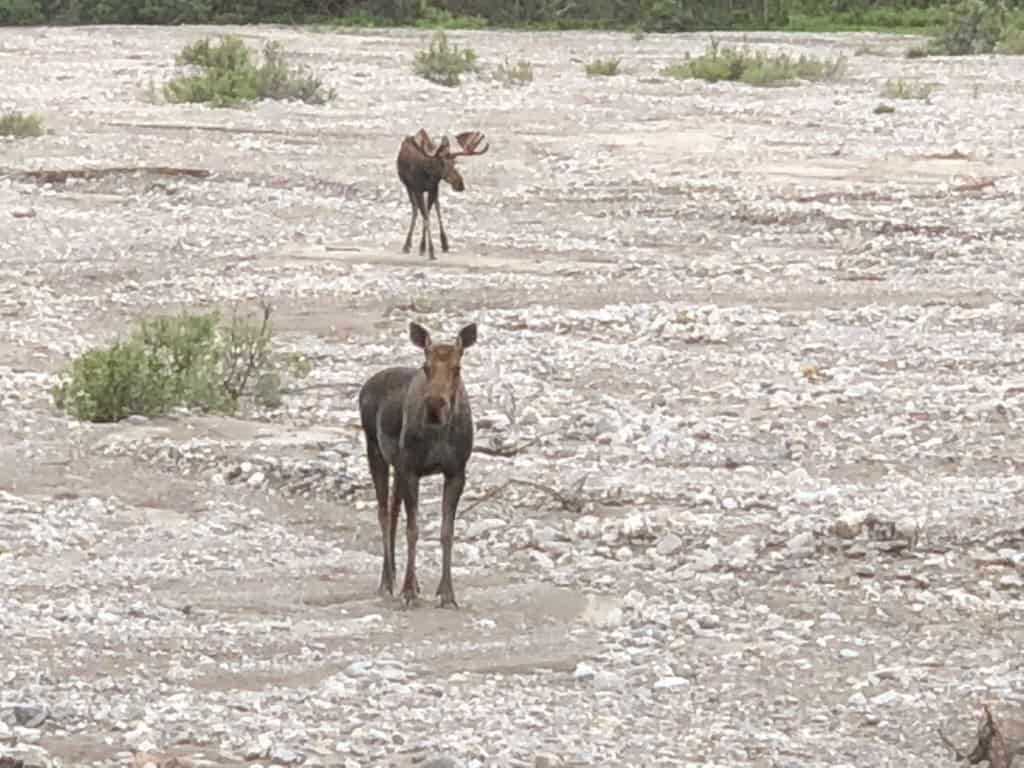 The trip finally came to an end with some of us being dropped off at the visitor center. No trip to a National Park is complete until you have your picture taken at the official sign.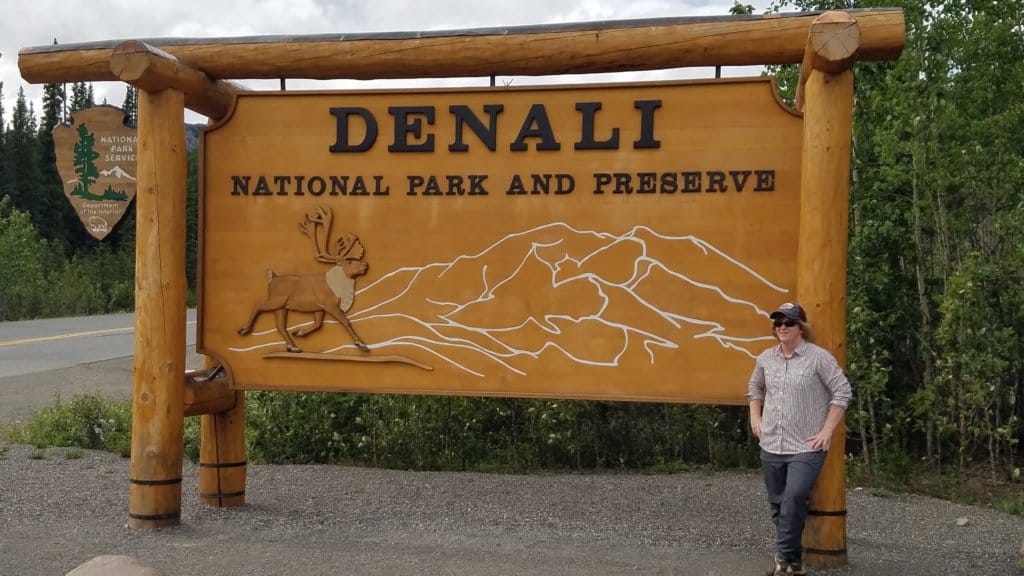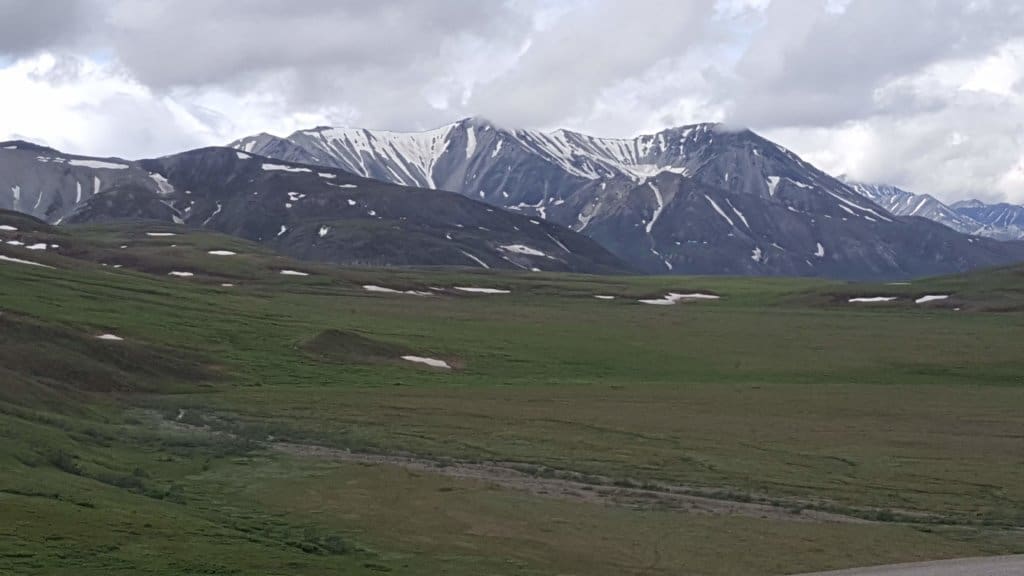 The only issue with walking to the sign is there isn't a bus pick-up here. What do you do in Alaska when you need a ride – you hitchhike! (Note: We were in a big group the hitchhiking was to the bus as an extra stop).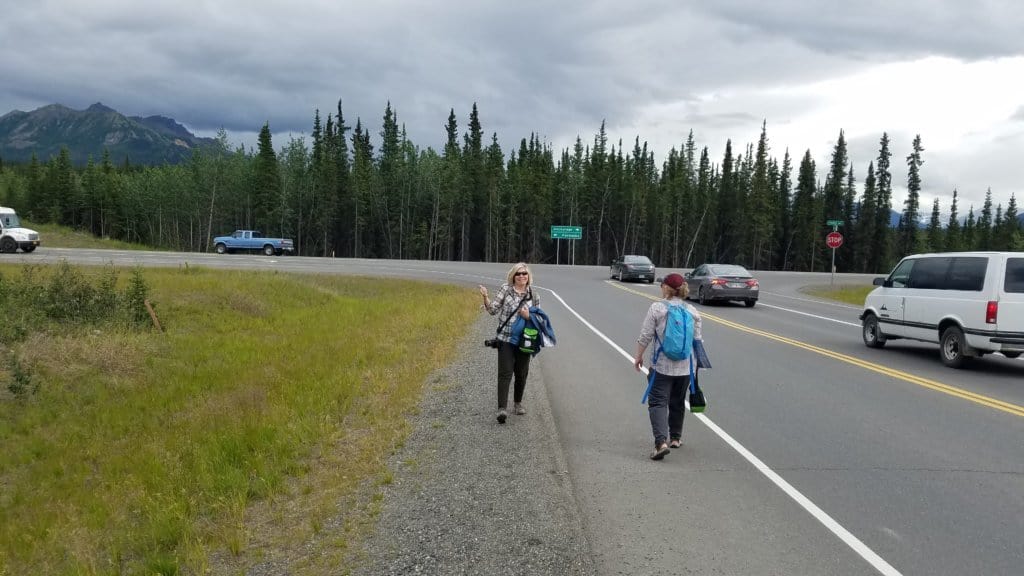 Tips: Before making hotel reservations, you may want to check the bus tour pickup areas. If going on the early bus, you may want to ensure your hotel is on the pickup route. The tour does come with a snack which is very hearty, but I would still recommend ordering a boxed lunch for the trip.
Dinner @ Denali Park Salmon Bake
Our last dinner at Denali would be the Denali Park Salmon Bake. Service was great, and they were very accommodating for a group our size.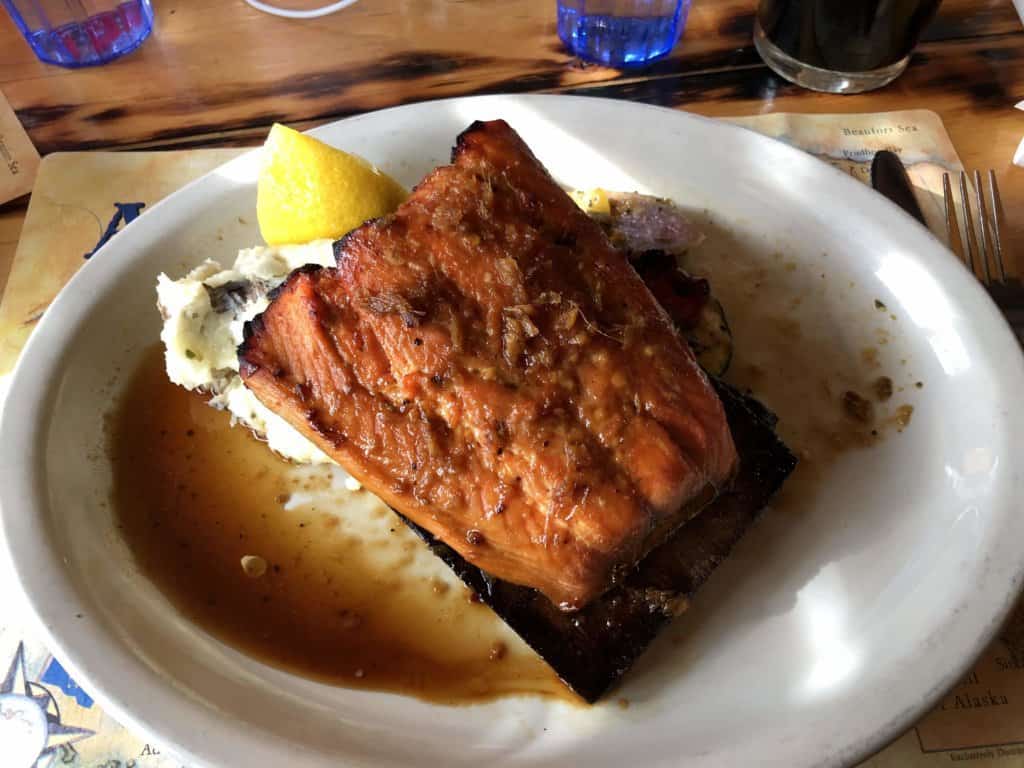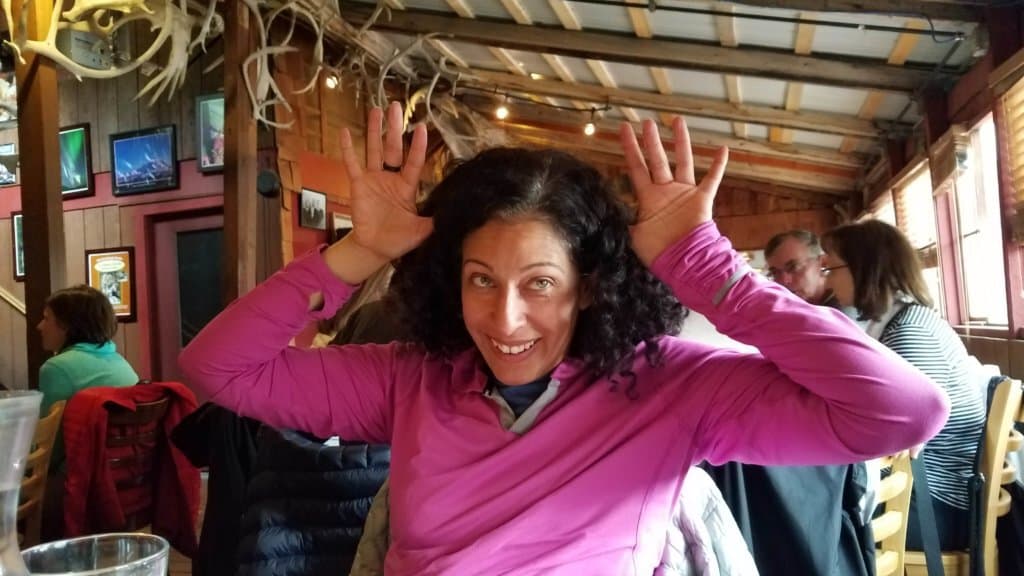 Day 12 – Denali > Anchorage > Juneau
Today would be our last travel day before heading home. It is starting to sink in the trip we have all been planning, talking and thinking about is headed to the last leg of our journey. A few are starting to head home early and it won't be the same without the entire group here.
Park Connection shuttle from Denali to Anchorage
We used Park Connection shuttle service for our trip to the Anchorage airport. We departed Denali on our second rain day of the trip. How is it possible we came to Alaska for 2 weeks and have only see rain twice and both on travel days? As we head out on the bus, we hear it is snowing in the mountains!
The bus pulled out at 7am and we weren't scheduled to arrive at the airport until 2pm. But with a stop in Talkeetna to drop off some passengers and pickup a few more, we had time to stretch our legs, bathroom breaks and even a coffee or snack.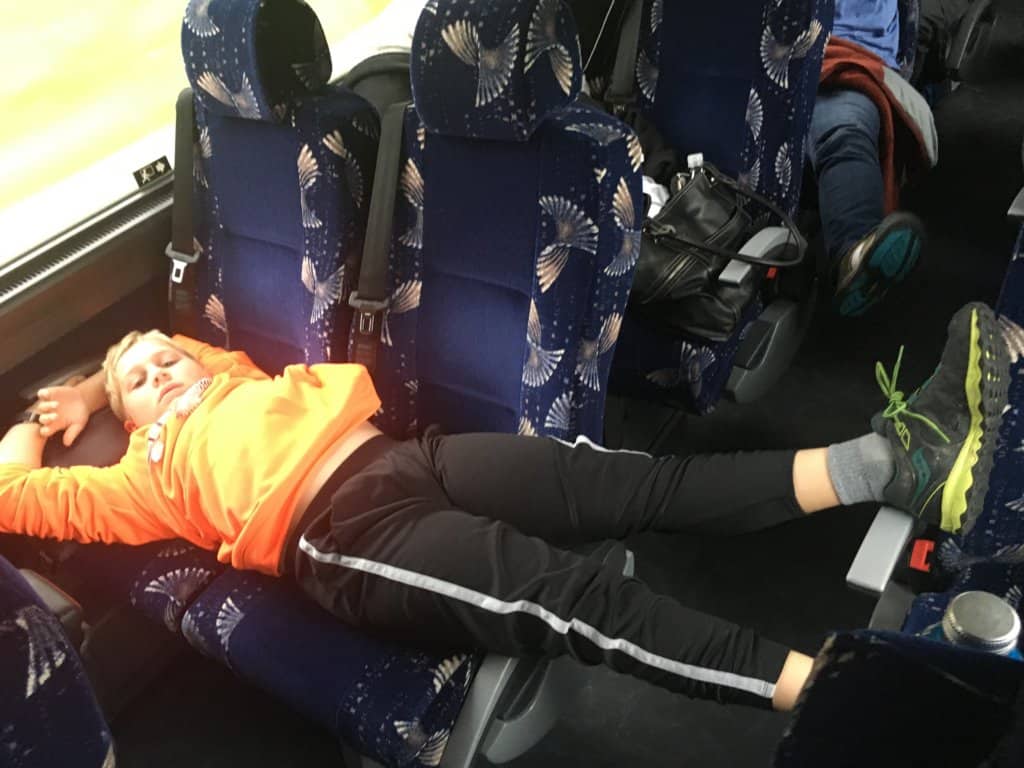 Alaska Air – Anchorage > Juneau
We had plenty of time of relax and hang out at the airport before our flight to Juneau departed at 7pm. A few people went into town for food, but others stayed at the airport.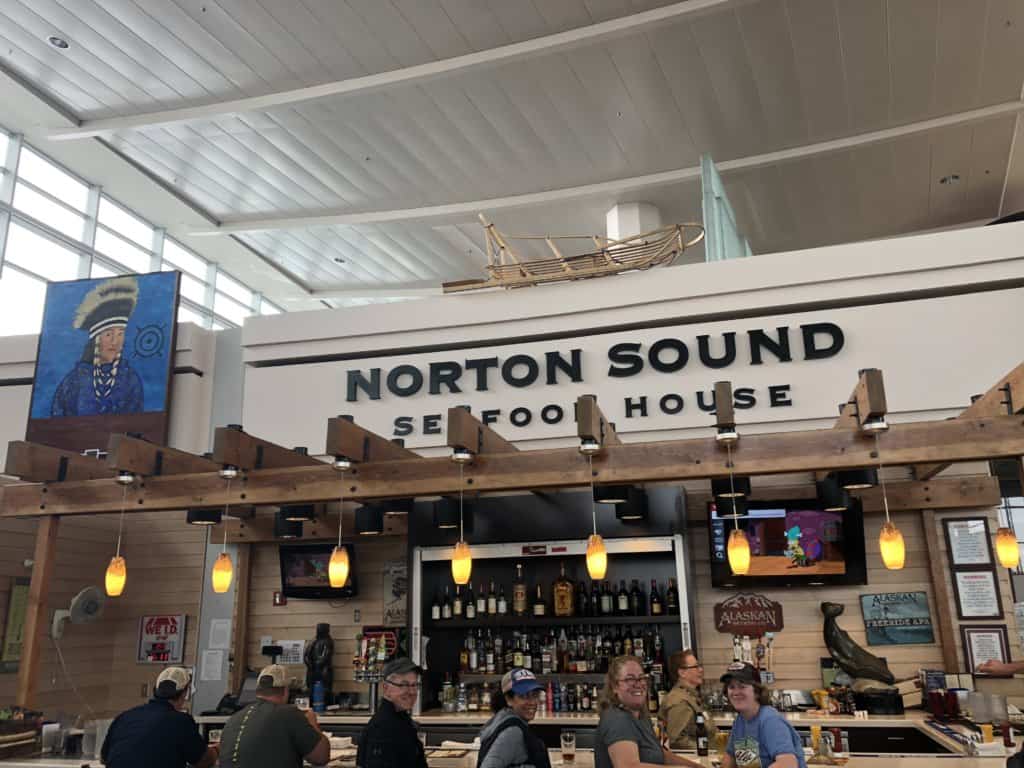 We arrived in Juneau around 8:30pm. I had attempted to make taxi or shuttle reservations, but the people in Juneau were not as accommodating for a group our size as we found in other cities. It took longer than expected, but we finally got everyone headed toward the hotel. The one thing I initially noticed about Juneau was it wasn't as quaint or clean as the other cities. But, we did see quite a few bald eagles between the airport and hotel.
The Alaskan Hotel and Bar
Our reservations for Juneau were made for The Alaskan Hotel and Bar in downtown Juneau. Arriving at the hotel, first impressions were not very positive. The area was dirtier than we had experienced in other areas along with bars being on the windows in many store fronts. When I read about the hotel, the band playing in the bar was voted the best by locals. Now I'm wondering exactly who are "the locals"?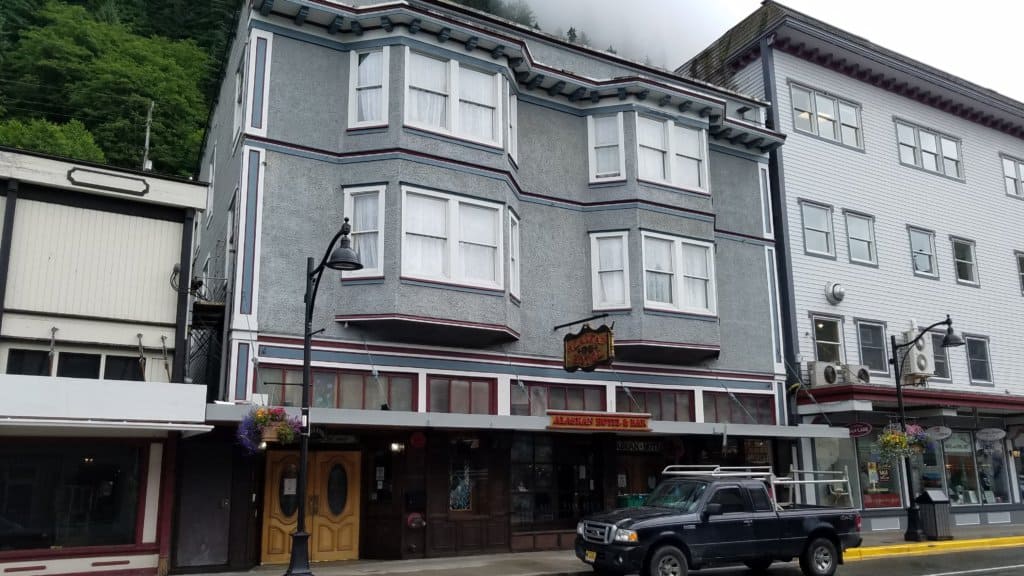 One thing was clear, most didn't want to spend the night here. We all scrambled trying to find hotel room in the middle of the busiest cruise season. (Juneau is a popular starting or ending point for many cruise lines). After hours of phone calls and waiting in hotel lobbies, we finally all landed a room at the Westmark Baranof Hotel. It had been a long night, but at least we all had a place to lay our head.
Tips: Don't make reservations at The Alaskan Hotel and Bar.
Juneau, Alaska
Day 13 – Mendenhall Glacier Trek and Tracy Arm Cruise
Today we would be splitting into two groups, one group heading off to hike Mendenhall Glacier and the other headed on a one-day Tracy Arm cruise. Eventually, the two groups will meet back for dinner tonight at Hangar on the Wharf. The weather is threatening to be our first rainy excursion day – will it rain?
Mendenhall Glacier Trek
During the planning of this trip, a trek to a glacier was on everyone's "wish list" including mine. The hesitation was if we could physically do it. After speaking extensively with a few people at Above and Beyond Alaska, nine of us signed up for the trek.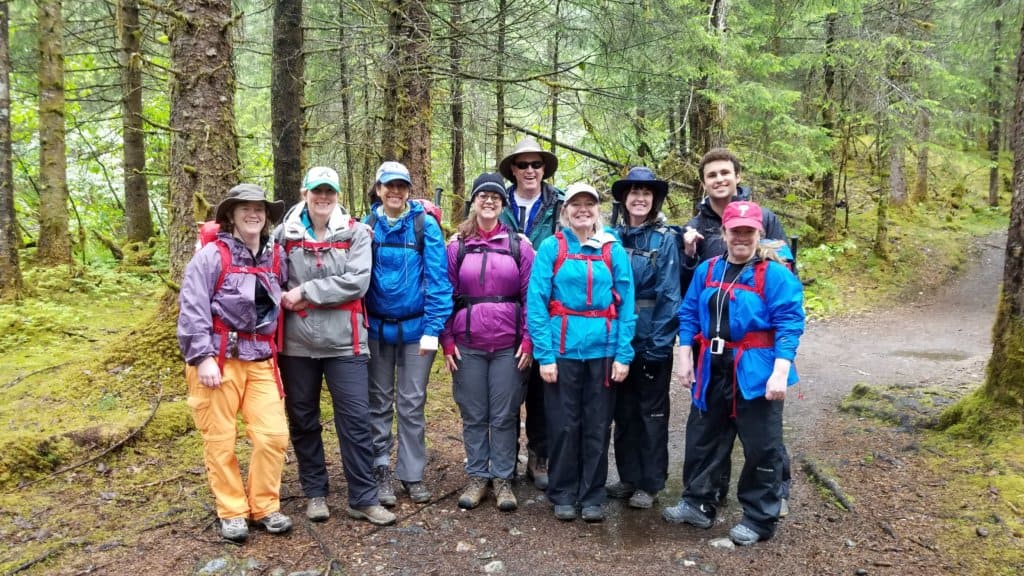 Waking up early, we all had breakfast before walking down to the Mount Roberts Tramway for our 8am pickup. We met our guides there for the drive out to Mendenhall. It was raining a little, but Katie and May convinced us the glacier would be nicer with a few clouds. I'm not sure this is true or if they just wanted to make us feel better.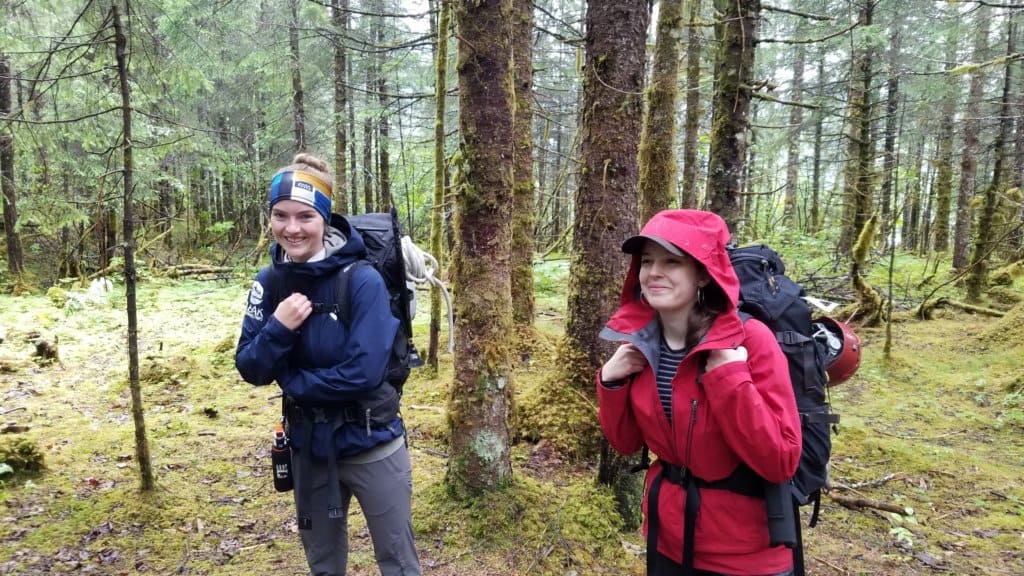 Arriving at Mendenhall, we were fitted with their backpacks, rain jackets, harness, crampons, and helmets. They also provided us with a bag of hearty snacks and bottles of water.
The first 4 miles were an easy hike through the Tongass National Forests where the trails were lined with towering Sitka Spruce and Hemlock trees. The trees began thinning out as we gained altitude. We approached what our guides called a "rock scramble", but this was more like a rock climb without harnesses. It sounds dangerous and maybe it was a little, but they guided each person individually through every step which made all of us feel secure.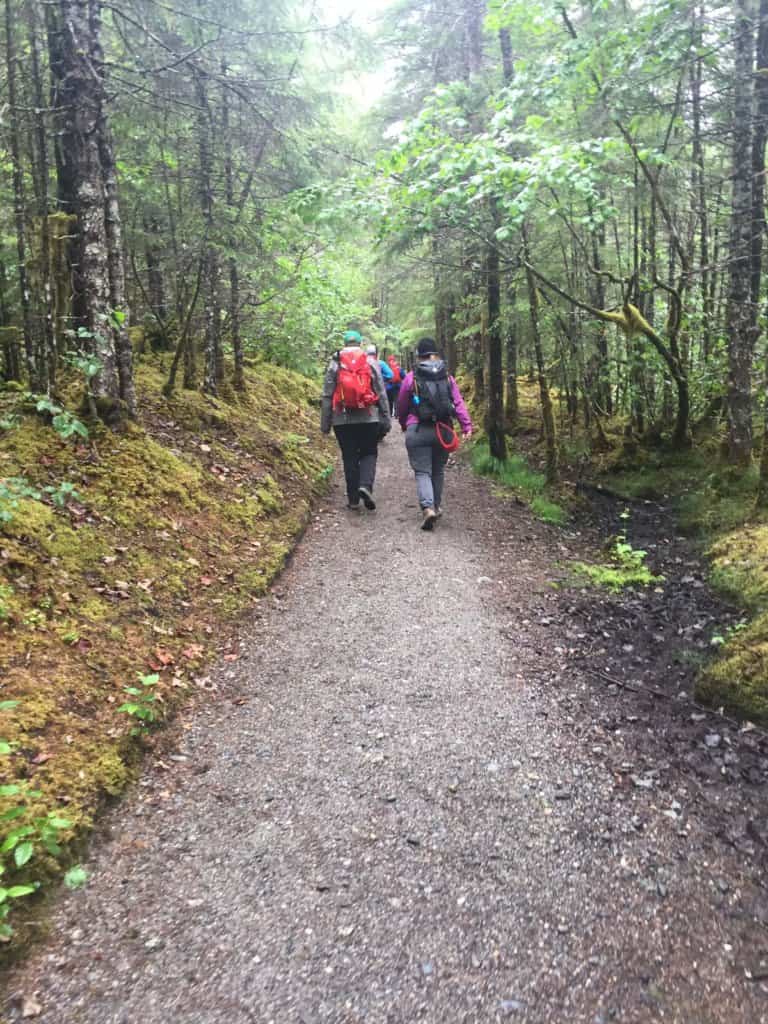 As we all made our way to the top of the rock scramble, we gained our first view of Mendenhall Glacier. It appeared so close, yet it was still so far away.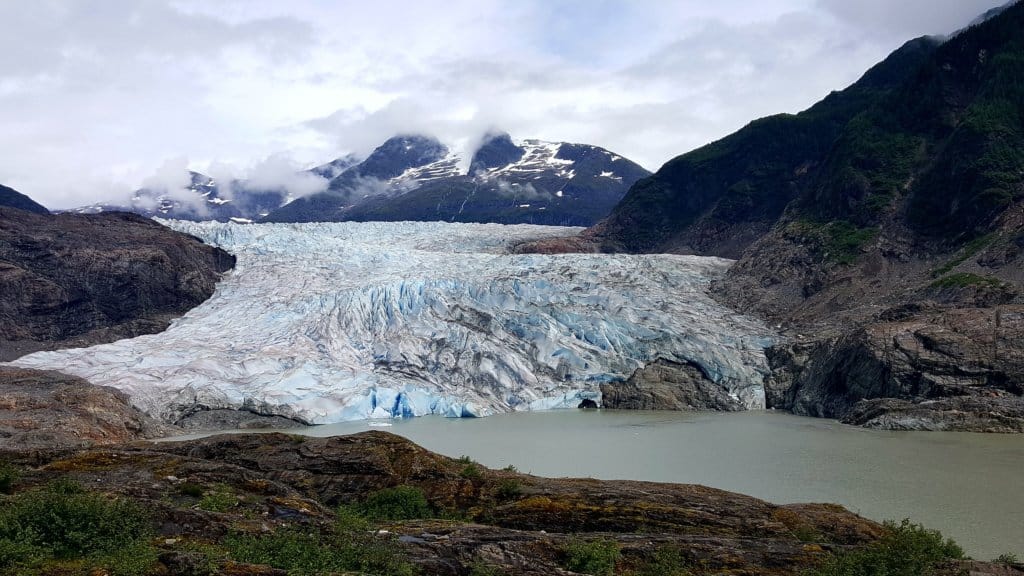 Starting at the beginning of our hike, we would see signs along the route of the glacier's location in different years. It is shocking how much this glacier has changed over time.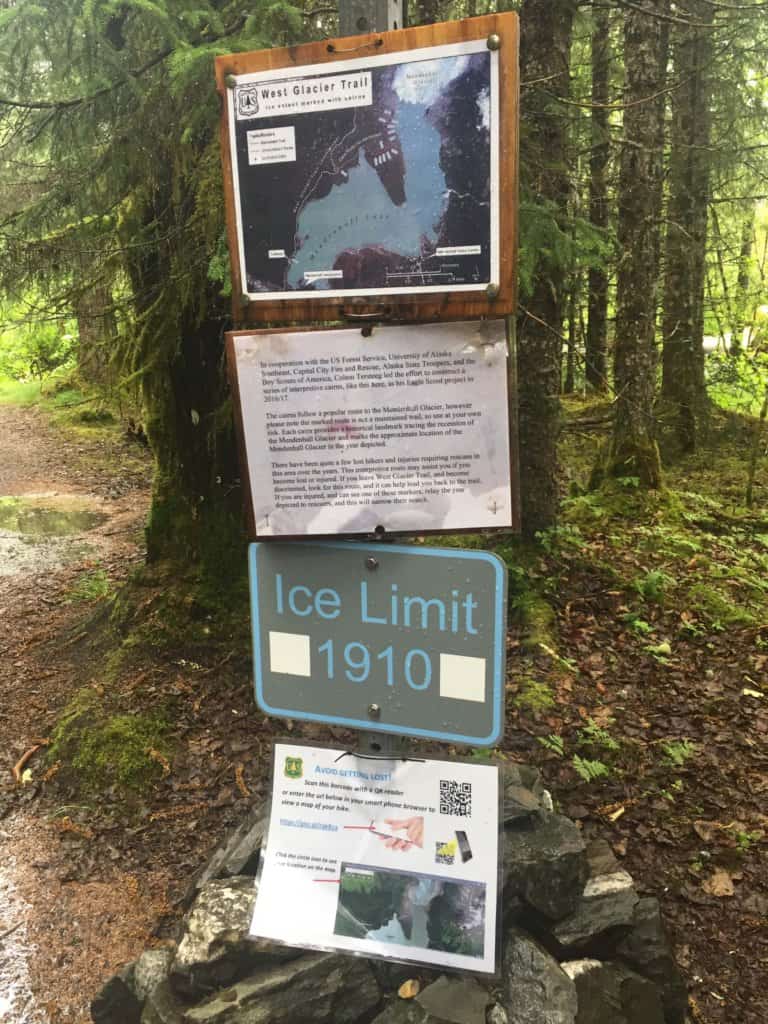 The section of the trek was along rocks making our way to glacier entrance. Getting rather close, we stopped for our second snack break, added layers including our crampons. We are ready for the glacier!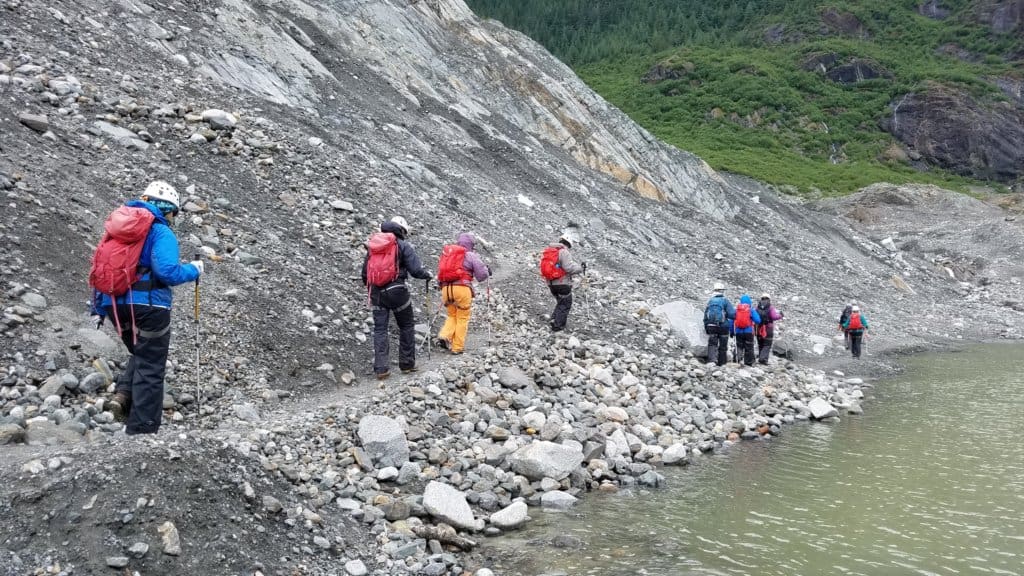 Mendenhall Glacier
We walked on the glacier as one group, but we soon split into two smaller groups. It was interesting to hear how glaciers are always changing. Features come and go over the course of a season, including ice caves. But, we are lucky because an ice cave was recently formed, and they have determined it is safe for us to enter. First, we will explore a moulin and then ice cave.
Standing at the top of the moulin I had a thought, what if I fall in? Where do I go? Do I ever come out (most likely not)? It gave thought to be extra careful, but what a thrill to stand at the top and investigate this blue and green ice above me. It was another one of the moments in this trip I will never forget.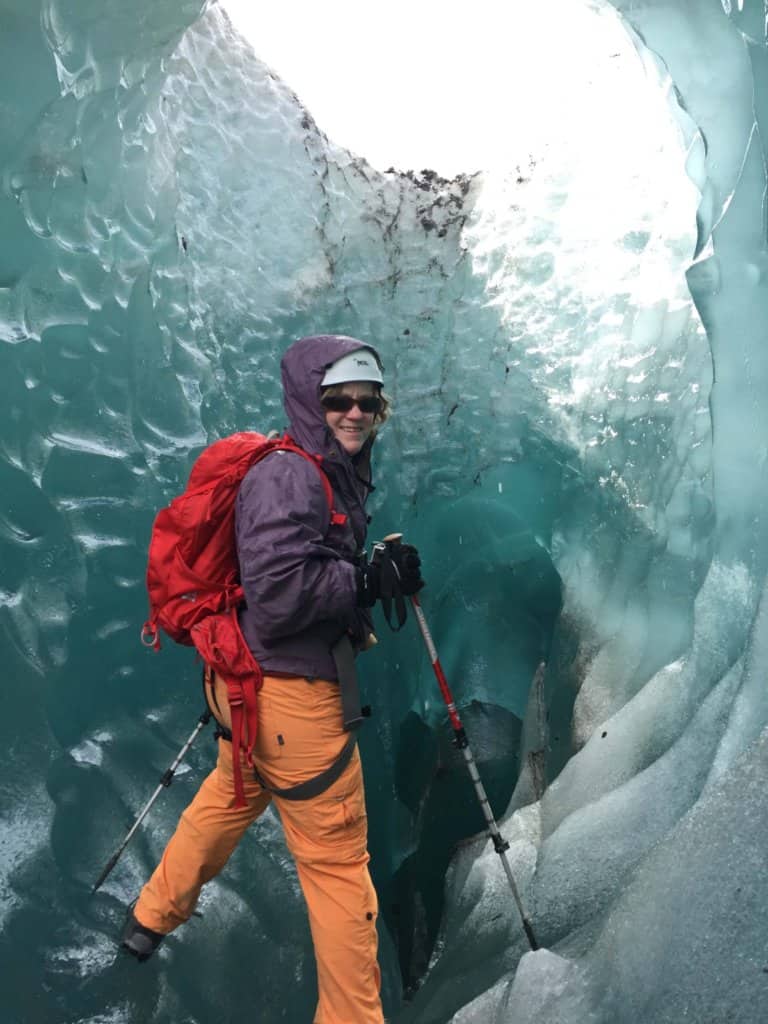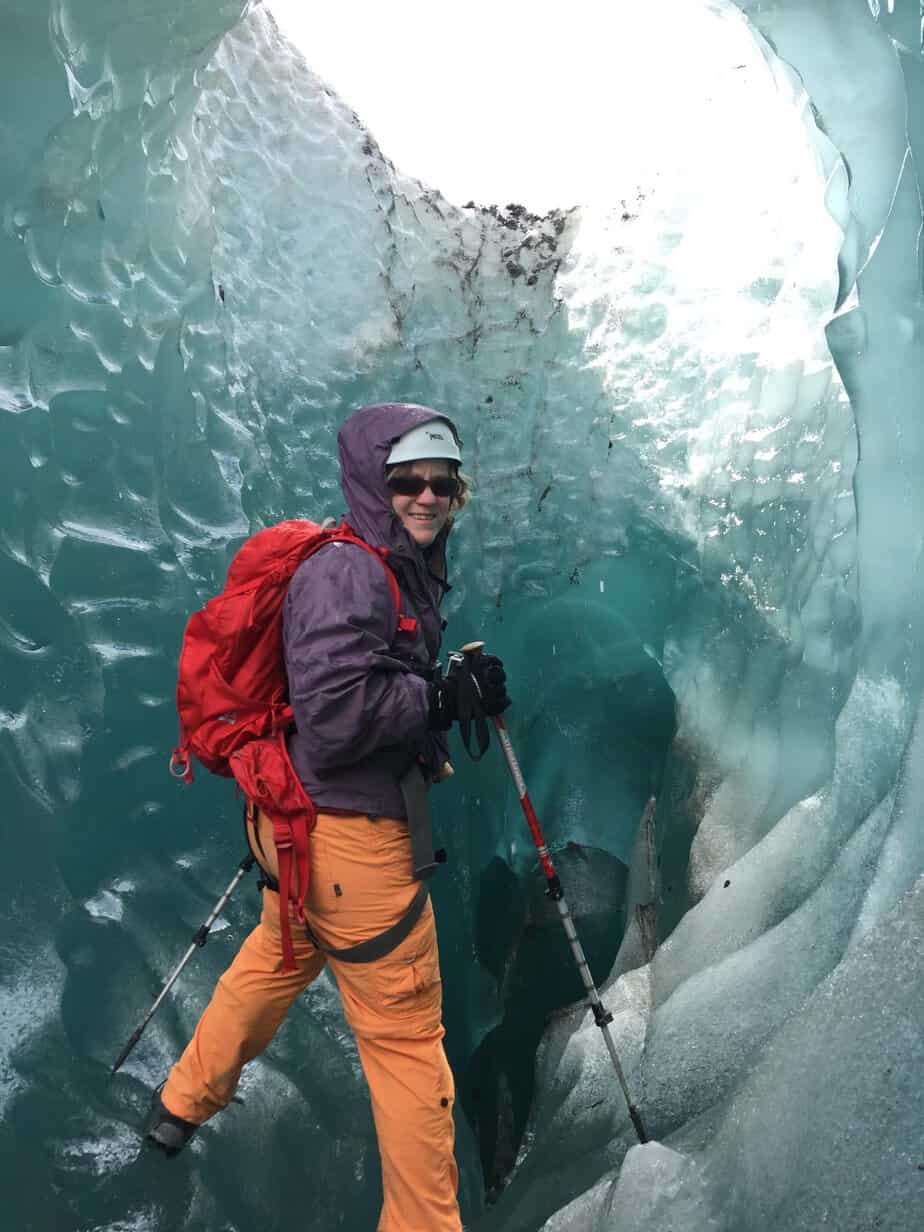 Now time of the ice cave! We walked in and were able to have fun with placing our hands inside the ice.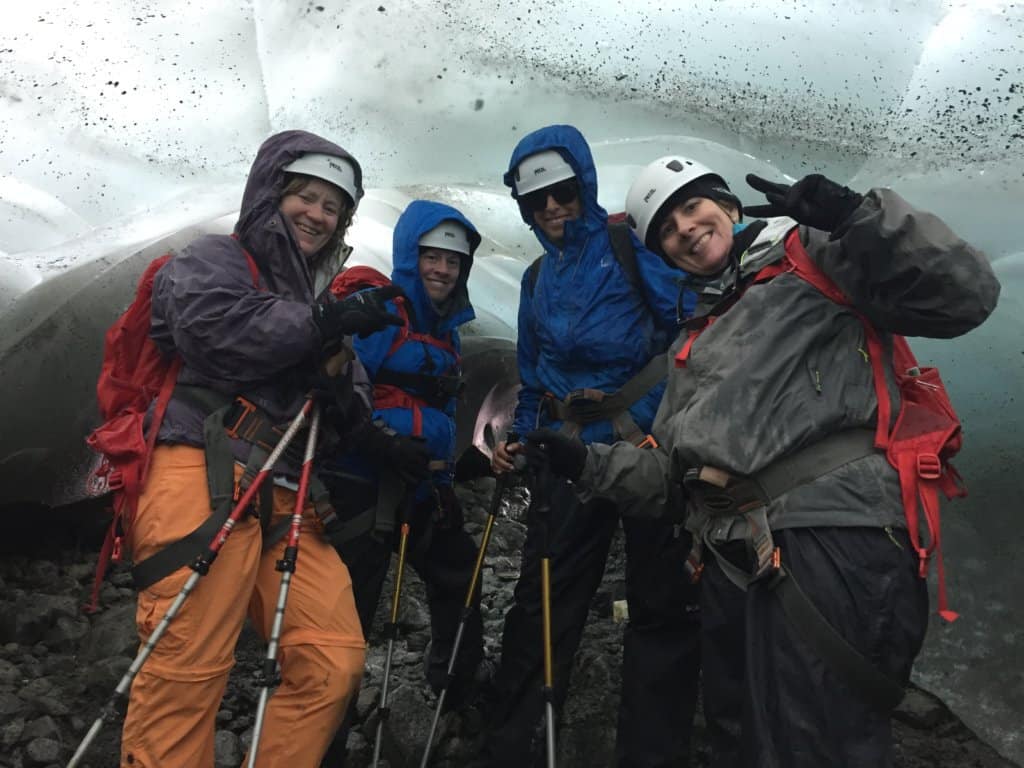 The two small groups came back together as we trekked along ice reminding us of toasted marshmallows. As we climbed to a peak, we stood about 50 feet above the bluest water in a deep crevasse. This would be the second time I had tears feeling the majestic beauty of this earth and God's power.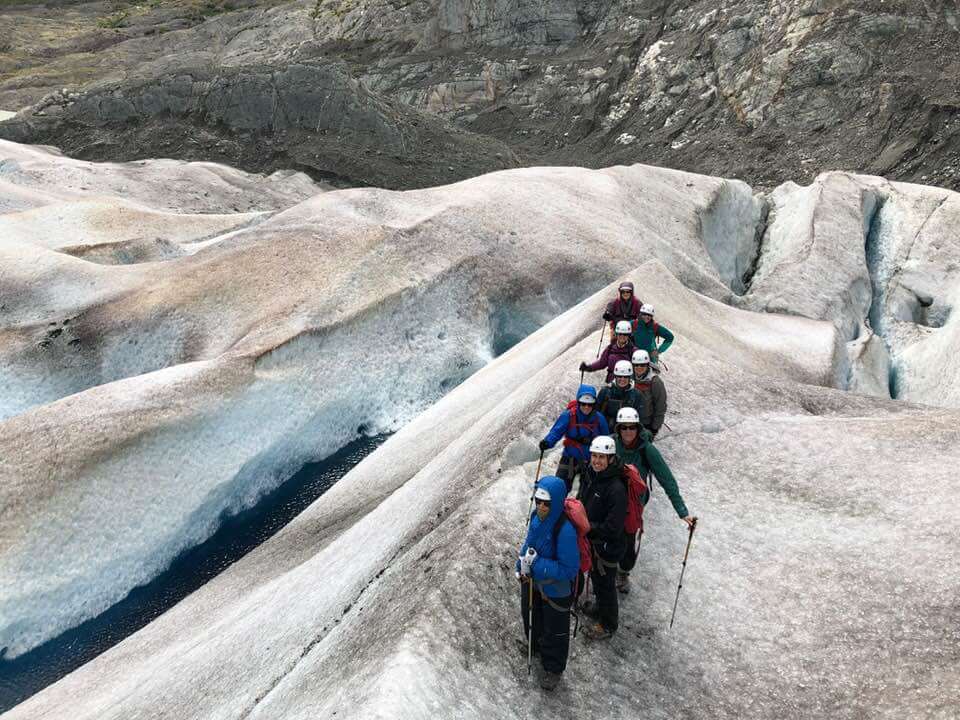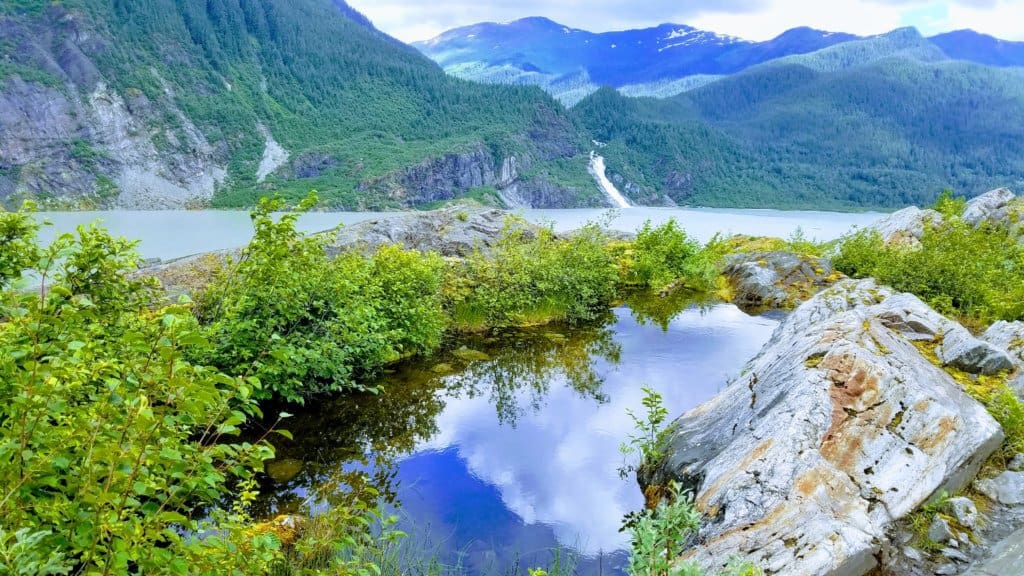 We still have a two hour plus hike back, so our time on the glacier came to an end. Climbing off the glacier and on the hike back, we all knew this was a moment we would never forget.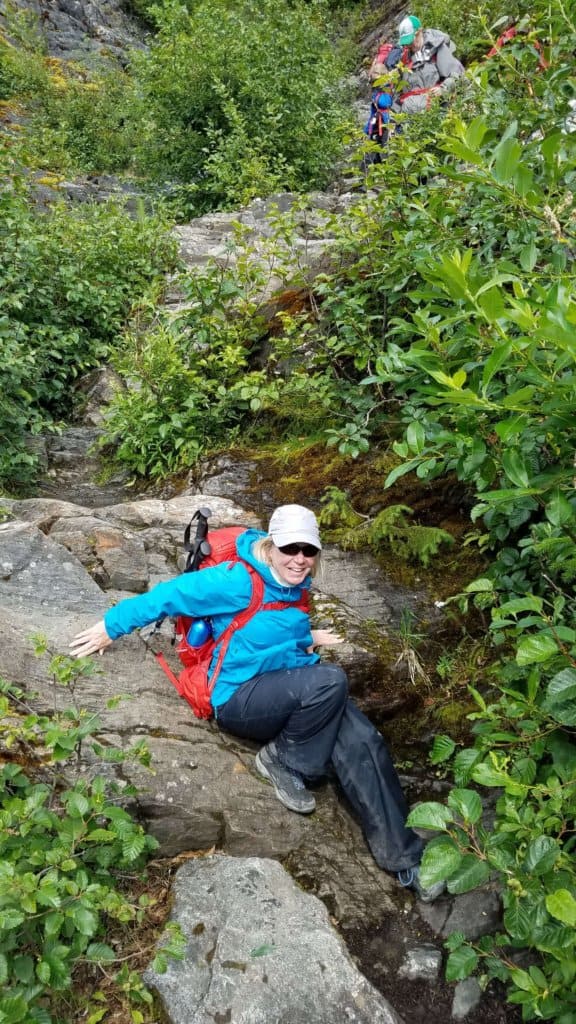 Tracy Arm Cruise
For those who went on the Tracy Arm cruise, this was the highlight of their to Juneau. Compared to other day cruises, it was more intimate as there were fewer passengers, smaller boat, and had conversations and comradery with the staff and fellow passengers. The small boat allowed the Captain to get close to glaciers and waterfalls. They would even make you a sandwich for lunch upon request.
They provided opportunities to sit at the helm with the captain for informative conversations and even allowed others to "drive" the boat. One person recounted, "I'll never forget our Captain sitting back in her chair and steering with her foot!".
The scenery and amazing animal life were the punctuation on a perfect day. Seeing sea lions basking in the sun on blue ice, breathtaking waterfalls, and a picturesque glacier made the outing magical and a reminder of why Alaska is so unique.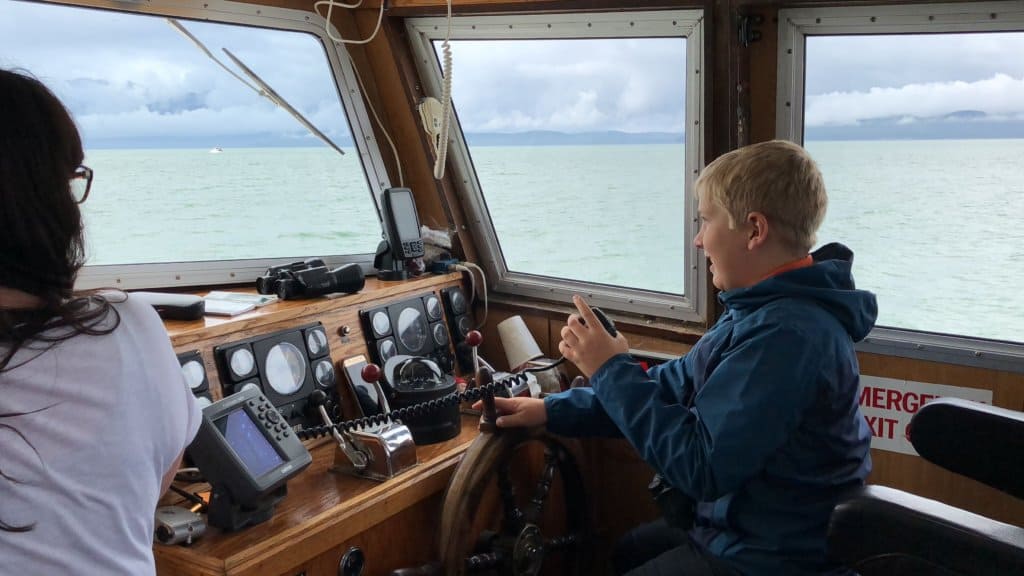 Dinner at Hangar on the Wharf
The glacier trek and day cruise groups met at Hangar on the Wharf for dinner. Conveniently, we all arrived back in Juneau close to the same time for our 6:30 reservations. Of course, dinner was like all others in Alaska as we chatted non-stop about the day's events.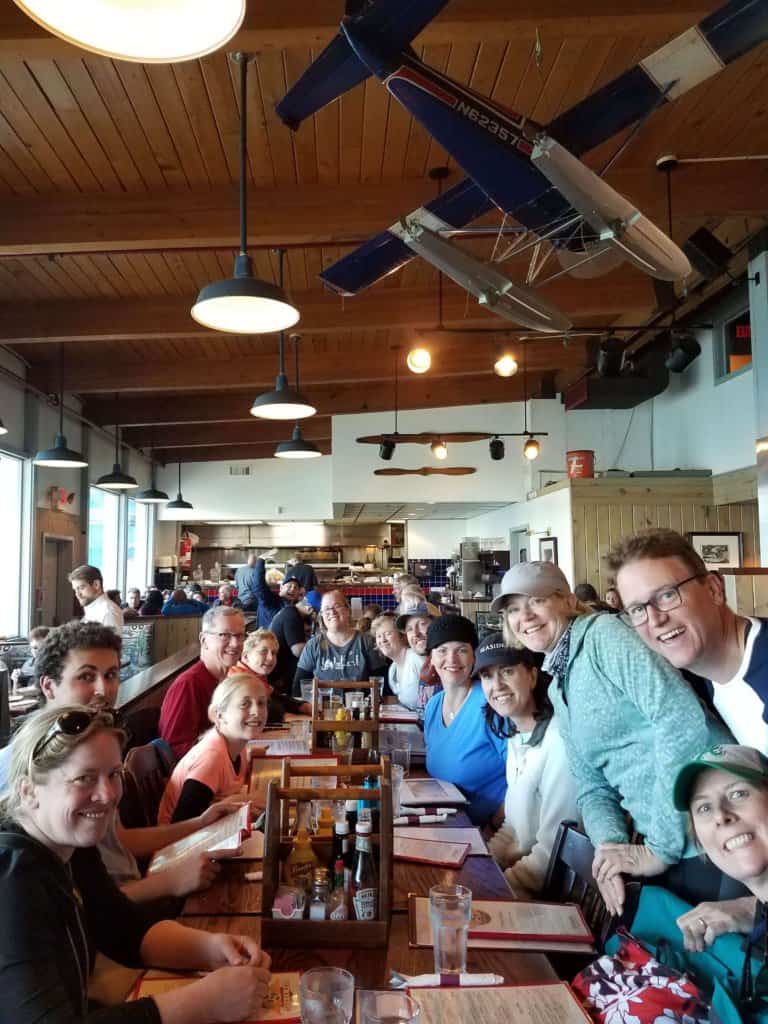 Day 14 – Exploring Juneau
Mendenhall Glacier Visitor Center
Another day of splitting up into smaller groups, four of us took Uber out to the Mendenhall Visitor Center. Kevin and I walked down to the waterfall while Julie and Ellen listened to a short talk on porcupines. The real reason I wanted to come out here to track one down. I've been searching for the elusive porcupine for two weeks and today is my last day!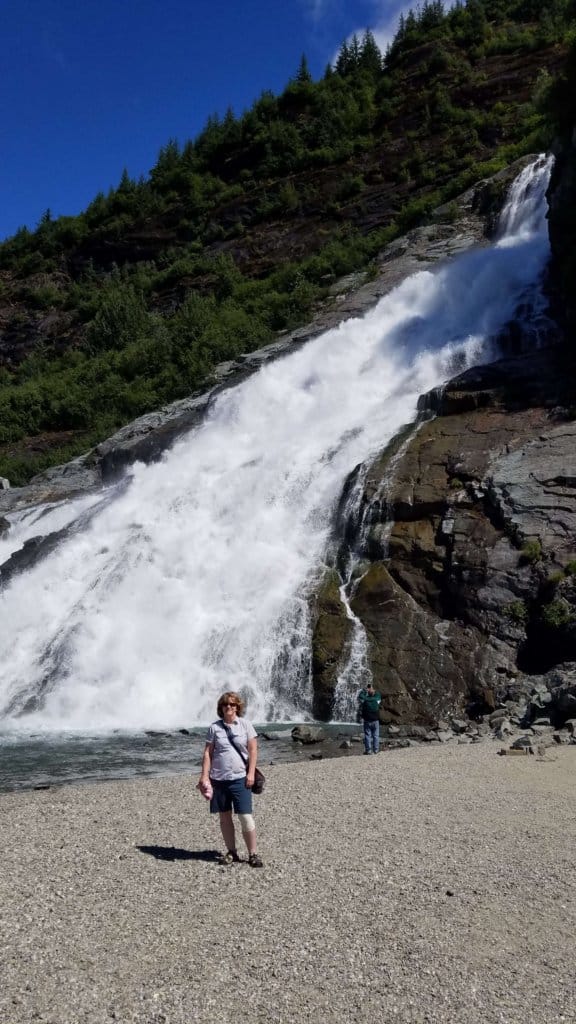 The Ranger suggested we take a short walk down to the Fields for our best chance to spot a porcupine. We hadn't walked down the bridge far and just as we made our right turn, there was a porcupine in the tree! My Alaska vacation is now complete – I have seen a porcupine. After watching for several minutes, another little one came over to take the spot. Now I've seen two porcupines!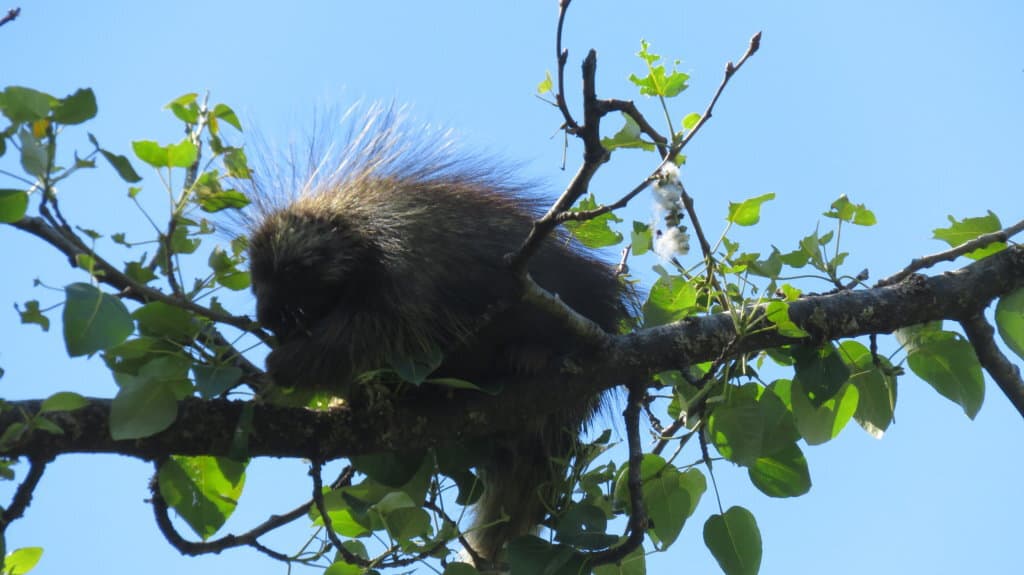 Lunch and Shopping
After arriving back in Juneau from the Visitor Center, it was another perfect day in Alaska for lunch and drinks on the patio. We all were looking for a few little souvenirs to round out our trip, so we browsed the touristy markets along the waterfront.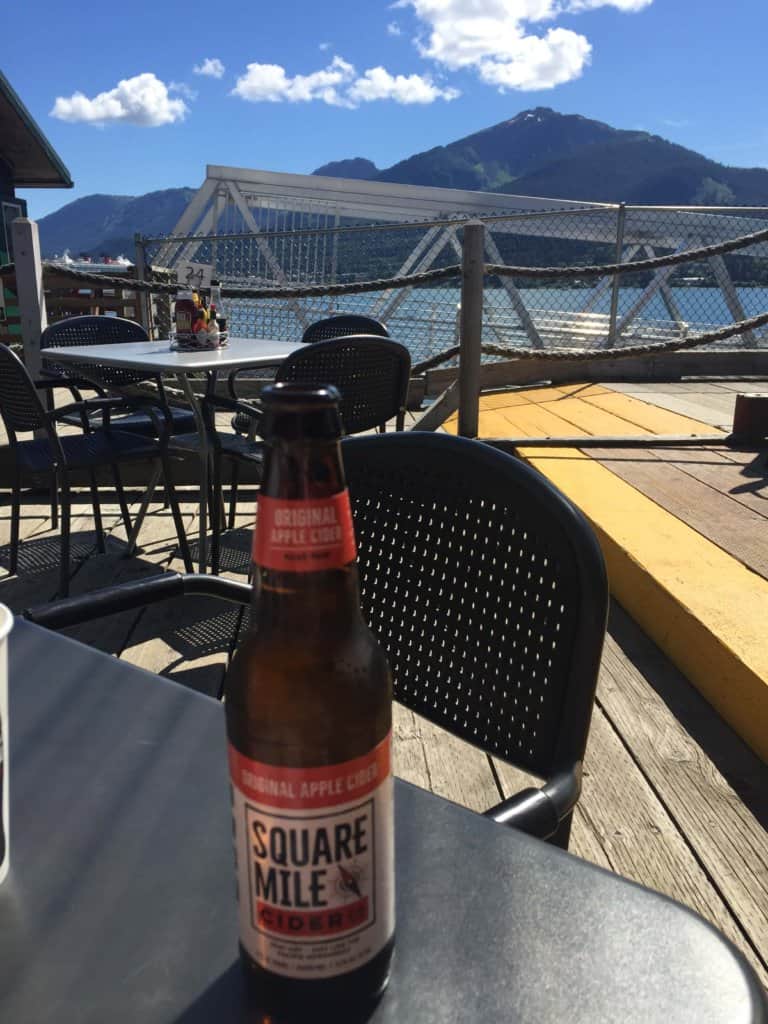 Dinner at Tracy's King Crab Shack
Our last dinner in Alaska had been specially chosen. Our last night would be…Alaskan King Crab at Tracy's King Crab Shack. While it was slightly cool outside, it was sunny and a perfect night for dining outside. Due to the size of our group, we chose the location at 300 Willoughby Street. You order at one walk up building, drinks at another and then find a picnic table either outside or under the tent. The crab legs were brought to our table and we all enjoyed a feast of crab legs. Quite possibly our best dinner in Alaska!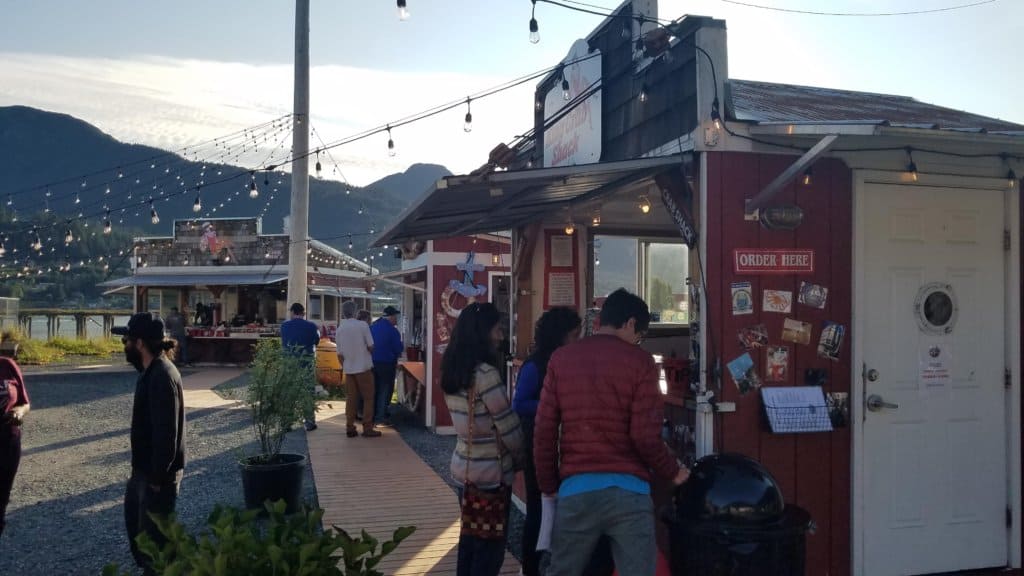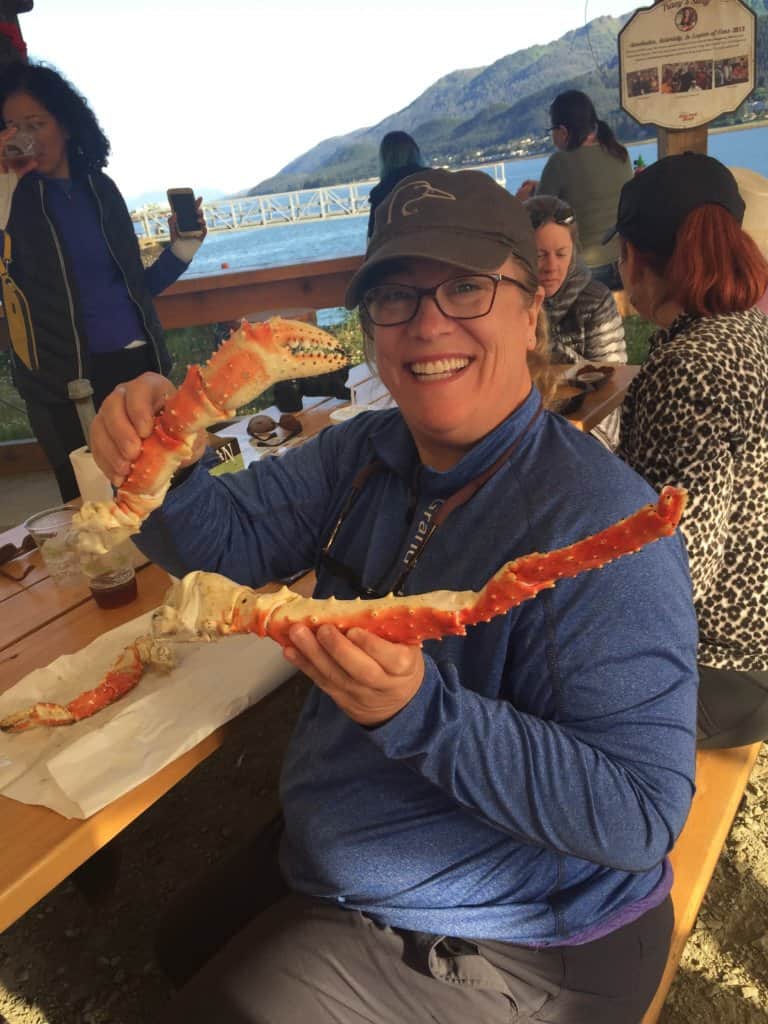 Following dinner, there were some fun picture taking opportunities.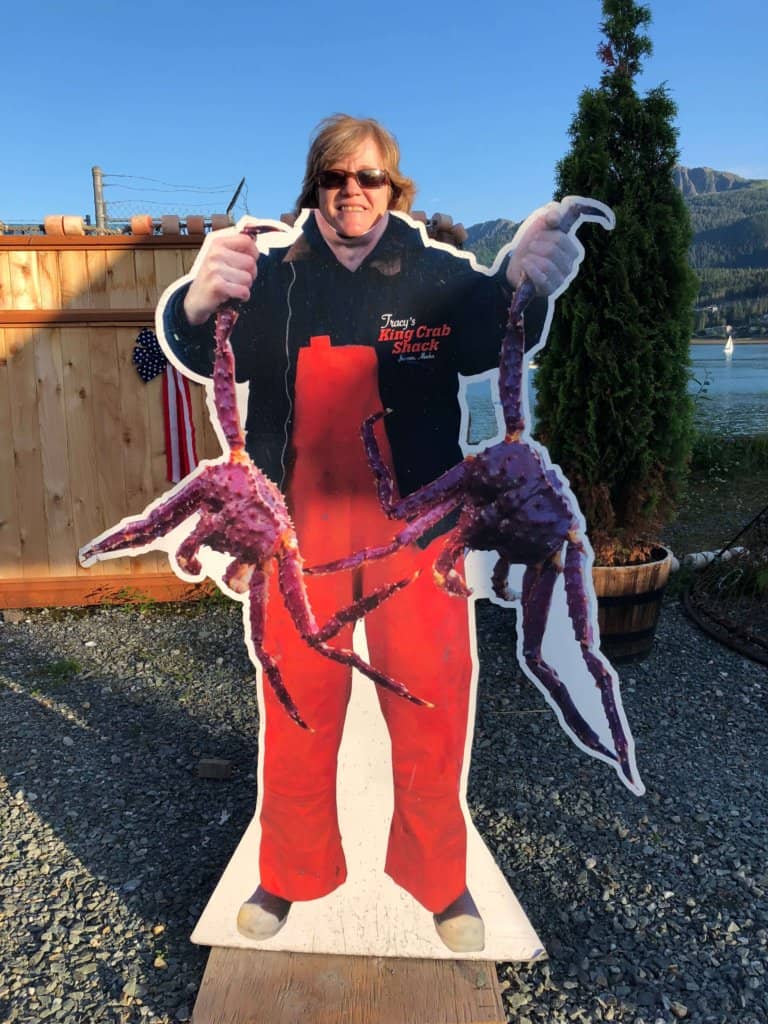 If you look closely, you might see each person more than once or twice!

Sunset and the whale statue
It is our last night in Alaska, so we decide to walk down for the "sunset". Along the way, we saw a big whale breach! Just kidding, this is a statue in the park, but we did fool many with these pictures.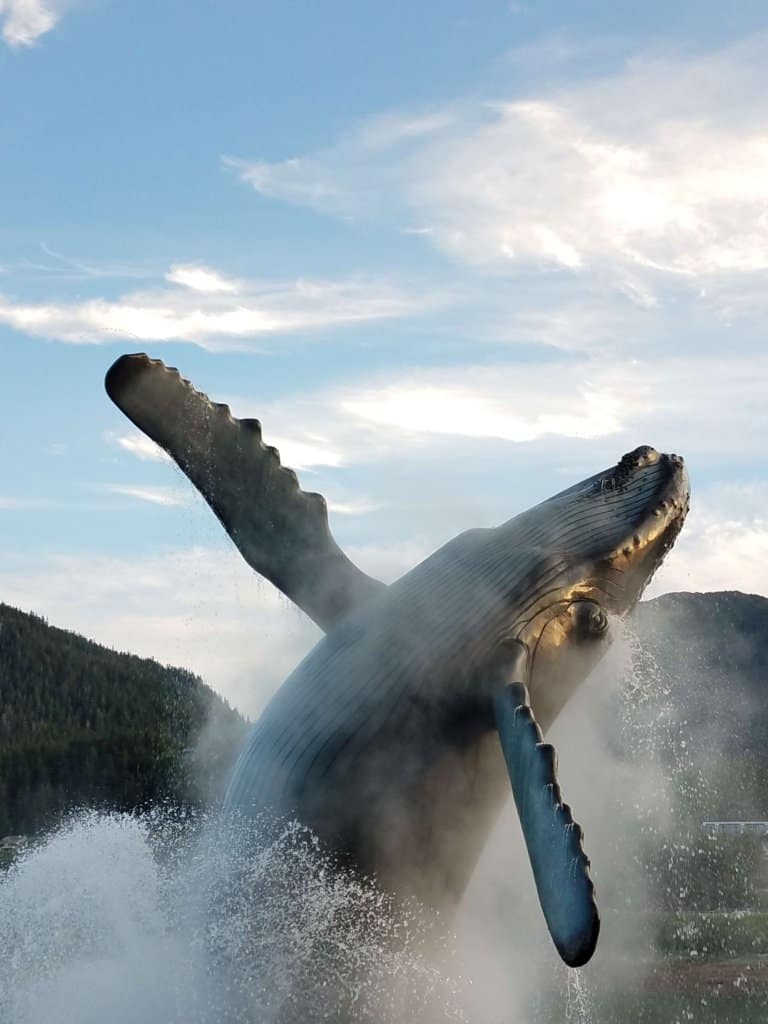 And just like that the sun sets on a great two weeks in Alaska aka The Last Frontier with some of the coolest and people I'm lucky enough to call friends. Thank you for making this vacation one of the best ever.