Here are recommendations on things to see for any first time visitor in Toronto should check out during their visit.
I recently visited Toronto for the first time as a tourist. One item on my bucket list is to see my favorite baseball team, the Atlanta Braves, play in all the Major League Baseball stadiums. Once a year, we pick a city (or two) to visit around the baseball schedule. This year we chose Toronto as neither myself or my best friend had been there. We did careful planning as we wanted to make the most of our four days visiting Toronto!
Visit Rogers Centre
Our entire trip was planned around when the Atlanta Braves were playing in Toronto. You see, I'm a big Braves fan and I want to see them play in every single Major League Baseball park. I'm lucky enough to have a friend who will travel with me to fulfill this dream.
Fortunately, it was a beautiful almost-fall day in Toronto at the end of August. It was in the low-70's which left the 95-degree weather of Atlanta a distant memory. More importantly, it allowed the roof of Rogers Center to be open when we arrived.
Gates opened at 5:30pm and we were in-line at 5:20pm! We watched the Braves take batting practice and talked to some very nice Braves and Blue Jays fans. It helped one of their former favorite players, Josh Donaldson, now plays for the Braves.
It started to rain while we were there, so we also witnessed the closing of the roof.
Whether or not you are a baseball fan, seeing a game here should be on your list. Unless it isn't baseball season of course.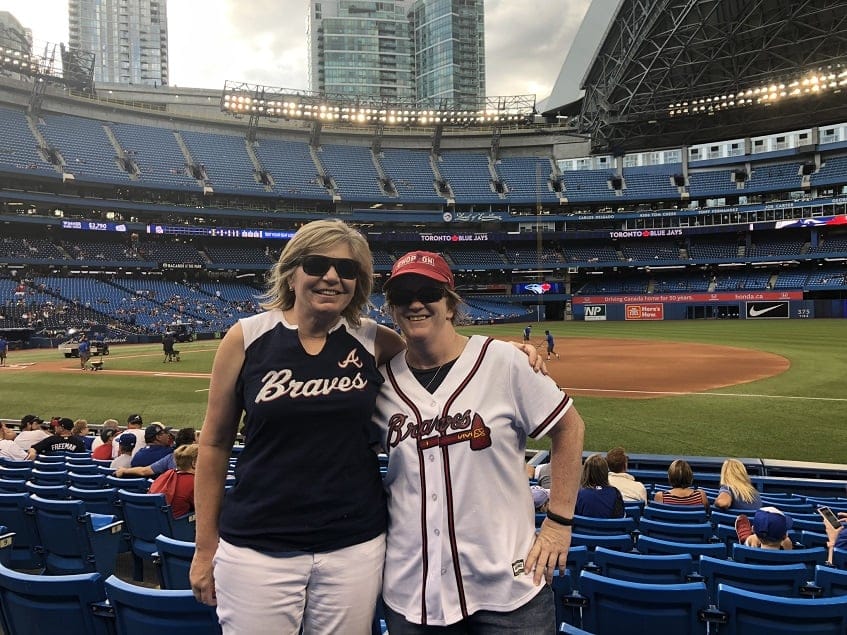 Day trip to Niagara Falls
Seeing Niagara Falls has been on my bucket list since it's creation. If you haven't seen Niagara Falls, be sure to put it near the top of the list. Honestly, I thought I would be disappointed as I heard how cheesy and touristy the town of Niagara Falls is now. While I really wanted to see the falls, I also had expectations of being disappointed.
Let's just say I wasn't disappointed at all! First stop was the top of falls on the Canadian side. While they are more impressive than the American Falls, the American side is still quite impressive.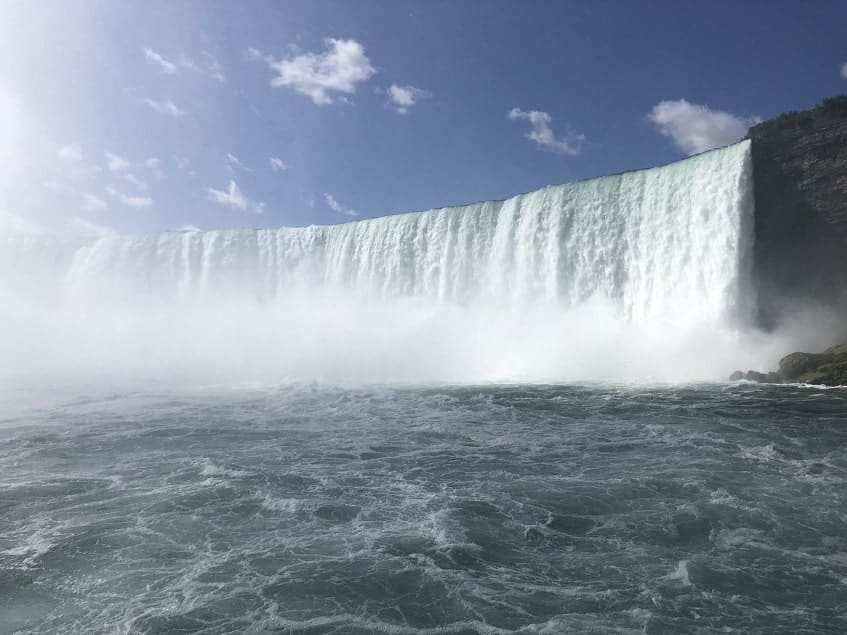 I also now understand why people say to visit the Canadian side. On the Canadian side, you have great views of both the Canadian and American Niagara Falls. If you are standing on the American side, you don't have a great view of the Canadian side and you are standing on top of the American side. Do yourself a favor – visit from the Canadian side if possible. We also went on the Hornblower boat cruise up to the falls. Again, I thought I would be disappointed especially after watching the boats from the top of the falls. But, once you are on the boat and get close to the falls, its probably the closest thing you'll experience to being in a hurricane. It's wet and windy! Put the phone or camera away after snatching a couple great photos and then enjoy the ride.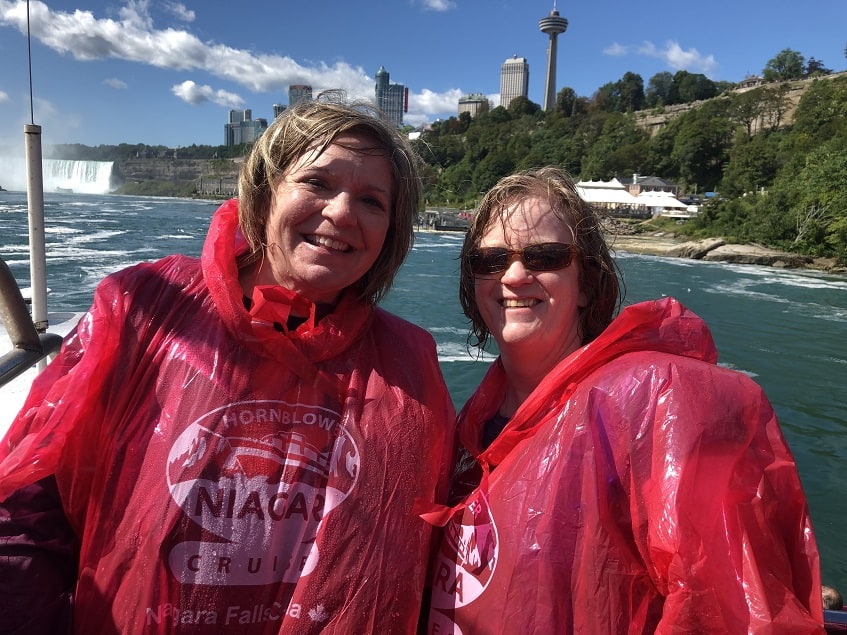 Icewine tasting
After you have visited Niagara Falls, drive through wine country for some Icewine tasting around Niagara on the Lake. There are several wineries with this unique wine offering. The wine is typically expensive primarily due to each grape providing only a drop of wine as it is harvested during the winter.
Like this post? Pin here!
The hop off, hop on bus is a great way to get an overview of the city while also stopping at some of Toronto's biggest tourist attractions including Casa Loma, Kensington Market, CN Tower and others.
Your ticket is good for 48 hours and it also includes a boat tour of area around downtown. Cost is $45 CAD$ (check pricing). If it doesn't pick up at your hotel, there are many pick up locations around town and many hotels sell tickets. Check website for hours as it does change by the season.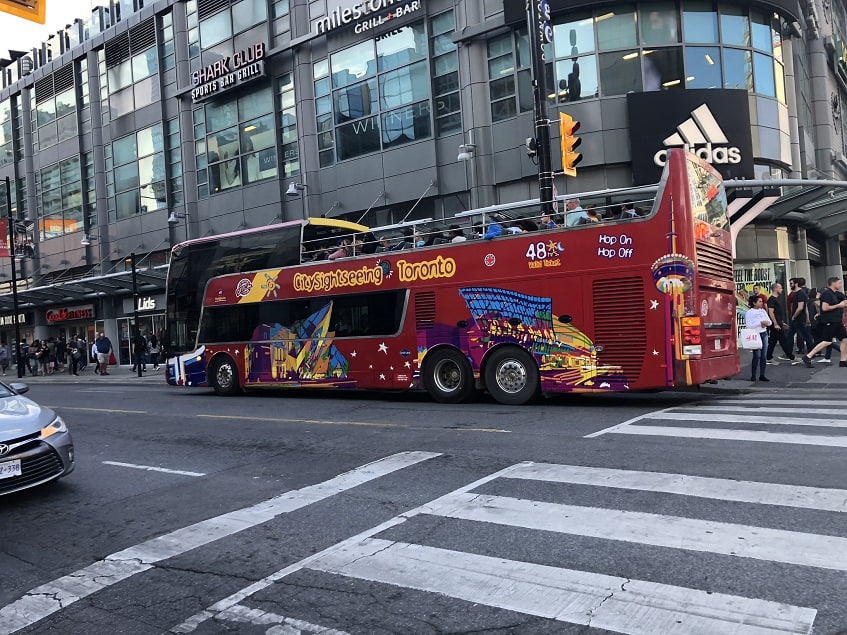 Casa Loma is a gothic style castle built by Sir Henry Pellatt. While Pellatt was diversified in his businesses, he is mostly known for harvesting power from Niagara Falls and bringing electricity to the city of Toronto.
Henry and his wife, Mary, lived at Casa Loma for 10 years before he fell into financial ruin and was forced to leave Casa Loma.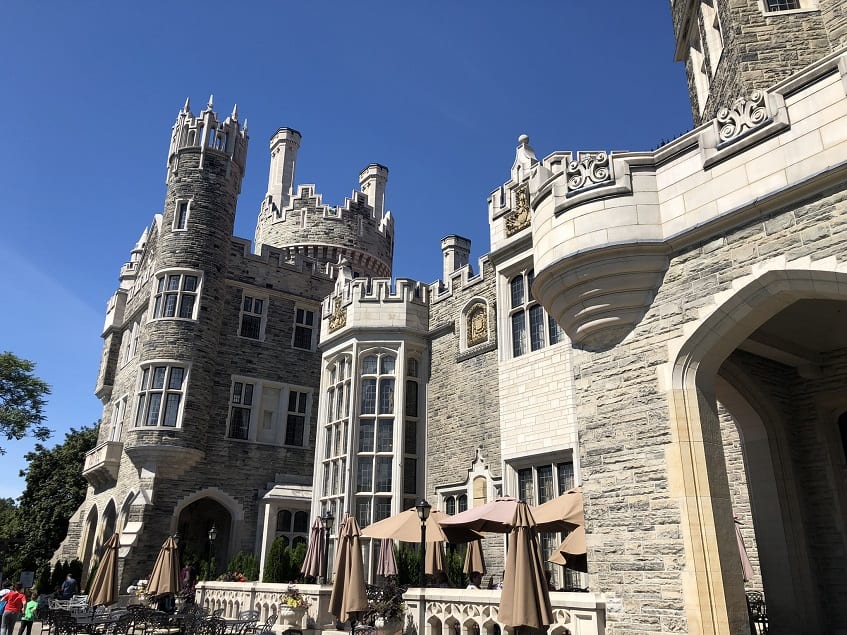 The castle is 98 rooms and was the largest private residence in Toronto.
Stop in for a visit and listen to the history of the castle. Have a drink or gelato on the patio outside if it is a nice day.
Entrance fee is $30 (CAD) and the Hop On – Hop Off bus drops off approximately one block from Casa Loma – short walk up the hill to the entrance.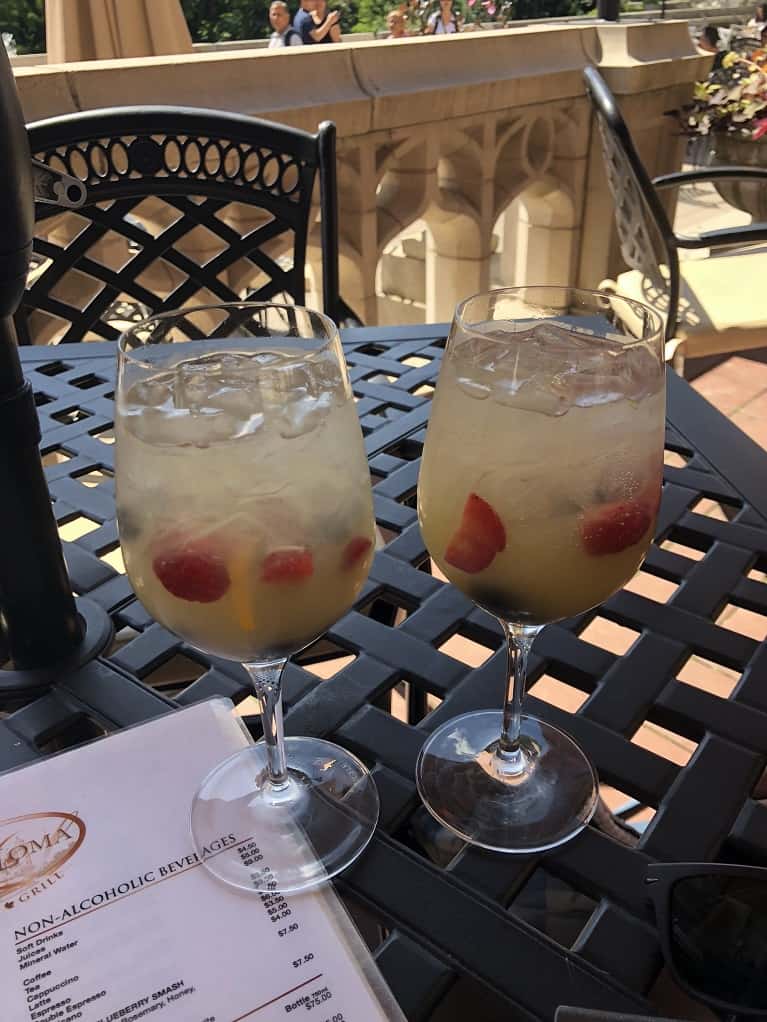 CN Tower is the tallest structure in Toronto at 1,814 feet high. Ride the high-speed elevators to the top where you can experience EdgeWalk, a harnessed walk around the outside edge at the top of CN Tower.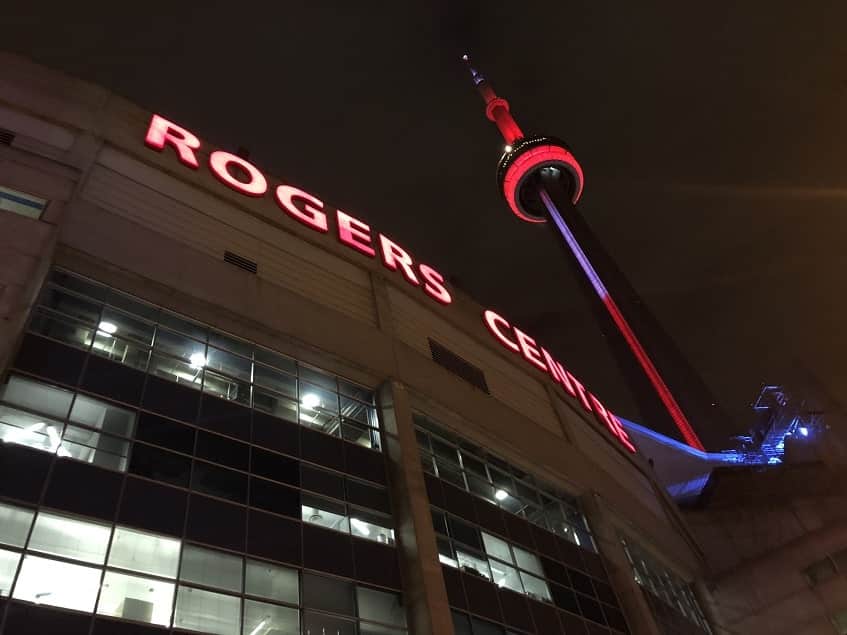 Kensington Market is the hippy neighborhood of Toronto. You'll be sure to see street art and if you are lucky, car art. Many ethnic foods are represented here along with a few shops to purchase that unique item you could be searching for from Toronto.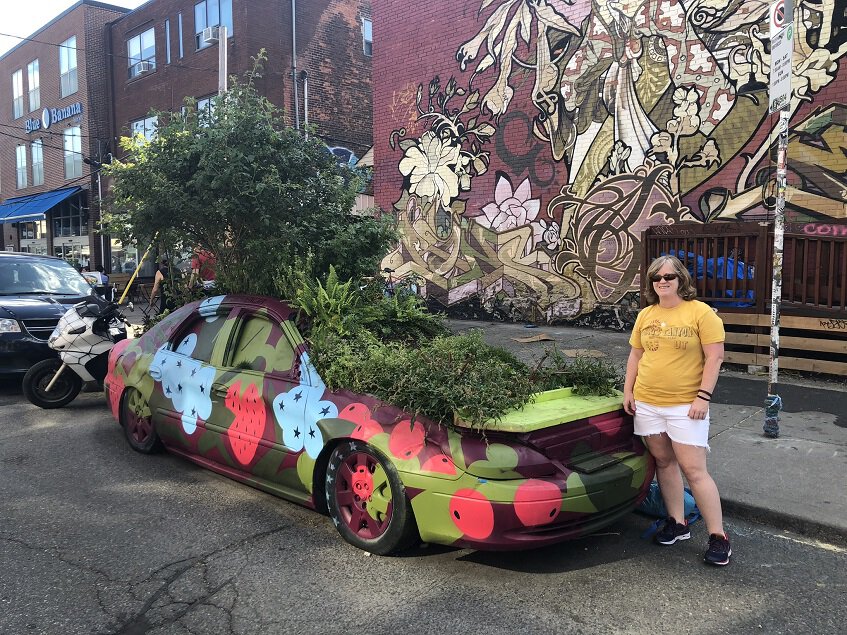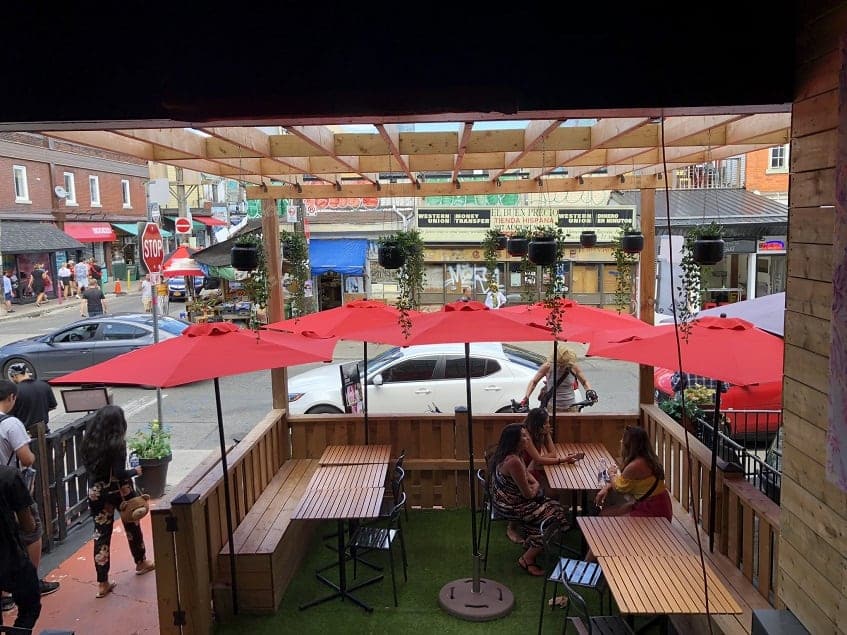 Popular spot close to the Distillery for restaurants and food vendors. They are closed Sunday and Monday, but on the Sunday I visited, they had a flea market pop up. If nothing else, walk by to see the historic building.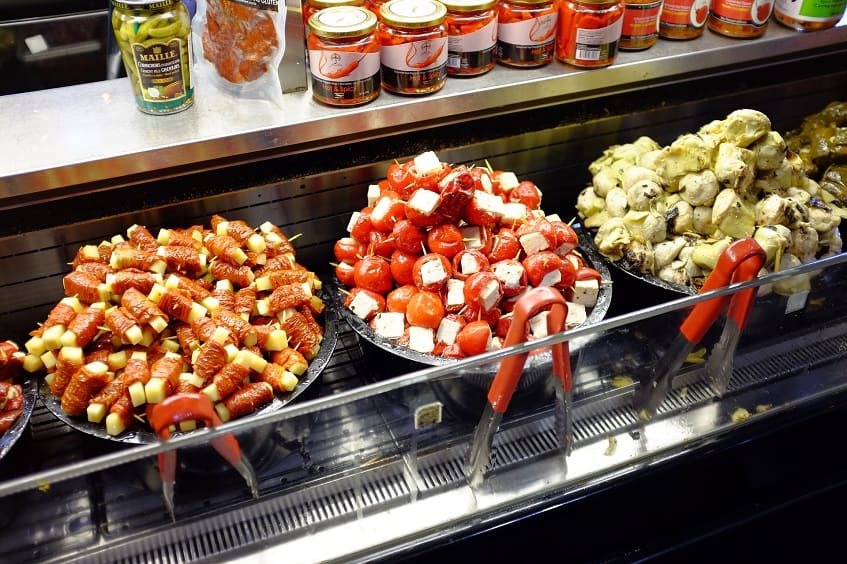 If you like dogs and/or cats, stopping at the dog fountain is a must. Located in the St. Lawrence district on Wellington Street in Berczy Park, it is a fountain of 27 dogs and 1 "scared" cat although he doesn't look like he's scared, more like he owns the fountain.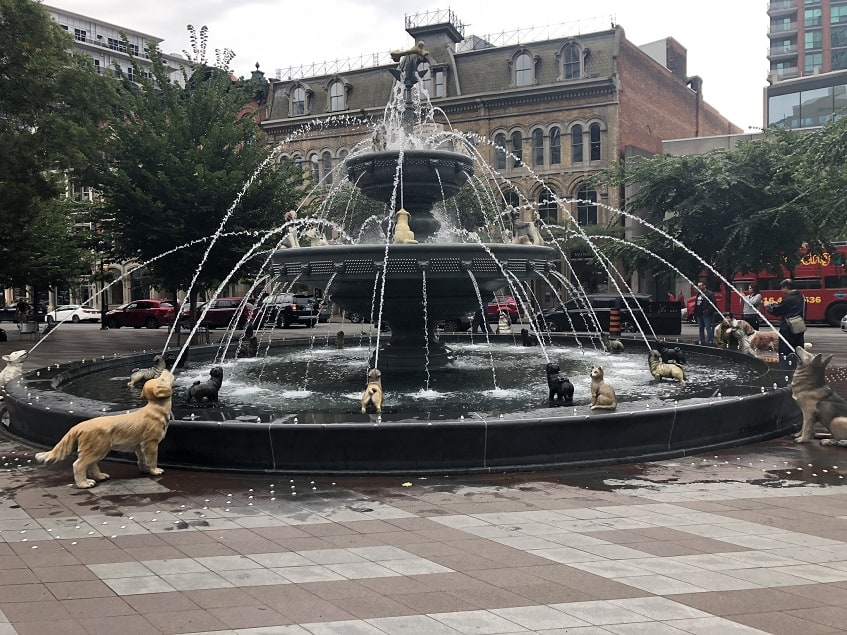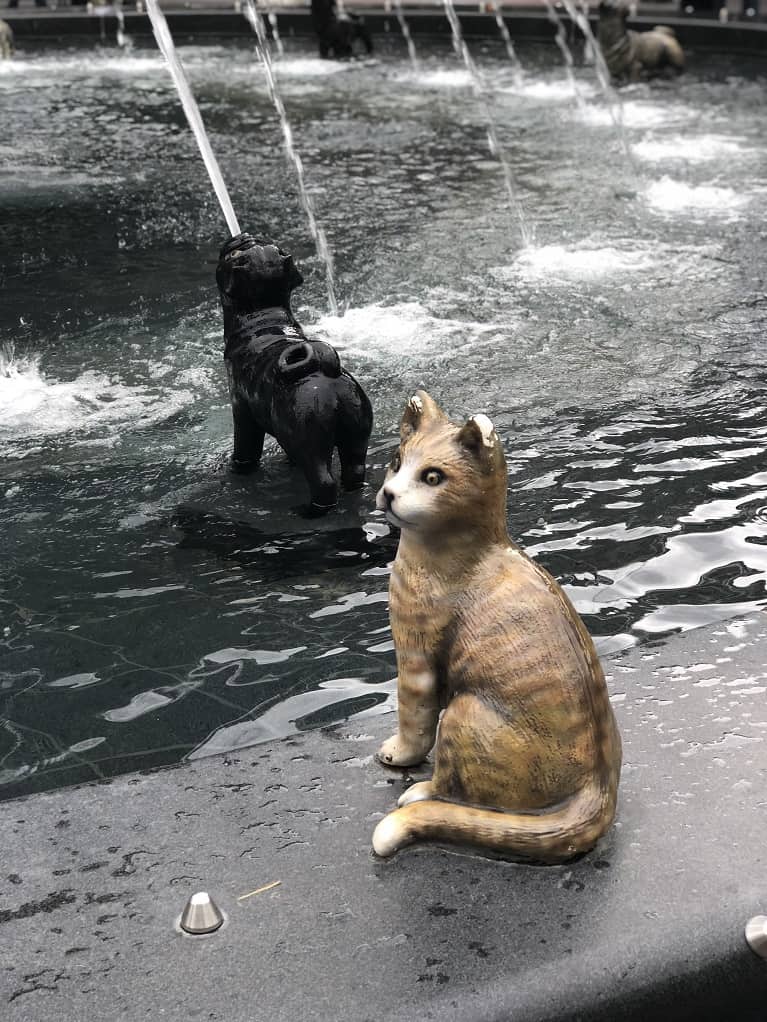 The Textile Museum could be the most obscure place in Toronto on this list. As of this writing, they are hosting a tapestry exhibit of the Torah, Tapestry in Spirit: The Torah Stitch by Stitch Project. It isn't complete yet but should be done this year. It is a very impressive collection of panels with the Torah in Hebrew along with a short English description for each section.
Additionally, they have Christian scripture in Greek and Qur'an in Arabic.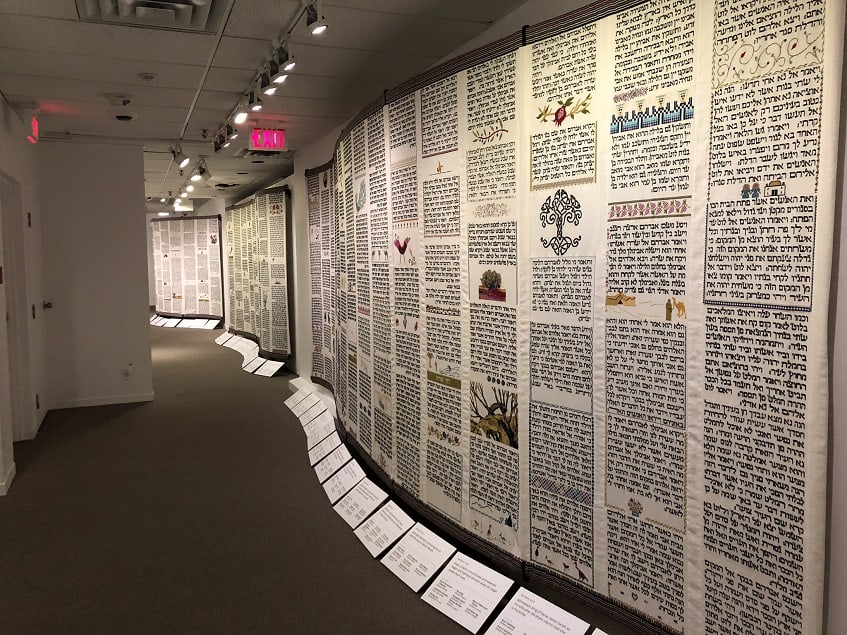 Visiting the Toronto Botanical Gardens may take a little longer to get there via public transportation, but it is a beautiful place to spend the afternoon.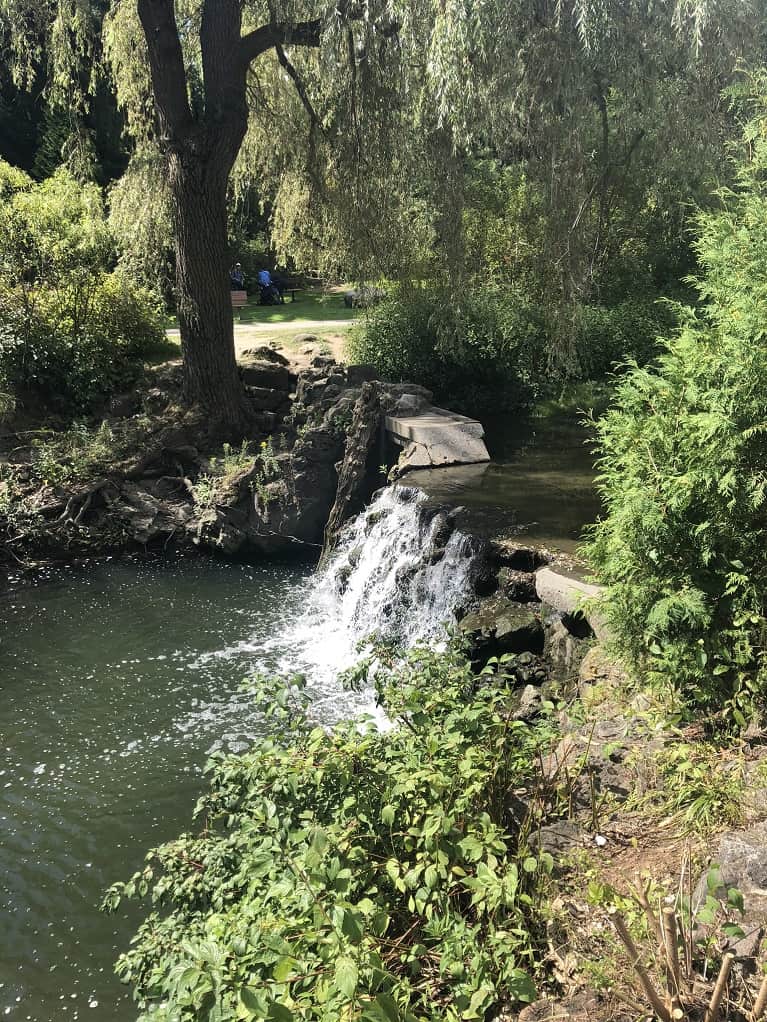 Walk through the blooming gardens, visit the bee hotel and stroll along the creek which eventually runs into Lake Ontario. If you are lucky enough for the Monarch butterflies to be around, take time to watch this beautiful creature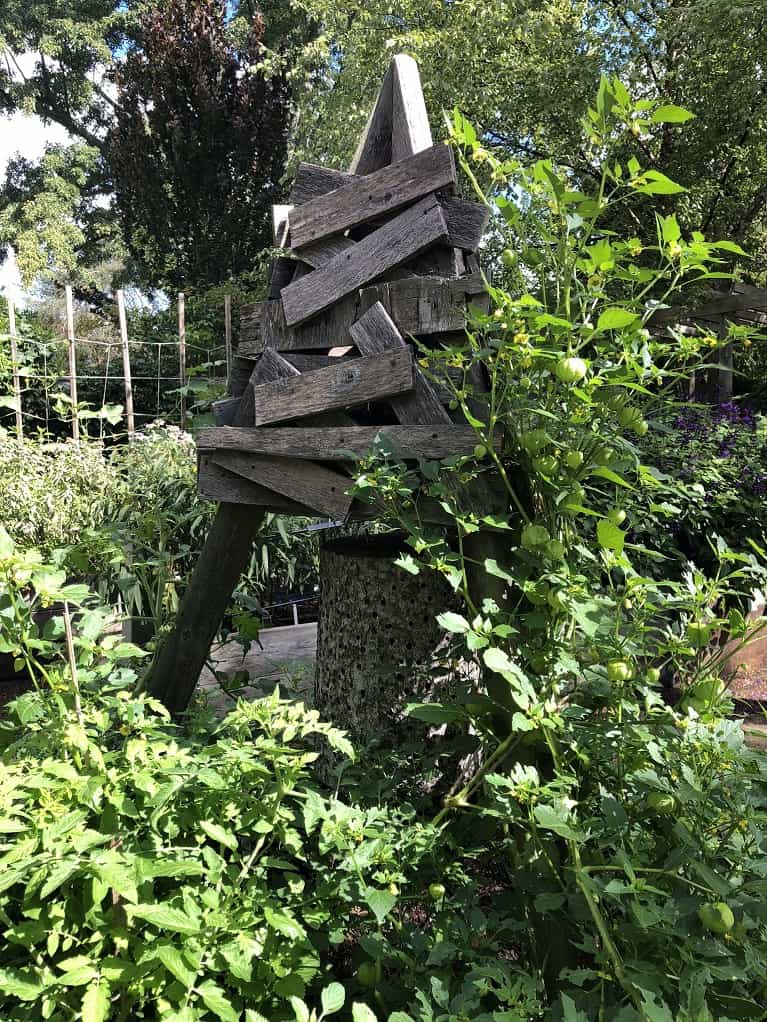 Take the subway line 1 north to Eglinton station. From there, hop on the 54 bus and get off at the Edwards Gardens stop. From downtown Toronto, it takes approximately 30 minutes between train, waiting on the bus and riding the bus. The bus drops you off at the entrance.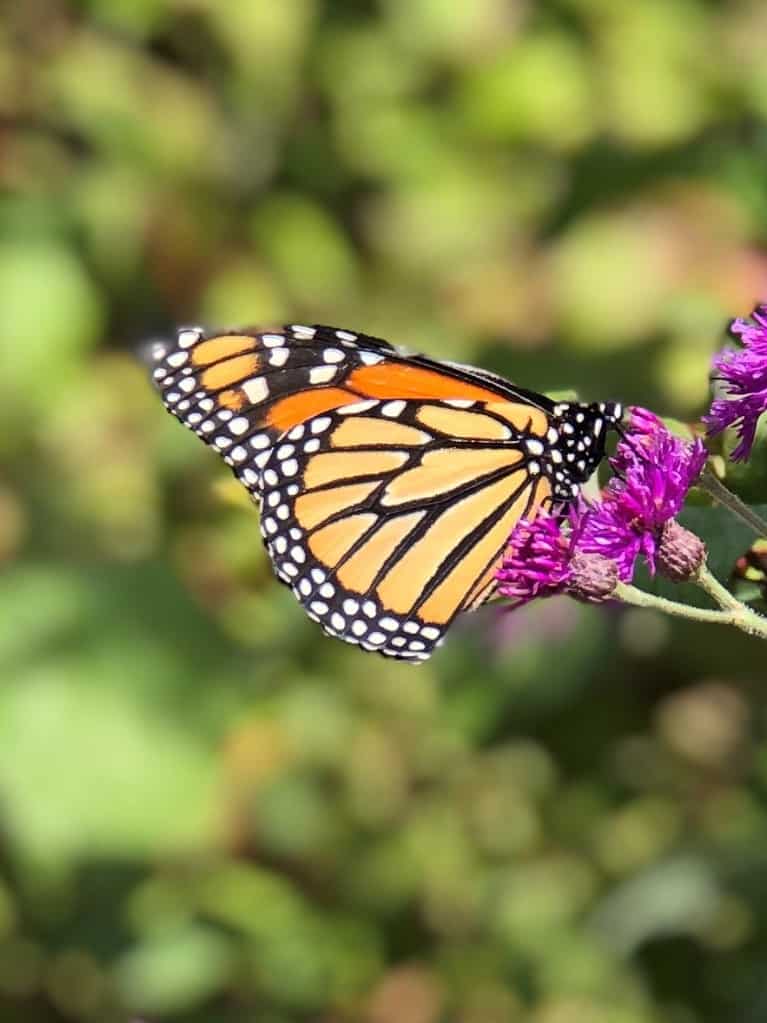 The Distillery was once an actual distillery of whiskey in the 19th century. Now, it is a location for hip restaurants, bar and shopping boutiques. On Friday and Saturday, local artists set up tents to sell their hard-crafted goods.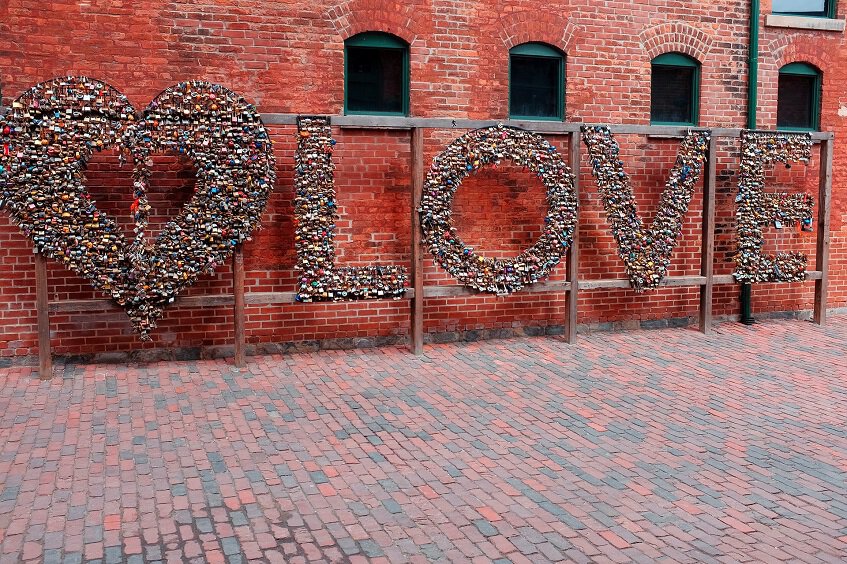 Harbor Boat Ride
If you purchase a ticket for the Hop On, Hop Off bus, it comes with a ticket for a free harbor cruise. Hang on to your ticket as it is a lifetime ticket. The harbor cruise provides views of the city from the water and is more of a sightseeing cruise.
If you are a hockey fan, I've heard from friends this is a can't miss. I'm from the south and not much of a hockey fan, but I've also heard the non-hockey fans enjoy it too. Unfortunately, I missed seeing it on my trip.
Where to stay
Staying downtown is the best option especially if you don't have a car. The city offers multiple public transportation options including subway, streetcars and buses. It is also easy to pick up a taxi at the major attractions including Uber.
Most of the major hotel chains are represented downtown.
Where to eat
Tim Horton's
You'll be sure to see a Tim Horton's within your first 10 minutes visiting Toronto. They are located on almost every block as the Canadian version of Dunkin Donuts. The coffee is good (& hot) and their donuts are pretty good too!
Pai was my favorite restaurant in Toronto. The offer decently priced Thai food and leaves you wishing you had one in your city. The line to get in can be long, but don't let it stop you from getting in line. It moves fast as the restaurant is big. If you know when you want to visit, make reservations at least 24 hours in advance!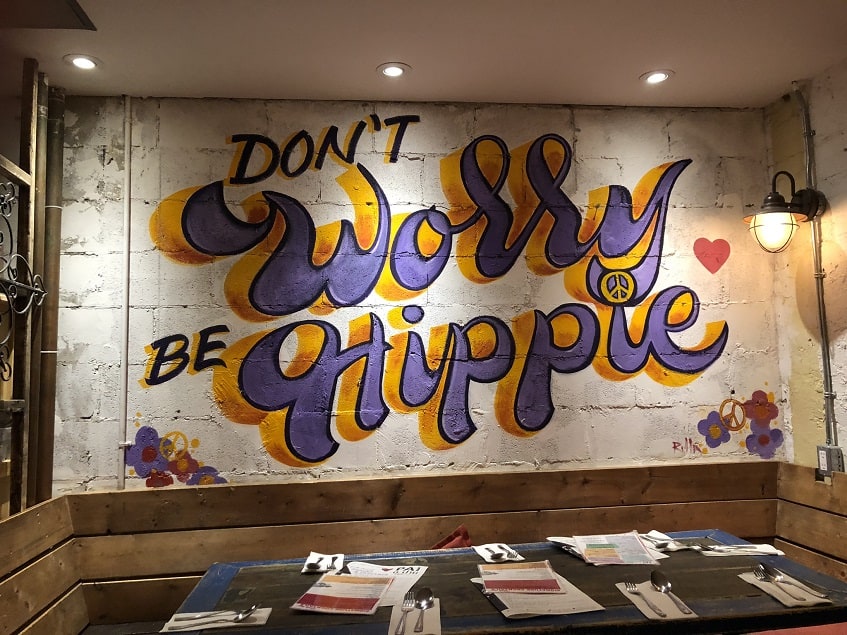 Chinatown
Love Asian food? Stop into Chinatown to find your favorite Asian food.
Kensington Market
Another home for many ethnic foods from Thai, Mexican, pizza and anything in between.
Kensington Market and The Distillery
Many options here from food stalls to sit down restaurants.
Enjoy your first visit to Toronto and the top things Toronto has to offer to a first-time visitor.