Here's how to spend one perfect day at Arches National Park!
Not sure what do in Arches National Park if you only have one day?
Here's how to see get the most of your one day at one of the most popular Utah National Parks with the best things to do at Arches National Park. This itinerary does include some of the best hikes in Arches National Park, so bring your hiking shoes!
Tip: Be prepared for a busy day!
Visiting Arches National Park
Where to stay
To see Arches in one day, it would be best to spend the night in Moab the night before. There are many hotels near Arches National Park in Moab from which to choose. Arches lies just on the outskirts of town and is a very easy drive if staying in Moab.
Arches National Park hours
Arches National Park ig s one of the few National Parks open 24 hours a day. This provides the possibility of seeing Arches at sunrise or under the stars!
Entrance Fee
It cost $30 per vehicle entering the park. However, you can buy a National Park annual pass for $80 if you are planning to visit multiple parks over the course of the year.
Visitor Center
Stopping at the Arches National Park Visitor Center is a great place to start your visit. Check with the Park Rangers to gather any updates on trails and find out about any special events for your visit.
You can also stamp your passport book, watch a short movie on the park and pick up a few souvenirs to remember your visit.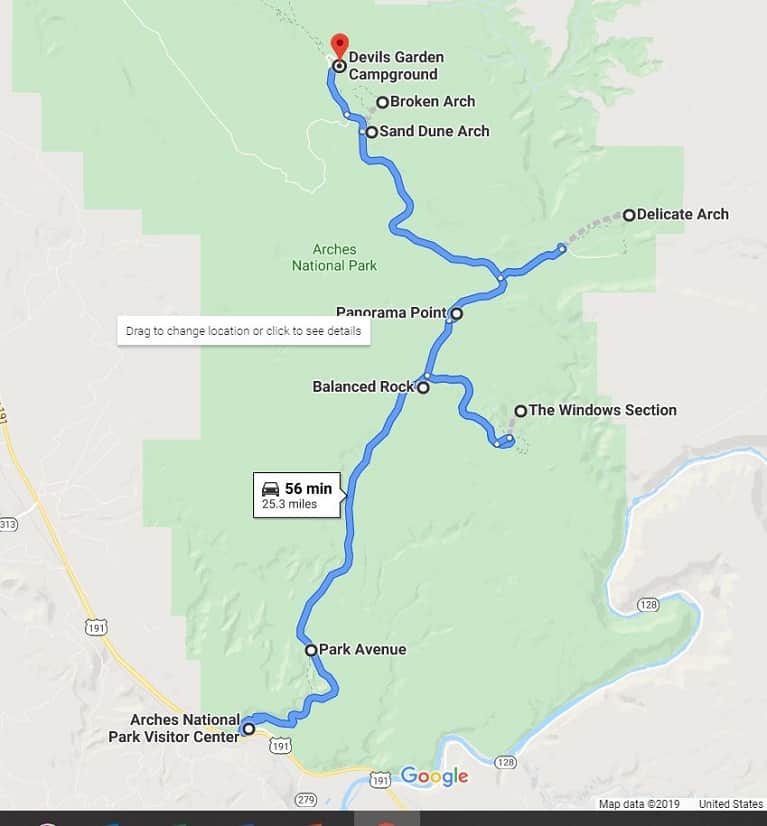 What to do at Arches National Park
Delicate Arch
If you are a sunrise hiker and want to squeeze every bit into one day, arrive at Delicate Arch trail early and take in a sunrise hike. Delicate Arch is one of the most iconic Arches National Park hikes! You can experience the hike along with time for pictures at the arch in 2-3 hours. Arriving for sunrise allows plenty of time to see the rest of the park in one day.
Whether you take the hike or the scenic overlook, Delicate Arch is one of the best arches at Arches National Park!
RELATED: Want to read more about the hike to Delicate Arch, check out my article on hiking Delicate Arch.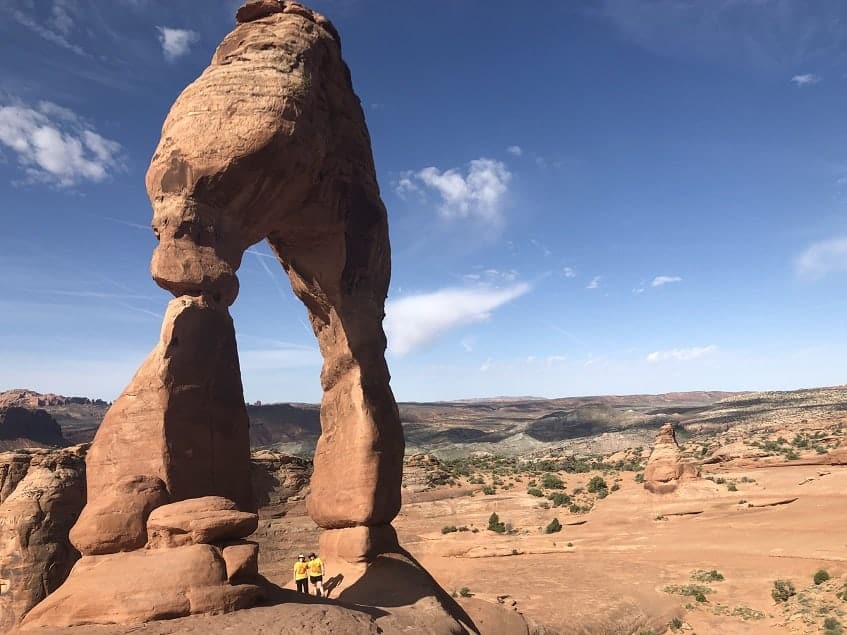 Sand Dune / Broken Arch
Continue your Arches scenic drive by traveling back out to the main road through Arches and travel north through the park. While there are other stops along the way, the first big stop should be Sand Dune Arch. The hike to Sand Dune Arch is an easy 0.3 miles round trip. There are some cool, short slot canyon just before the arch which are nice for picture taking. While an easy hike, this is one of my favorite Arches National Park hikes.
Broken Arch can be accessed from the same parking area. The hike is slightly longer to Broken Arch at 1.3 miles round trip.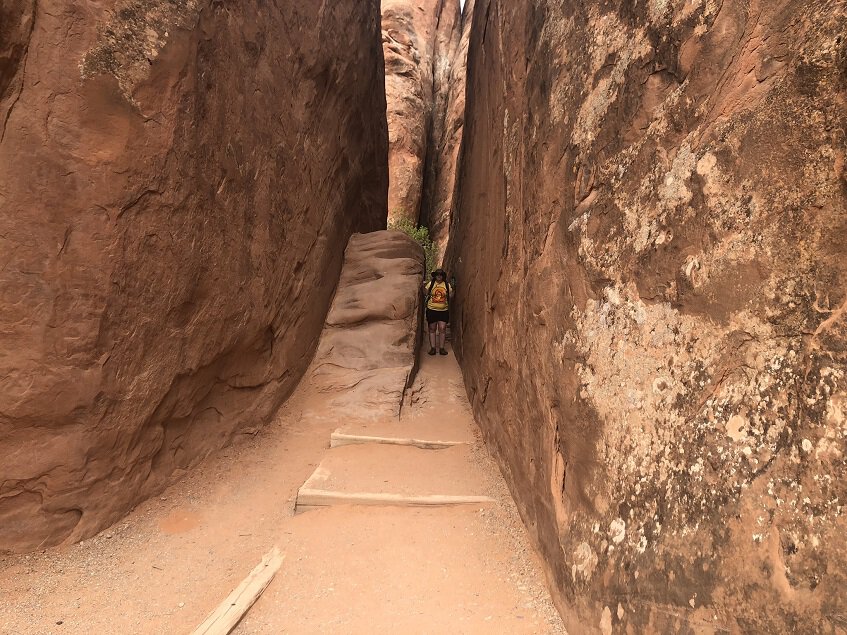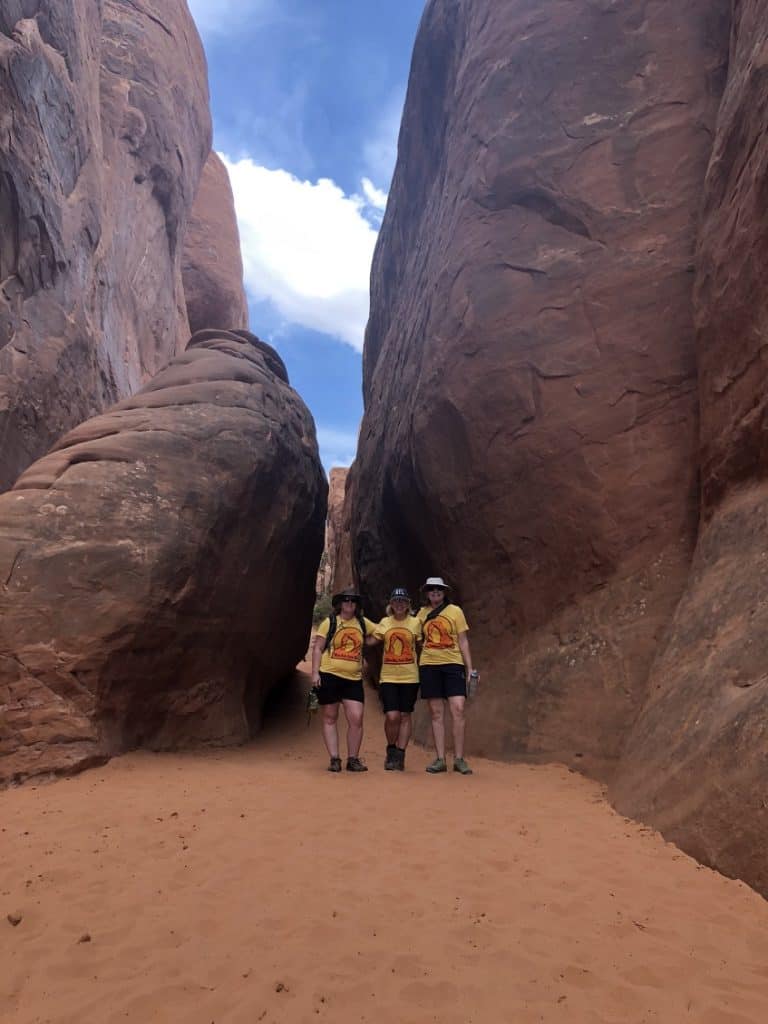 Skyline Arch
The last stop before reaching the campground is Skyline Arch. Park here for a short & easy 0.4-mile hike which is relatively flat.
It is very close to Sand Dune/Broken Arch. If you want a longer walk, leave your car at Sand Dune parking lot.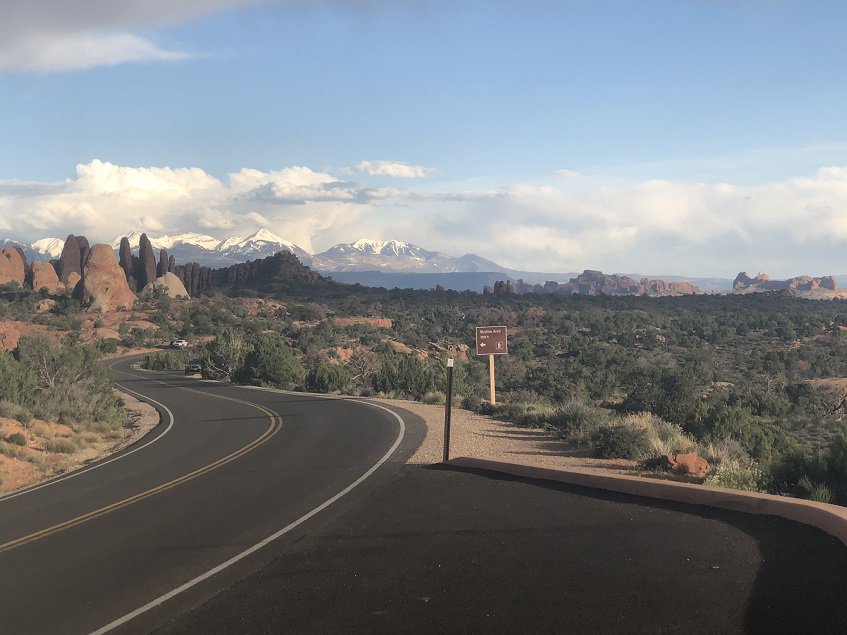 Devils Garden / Landscape Arch
On the north side of Devils Garden campground is the parking area for the trail head. This trail is one of the longest of the easy hikes at 1.6-miles round trip. Take the Devils Garden trail head for an easy hike to Landscape Arch. If you go further to Double O Arch, expect the trail to get more difficult. Hiking to Double O or Dark Angel will be difficult in this one-day trip.
Landscape Arch has incurred several big pieces falling in the past few years. Some speculate it is nearing the end if seeing it is important to you. Since pieces have been falling, take extra precaution when nearing the arch.
The Windows
If you have time, make a quick stop at Panorama Point before making the turnoff to The Windows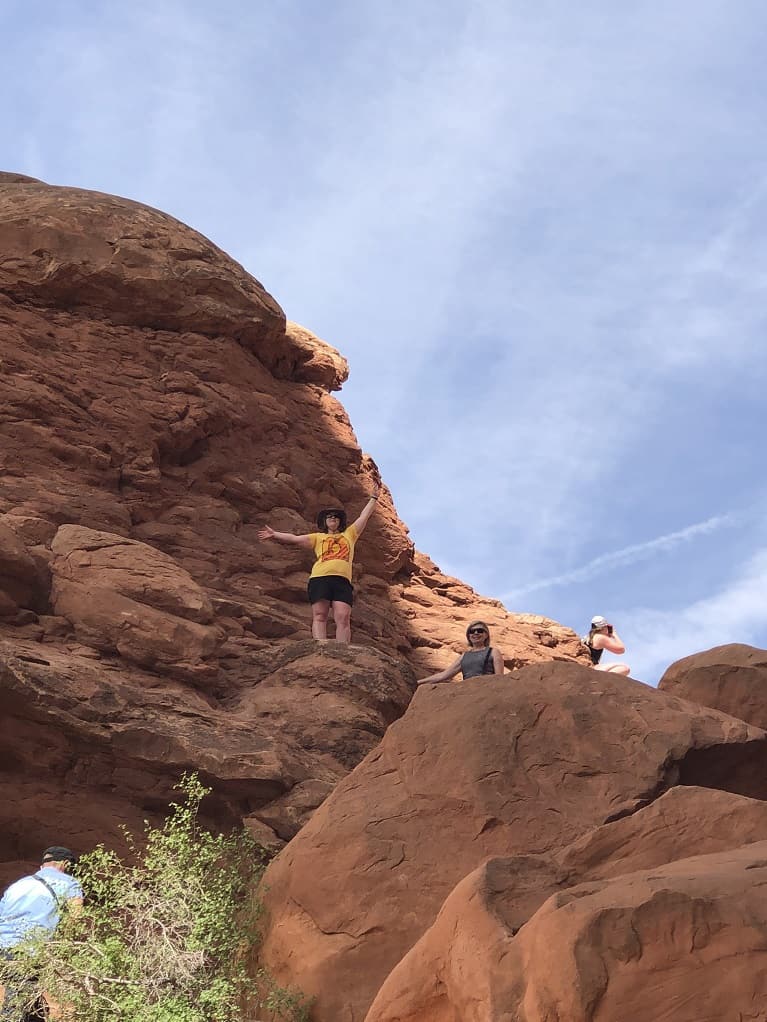 Take a left off the main road to head toward the parking area. This is a great area for playing on the rocks if you are a little adventurous. The hike is another easy, flat, 1.0-mile trail.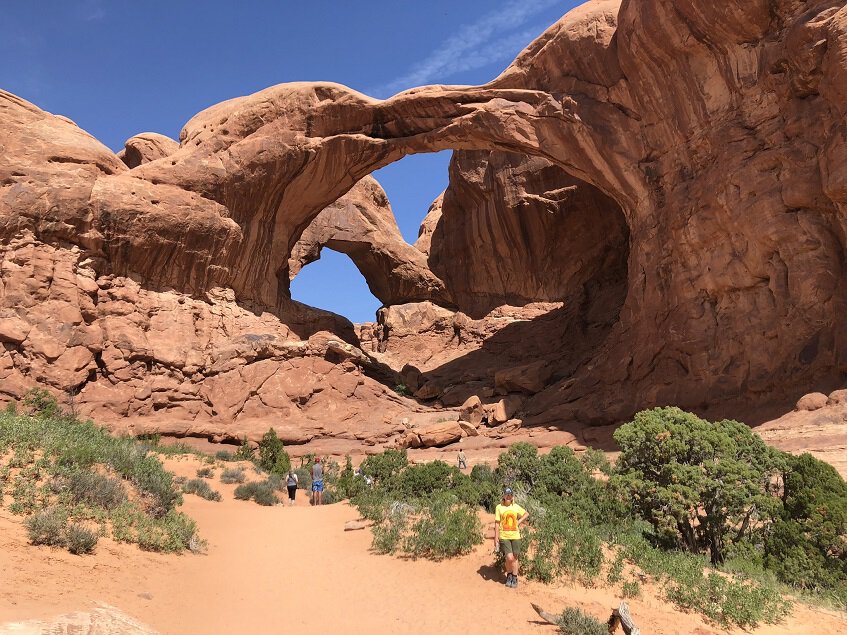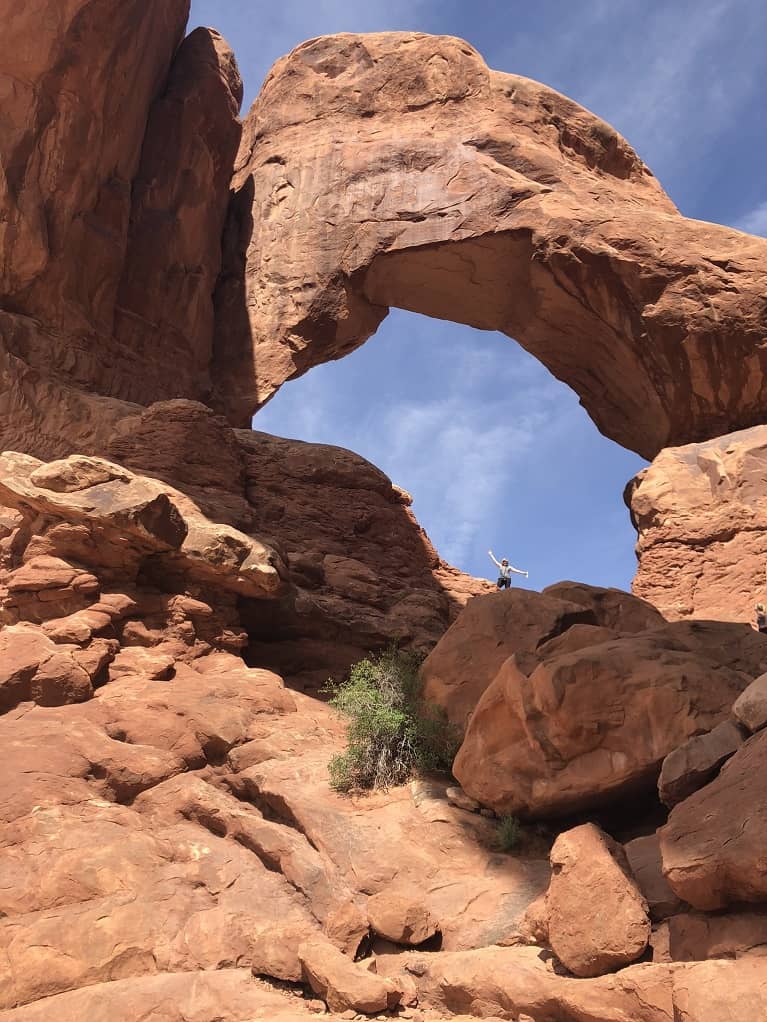 Depending on your schedule, you could make this your sunset walk. To see all the major points, it would require some backtracking.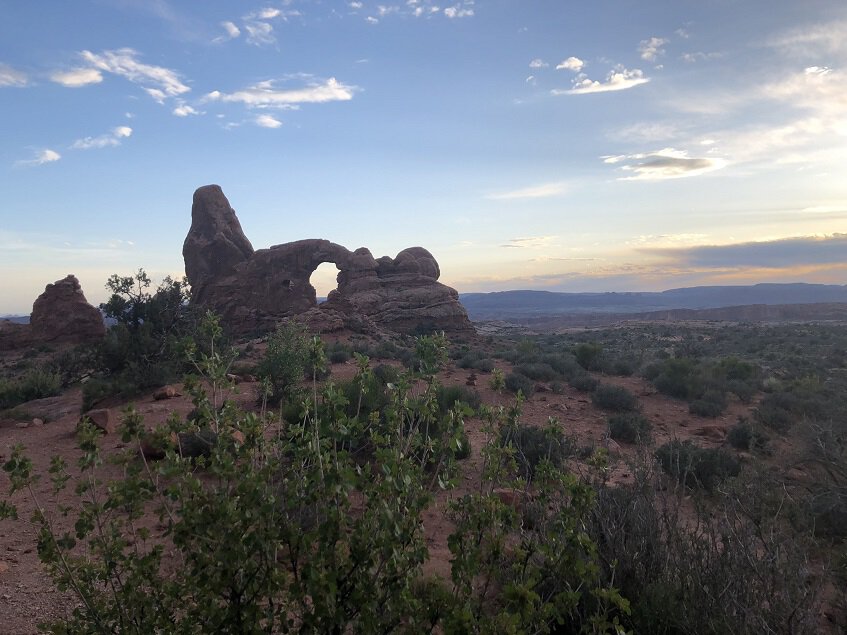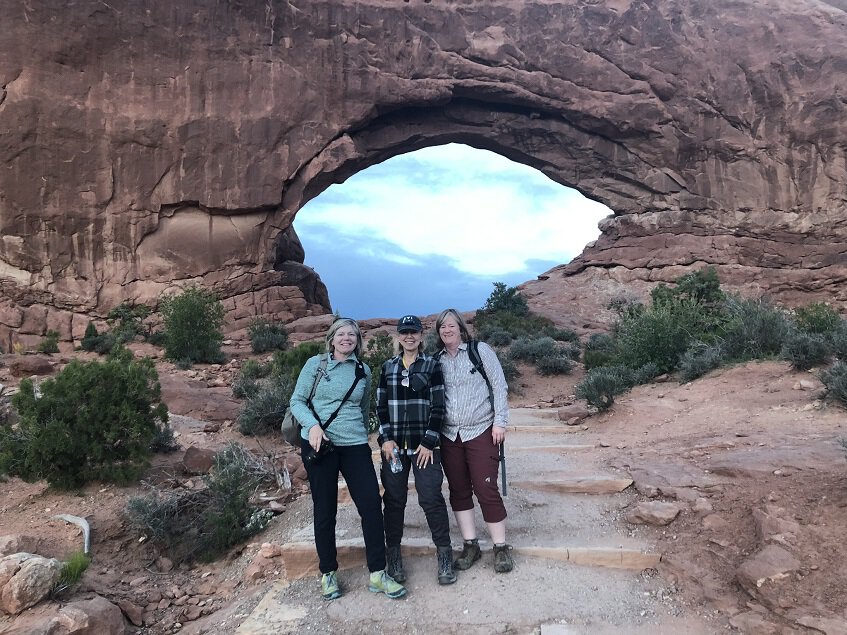 Balanced Rock
Coming off the road from The Windows, continue making your way south. The path to Balanced Rock is a mostly paved, easy, 0.3-mile walk. You can get off path and walk around the rock if desired.
Be creative and take pictures as if you are holding up the rock.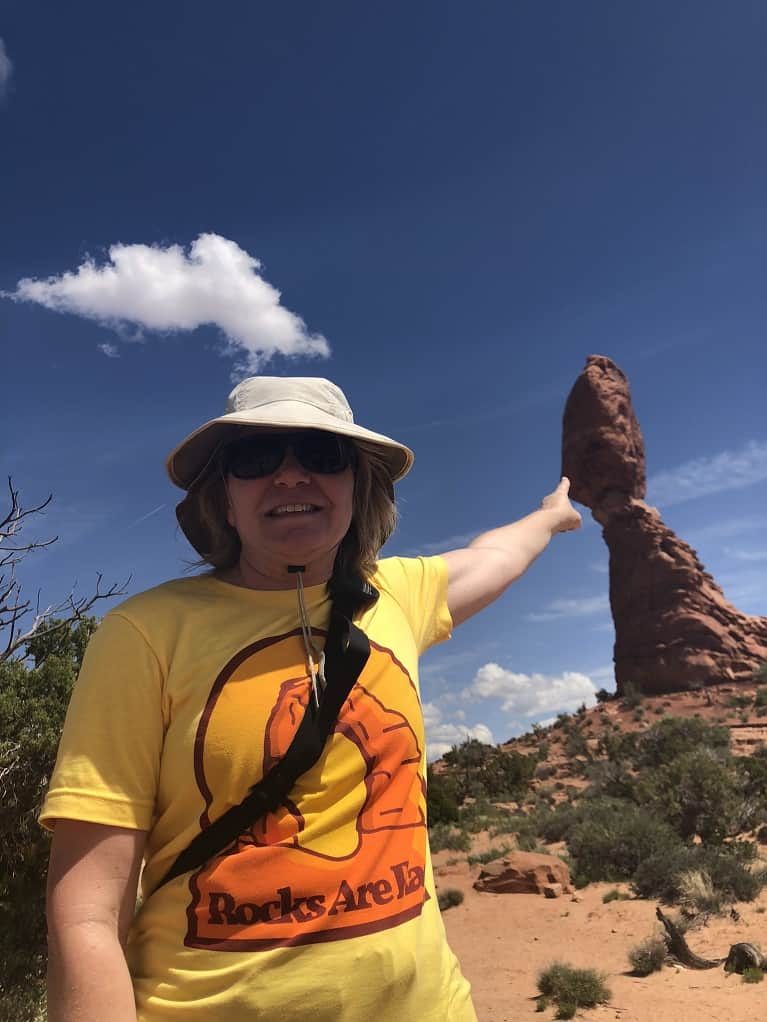 Park Avenue
The last major stop before hitting the Visitor Center, Park Avenue is a can't miss stop. The trail to Park Avenue starts off paved and then turns into a dirt trail to walk through Park Avenue. The paved path is easy, but if you hit the dirt path it changes to a moderate hike. The moderate section is a 1.0-mile round trip hike.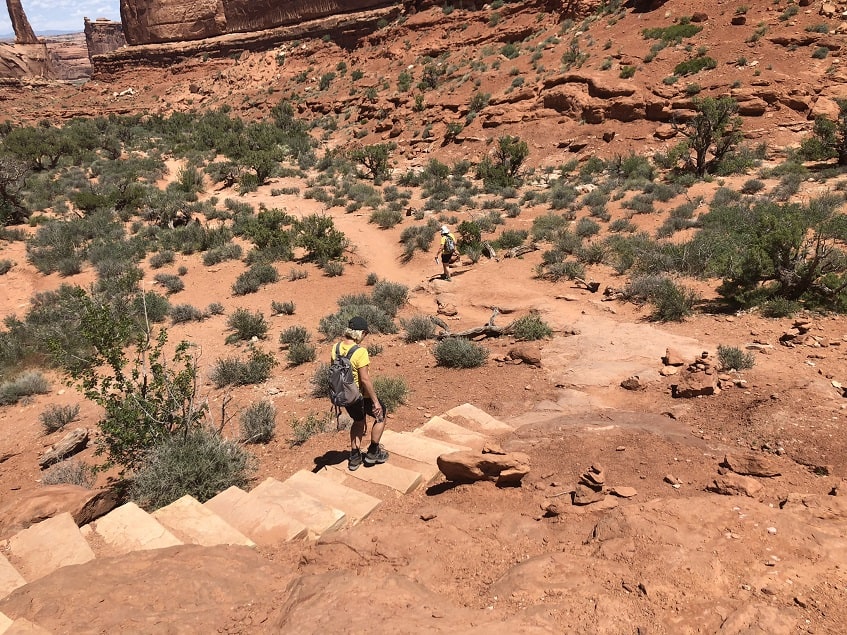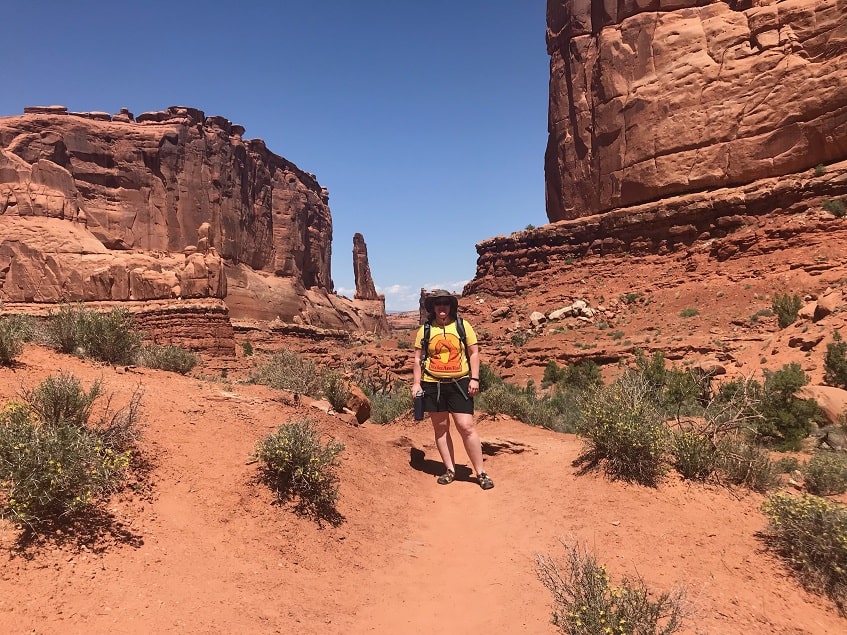 Second option excluding sunrise
If sunrise isn't your thing, try the following route from the Visitor Center. This route can either be done as listed below or in reverse.
Park Avenue
Balanced Rock
The Windows
Panorama Point
Delicate Arch Viewpoint
Sand Dune / Broken Arch
Skyline Arch
Devils Garden / Landscape Arch
What to pack
There aren't any places for food/snacks inside the park, so pack a lunch, snacks and drinks for your day inside the park.
Sunscreen!
Sandals (for Sand Dune Arch if you don't want sand in your shoes)
Water, water, water! The air is dry – you can't have too much water.
Camera
Rain jacket – In can still rain in the desert at the anytime.
Regardless of the route you decide to take, spending a day visiting Arches National Park is one you will never forget.
RELATED: Visiting other Utah National Parks in one day? Check out how to spend one day at Zion National Park!
RELATED: Continue visiting other Utah National Parks with one day at Bryce Canyon National Park!