Tips and advice for hiking Delicate Arch Trail at Arches National Park
Hiking Delicate Arch trail is one the best hikes in Arches National Park. If you are up for the challenge, this is a must hike on any visit to Arches. If this is your first time visiting Arches or hiking Delicate Arch, here are some tips and advice for your hike.
When we arrived at Arches National Park in the around noon on a day in May, we stopped at the Visitor Center to talk with the Rangers. While we had an idea of what we wanted to do during our visit, we always find it a good idea to get a National Park Rangers' input on the best Arches National Park hikes. We also wanted to see if there was an opportunity for scoring a last-minute reservation to the Fiery Furnace hike (no luck). After waiting in line, it was finally our turn.
One of the best hikes in Arches National Park is the 3-mile, strenuous Delicate Arch trail which has an elevation gain of 480 feet (146m). Being one of the most popular Arches National Park hikes, the Ranger recommended we hike Delicate Arch the next day starting early, possibly even for sunrise. She also suggested starting early as it gets hotter during the middle of the day and the crowds increase significantly.
When to hike Delicate Arch Trail
If you are visiting Arches National Park during a peak seasonal time frame, the best time to hike Delicate Arch trail is at sunset or sunrise.
A Delicate Arch sunrise hike will provide a time for smaller crowds and cooler temperatures. Additonally, sunrise at Delicate Arch is a beautiful spot to watch the sunrise inside Arches National Park.
A Delicate Arch sunset hike will also provide smaller crowds and a cooler time of day. While The Windows may provide nicer sunset colors, you can't go wrong watching the sunset from Delicate Arch. Just be sure to bring a flashlight for the hike back!
Preparing for the Delicate Arch hike
Parking the RV in the Wolfe Ranch trail head, we each packed about 2 quarts of water (the recommended amount) & Gatorade, Clif Bloks Energy chews, trail mix and a few other snacks for the hike.
Tip: Arriving early provides a better chance of parking at Wolfe Ranch. If the parking area is full, you can park in the Delicate Arch Viewpoint parking area, but it adds 1-mile to your hike from here.
While it would get warmer during the day, we started with our convertible pants and several layers since the morning was still rather cool. We all brought our hiking poles too knowing we would be encountering some steep sections of the trail.
Delicate Arch Trail
The 3-mile round-trip hike starts at Wolfe Ranch which is an old homestead of John Wesley Wolfe from the early 1900's. The trail is relatively flat for about ½ mile.
Just before you start up the first set of switchbacks, there is a side trail to the left where you can view some Ute Indian petroglyphs.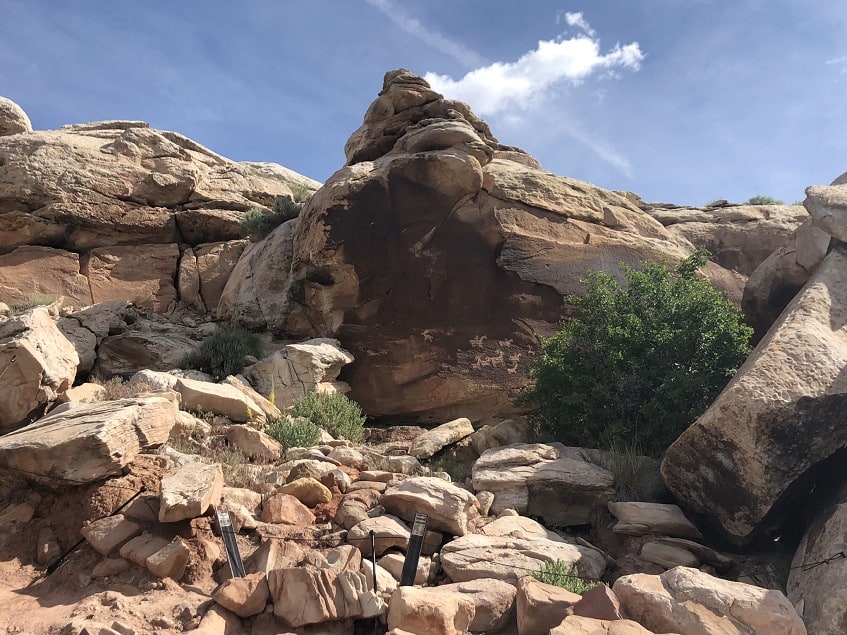 Be ready as the switchbacks start to elevate as you hike along the Delicate Arch trail. This first section of switchbacks is one of the steeper sections of the trail. After the switchbacks, the trail becomes more rolling. The last big climb is up a big slick rock slope which has not shade – another reason for going early or possibly going around sunset.
Once you are up the large rock slope, you will walk along a flat section with some areas of sand.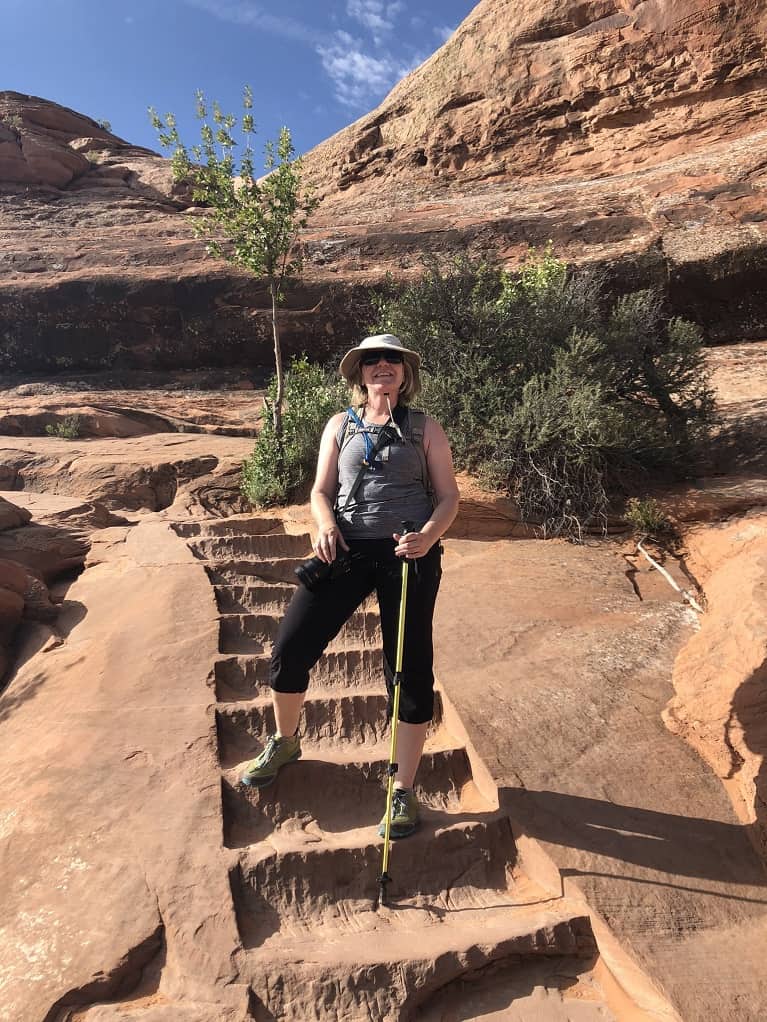 Your last climb goes up a short set of steps and then a flat walk along a narrow ledge with a drop off to the left side. Take your time and be considerate of others coming back down the trail.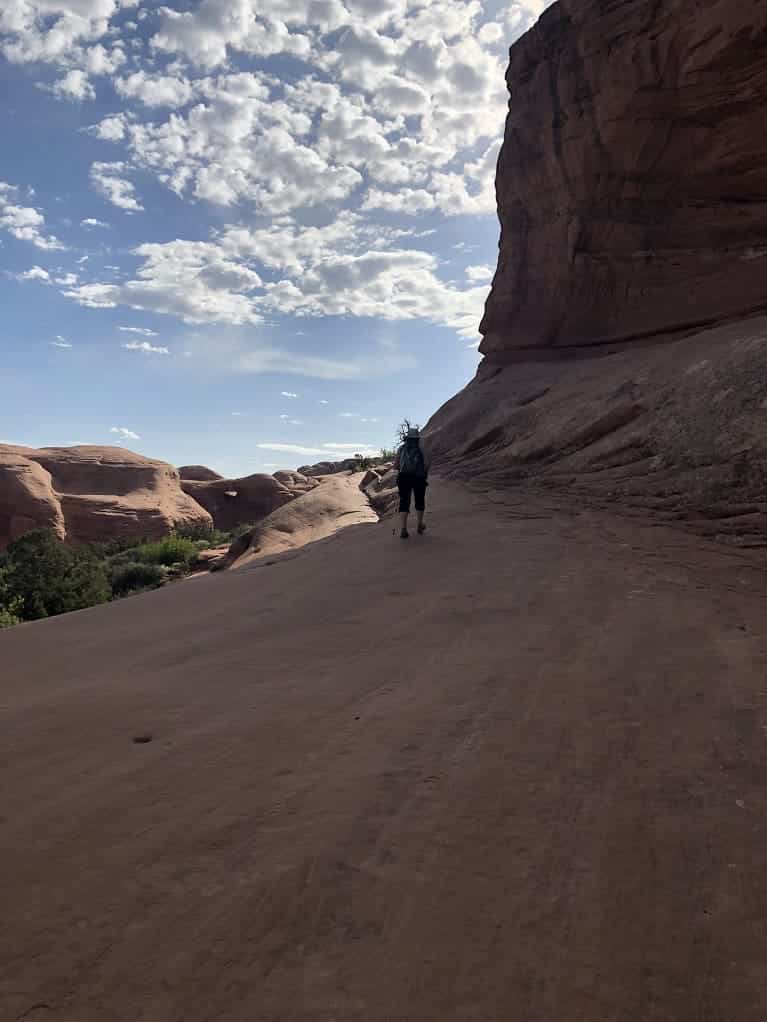 If you aren't afraid of heights, there is a small window high on the right side of the ledge, where you can climb up for a nice solitary view of Delicate Arch.
Finishing the short walk along the rock ledge, you suddenly come around the wall for one of the most spectacular views at Arches National Park.
Tip: If you are afraid of heights, you may have trouble along the rock ledge and walking down to the Arch.
Delicate Arch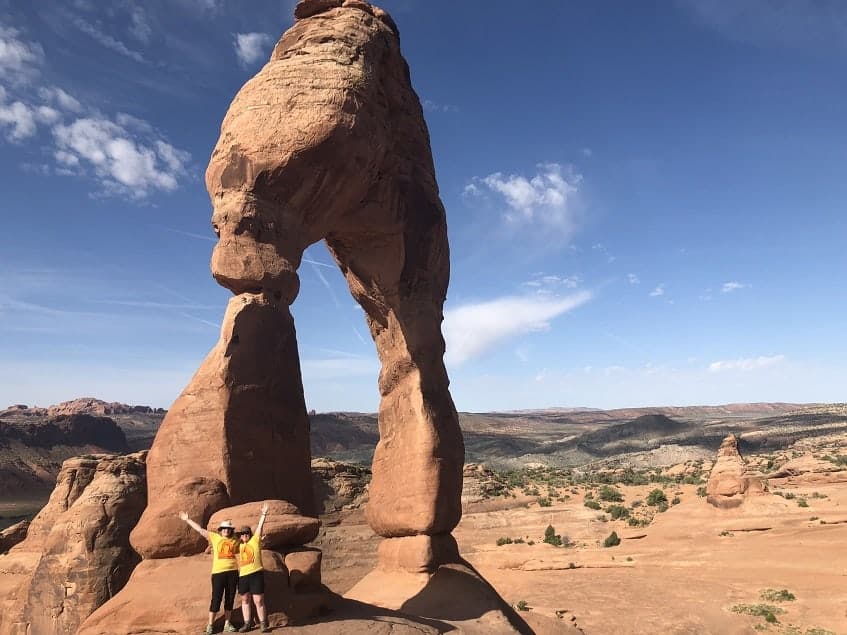 The walk down to Delicate Arch is steep and should not be for the faint of heart. However, if you are slow and careful, have good traction shoes, it can be accessed by almost anyone.
Walking down to the Arch, we found another advantage to going early. The people waiting for pictures at the Arch was short. We waited our turn and had another visitor take some cool pictures of us at the iconic Delicate Arch at Arches National Park.
What to Expect
With pictures at Delicate Arch, it should take you 2-3 hours to complete the entire hike.
Be prepared for steep sections along slickrock
Try to be patient for your turn for pictures at the Arch and
Be kind by returning the favor to someone else and take pictures for them.
Summer can be hot – be prepared with enough food and energy snacks.
Delicate Arch Trail is one of the best hikes in Arches National Park, but it is 3-miles round-trip and considered a "Strenuous" hike. Please take all of this into consideration as you plan your own hike to see the iconic Delicate Arch.
Hiking Delicate Arch at Arches National Park is a must hike for any hiker visiting Arches
RELATED: Do you love hiking in the National Parks? Here's another popular hike! The Highline at Glacier National Park.